Axios Nashville
January 24, 2022
Have a happy Monday, or at least make it as happy as a Monday can be after a sad weekend of football.
Today's newsletter is 940 words — a 3.5-minute read.
1 big thing: Legal challenges likely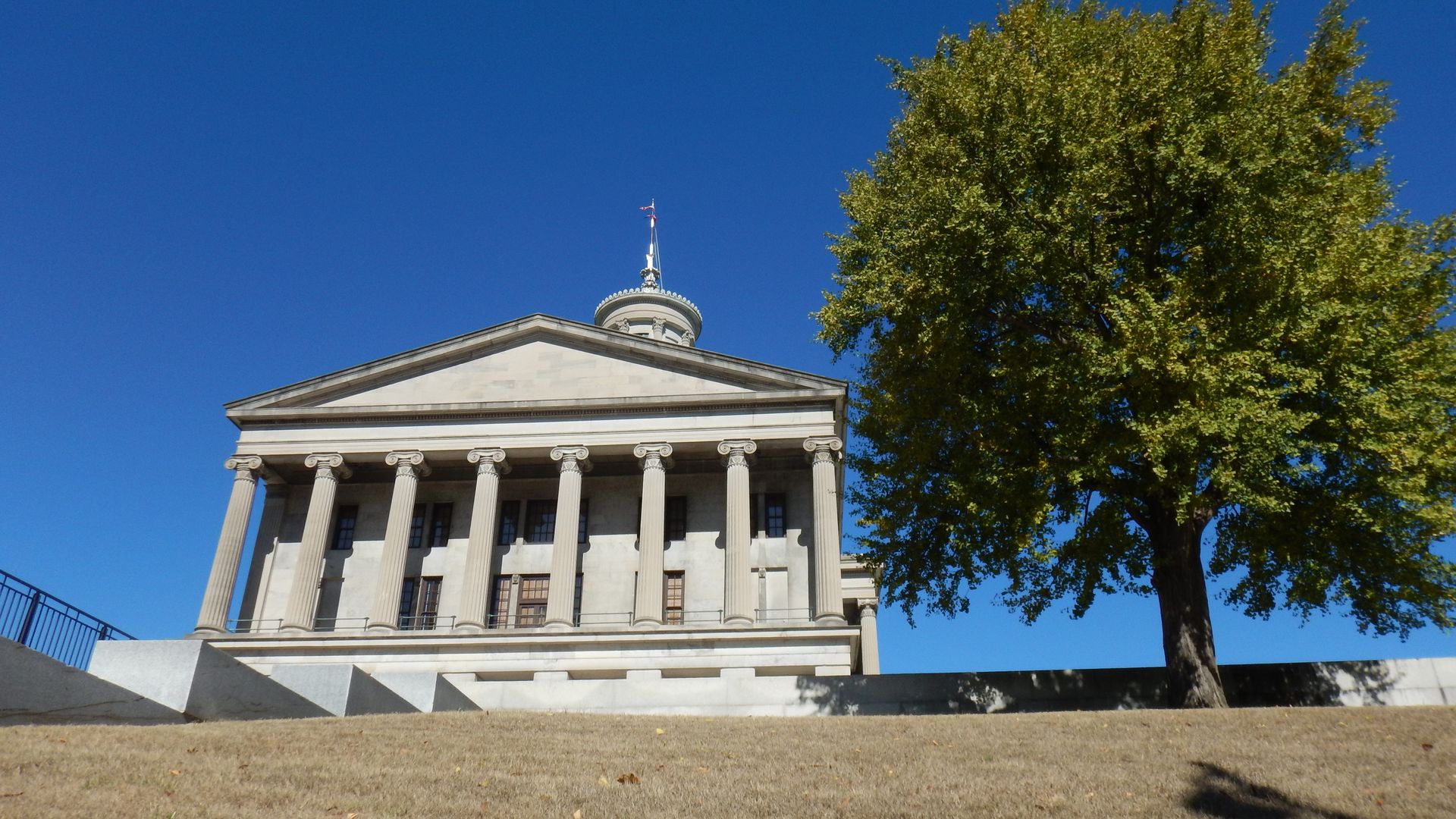 A legal challenge could be the last resort for Democrats and activists who want to stop redistricting that would split Nashville among three congressional districts.
The new map is expected to secure full approval from the General Assembly as soon as this week.
Why it matters: The highly anticipated legal challenge could be the final say for a decade on the city's representation in Congress.
Democratic U.S. Rep. Jim Cooper faces likely defeat under the new congressional district lines and hasn't ruled out retirement. His campaign spokesperson told Axios last week that Cooper is exploring every possible way to "prevent the gerrymandering of Nashville."
Likely Republican challengers are waiting for lawsuits to play out before determining whether to run.
What they're saying: "Undoubtedly, we'll end up in court where their actions have been struck down time and again," Tennessee Democratic Party chairperson Hendrell Remus tells Axios.
"What Republican legislators fail to realize is that these maps don't just impact elections, they impact the vitality of our communities and the lives of real people."
The other side: Republican leadership is adamant their maps would hold up in court.
Between the lines: Democrats have raised several issues that could animate legal challenges, chief among them the allegation that the new maps intentionally split up minority communities in an effort to diminish their electoral impact.
While attention is centered on the congressional map, challenges to the state House and Senate maps are also possible.
What to watch: Challenges could launch in state or federal court. But Nashville attorney Ben Gastel tells Axios a state challenge would be a tougher path.
Some states, such as Ohio, have constitutions that include stricter limits on the redistricting process that can support successful challenges. Tennessee's constitution is generally less restrictive.
"I would say that your best path forward in the state of Tennessee is a federal challenge," Gastel says.
Yes, but: Outcomes often rely on how a specific judge interprets the law and the intricacies of a redistricting plan. It could be a steep challenge.
2. Titans reach a QB crossroads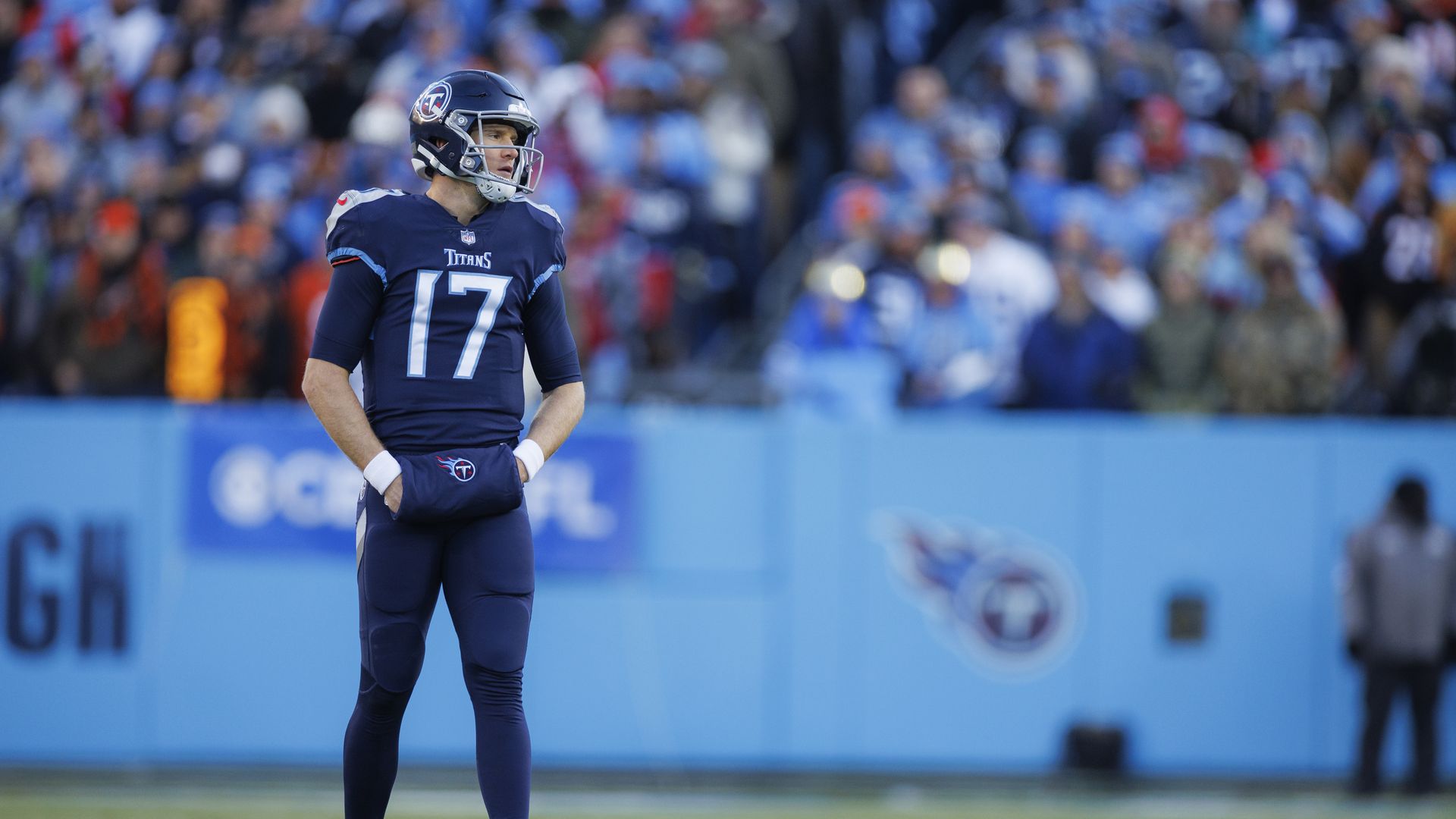 A devastating divisional round loss to the Bengals on Saturday sends the Titans into the offseason with major questions.
First and foremost: Will the team look to upgrade at quarterback?
Why it matters: Ryan Tannehill threw three interceptions against the Bengals. Tannehill has led the Titans to the playoffs three times, but has failed to reach the Super Bowl.
Context: The Rams gave up two first-round picks, one third-round pick, and starting quarterback Jared Goff in order to acquire 33-year-old Matthew Stafford last offseason.
Rodgers, 38, is older, but better than Stafford.
The big picture: Titans general manager Jon Robinson must also decide whether to ante up to keep pass rusher Harold Landry, an unrestricted free agent.
And defensive tackle Jeffery Simmons is due for a mega extension that could make him the highest-paid defensive lineman in the league.
3. Nissan Stadium's new guy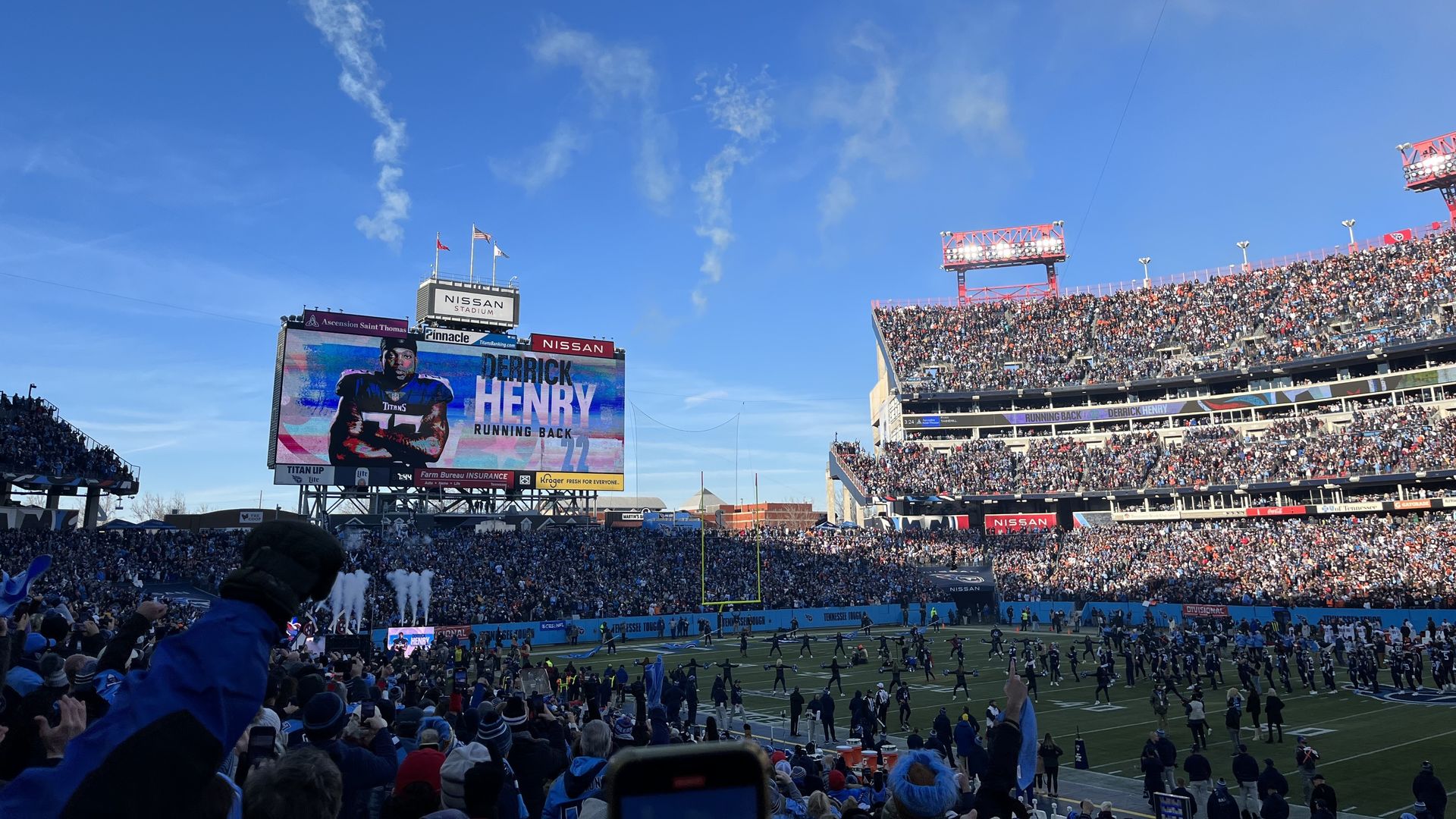 👋 Howdy, Everett here. I'm the editor who works with Adam and Nate.
I was in town last weekend to celebrate the wedding of two loyal Axios Nashville readers (congrats Sydney and Kevin!) and the timing lined up perfectly for my first visit to Nissan Stadium.
You probably aren't looking for my opinions on PAT decisions or 3rd-and-1 runs out of a shotgun, so here are some thoughts on the Titans game day:
👑 The good: The lower bowl stood the entire game. King Henry's introduction was deafening. Electric crowd overall.
Entering the stadium was seamless. There's no fumbling with keys at an x-ray machine or uncomfortable pat downs.
Halftime concerts that don't waste time setting up an on-field stage are a nice touch. Jimmie Allen crushed his set perched on the stage behind the end zone.
🚽 The bad: I've never waited so long to go to the bathroom in a stadium. Fifteen minutes minimum no matter the game situation.
The PA played Andy Grammer's "Keep Your Head Up" no less than 30 seconds after a devastating, last-second playoff loss to an inferior team. Come on. Let us be sad.
The stadium wasn't exactly overrun with Bengals fans, but they were definitely noticeable and loud. Maybe 25% of the crowd was wearing black and orange.
☹️ The ugly: See above. Ryan Tannehill was tough to watch.
📬 Agree? Disagree? Reply or email [email protected] with your thoughts.
4. The Setlist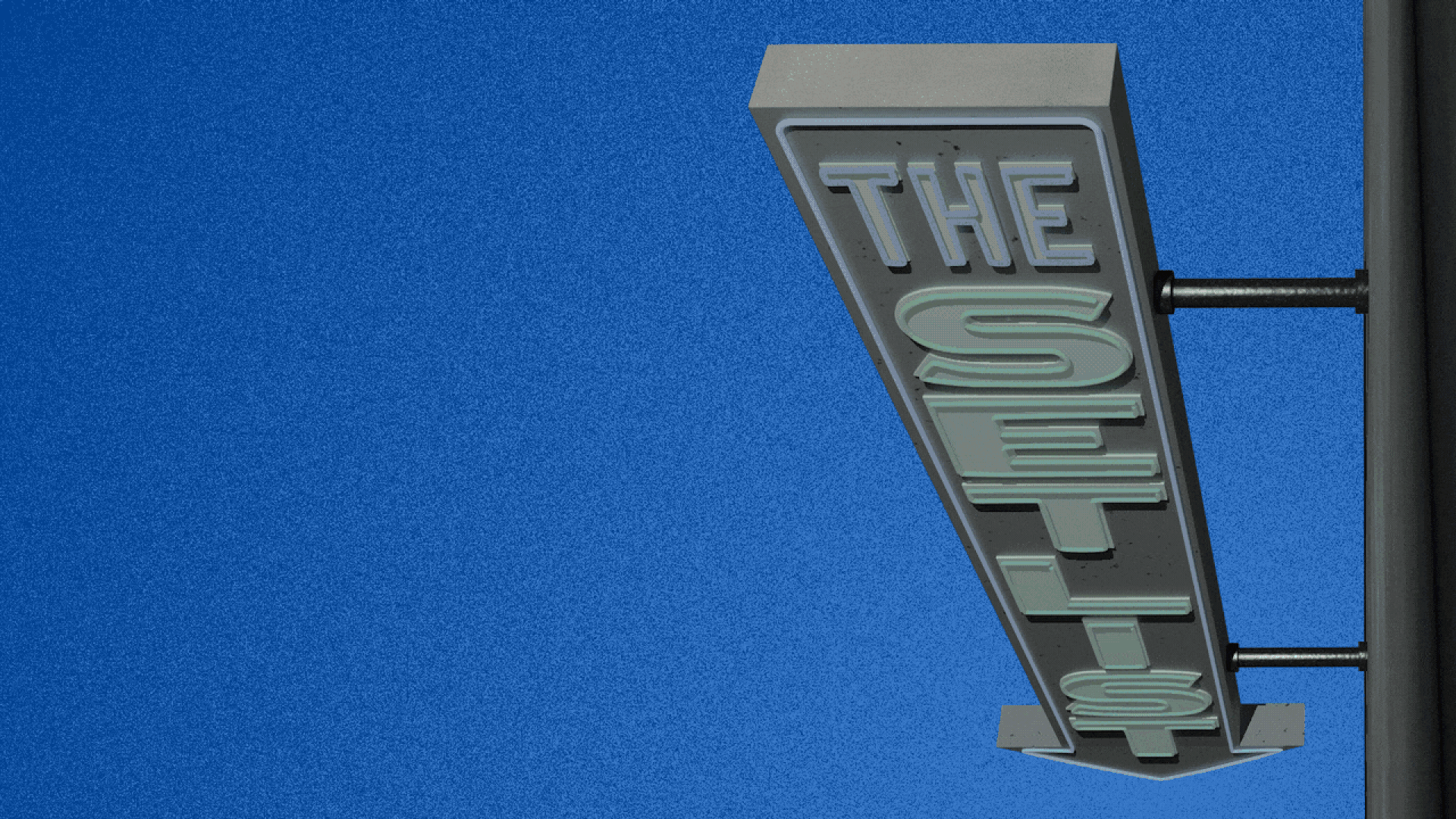 🏀 Vanderbilt grad Jessica Cohen made her debut as head trainer for the Portland Trailblazers, the only woman in the NBA to hold that title. (AP)
Jury selection is set to begin this week in the trial against the man accused of fatally shooting four people at a Nashville Waffle House. (The Tennessean, subscription)
TDOT is on pothole patrol after a series of winter storms. (News Channel 5)
5. Dolly Monday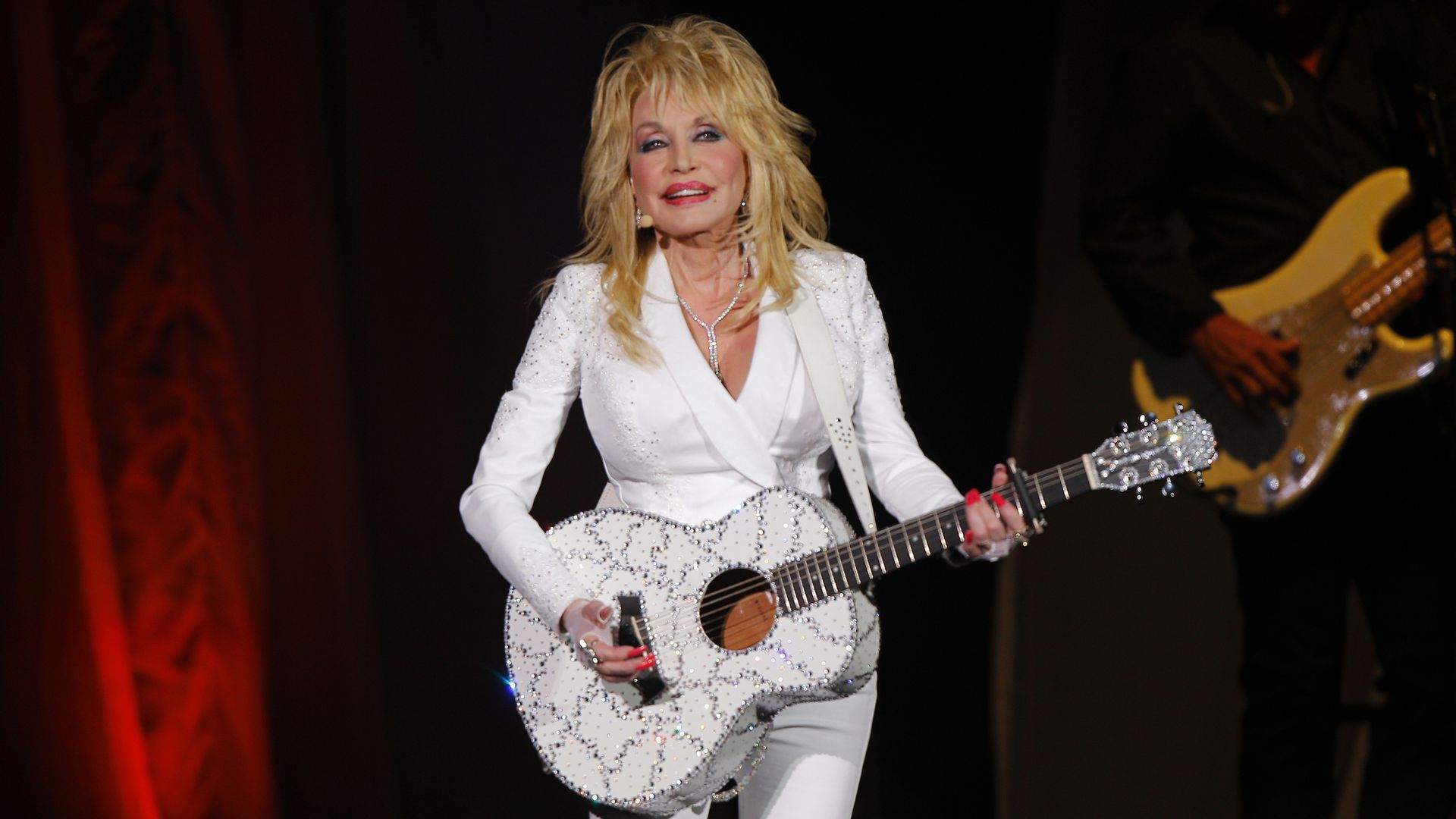 We committed the unforgivable sin last week of forgetting Dolly Parton's birthday. To make up for it, our Music Monday playlist is dominated by Dolly songs.
Cheers to readers Barry T. and John C. for their picks. Please like our playlist on Spotify, and respond to this email with your favorite current songs!
Nate's thought bubble: We included Dolly's latest single "Big Dreams and Faded Jeans" on the playlist. It's a solid song, but I'd love for Dolly to collaborate on a full album with Dave Cobb, the Grammy-winning producer who has worked with Jason Isbell, Brandi Carlisle, and Chris Stapleton.
Cobb's stripped-down style matches with some of her best work. And as an added bonus, he's producing out of historic RCA Studio A, where Dolly recorded many of her iconic songs.
Our picks:
Nate is coming to grips with reality after the Packers loss and watching Jordan Love's college highlights.
Adam continued his movie-watching spree with the fifth "Scream" movie. It was … fine.