August 15, 2022
Happy Monday! Welcome to Axios Miami — your new morning must-read about what's happening in the 305. We hope the traffic gods are forever in your favor.
🔥 Forecast: Hot with a 60% chance of showers and thunderstorms. High near 89.
🗳 Situational awareness: Early voting continues today in Miami-Dade County for the primary elections. Voting kicked off Saturday in Broward.
Today's newsletter is 950 words, a 3.5-minute read.
1 big thing: More teachers needed as school year begins
Miami-Dade students head back to school this week as the district scrambles to fill a shortage of 224 teachers, district spokesperson Elmo Lugo tells Axios.
Driving the news: The Florida Education Association teachers union is reporting more than 8,000 teacher vacancies statewide as this school year starts, up from just under 5,000 this time last year.
In Miami-Dade, the greatest need is in special education and math, Lugo says.
The big picture: School districts across the U.S. are turning to extraordinary measures in a desperate effort to get more teachers into classrooms this year, our Axios Local colleagues report.
In Florida, the state Department of Education announced it would issue a temporary teaching certificate to military veterans "who have not yet earned their bachelor's degree" after a new law took effect last month.
Of note: Miami-Dade tells Axios the district hasn't yet seen applicants from the program to recruit veterans as teachers, which has been promoted by Gov. Ron DeSantis.
The district is holding hiring events to try to fill the vacancies, CBS reports.
What they're saying: Karla Hernández-Mats, president of the United Teachers of Dade union, blames Republicans for issues driving teachers away, such as gun proliferation, book banning, painting teachers as "groomers" and the raiding of a state fund for affordable housing.
Military experience and teaching skills are not interchangeable, she said: "Here are the hardworking individuals who care so much about children, have gotten their bachelor's and master's and specialist degrees — and now you're saying that all the hard work and education that they put in doesn't matter."
Yes, but: The union has endorsed two Republicans and two Democrats for the nonpartisan school board primary races now underway, she said.
2. Booted from the beach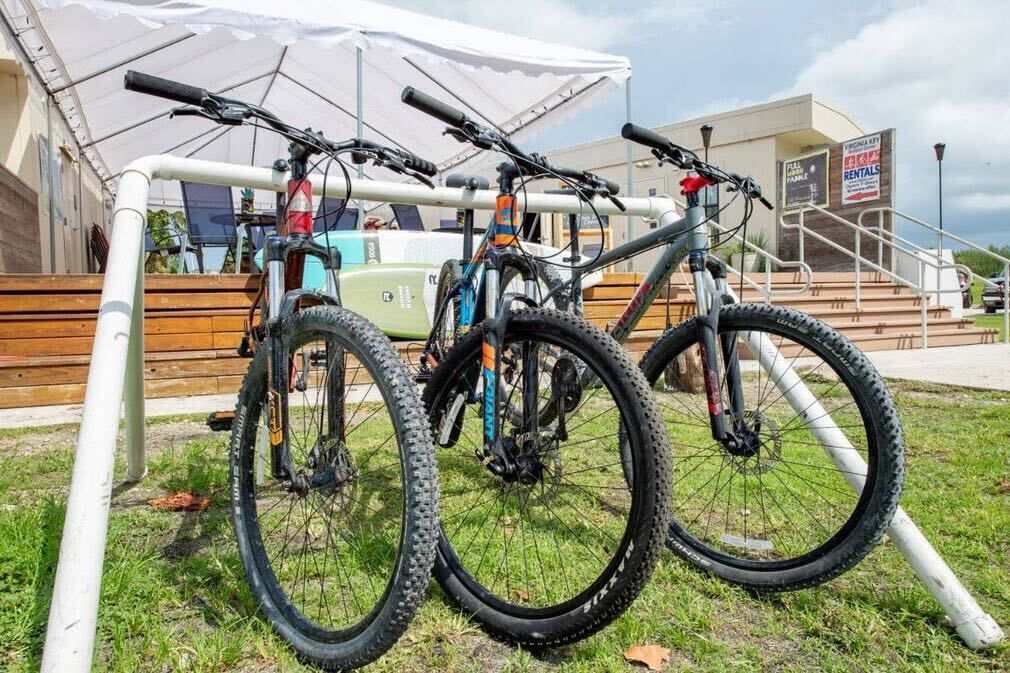 The city of Miami shut down Virginia Key Outdoor Center on Friday for several code violations and more than $140,000 in past-due rent.
The recreation center's director of operations and marketing, Diana Perez-Pazos, told Axios that police threatened to arrest her if she refused to sign an arrest affidavit for the code violations.
The center, which is on city-owned property, shared surveillance video of the police investigation with WPLG Local 10.
What they're saying: Both Perez-Pazos and the center's owner, Esther Alonso, denied the accusations. Perez-Pazos told Axios she believes the closure may be retaliation to the center's opposition to a city proposal to build a homeless encampment on Virginia Key, an allegation Alonso also made to Islander News.
"Something is going on. It's not OK for them to use law enforcement as a tool of intimidation," Perez-Pazos said.
Perez-Pazos said she signed the affidavit — and provided a fingerprint — to avoid arrest. She said she expects to receive a notice to appear in court and eventually the termination of the center's lease with the city.
"When you have seven cops in a room it just seemed unnecessary," she said. "It's a lot."
3. Takeaways from the Dolphins' preseason win
The Dolphins beat the Buccaneers on Tampa's home turf Saturday in Miami coach Mike McDaniel's first game as an NFL head coach.
Driving the news: The Dolphins clung to a 26-24 victory after a missed game-winning field goal from Buccaneers kicker (and former Hurricane) Jose Borregales.
It was a battle of the back-ups, with both teams benching most of their starters for the exhibition game at Raymond James Stadium.
The big picture: Buzz around this Miami team has reached dizzying levels, with season tickets sold out for the first time in franchise history.
And fans are still waiting to see the new Dolphins offense take the field after the splashy free agent signings of Tyreek Hill, Chase Edmonds and Terron Armstead.
Of note: Miami struggled running the ball and converting third downs Saturday.
A pair of defensive takeaways — including a fumble recovery for a touchdown — led to two scores for the Dolphins.
What we're watching: Miami has two preseason games left, both at home, against the Las Vegas Raiders (Aug. 20) and the Philadelphia Eagles (Aug. 27).
4. Cafecito: Your morning shot of news
Florida has joined at least 10 other states in barring residents from using Medicaid to pay for gender-affirming care. (Axios)
🚢 Crews began cleaning up a fuel spill at PortMiami during the weekend after a container ship reported a discharge during fueling. It remains unknown how much fuel flowed into Biscayne Bay. (WPLG Local 10)
🗞 The union representing the Miami Herald and El Nuevo Herald newspapers has reached a tentative agreement on its first contract with parent company McClatchy. One Herald Guild says it had been bargaining for over two years. (One Herald Guild)
🗳 Some Florida swing voters who former President Trump won over in 2016 say DeSantis' agenda is too extreme for them. (Axios Tampa Bay)
Now hiring: New job openings
5. 🤝 Our virtual handshake
Before we go, we want to tell you a bit about us and what you can expect from this newsletter.
Why it matters: We love Miami, just like you do. We hope to combine our knowledge, sources and considerable charms to give you a quick (and hopefully fun!) rundown of news to start your day.
🏝 Meet Deirdra: A Florida native, Deirdra has been a writer and managing editor at New Times, worked on the investigative team at Fusion and covered the commercial real estate industry for Bisnow. She loves kids, nature and juicy court documents.
🇦🇷 Meet Martin: Martin was born in Miami Beach, where he and his wife live with their clingy chihuahua, Ollie. He previously covered government and politics at the Miami Herald. He's a fan of Argentine food (thanks, Mom and Dad), Miami Heat basketball and Formula One.
Thanks for inviting us into your inbox. We look forward to meeting you in real life, too.
🚗 Deirdra is already planning her Wednesday commute around school buses and frazzled parents.
🎬 Martin is rewatching the original "Star Wars" trilogy and didn't realize that these characters helped inspire the creation of the box-office-topping "Minions."
Tell your favorite teacher to subscribe to Axios Miami. See you again tomorrow!