Axios Media Trends
April 12, 2022
Today's Media Trends is 1,497 words, a 6-minute read. Sign up here.
Situational awareness: Elon Musk goes "goblin mode."
1 big thing: Zaslav gets to work
Warner Bros. Discovery CEO David Zaslav is traveling across the country this week as he tries to seamlessly manage the $43 billion merger of Discovery, a cable company, and WarnerMedia, which has much deeper roots in Hollywood.
On Monday, the new board of the combined company met for the first time to discuss the new resolutions, bylaws, and charter for the combined company, a source familiar with the meeting tells Axios.
Billionaire media mogul John Malone, a key stakeholder in the combined company, attended.
Zaslav also met with WarnerMedia employees in New York on Monday to discuss the transition. On Monday evening, he traveled to CNN's Washington bureau for an informal meet and greet.
CNN's new chief, Chris Licht, joined him in D.C. Zaslav is heading to Atlanta to meet with employees on Tuesday.
Later this week, Zaslav and his executive team will travel to Los Angeles to hold the company's first global town hall.
Between the lines: Zaslav, a smooth operator with sharp people skills, will need to navigate these changes against the backdrop of a skeptical WarnerMedia employee base.
Aside from retaining a few key WarnerMedia creative executives, Zaslav and his team have carefully tried to construct a narrative that they care more about Hollywood's creative culture than WarnerMedia's previous owners.
Yes, but: The merger will come with roughly $3 billion in synergies, executives say, which means layoffs are undoubtedly part of the future.
Sources tell Axios that the company isn't planning to announce any major layoffs in the next month, leading up to its first-ever combined upfront advertising presentation to Madison Avenue on May 18.
2. Big cuts expected for CNN+
Investment and projections for CNN+ are expected to be cut dramatically in response to a low adoption rate, two sources tell Axios.
The new company's leadership team still has yet to decide the ultimate fate of CNN+. CNN's new boss, Chris Licht, will start May 1.
By the numbers: The news giant was initially planning to invest around $1 billion in the service over the next four years.
Hundreds of millions of dollars are expected to be cut from that original investment total.
To date, around $300 million has been spent on the subscription service, which includes a sizable marketing investment.
Details: CNN executives, with help from consulting firm McKinsey, originally expected to bring in around 2 million subscribers in the U.S. in the service's first year and 15-18 million after four years.
They originally planned for the service to break even after four years.
Much of the subscriber opportunity executives see comes from international markets.
Sources say those subscriber expectations will need to be dramatically reduced if investment is cut.
Yes, but: In the U.S. yesterday, CNN launched on Roku, one of the largest smart TV companies in the country — which should help boost subscriber numbers.
Between the lines: Hiring has been frozen at WarnerMedia for the past six weeks, and this has been felt at CNN.
One top executive notes that there is a sense of confusion internally as to why CNN didn't push back the launch of CNN+ until after the Discovery merger.
The launch felt rushed in order to stake a claim over the service and the network's future ahead of the merger, the source said.
What's next: It's unclear whether top CNN+ executives, like CNN+ boss Andrew Morse, will continue to stay with the company if resources for the service are dramatically reduced or cut.
3. NPR touts diversity after high-profile departures
Non-white executives account for 53% of NPR's leadership team, up from 9% in 2019, NPR CEO John Lansing tells Axios.
Why it matters: A slew of high-profile departures over the past year has shed light on ways talent — particularly women and people of color — are elevated and incentivized to stay with the public radio broadcaster.
Details: In an interview, Lansing and NPR's newly-appointed chief operating officer, Will Lee, noted that the efforts aren't just a moral imperative, but a business priority.
"The issue is the median age for an NPR listener is 58-years-old and 80-plus percent white," Lansing said. "If that's the next 50 years for NPR, then we will only get smaller and smaller."
NPR's podcast audience, by comparison, is much younger and more diverse.
By the numbers: More than half of the company's 14 top leaders, including chief executives and senior vice presidents, are now people of color.
Its wider leadership team, with roughly two dozen executives at the vice president level and higher, also includes more than 50% people of color.
Yes, but: Progress at the top has not flowed as quickly down to managers, NPR's union has argued.
A union analysis in February found that around 75% of editors identified as white as of January.
Between the lines: As for the slew of major hosts who have left the nonprofit in the past year, sources say the real problem lies in the forces prompting them to leave — like salary inequities.
"We're competing in a commercial marketplace," Lee noted.
"NPR was one of the originators of podcasting before it even had a name so long ago ... And that's why there is so much interest in our hosts, who have really been pioneers."
4. 👻 Scoop: Snapchat doubles down on news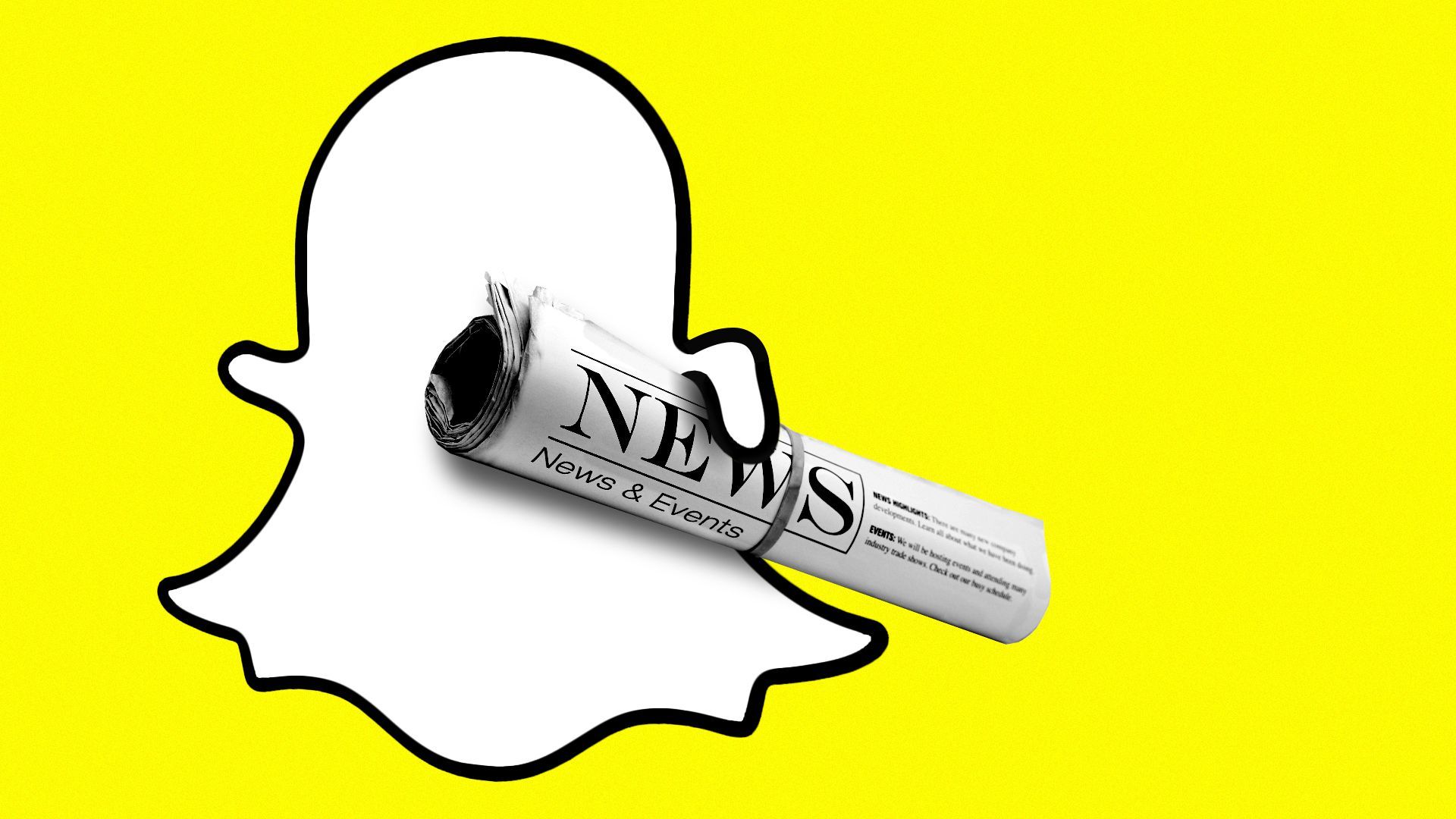 Snapchat is rolling out a new product that aims to make it easier for news publishers to upload their content in real time as stories break, Axios has learned.
Why it matters: The update dramatically lowers the barrier to entry for news publishers — especially at the local level — to publish on Snapchat.
Details: Beginning Tuesday, more than 40 news publishers from around the world will begin using a new feature called Dynamic Stories that lets them publish stories to Snapchat using RSS feeds.
Examples of experimental news partners in the U.S. include CNN, ESPN, Axios and the New York Post. Internationally, the UK's Independent, France's Femme Actuelle and GQ India are all part of the effort.
How it works: The conversion process from stories on the web to Snapchat is automated, so that newsrooms don't need to do extra legwork.
Most web publishing systems today already produce RSS feeds, so publishers' content can flow directly into Snapchat Stories, which are strings of vertical pictures and text.
The Dynamic Stories product won't include video for now, but could in the future.
Be smart: Snapchat will sell vertical video ads on the new Dynamic Stories product and share some of the revenue with publishers.
Sources from Snapchat's partners, who have been in testing for months, say so far the partnership hasn't driven significant income, but it offers publishers an opportunity to reach the ever-distracted Gen-Z audience.
5. Hot web trend: Scarcity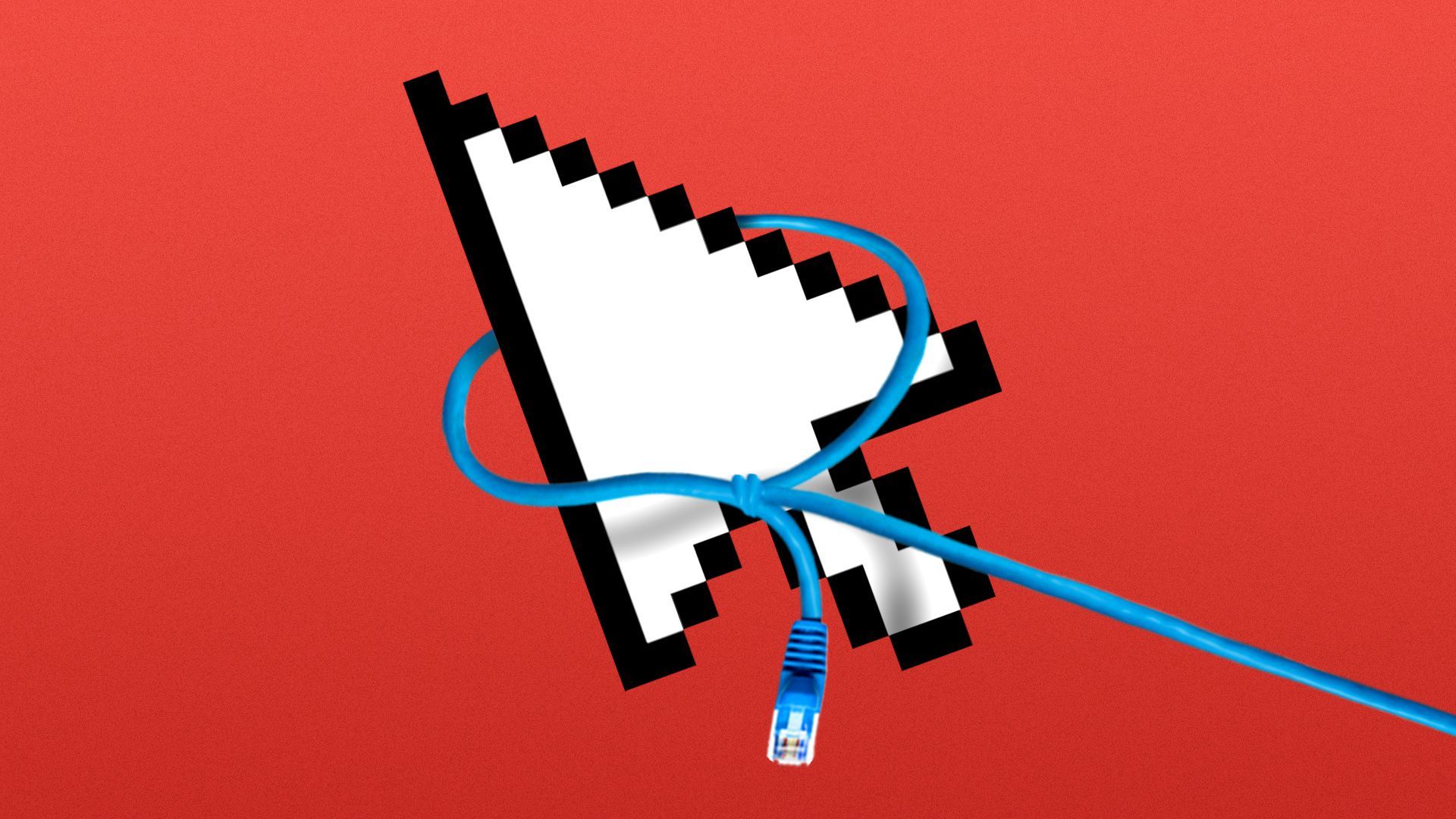 The rise in popularity of BeReal — Gen Z's hot new app — taps into a wider internet trend of scarcity online.
Why it matters: Because the app only requires one post per day, it doesn't overwhelm or overburden users.
Be smart: A slew of new apps and games are leaning into this trend as a way to develop a consistent habit with inundated internet users.
Wordle, the viral puzzle game purchased by the New York Times, also hooks users with just one daily puzzle. (NYT's Spelling Bee is also a popular game that only has one puzzle per day.)
Live audio products like Twitter Spaces and Clubhouse similarly rely on the scarcity of live conversations to drive engagement.
Be smart: The rise of popularity in NFT's, or non-fungible tokens, also speaks to the growing trend.
What makes NFTs valuable is that the ownership of the digital artwork on the blockchain is intentionally scarce.
6. 🍿 TV news stars land bigger contracts
CBS Evening News anchor Norah O'Donnell signed a new long-term deal with the broadcast network last week, sources confirm to Axios.
The new contract, first reported by Puck, continues to expand O'Donnell's role to include appearances on "60 Minutes" as a correspondent, and hosting duties for a live streaming show.
MSNBC's Rachel Maddow will host her 9pm ET show only on Mondays beginning, she told viewers last night.
Rotating hosts will cover other weekdays as "MSNBC Prime."
The big picture: Maddow reached a multiyear deal with NBCUniversal to expand her purview to a broad range of products, including books, documentaries, movies, TV series and podcasts.
7. 1 fun thing: "Sonic" sequel breaks video game record
Paramount's "Sonic the Hedgehog 2" brought in $71 million at the domestic box office over the weekend, beating its predecessor — the first "Sonic the Hedgehog" movie from 2020 — as the top video game movie opener in history, Axios' Kerry Flynn and I write.
Why it matters: Movies adapted from video games aren't typically box office winners, but momentum is starting to build around the genre as families return to theaters.
Flashback: Last month, Sony's "Uncharted" also beat its weekend opener expectations, despite mixed reviews, Axios reported.
This year, Netflix released the second season of "The Witcher" and Paramount+ debuted a series based on the game franchise "Halo." A "Super Mario Bros." film is expected later this year.