Axios Media Trends
May 17, 2022
1 big thing: Scoop ... Candle buys ATTN: for $150M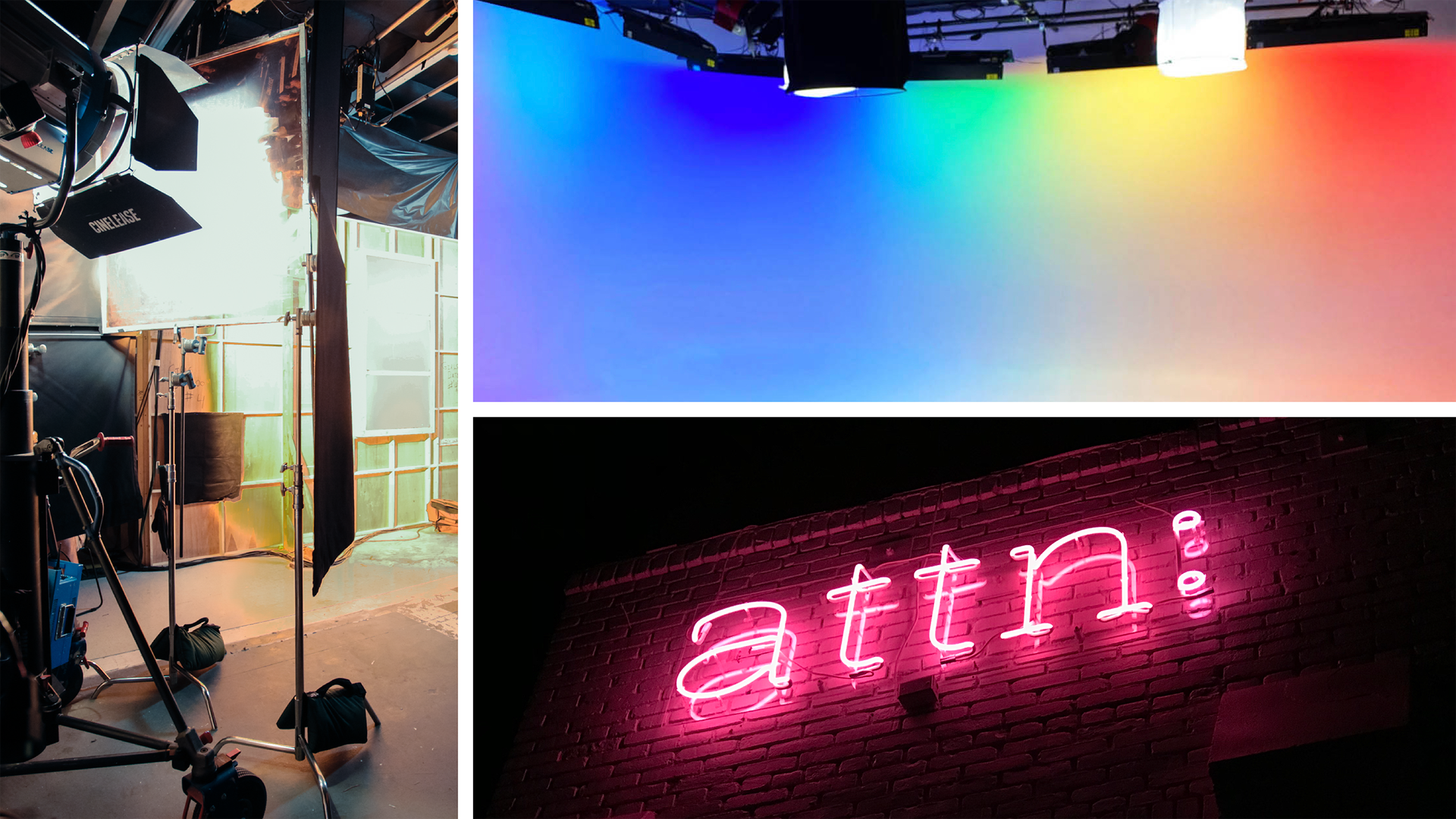 Candle Media, the new media rollup company backed by Blackstone and led by former Disney executives Tom Staggs and Kevin Mayer, is acquiring ATTN:, the digital media company that focuses on social change content for millennials and Gen-Z.
Why it matters: The deal gives ATTN: access to Candle's portfolio companies to help the firm scale. It gives Candle access to a brand that has expertise in reaching a younger, socially-active audience.
Details: Sources close to the transaction say Candle paid around $150 million for ATTN: in a cash and stock deal.
ATTN: is profitable and makes money from licensing original content, consulting, and producing branded content.
ATTN:'s existing senior management team, including co-founders Matthew Segal and Jarrett Moreno, will continue to oversee ATTN:'s day-to-day operations.
Be smart: ATTN:'s focus on social change has become attractive for advertisers looking to message about their corporate social responsibility efforts via branded content.
The company has also benefited from the wave of social good initiatives throughout the pandemic and the 2020 election.
It landed a seven-figure deal with TikTok to produce videos for a new initiative called "TikTok for Good" last year.
ATTN: has worked with major TV networks like NBC and ABC to do live specials around topics like voting and COVID.
By the numbers: Founded in 2014, ATTN: raised $15 million in 2018 in a round led by Evolution Media and $18 million in 2016 in a round led by TPG via Evolution Media.
The big picture: It's the latest in a string of recent acquisitions by Candle to invest in companies that produce original intellectual property.
2. Exclusive: "Meet the Press" plans digital rebrand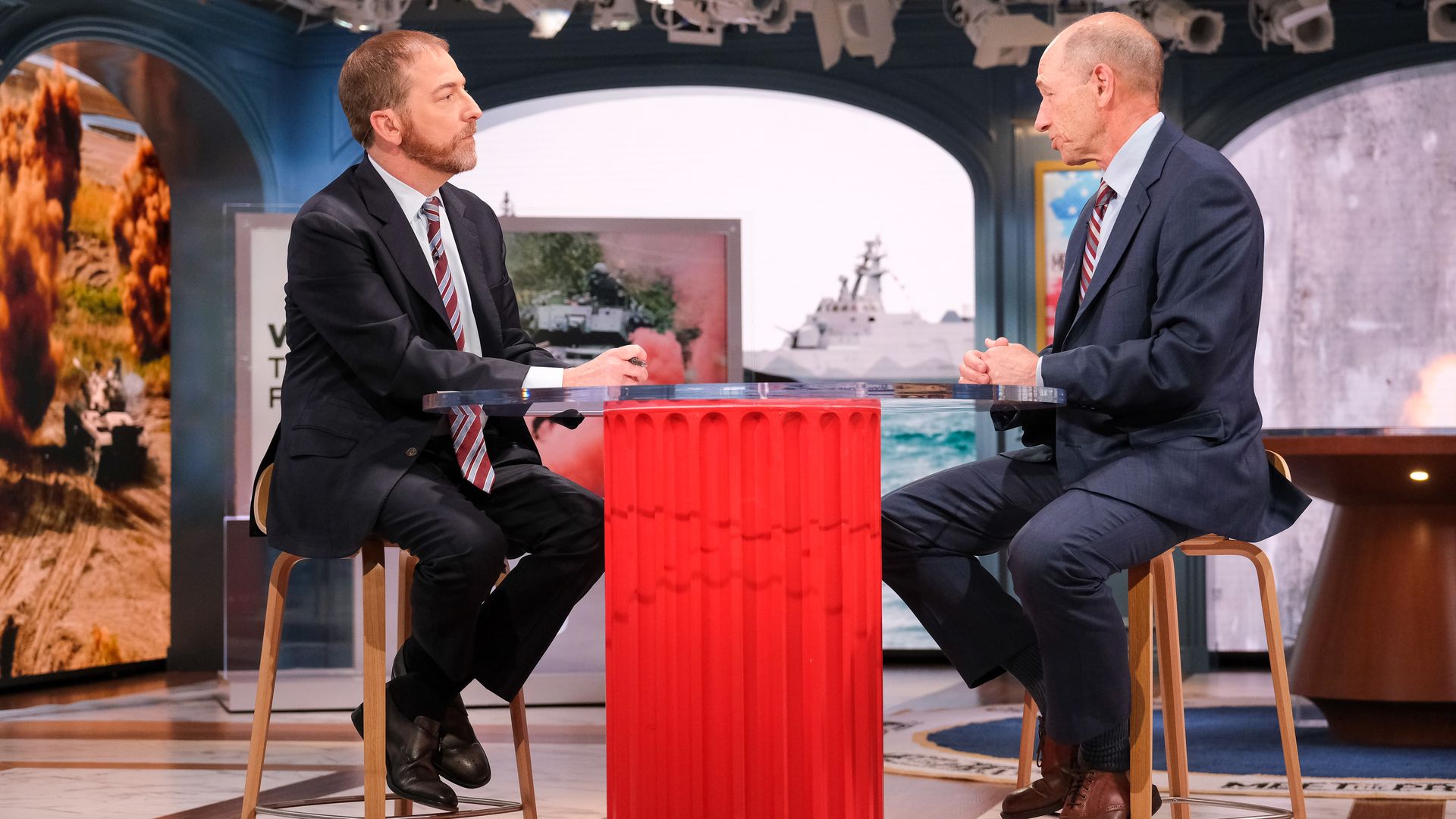 NBC News is doubling down on the digital transformation of its flagship political show "Meet the Press" by rebranding its separate website for the franchise, overhauling its flagship political newsletter, and adding a new blog.
State of play: The efforts come days after NBC News announced that Chuck Todd's daily "Meet the Press" show would move from MSNBC to the network's 24/7 news streaming service NBC News Now.
"Really where we are putting a lot of our time, attention and investment is on these other platforms," said Carrie Budoff Brown, senior vice president of "Meet the Press."
"This is where we see our growth."
Details: The new digital products will be rolled out in June in conjunction with the daily "Meet the Press" streaming show launch on NBC News Now and will be promoted via NBC News' digital channels.
In addition to a digital rebrand, the company will move its annual "Meet the Press" film festival to New York in November and will be a part of Doc NYC.
By the numbers: About 50 people report to Budoff Brown across the "Meet the Press" franchise and NBC News' political unit.
Budoff Brown plans to add around a half dozen more positions to the "Meet the Press" franchise in the coming months, with most of the roles to focus on digital products.
Disclosure: NBC is an investor in Axios, and Sat Brainch, chief commercial officer of NBCU News Group, is a member of the Axios board.
3. Musk backtracks on Twitter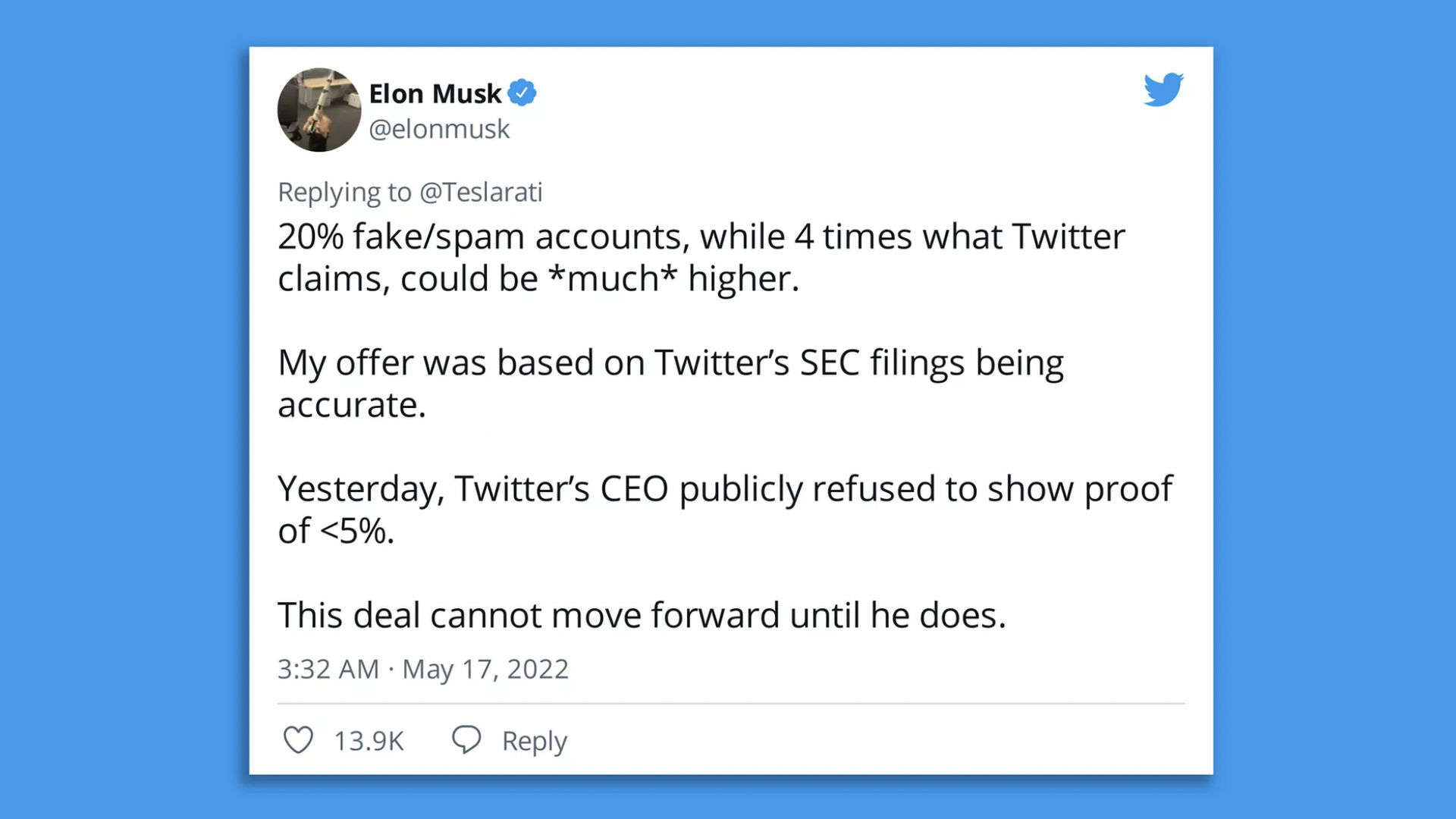 Elon Musk tweeted at 3:32am ET Tuesday that his bid to buy Twitter "cannot move forward" unless CEO Parag Agrawal provides proof of his estimate that less than 5% of users are bots or spam accounts.
Why it matters: Analysts believe Musk is using allegations that Twitter's user base has more bots than the company claims to either back out of the deal or negotiate down the price.
Musk has been publicly backtracking on his initial $44 billion bid since Friday, when he tweeted that the deal was "temporarily on hold" as he sought more details on the platform's spam accounts.
Wall Street was skeptical the deal would go through even before that.
Twitter on Tuesday morning also filed a preliminary proxy statement with the SEC that suggests:
Twitter's bankers advised that it take Musk's deal at $54.20.
Twitter co-founder Jack Dorsey told Musk that in his personal view "Twitter would be better able to focus on execution as a private company."
Musk told Twitter executives in March that he was considering various options with respect to his ownership, including "starting a competitor to Twitter."
The big picture: Rarely do deals of this scale and prominence get worked out publicly in such a bizarre manner. But Elon Musk's reputation for spontaneity and audacity has few onlookers shocked at this point.
Our thought bubble: Musk could have requested an audit of the company's accounts and spam policies while doing due diligence on the deal, like a normal investor.
4. Viral trial spirals
The defamation trial between Johnny Depp and Amber Heard has quickly amassed more online attention than the leaked Supreme Court decision and Russia's war in Ukraine.
Why it matters: While political America hangs on an impending Supreme Court verdict on abortion, many more eyeballs are focused on developments in the Depp-Heard trial, Axios' Neal Rothschild and I write.
News articles about the trial, which began April 12, have generated more total social media interactions (likes, comments, shares) than coverage of abortion and the Supreme Court or inflation, according to exclusive data from NewsWhip.
Zoom in: Entertainment outlets are treating the event like their Super Bowl.
"Hands down it's a record setter for us," said Rachel Stockman, president of Law&Crime network.
The websites for People, Us and the New York Post all saw traffic increases year-over-year for the month of April by 9%, 16% and 22%, respectively, per SimilarWeb.
Between the lines: Many of the most viral clips mock Heard, putting a pro-Depp spin on the media craze.
Some say the exhaustive volume of memes, clips and jokes shared online about the trial have exacerbated their trauma.
The bottom line: Social media is its own court of public opinion, even if the evidence doesn't match the memes.
5. Upfronts are all about streaming now
NBCUniversal kicked off Upfronts yesterday with a glamorous presentation at Radio City Music Hall.
Fox followed with a swanky downtown gathering that included sushi and Nick Cannon in the DJ booth.
🥊 Both companies touted investments in ad-supported streaming, with NBCU executives taking jabs at Warner Bros. Discovery and Fox executives aiming at at Netflix.
By the numbers: The amount of ad dollars that are actually spent related to upfront commitments has remained fairly static over the past few years, according to data from Insider Intelligence's eMarketer, Axios' Tim Baysinger writes.
Why it matters: Upfront advertising accounts for anywhere between 25% and 27% of the more than $70 billion that is spent on TV advertising each year.
What to watch: Connected TV ad spending, while still rising, is seeing its growth slow down.
Go deeper: Upfronts deep dive from Tim and Kerry Flynn.
6. Eater has a new EIC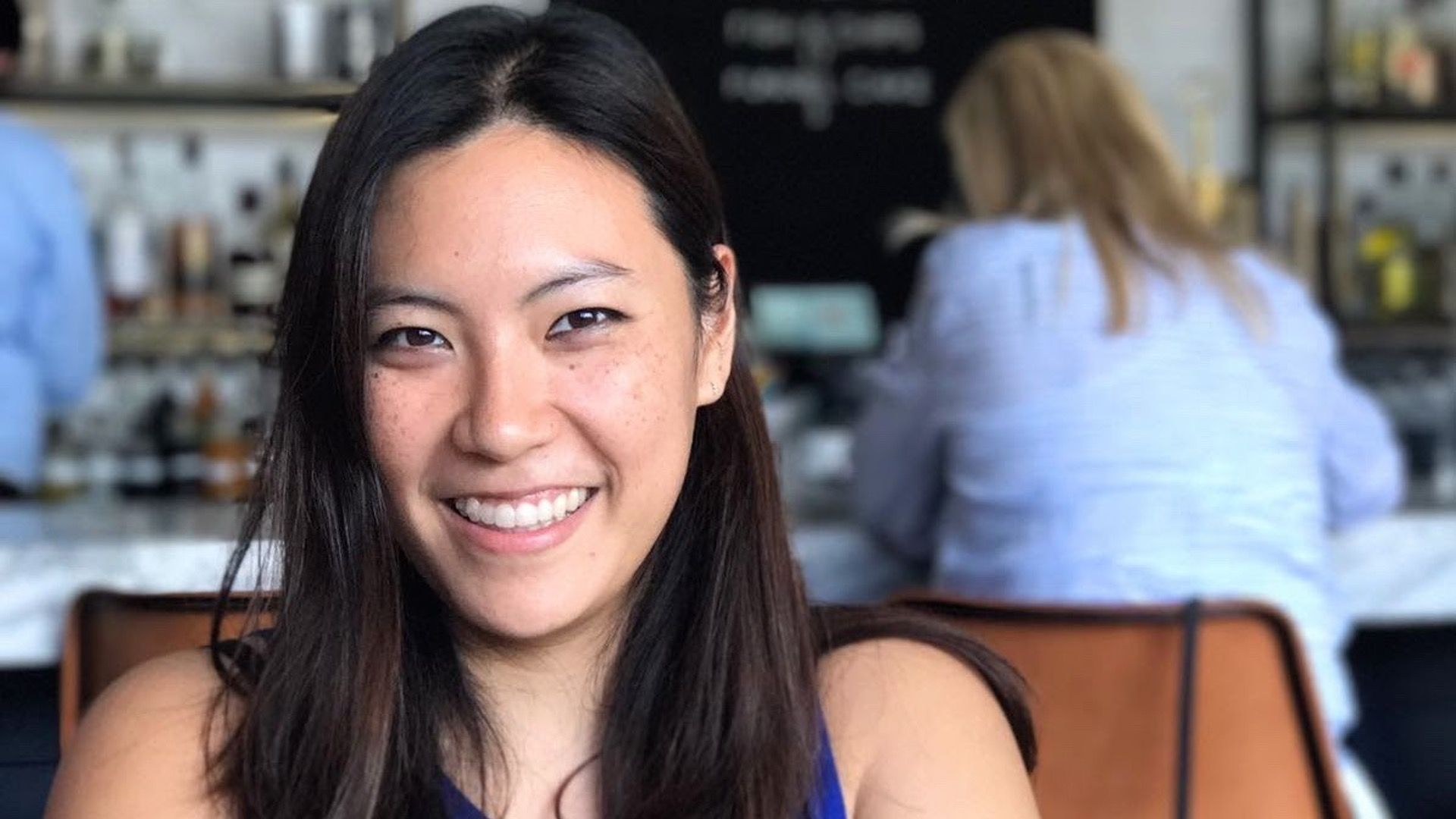 Eater, the food and restaurant brand from Vox Media, has named Stephanie Wu as its next editor-in-chief.
Why it matters: She replaces Amanda Kludt, Eater's founding editor-in-chief, who has been promoted to group publisher of Eater, Popsugar, Punch, and Thrillist.
Details: Wu will lead Eater's team of over 75 editorial staffers across 25 cities in North America and the UK.
Wu, who joined Eater in January from Condé Nast Traveler, said she's focused on enhancing the website's coverage of destination dining, especially for people who plan trips around food.
Eater launched a show on Hulu in 2020, and Wu said the company is "looking forward to more pilots" with Hulu. "I think safe to say move to other platforms eventually," she added.
Eater currently has a subscription wine club. Wu said she's eyeing other types of commercial expansion, like more large-scale events.
The big picture: More women are being tapped to run newsrooms and business operations at media companies in the wake of the #MeToo movement.
Last week Slate tapped Hillary Frey as its new editor-in-chief.
What to watch: Kludt will focus on ways to bring together all of the Vox Media's lifestyle brands under one group, the business opportunities of being able to sell ads and partnerships across all of them.
8. 1 🍿 thing: Warren Buffett's streaming plans
Warren Buffett's holding company Berkshire Hathaway, has acquired a roughly $2.6 billion stake in Paramount Global, according to a new regulatory filing out Monday.
Why it matters: The deal makes Buffett one of the largest outside investors in the company, per The Hollywood Reporter.
Paramount, formerly called ViacomCBS, owns CBS, Nickelodeon, Comedy Central, MTV, Showtime, Paramount Studios and Paramount+, its streaming service.
The big picture: Buffett is also a major investor in Apple and Amazon — which own their own streaming services — and Charter Communications, which recently announced a joint streaming venture with Comcast.