Axios Media Trends
March 09, 2021
Today's Media Trends is 1,410 words, a 5.5-minute read. Sign up here.
1 big thing: Many of TV's most iconic interviews conducted by women
2. Scoop: Jeff Zucker joins board of Group Nine SPAC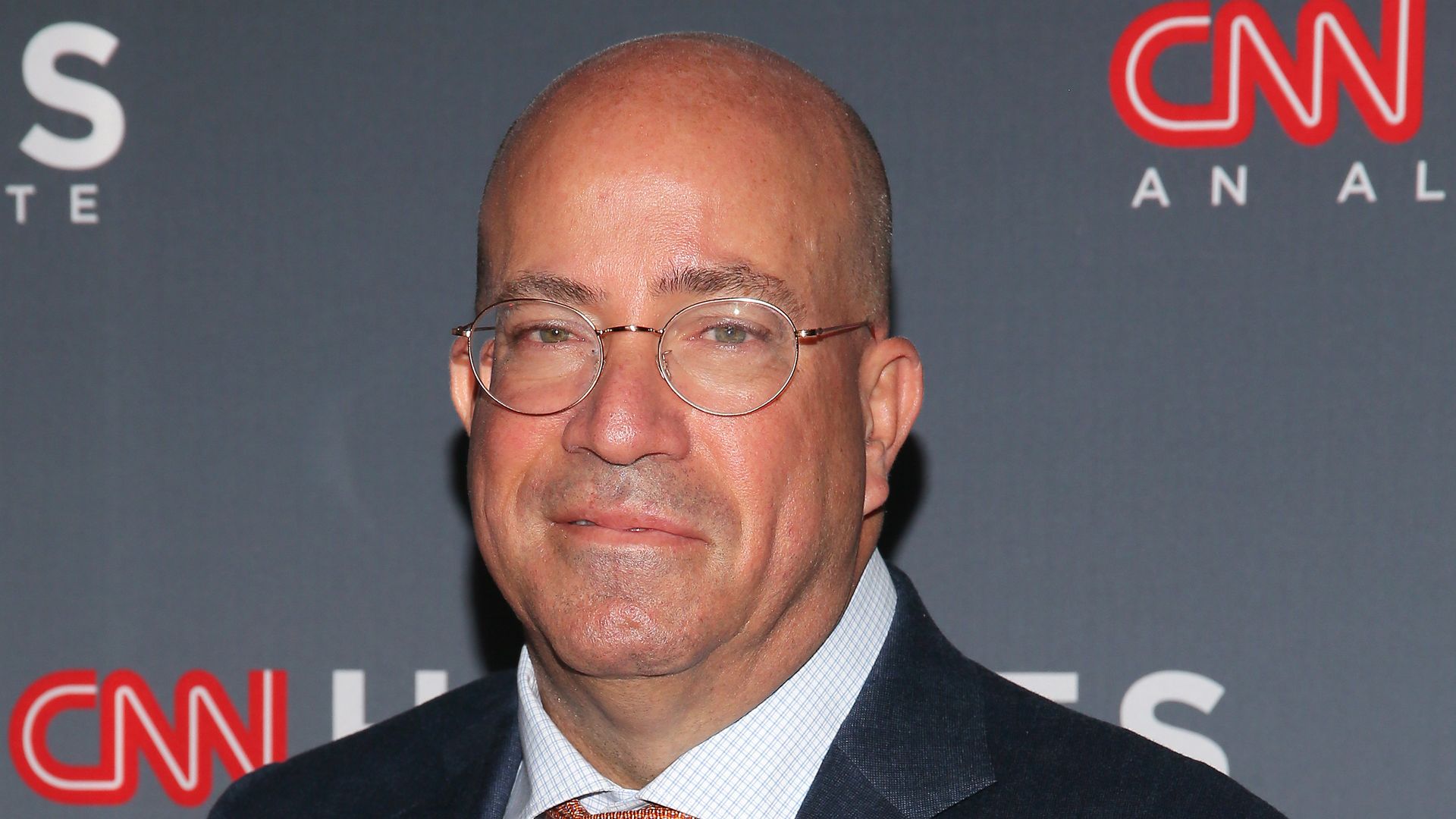 Group Nine Acquisition Corp., a special purpose acquisition company (SPAC) sponsored by media company Group Nine, is adding CNN president Jeff Zucker and Technicolor SA Vice Chair Melinda (Mindy) Mount to its board of directors, Axios has learned.
Why it matters: Media watchers are obsessed with Zucker's moves as he considers his next chapter after CNN. Zucker runs one of the world's largest news organizations, and is credited with leading CNN's digital transformation.
The idea behind the Group Nine SPAC is to consolidate digital properties to create scale.
Be smart: Group Nine's SPAC is uniquely structured to allow it raise money to acquire another company while potentially taking itself public in the process, all while facing much less financial scrutiny as it would with an IPO.
It's also unusual in having a company as a sponsor instead of an investment firm or group of individuals.
This positions Group Nine as a buyer of other media companies. The company could eventually combine with a company it buys and go public.
Few other SPACS have similarly complex tie-ups amid parties.
Details: Zucker and Mount join the two other independent members of GNAC's board of directors, including co-founder and partner of Imagination Capital and a director of Lazard Ltd and Lazard Group Richard (Dick) Parsons, who is also the former Citigroup and Time Warner Chairman, and Reddit COO Jen Wong.
Group Nine Media CEO Ben Lerer leads GNAC as CEO and chairman. Group Nine Media president Brian Sugar is president and director.
Go deeper: Group Nine Media skips scrutiny, fees with complex SPAC structure
3. Penske latest publisher to launch data platform amid cookie crisis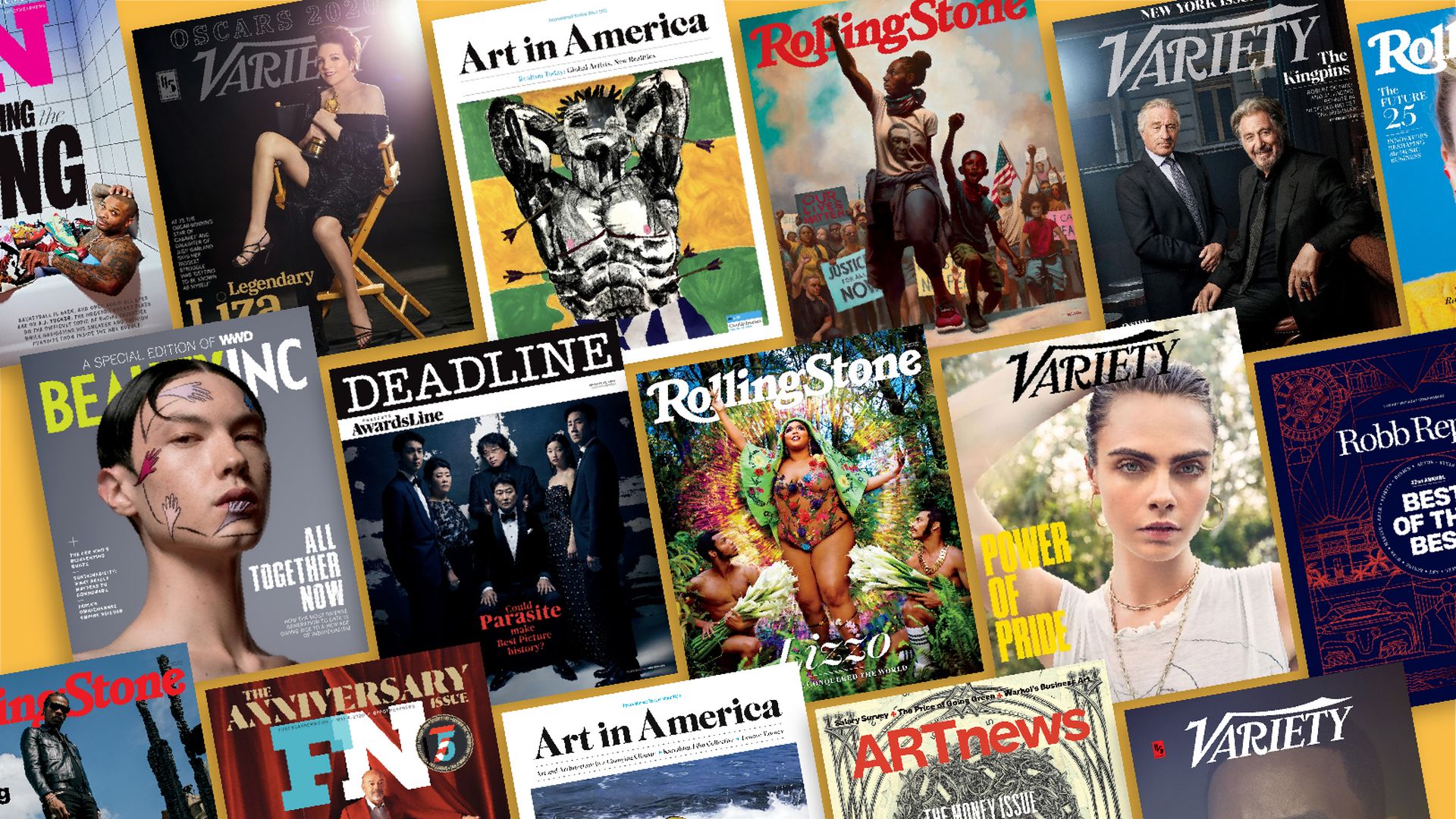 Penske Media Corporation (PMC) on Tuesday will launch a new data services division called "Atlas Data Studio" that focuses on building first-party data segments for marketers to target ads to different types of people online.
The big picture: It joins a growing list of digital publishers, like The New York Times, The Washington Post, Forbes, Vox Media, Condé Nast, Bloomberg and others in building out first-party data solutions as the industry phases out third-party data in response to new privacy laws.
Google made news last week when it said it won't introduce other forms of identifiers to track individuals as they browse across the web after it's done phasing out third-party cookies over the next year or so.
Details: PMC, which is home to more than 23 media brands across music, entertainment, fashion, luxury, and art, began building a first-party data framework at the beginning of last year, says Mark Howard, PMC's Chief Advertising and Partnerships Officer.
The studio leverages data points that it collects from its consumers directly, like subscription or membership data, data from virtual event sign-ups, or data from engagement digital products like newsletters to create those segments.
The pandemic has in some ways made it easier for publishers like Penske to collect first-party data, because more activities, including shopping and live events, are now virtual.
Several PMC brands now have subscriptions or paywalls, including WWD, Sportico, Billboard and others.
What to watch: Howard says that at this point, the company isn't planning to roll out any sort of universal log-in for all of its subscription sites, but says it is having conversations about what the could possibly look like long-term.
4. New era for long-form journalism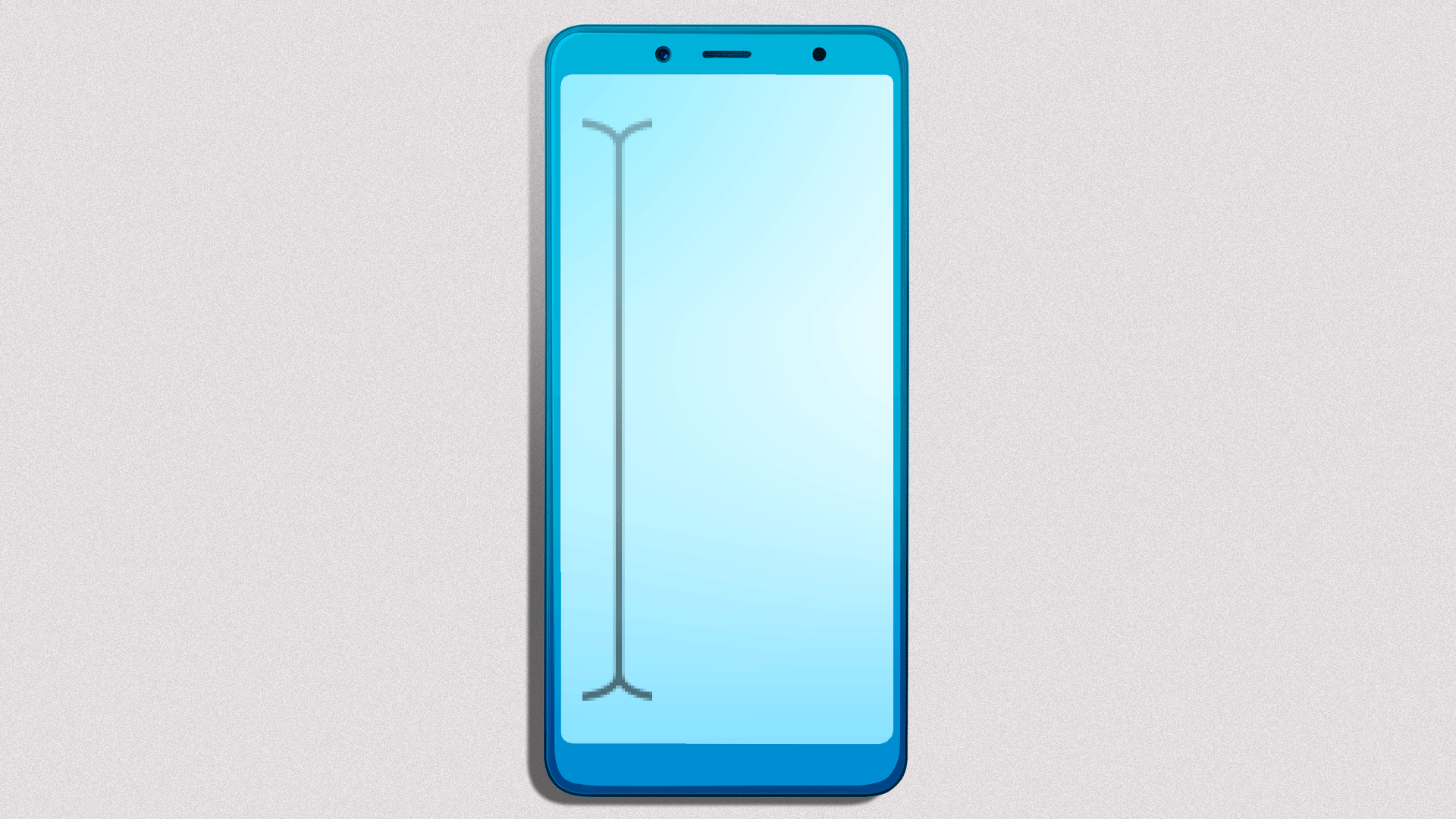 From pop-up newsletters to podcasts and short courses to documentaries, newsrooms are getting creative about presenting long-form journalism in the Internet era.
Why it matters: Streaming and smartphones have made it easier to turn big stories into more digestible formats.
Driving the news: Newsrooms are pivoting away from large chunks of text online, because the format doesn't suit reader attention spans.
The average word count for news articles has fallen from about 449 in September 2019 to about 380 in February 2020, according to data from Chartbeat.
The averaged engaged time on individual news articles has gone up slightly in that time, from 30.29 seconds per article to 31.24 seconds per article.
The big picture: Today, few major internet stories are rolled out without some sort of accompanying audio, video or newsletter format. A few notable examples:
Yes, but: Traditional editorial standards for text can sometimes be difficult to navigate with new mediums.
5. Streaming arms race causes chaos for consumers
The streaming era has presented lots of confusion for consumers trying to navigate how, where and when to watch a hit interview if you are unable to catch it live.
Driving the news: CBS licensed the Harry and Meghan interview from Winfrey's production company Harpo Productions for more than $7 million, per The Wall Street Journal.
The interview appeared live on ViacomCBS' new streaming service Paramount+ Sunday night, but it's unclear where it will live permanently.
The interview will only be available on the CBS app and CBS.com for free for 30 days.
Sources tell Variety that Paramount+ doesn't have the streaming rights to the special, Harpo Productions does.
The Oprah Winfrey Network (OWN) is mostly owned by Discovery, which just this year launched its own streaming service Discovery+.
The big picture: Paramount+, the new subscription service from ViacomCBS, launched Thursday, further crowding the competitive streaming battlefield. It's the last remaining service to launch from a big entertainment company for the foreseeable future.
Further adding to the consumer chaos: Streamers have long licensed their biggest hits to other companies, making them inaccessible on their own services for some time after they launch.
For example, one of Paramount Networks' top hits, Yellowstone, is licensed exclusively to NBCUniversal's "Peacock" service, and won't be available to Paramount+ subscribers.
What to watch: Data shows that most consumers are likely to pay for at most 3-4 services per month.
Most streaming executives concede that at this point, the goal is to become a viable third or fourth option next to Netflix and Disney+, which are ahead on the streaming battlefield.
In a little over a year, Disney+ has accrued about 95 million subscribers, nearly half the number of subscribers Netflix has accumulated over the past decade.
6. America rebalances its post-Trump news diet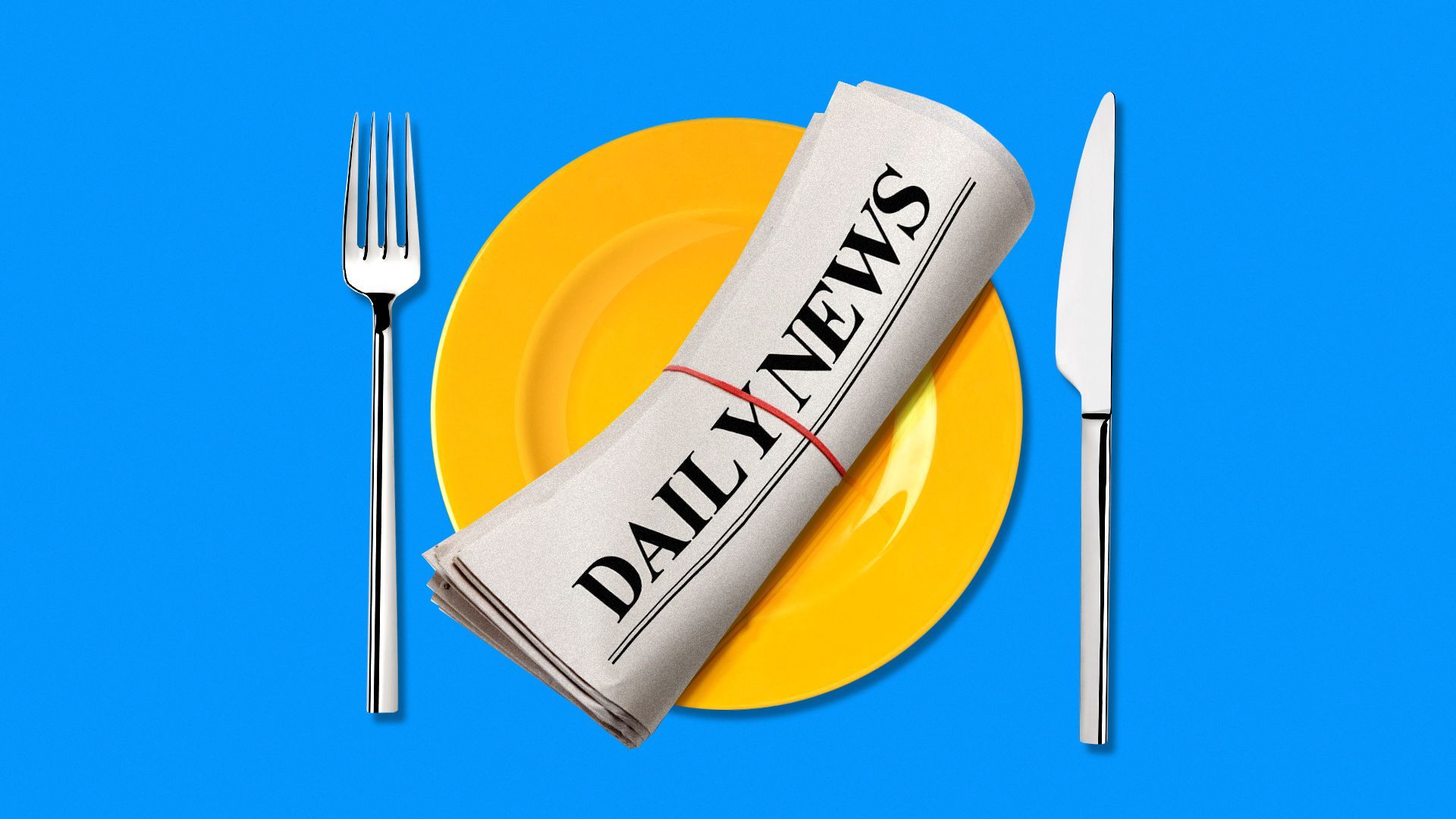 Nearly halfway through President Biden's first 100 days, data shows that Americans are learning to wean themselves off of news — and especially politics.
Why it matters: The departure of former President Trump's once-ubiquitous presence in the news cycle has reoriented the country's attention, Axios' Neal Rothschild and I write.
Driving the news: Nearly every big news site saw its traffic decline in February, compared to a tumultuous January that included the Capitol insurrection and Biden's inauguration.
Many major sites saw traffic dip more than 20%, according to data from traffic analytics company SimilarWeb.
Politics consumption fell 28%.
Between the lines: Interest in the presidency, specifically, has taken a steep plunge.
There were three times as many stories written about Trump in February of 2017 than about Biden last month, according to data from NewsWhip.
Biden was discussed on cable news for an estimated 1,836 minutes last month, according to the Stanford Cable TV News Analyzer. In February of Trump's first year, he commanded an estimated 4,669 minutes on cable news.
Other stories — including GameStop stock and developments on the coronavirus vaccines — have driven higher interest than they could in a Trump-centric world.
7. 1 🌎 thing: Journalists targeted at record levels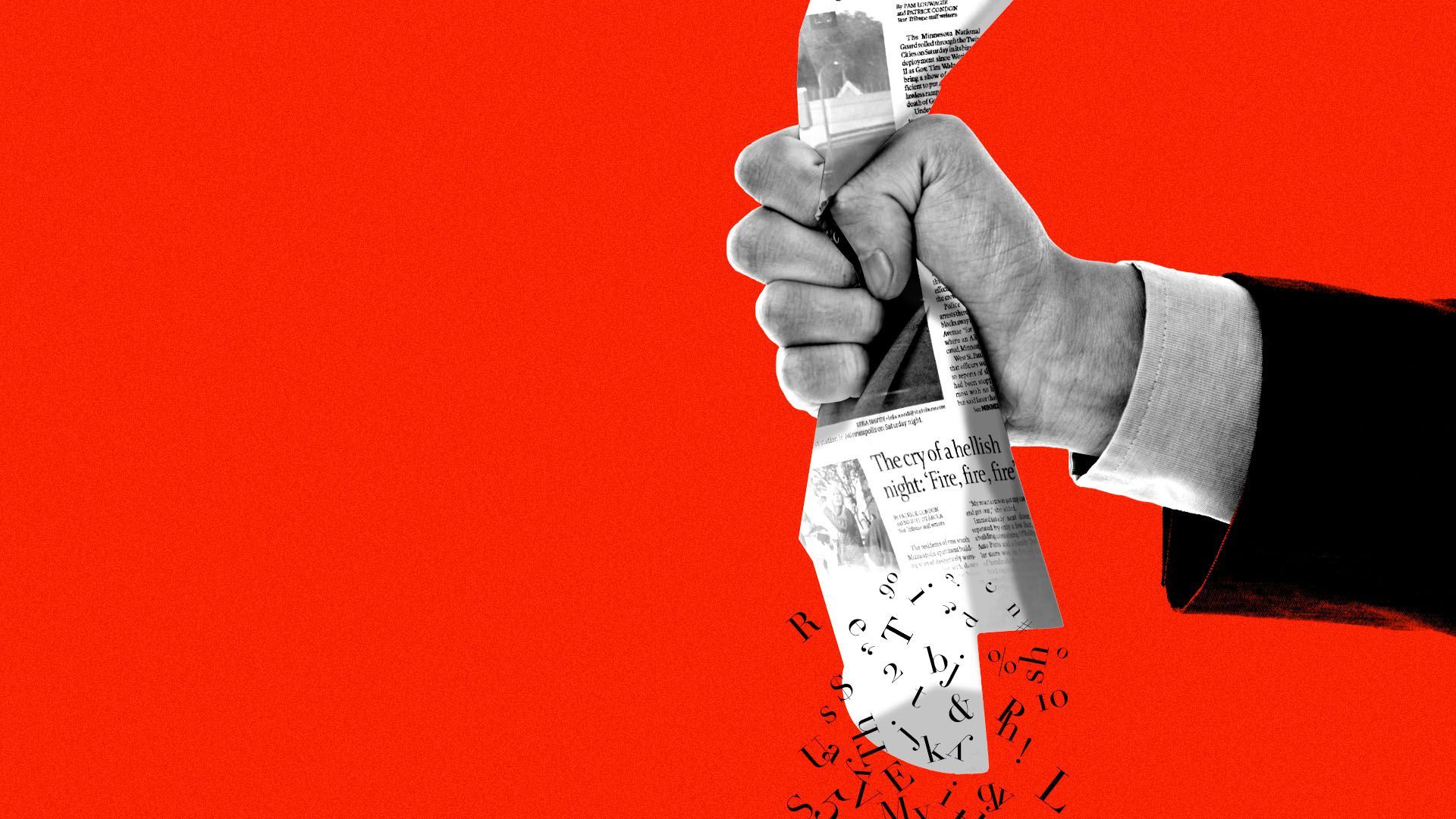 What we're watching: The trial for Des Moines Register reporter Andrea Sahouri began Monday, setting the stage for what could be a critical precedent for press freedoms. Sahouri was one of the dozens of reporters arrested while covering a Black Lives Matter protest last summer.
The big picture: Around the world, journalists are being targeted at record levels.
Governments around the world have begun creating "fake news" laws or other rules meant to silence the press.
They argue the provisions are intended to stop the flow of misinformation, but often, they are used to undermine critical voices — especially in places where democracy is eroding, like Myanmar, Ethiopia, India, Philippines, Turkey, Sri Lanka and Egypt.
Why it matters: Experts worry that the United States' wavering stance on press freedoms over the past few years may have empowered autocrats looking to gain power and undermine democracy by going after journalists.