Axios Media Trends
March 24, 2020
Today's Media Trends is 1,811 words, a 7 minute read. Tell friends to follow along by signing up here.
Situational awareness: Media outlets and e-learning companies are opening up access to kids content and resources for free to parents who are struggling to entertain their kids at home while also working remotely. See our list of what's free.
1 big thing: America's new favorite pastime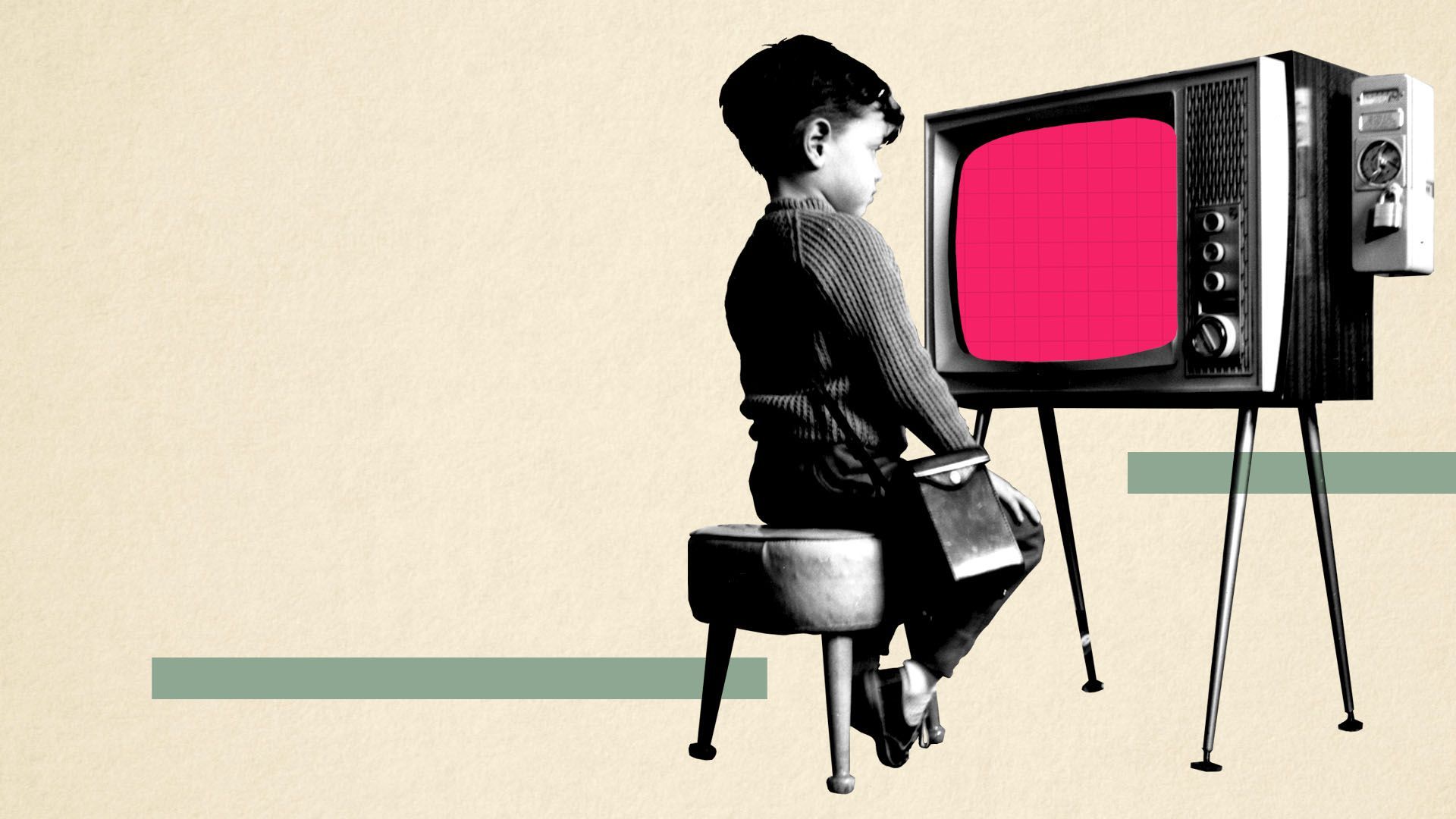 News consumption has skyrocketed in the U.S. over the past few weeks due to the coronavirus, according to TV ratings, web traffic, app downloads and social media interactions, Axios' Neal Rothschild and I write.
Why it matters: Without live sports and with Hollywood production put on pause, consumers are confined to the only type of new professional-grade content that's still being produced daily: news.
Driving the news: According to a new survey from TV analysis company Magid, 51% are increasing their consumption of news amid the coronavirus outbreak, with 49% checking on the news multiple times a day.
App downloads for every type of news outlet, digital, radio and television/video is up, according to new data from Apptopia.
Cable news networks have seen viewership surge more than 50% since the beginning of the year.
Broadcast newscasts are also seeing ratings bumps.
Social media interactions on stories from a group of 10 major publishers have increased 56% over the last two weeks, compared to the rest of the year, according to data from NewsWhip.
Publishers are seeking their traffic totals spike, according to data from Parse.ly. Sites in the Parsely network have seen a 61% jump in page views over the last two weeks compared to the previous 7 weeks.
Yes, but: For many newsrooms, those traffic bumps aren't turning into meaningful advertising dollars.
Between the lines: In what is normally a scattered and decentralized media and entertainment landscape, the nation's interest is now concentrated around the same information and the same developments in the news.
Having the same shared priorities allows news to be shared much wider than in normal times.
The bottom line: In the era of a pandemic, news has become America's biggest pastime.
2. Where the ad dollars go when sports are cancelled
Big brand marketers that were depending on major sporting events to bolster their marketing plans suddenly need to switch course.
Why it matters: "Live sports might be off, but the audiences are very much on and, in fact, consuming even more TV while sheltered at home. It's all about where to find them," says Ashish Chordia, CEO of Alphonso, a television measurement company.
Driving the news: New data shows the best places on television that they may be able to hedge their bets. Looking at sports specifically, you see varying trends in different segments.
A NASCAR racing fan, for example, is less likely to watch SportsCenter than an NBA fan, while a PGA fan is slightly more likely to watch live broadcast news.
Overall, there's a shared affinity across all three sports for morning news and primetime sitcoms that already boast big audiences.
Bonus: Olympics postponed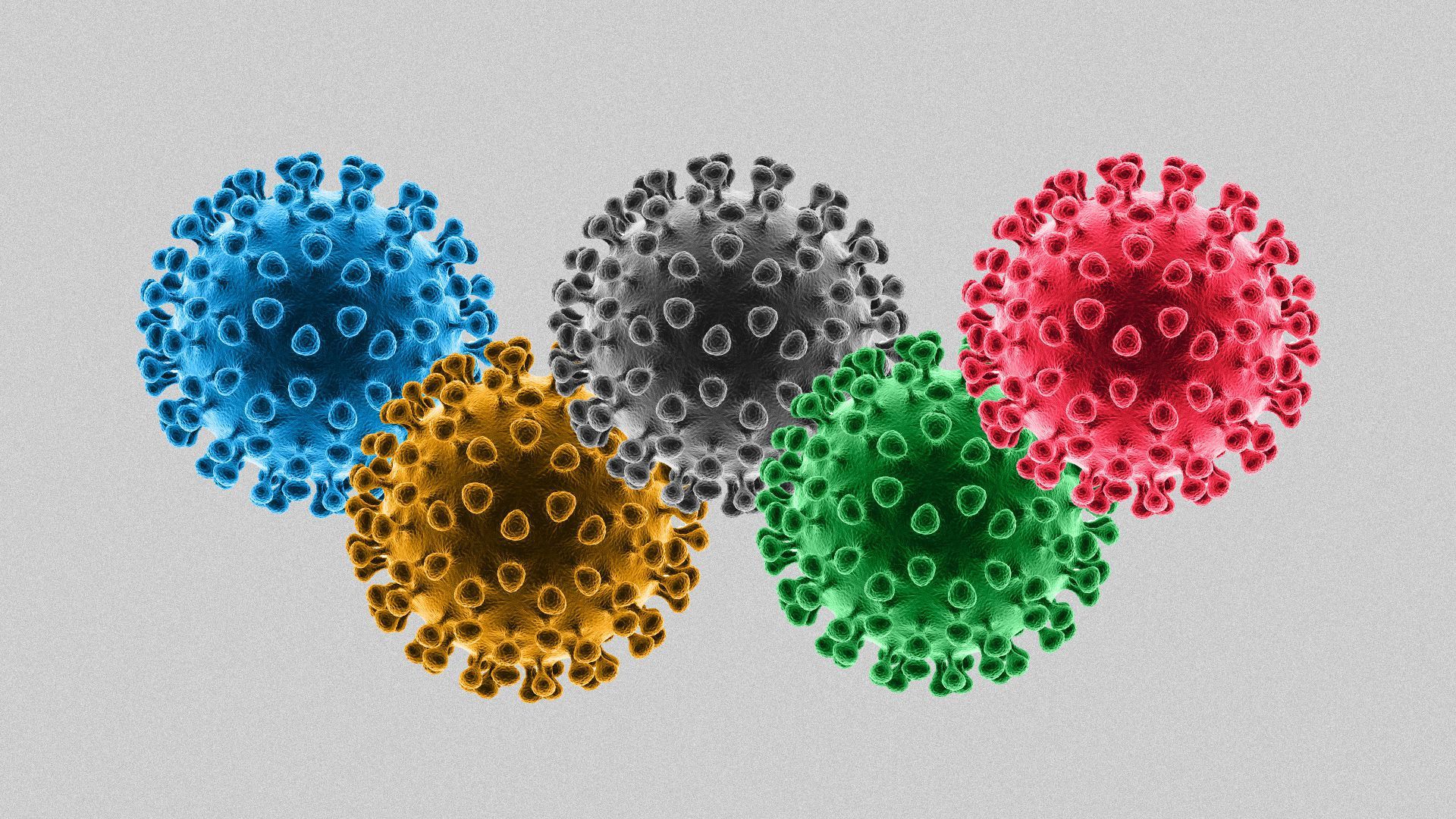 The 2020 Olympic Games will end up being held in 2021, Japan's Prime Minister Shinzo Abe said today.
Why it matters: The advertiser problem with postponements means that you could potentially be facing a more crowded media calendar.
"Cancelled is actually the easier scenario than postponed because it's a definitive yes or no kind of thing," says Jon Swallen, CRO of the media division at Kantar, an advertising analytics company.
"The biggest impact from an advertising perspective would probably go to the network selling the airtime," says Swallen.
NBCUniversal says it's already sold a record $1.25 billion in national ads around the 2020 Tokyo games, surpassing its previous record of $1.2 billion in ad sales during the 2016 games in Rio de Janeiro.
NBCUniversal and its parent Comcast say they have insurance built into its contracts for lost expenses. "There should be no losses should there not be an Olympics, just wouldn't be a profit this year," Comcast CEO Brian Roberts has said.
The big problem: "It's unlikely NBCU can replace ads against programming at the same prices they were selling it for originally for the Olympics, which is a potential revenue hit for them," says Swallen.
Don't forget: There's a huge opportunity cost for marketers needing to reallocate all of their lost sports ad placements.
"There's going to be a spike in available inventory as cancellations come in," says Swallen. It's going to be be better economics for those that come back in and buy earlier."
3. Bored celebrities pivot to coronavirus videos online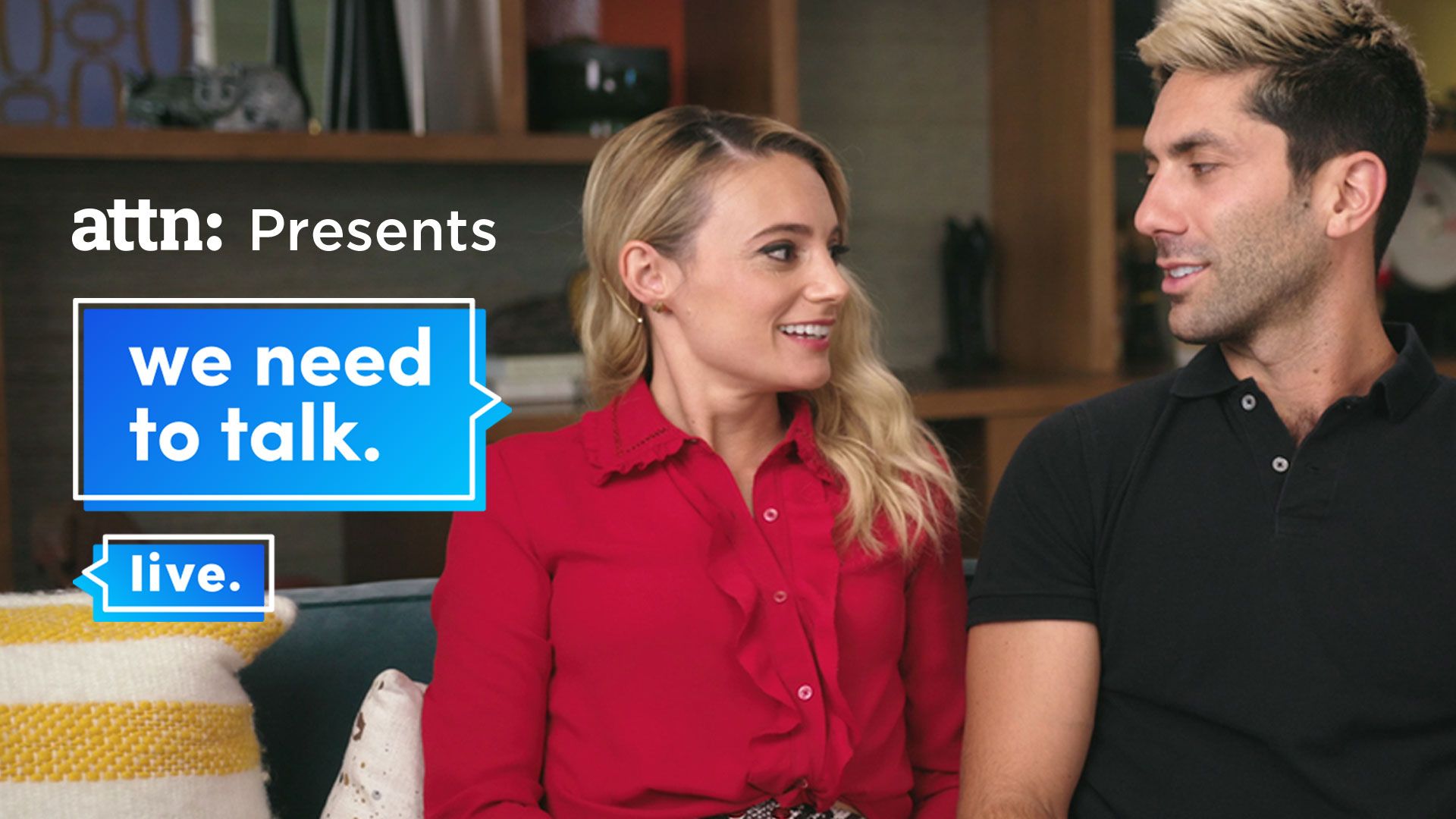 Hollywood stars, confined to their houses, are turning to digital outlets to create new coronavirus-based shows and videos now that most of Hollywood production studios are shut down.
Exclusive: ATTN:, the progressive video news outlet aimed at millennials, is set to release several new lives series across Facebook and Instagram, featuring celebrities talking about the coronavirus.
The new content slate includes a live series in development with actor Ravi Patel, live streams in development with Arnold Schwarzenegger, and a coronavirus-focused information series.
Starting this Wednesday, ATTN: is also launching a live version of its hit relationship advice franchise, "We Need to Talk" that stars MTV Catfish star, Nev Schulman, and his wife, Laura Perlongo.
The new live version will be centered on life in quarantine, as the celebrity couple dives deep into the issues and challenges facing them and viewers, taking live audience questions as well.
The big picture: Even A-listers are getting behind the trend. Oprah Winfrey launched a free Apple TV+ series on Monday, called "Oprah Talks COVID-19."
Other celebrities are making the most of their wide audiences on social media to make videos speaking to people who are spending a majority of their down time in a new quarantined reality.
What's next: Expect more coronavirus-related shows to pop up in the coming days.
Hearst TV launched a new Facebook Watch show on the virus yesterday.
Local stations are creating their own pop-up shows on the virus.
4. Tech companies embrace publisher role as virus intensifies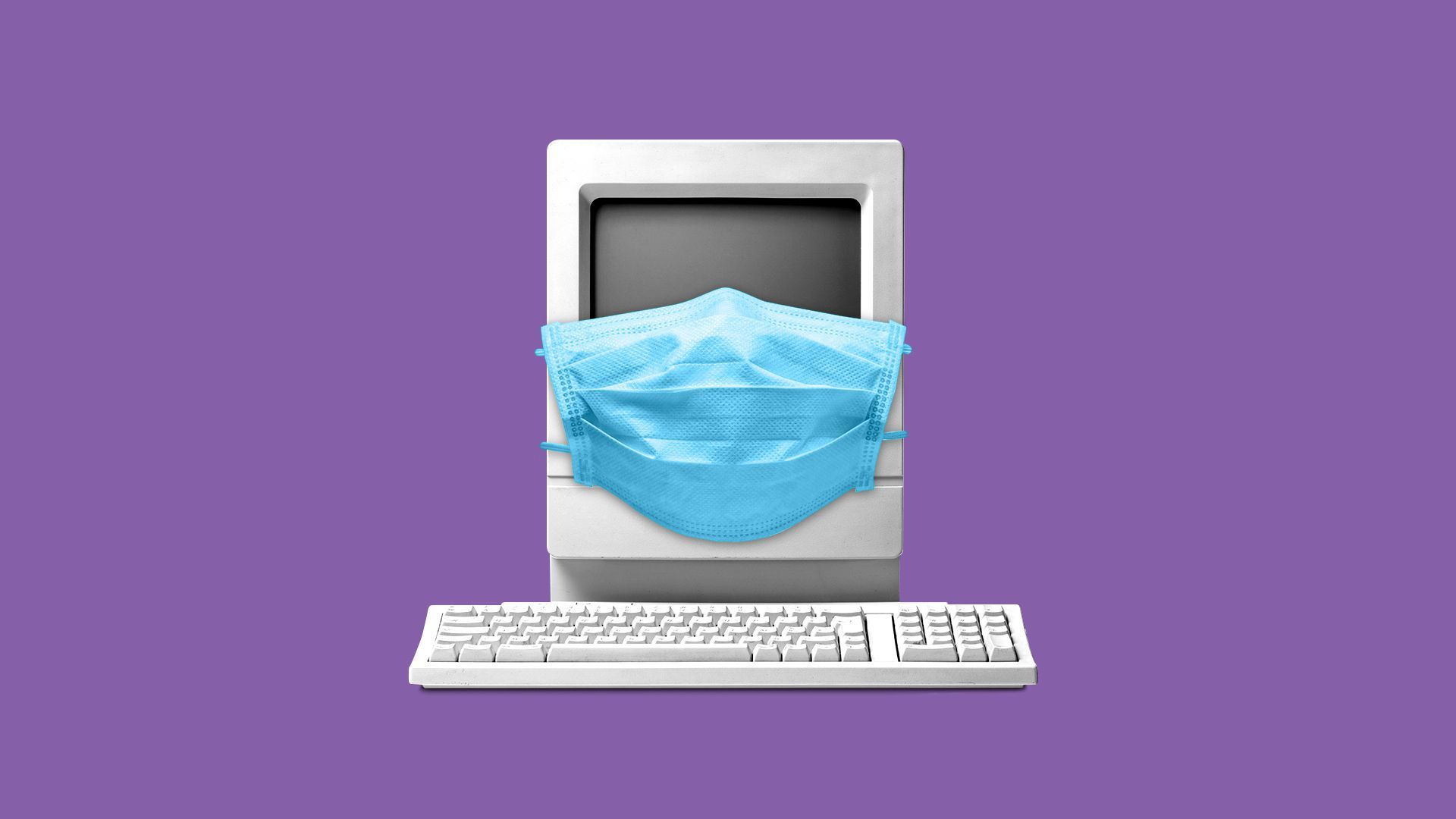 LinkedIn is looking to elevate more live videos on its platform from verified broadcasters and health experts to address the coronavirus pandemic, executives tell Axios.
Details: It's added several companies to its "LinkedIn Live" video pilot and is seeing that on average, broadcasters get 7x more reactions and 24x more comments with live content that regular video.
Linkedin has also created a "Daily Rundown" of editorially-curated coronavirus resources.  The "US Daily Rundown" is distributed to over 47 million individuals in 96 countries and 9 languages.
Searches on LinkedIn for "coronavirus" will highlight an official "know the facts about the coronavirus" page, which is curated by LinkedIn's editorial staff of 65+ under the leadership of Dan Roth, LinkedIn's Editor in Chief.
LinkedIn has also launched new editorial products called "making sense of coronavirus" that shows how the virus impacts different kinds of workers.
The big picture: Linkedin isn't alone. Instagram on Tuesday said it's removing COVID-19 content and accounts from recommendations, unless posted by a credible health organization.
The bottom line: It's taken a global pandemic for some tech companies to really take a bold stand on accurate versus blatantly inaccurate information.
That's not to say that there isn't plenty of misinformation still going viral online about the virus, but most big companies are pushing much harder to elevate quality information than before.
Go deeper: Coronavirus gives Big Tech an opportunity to shine
5. Mozilla launches new initiative with Scroll to fund publishers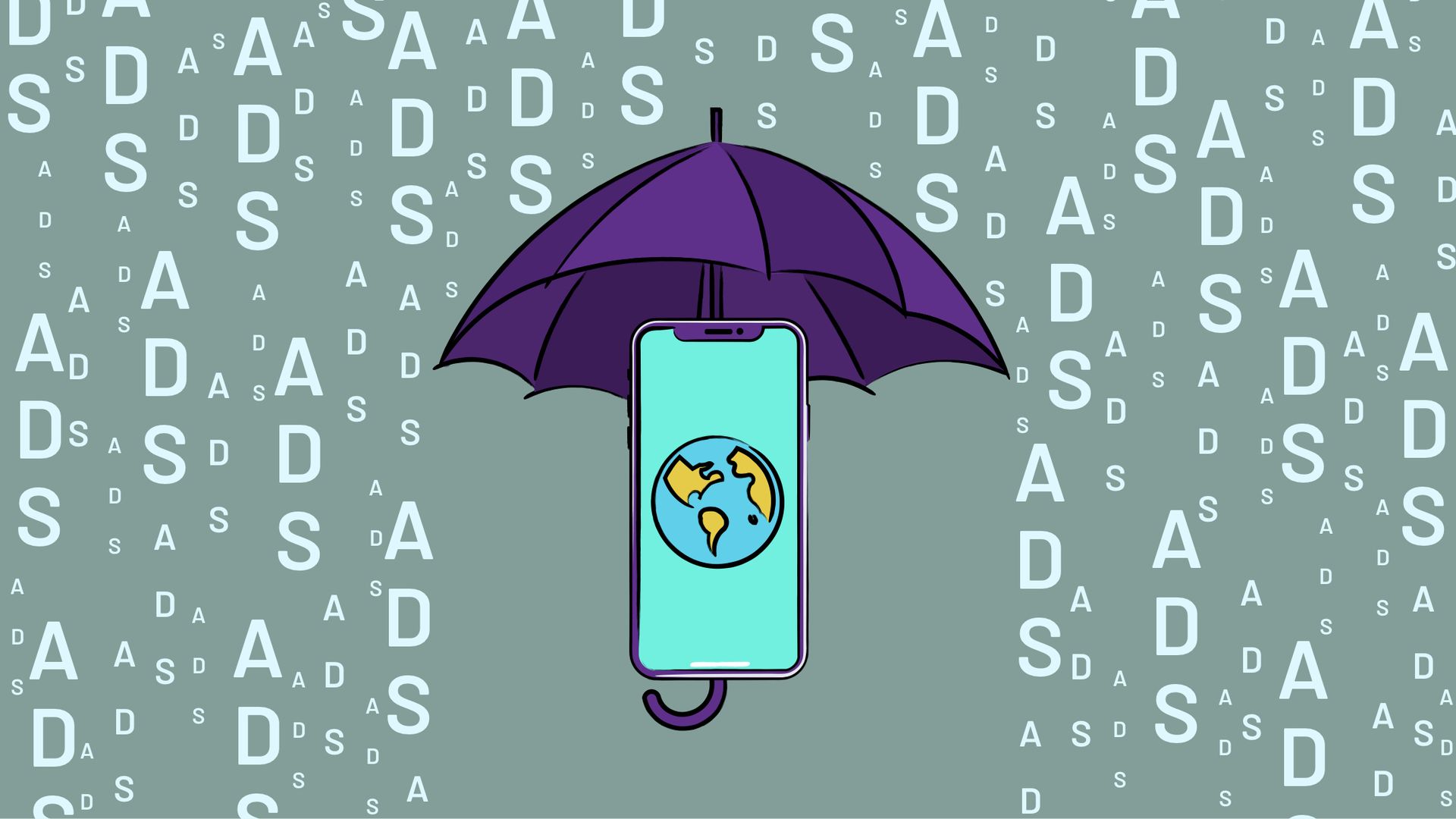 Firefox, the global web browser from Mozilla, is launching a new subscription product Tuesday called the "Firefox Better Web initiative," and it will feature former Chartbeat CEO Tony Haile's new product Scroll as a launch partner.
Why it matters: It's uncommon for a web browser to launch a product that's explicitly tied to paying out publishers. Scroll's businesses is all about paying publishers for their content while giving users a better ad experience.
Details: The test pilot for the product, which is a subscription to a privacy-first Firefox extension, will only be available in the U.S. The money from a membership ($4.99 monthly, $2,49 for first six months) goes directly to fund publishers and writers.
"Firefox is going to be going out to its users and offering to them, for the first time, an enhanced product where a browser is allowing publishers to get funded," says Haile. "We want to see where this takes us."
"We needed to come up with a solution that makes the user experience ideal, but also is sustainable so that publishers can continue making amazing content because that's better for the user in the long run," says Matt Grimes, Head of Firefox Product Innovation.
The bigger trend ... Mission browsing: Firefox has championed efforts around mission-based browsing, or providing users with a browsing experience that has a bigger goal than just providing search results in mind — whether that be privacy, or supporting publishers.
Other browsers, like DuckDuckGo, have launched with similar privacy principles in mind.
6. Coronavirus tests internet bandwidth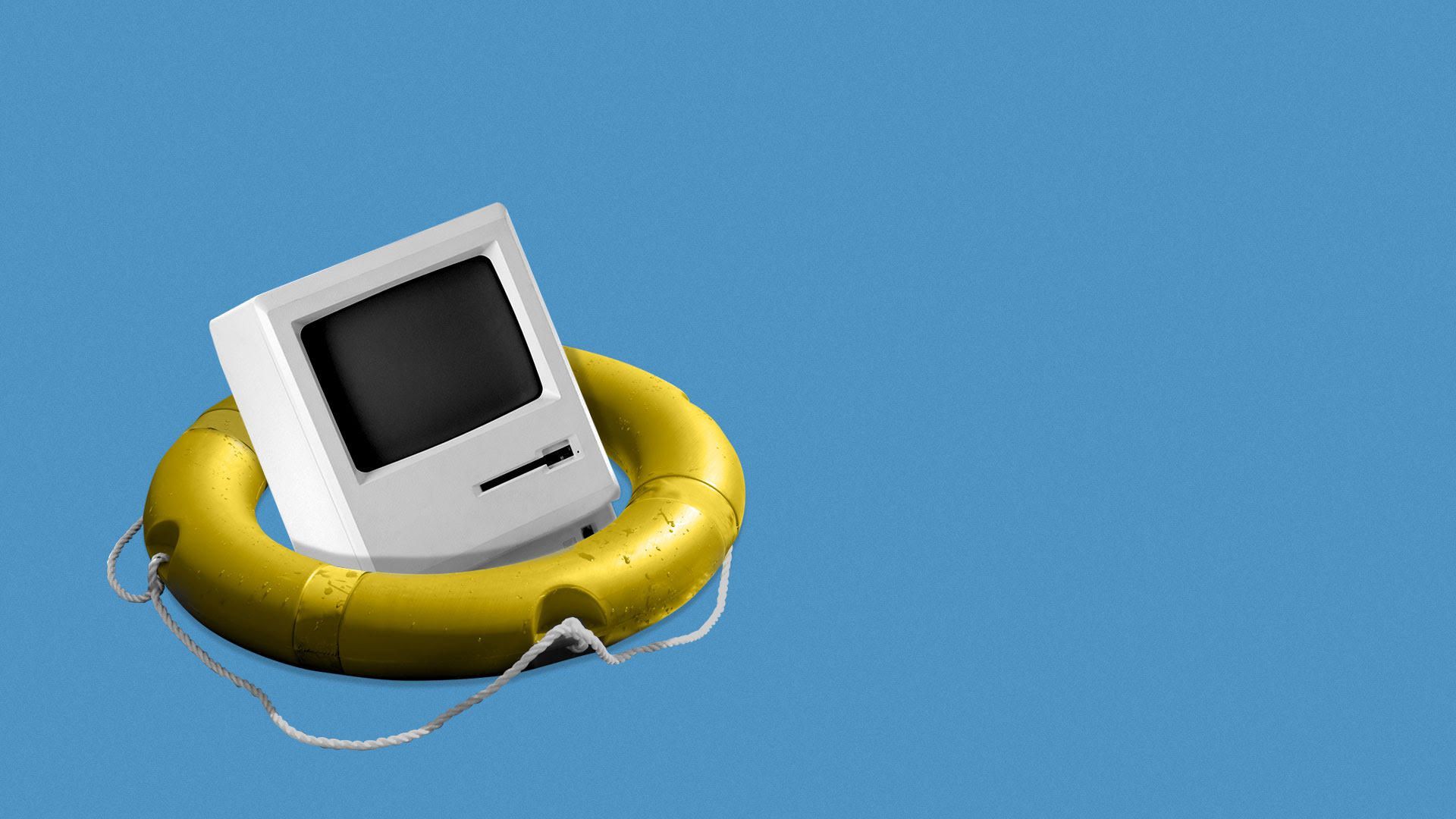 With the in-person economy in the U.S. essentially shut down, the internet has never been more critical. The key question now is how well the network can handle the unprecedented demand, Axios' Ina Fried and Margaret Harding McGill write.
Why it matters: Europe's networks have already come under strain, and if cloud services and internet service providers here falter, "shelter in place" could get a lot rougher.
Driving the news: Netflix, Apple TV+, YouTube, Facebook, Amazon and Disney+ have cut their bandwidth usage in Europe amid high demand there, following requests from regulators.
Where it stands: Based on network performance so far, Americans don't have to worry about Europe's broadband issues arising here, Federal Communications Commissioner Brendan Carr told Axios.
By the numbers: Wireless voice traffic is up 25% at Verizon. AT&T, meanwhile, said wireless voice traffic on Friday was up 40% compared to a typical Friday, while voice calls over wi-fi networks have doubled.
7. Coronavirus' existential threat to local news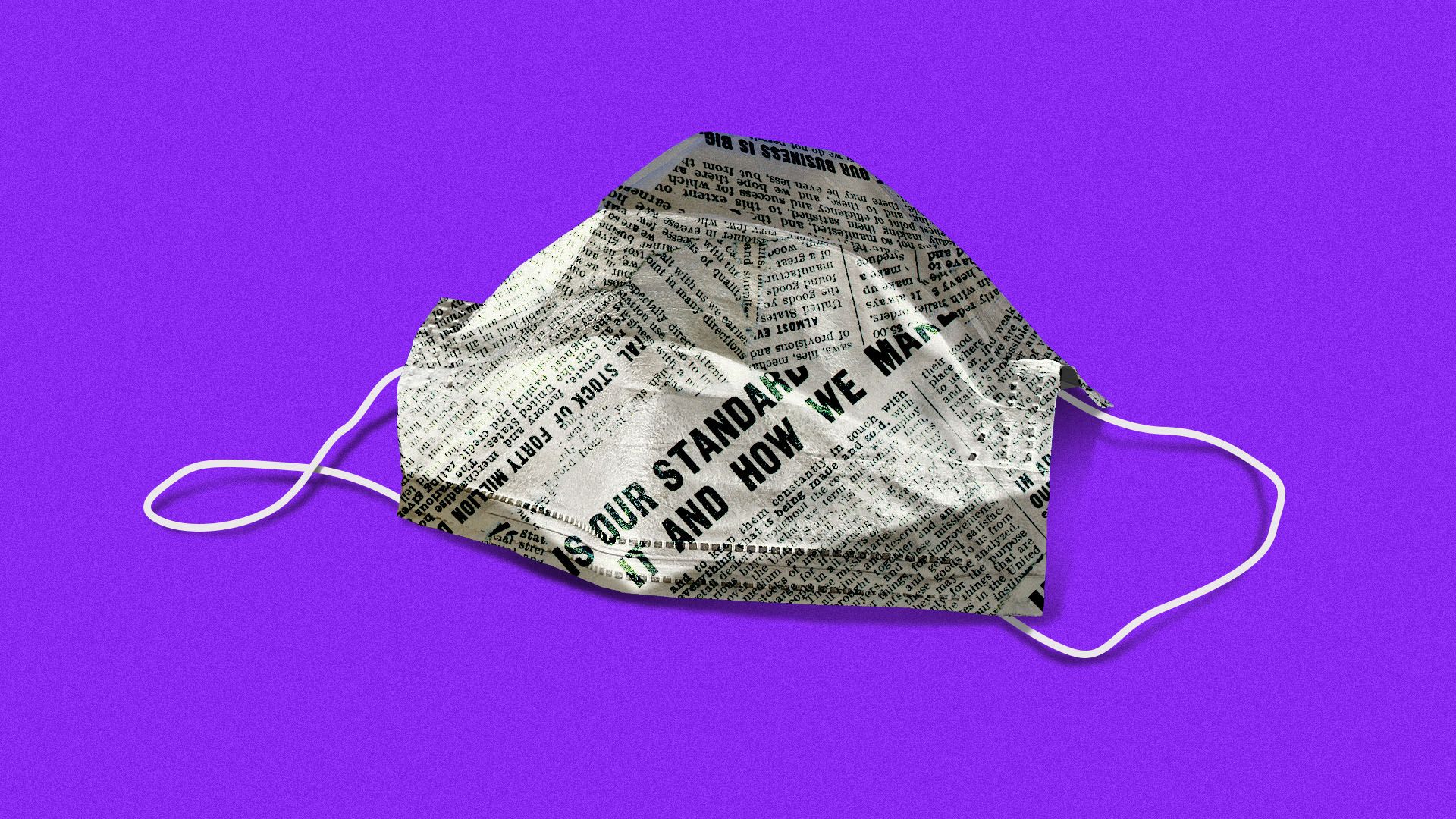 Dozens of local newsrooms began laying people off this week out of fear that the economic hit of the coronavirus could severely hit their ad revenue.
Why it matters: Local news was already facing dire straits in the United States. The coronavirus and a pending recession could push the industry into near collapse at a time when people need access to local news and information more than ever before.
"Economically, this is devastating," said Beth Neuhoff, CEO of Neuhoff Communications, which has 20 local radio stations. "We are modeling daily on how to keep people when we have no money coming in the door."
Yes, but: Despite the fact that local outlets are experiencing higher levels of traffic and viewership in years, many have wasted no time trying to get ahead of what will be a long, financial struggle.
"Right now – 2020 could end up 20-25% down in local advertising," says Corey Elliott VP of Research at Borrell Associates, a local advertising analysis company.
The silver lining: "We will look back on these events as a moment at which the newspaper industry's transition from print to digital accelerated meaningfully," says Jim Friedlich, executive director of The Lenfest Institute for Journalism, a nonprofit that supports local news and is the owner of The Philadelphia Inquirer.
8. The risks of virus misinformation in Trump country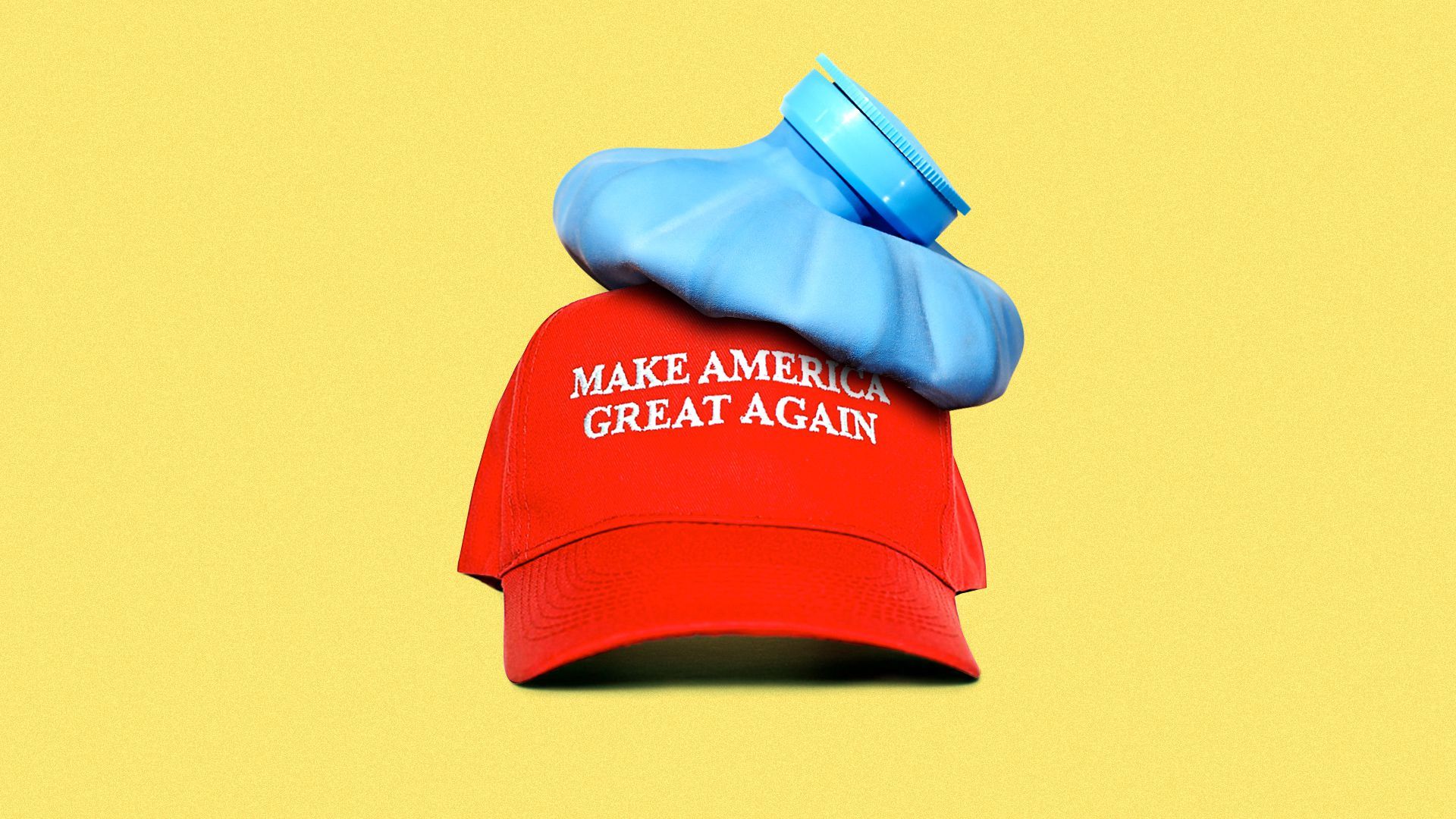 The demographics, work patterns and media habits of President Trump's base are putting many of his supporters at elevated risk for the health and economic impacts of coronavirus, Axios' Stef Kight and I write.
Why it matters: Disinformation and distrust in the media could be putting elderly people and some Republicans at greater risk.
Research has found that older populations tend to be most susceptible to falling for and spreading misinformation.
Republicans are less likely to trust media sources, and thus are more likely to place trust in just one news source: Fox News, according to the Pew Research Center.
By the numbers: 76% of Republican respondents told Pew that they thought the media exaggerated the dangers of coronavirus, according to a new survey.
9. 1 📱 thing: Houseparty gets coronavirus boost
Houseparty, the group video chat app recently acquired by Epic Games, is enjoying a resurgence in popularity as people are asked to remain home to help curb the spread of the coronavirus Axios' Kia kia Kokalitcheva and I write.