Axios Media Trends
February 06, 2018
Thanks for subscribing to Media Trends. Tell friends to follow along by signing up here.
If you're in the Bay Area next week, I'll be moderating a discussion on the status of trust in institutions as a part of the release of the Edelman Trust Barometer. RSVP.
1 big thing: Kids flood the web
The internet was created by adults for adults, but it has seen a sharp uptick in kid users over the past 10 years.
Why it matters: Silicon Valley has bet its future on younger users, but has come under fire recently for building products that critics say aren't safe for children.
Dylan Collins, CEO of SuperAwesome, a technology platform used to power kid-safe digital engagement for hundreds of companies, argues that a bias among engineers towards building products for adults has led to some of these problems:
"Some companies' engineering rationale only works when applied to adult use cases. When released in the children's space, those same engineering decisions don't work."
For example, most adult-based services, like YouTube, use moderators to address bad content that isn't caught by algorithms and automation, Collins says. That approach, which still leaves bad content on the platform until a human catches it, doesn't cut it when the target audience is kids.
This bias also comes into play when companies name their products for children. "The best way to build a product that is ignored by 7- to 12-year-olds is to use 'kids' in the name," Collins says.
Kids' internet access began to increase when Apple launched the iPad in 2010. Their screen time has only increased since then.
Forty percent of children ages 0-8 have their own tablet device, up from less than 1% in 2011, according to Common Sense Media's national "Media Use by Kids" census.
Ten percent of children age eight or under own a "smart" toy that connects to the internet and nine percent have a voice-activated virtual assistant device available to them at home.
The bigger picture: Critics say tech warps the minds of users who aren't mature enough to use it well — and gathers their data. "The race to keep children's attention trains them to replace their self-worth with likes, encourages comparison with others, and creates the constant illusion of missing out," says the Center for Humane Technology, a group launched this week by engineers and investors.
What's next: Critics of Big Tech are starting to use the public health concerns about its products to advance their advocacy in Washington and the Valley. Common Sense Media is hosting a conference Wednesday in D.C. to explore how tech companies manage children's tech addiction, featuring lawmakers that have been friendly to tech in the past, but no representatives from tech companies.
2. Exclusive: Just 1% of publishers face Chrome ad blocker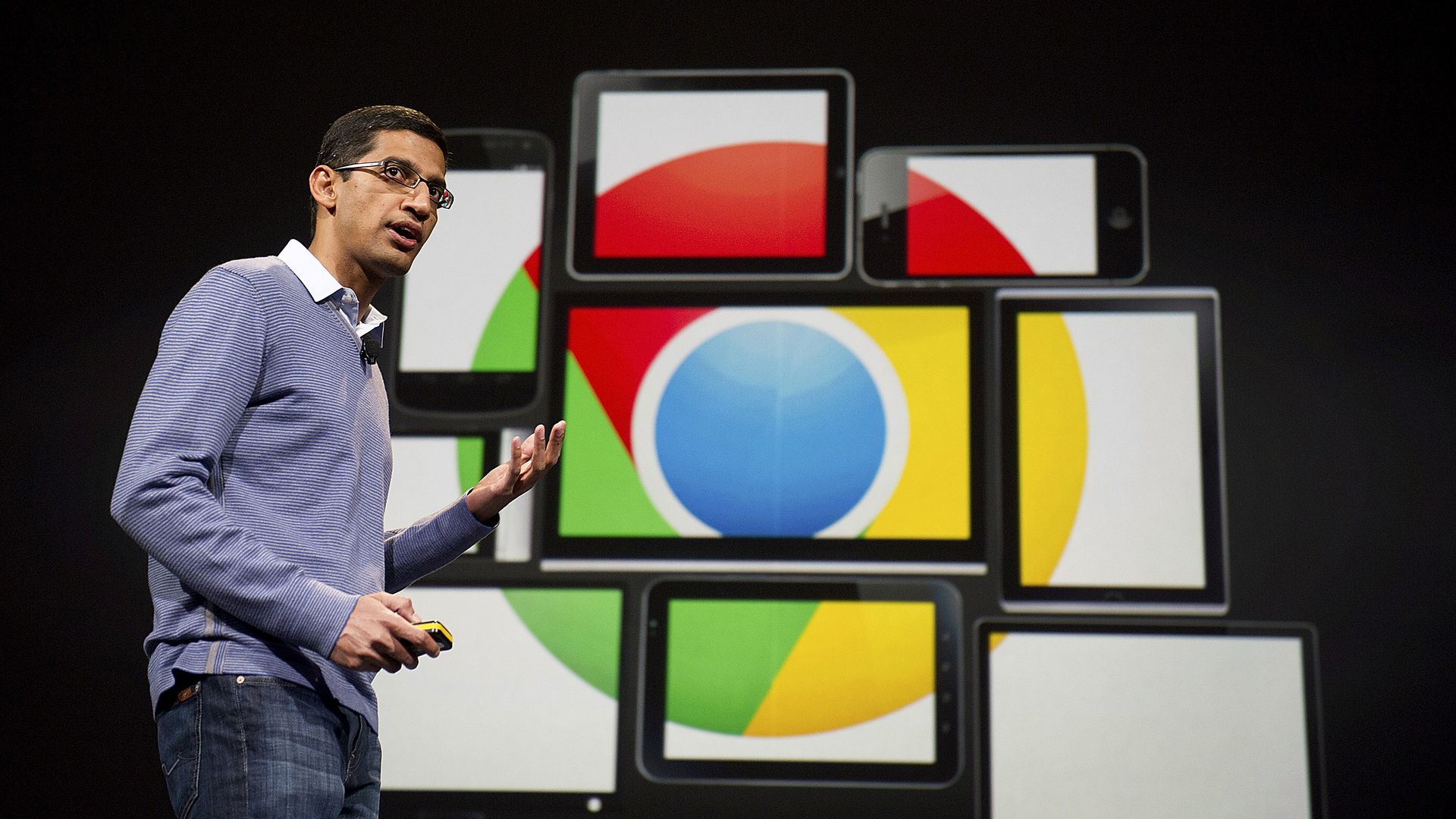 Google says that roughly 1% of publishers aren't compliant with the industry's third-party ad blocking standards, meaning a vast majority of websites will not be impacted by the ad blocker the tech giant will install in its latest version of the Google Chrome web browser next week.
Why it matters: Publishers were initially worried when the ad blocker was announced eight months ago that compliance would be difficult, hindering their ability to make ad revenue. This data should mitigate those concerns.
Google reviewed over 100,000 websites in North America and Europe since June as part of an ongoing audit of publishers' ads to ensure they're compliant with third-party standards. The sites are reviewed to make sure publishers are aware of bad ads on their site so they can take quick action to fix them.
Of the 100,000+ sites surveyed, only .5% were at the "warning" level of potentially being blocked. Only .9% were at the "failing level" and would be blocked.
Google says that 37% of sites previously found in violation of the Coalition's standards have already fixed their advertising issues.
Sites like the LA Times, Chicago Tribune and Forbes that initially violated the Coalition's standards were made aware of their ad violations through Google's Ad Experience report for publishers, which was provided to publishers a few months ago.
According to Google's research:
One-in-five Chrome feedback reports mentions annoying or unwanted ads.
There were 5 billion+ mutes from people using Google's "mute this ad" feature in 2017.
Go deeper: 3 misconceptions about the blocker.
3. Media deals in limbo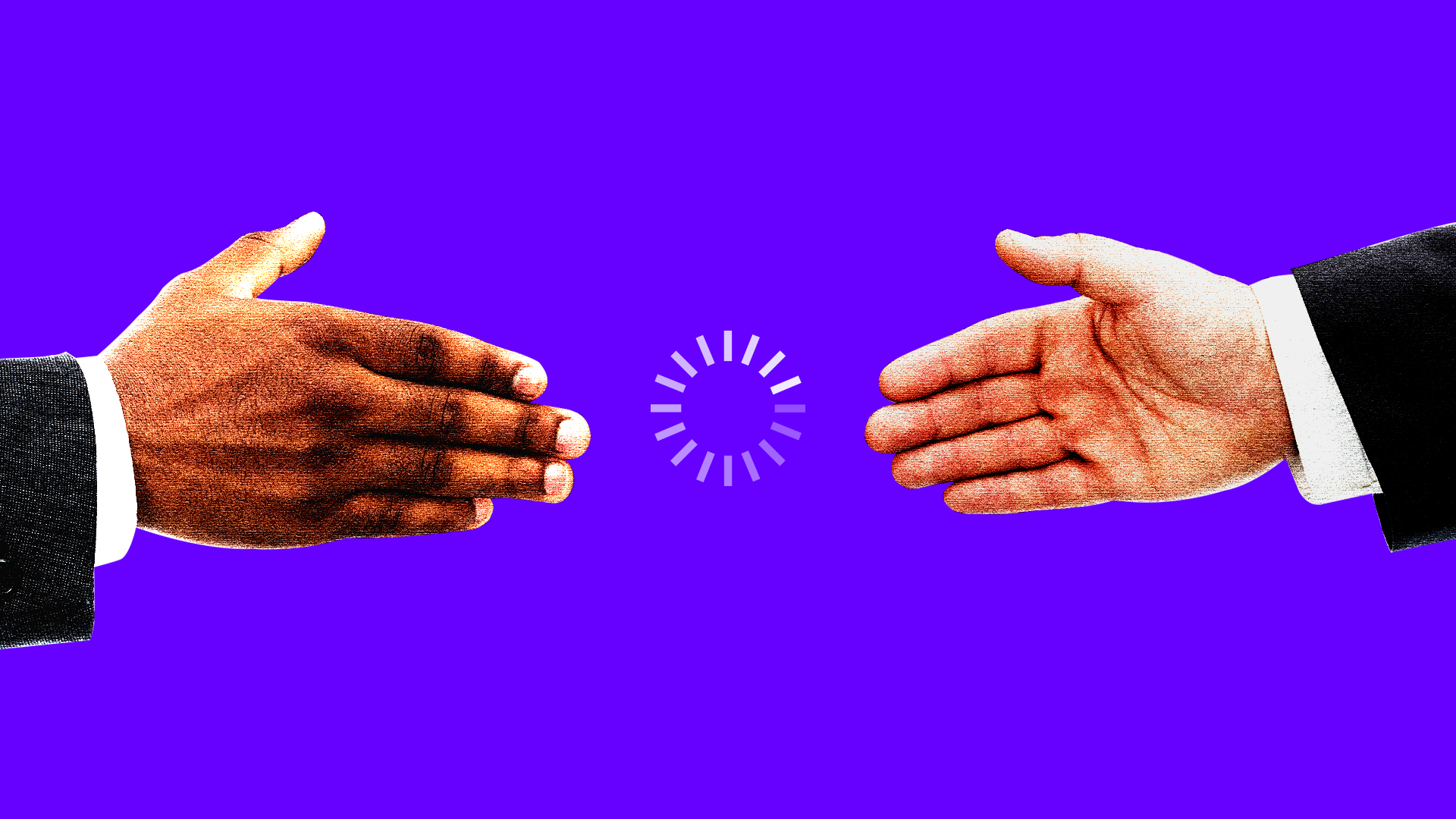 A number of major media deals are facing uncertain futures since the DOJ unexpectedly sued to block the $85 billion AT&T merger with Time Warner in November.
Why it matters: The unexpected litigation is slowing momentum at a time when media companies are looking to consolidate to survive.
Deal volumes during Trump's first year as president were up 29% and 8% from the last two years of Barack Obama's presidency, respectively. (Chart below.)
But sources say the renewed confidence of dealmakers has come to a screeching halt now that the DOJ is looking to block the merger.
Judges typically don't like merger litigation because it forces them to predict the future and their job is to determine liability based on past facts.
"In a horizontal merger, (like the one between Disney and Fox), where two likeminded companies combine, they overcome this a bit because there's clear precedent set. But that's missing in a vertical merger. No vertical merger law has passed since the 1970s."
— DC antitrust lawyer and former DOJ antitrust trial attorney David Balto
The political nature of Trump's involvement with high-profile deals could also affect billions of dollars of deals to come. Sources say it's absolutely plausible to think his personal vendetta against CNN could impact the deal landscape, but that the current antitrust chief, Makan Delrahim, is not one who is likely to consider that opinion.
"My knowledge of Makan Delrahim is that he's going to call balls and strikes right down the middle," says Balto. "Antitrust enforcement works best when it does not have a political dimension to it."
4. Media deals megalist
The big deals coming down the pike this year:
AT&T / Time Warner
Deal value: $85 billion
Deal status: DOJ suing to block deal. Court date is in March.
Likelihood of passage: Debated. AT&T thinks it will go through.
What would stop passage: Anti-competitive concerns around AT&T owning a direct-to-consumer service (DirecTV) with internet pipes and a content arm (Time Warner).
Walt Disney Co. / 21st Century Fox
Deal Value: $52.4 billion
Deal status: Pending DOJ approval
Likelihood of passage: Seems likely
What would stop passage: Anti-competitive concerns around Disney owning a large chunk of regional sports networks in the U.S.; competitive leverage over theater owners
Sinclair Broadcasting Group / Tribune Media
Deal Value: $3.9 billion
Deal status: Pending DOJ and FCC approval
Likelihood of passage: Seems likely
What would stop passage: The DOJ has asked Sinclair to divest 10 stations ahead of the merger, but it seems like Sinclair is playing ball with regulators.
CBS Corp. / Viacom
Deal Value: TBD. CBS' market cap is $21.65 billion. Viacom's market cap is $12.77 billion.
Deal status: Both companies have formed exploratory committees to evaluate potential merger. There's rumors that the deal would be structured as "an all-stock transaction with CBS acquiring Viacom," according to Variety.
Likelihood of passage: Seems likely.
What would stop passage: Experts say if a Disney/Fox merger is approved, there's no reason that this deal, which is much smaller and similarly structured, wouldn't pass as well.
Fun read: Recode's Edmund Lee lays out a good case for why Amazon should buy CBS.
Want to get smarter about deals and dealmakers shaping M&A and VC conversations? Sign up for Axios' Pro Rata newsletter authored by Dan Primack.
5. Eye on earnings
Tuesday: Walt Disney Company, Snap Inc., Acxiom, Omnicom      
Wednesday: IAC, 21st Century Fox, Yelp       
Thursday: Gannett, Lionsgate, McClatchy, News Corp, Nielsen, Publicis, Regal, Twitter, Viacom
What we're watching:
Disney announced plans last quarter for its own entertainment streaming arm and sports streaming app in the next few years. What details will CEO Bob Iger provide about the company's streaming strategy? How will the company address its pending merger with Fox?
Twitter said on its last earnings call that the company is closer to profitability than ever before since having gone public in 2013. Will this be the quarter that it tips out of the red? What will executives say about new reports that the company understated the number of people that interacted with Kremlin-backed trolls?
Viacom said last week that it established a special committee of independent directors to evaluate a potential merger with CBS. The company says it won't comment further until the process is completed, but they'll most certainly be asked about the possibility of a deal. They'll also likely be asked about a new Cheddar report that the company is being hit with another round of layoffs this week. Expect executives to talk up ways its ad tech efforts could help a bigger company land new ad deals.
6. 1 fun thing: internet parenting
The youths may be flooding the internet, but social media sites are still trying to lure parents to their platforms by offering them parenting-specific content.