Axios Media Trends
January 09, 2018
Thanks for subscribing to Media Trends. Tell friends to follow along by signing up here.
Heading to the Consumer Electronics Show? I'll be speaking at the Future of News panel today at 1 p.m. Email me at [email protected] if you want grab coffee in Vegas.
1. China exploits U.S. investment to conquer media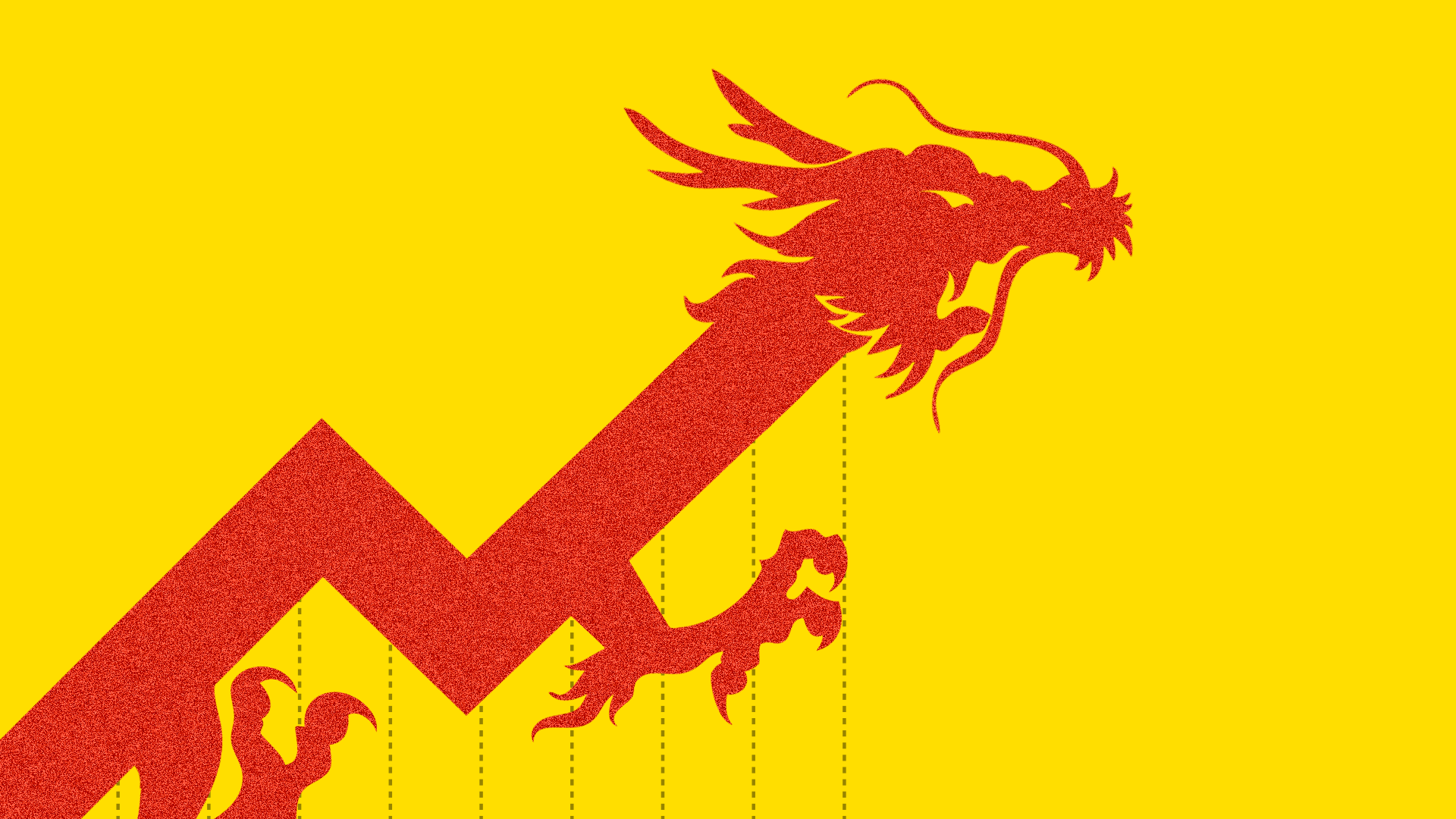 Chinese internet giants like Tencent, Baidu and Alibaba are ramping up investments in U.S. tech and media companies. They're also building data servers and acquiring ad tech businesses in the U.S. that can help them monetize media engagement from citizens living in America, like students or tourists.
Why it matters: There's a misconception that the Chinese push into the Western media tech market is to target new American users or to compete directly with U.S. tech companies. In reality, they're looking to expand their Chinese user base abroad and make money from Chinese expats who would rather use their own social, messaging, and commerce apps in the U.S.
There's a lot of revenue to be made: Chinese tech companies can sell much more expensive ads to Chinese citizens using Chinese apps in the U.S., the world's largest and most mature digital advertising market, than they can in China.
Size of digital ad market in US: $83 billion
Size of digital ad market in China: $50 billion
Humphrey Ho, managing partner at Hylink, China's largest independent digital advertising agency (and the only one that's not state-run), says his firm estimates that the number of Chinese citizens traveling to the U.S. will jump from four million unique visitors to 10 million by 2021.
Investing in the U.S. ad tech landscape is a major priority for the Chinese internet companies, which tend to lag behind the U.S. in ad technology.
Investments give Chinese executives access and exposure to the best practices of Western corporate management style, as well as access to intellectual property that they can take back home.
There's also a political focus on Chinese expats, Axios' Bill Bishop notes. "Beijing has a set of policies and institutions that are focused on influencing overseas Chinese, including through Chinese media in foreign countries."
What's next? U.S. lawmakers are weighing ways to clamp down on some Chinese investments and acquisitions in light of concerns that they could give America's biggest rival access to sensitive technologies that that are crucial to the U.S.'s economic and national security priorities, especially user data.
In the meantime, look for all of these companies to have a major presence at the Consumer Electronics Show, with sponsorships, speeches and showrooms.
By the numbers ...
2. CES Showdown: 3 big things to watch in media
CES kicks off today in Las Vegas, and this year, there's a bigger focus than ever on the intersection of technology, media, entertainment, marketing and advertising.
The three big product wars you should be following:
The rise of voice assistants in all kinds of consumer electronics, per Axios' Ina Fried. "From the top-level, it's a fierce battle between Amazon and Google to get their assistants included on other companies' devices. At the same time, hardware makers — including Samsung, LG and Roku — are putting their own voice assistants into their products."
A new batch of AR/VR gear. Look for a new batch of mixed-reality headsets. China's Xiaomi, for example, is working with Facebook's Oculus unit on a new standalone product.  (Ina notes that AR is the hot one this year thanks to adoption by Apple and Google, while VR is somewhat less visible after a year of disappointing consumer interest.)
Smart TVs will get even smarter. Per Ina, "LG is showing a large rollable model, while Samsung showed a giant 146-inch TV — "The Wall" — made up of a new technology, called microLED, that it says eliminates the need for backlighting."
Can't make it? Ina will be updating this post on the Axios stream throughout the week. We'll both be tweeting live updates. (@sarafischer and @InaFried)
3. Scoop: WaPo hits 2nd year of profitability, plans expansion
The Washington Post will celebrate its second consecutive year as a profitable company by adding to its business and technology teams in 2018, according to a memo to staff from Post Publisher Fred Ryan obtained by Axios.
The team of nearly 800 journalists will be acquiring additional space in its headquarters building in downtown Washington in 2018. "This expansion will meet our needs in the coming year and accommodate anticipated growth in the future," Ryan says.
The news comes as The New York Times is downsizing at its Manhattan HQ (which is much larger than the Post's HQ.) Executives announced last year that it would be moving out of "at least eight floors" to cut costs.
Go deeper: Read the full memo
4. Exclusive: Big shakeup in digital TV buying
Mediaocean, the 50-year-old TV-buying platform used to purchase an estimated 75% of all TV ads in the U.S, is partnering with Adobe's Marketing Cloud to integrate digital ad buying with TV.
Why it matters: Just a fraction of TV ads today are bought digitally, even though the technology is there to serve digital TV ads to more than half of Americans.
Until now, media buyers haven't had much access to the programs that would allow them to buy TV ads in a way that could integrate all of the data sets they need to buy TV ads digitally.
Experts expect this partnership to significantly increase digital TV buying, which is estimated to have brought in less than $5 billion in revenue last year — less than 10% of the $70+ billion TV ad market. (See above.)
The move is also a major threat to Google, which announced in April that it will now let advertisers buy TV ads in real time through DoubleClick Bid Manager (DBM), its automated ad bidding system.
Bottom line: It will take ad buyers some time to integrate the technology into their TV buying habits, but this partnership will make it significantly easier.
5. Gut Check: The threat to Google
There's a growing backlash against Google and Facebook over their conflicting interests in the digital video space. Both are investing heavily in their own video content (YouTube and Watch), which they will need to sell ads against, yet both are also trying to provide ad-buying solutions for other marketers. 
Why it matters:  Some ad-serving companies see Google and Facebook's positions on both the demand-side and supply-side of digital video space as a conflict of interest.
They argue that because their companies don't own any media to sell against, they are better positioned to be the transparent middle man in the digital TV-buying space.
Adobe and The Trade Desk, two of the largest digital ad placement services, are both bringing this argument to clients.
6. How Sinclair's massive deal could shape 2020
Sinclair Broadcasting Corporation's proposed $3.9 billion acquisition of Tribune Media would give the conservative-leaning company control of an additional TV station in Des Moines, Iowa — one of the most important presidential primary media markets in the country.  
Why it matters: Sinclair's possible acquisition of an NBC affiliate in Des Moines (WHO-DT) underscores Democrats' worries about the deal giving a right-leaning company significantly more control over local news. The Sinclair-Tribune deal is expected to be approved by regulators this quarter.
Sinclair already owns KDSM in Des Moines, which received roughly $295,000 of political ad dollars during the 2016 primaries.
The Tribune-owned NBC channel (WHO-DT), meanwhile, captured roughly $1.6 million of political primary ad spend in the last cycle, according to FCC filings.
Sinclair also already has a significant footprint in other major primary states. It owns a station in Portland, Maine that covers parts of New Hampshire, and stations in four different South Carolina markets, as well as Savannah, which reaches southern parts of state.
Go deeper: David McCabe and I have more in the Axios stream.
7. 1 digital thing: TV news consumption
Only half of the country (50%) of U.S. adults say they now get news regularly from television, down from 57% in 2016, and down from 83% in 2003, according to a study from Pew Research Center.
Of all television news, local TV still has the largest audience by far compared to national and cable TV, but it's been hit with the greatest decline among the three types of TV channels.