Axios Media Trends
February 11, 2020
Good morning from Palm Springs. Today's Media Trends is 1,776 words, a 7-minute read. Sign up here.
Situational awareness: A judge has allowed T-Mobile's purchase of Sprint to proceed, ruling against a suit by a coalition of state attorneys general.
👀 Patrick Garrigan is joining Bloomberg as Global Head of Bloomberg Live, from The Atlantic, according to an internal memo sent to Axios.
The memo from Bloomberg Media's Stephen Colvin says the company's live events business has seen a compound annual growth rate of 83% over the last 4 years.
1 big thing: Scoop ... Snapchat's new wellness push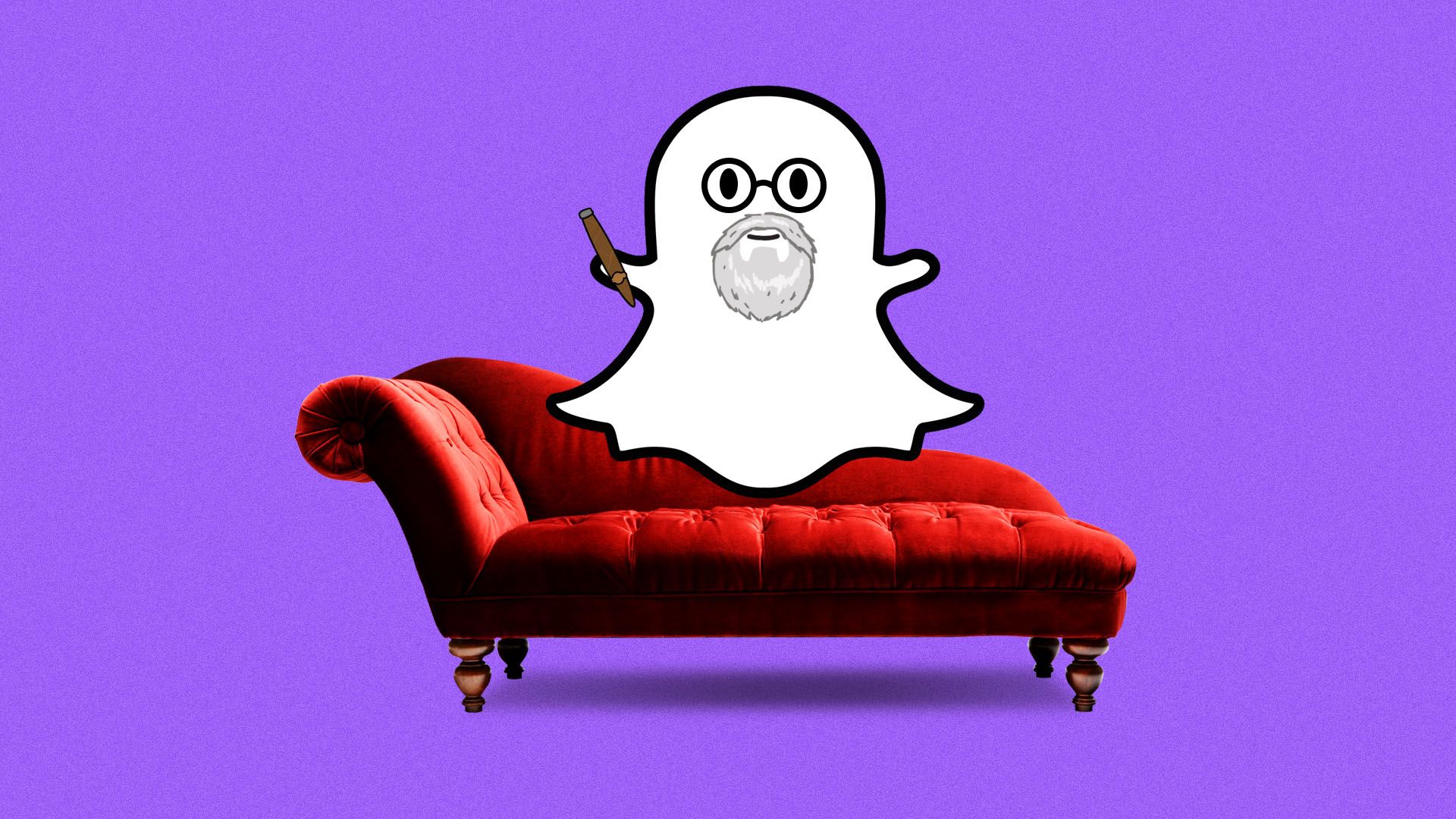 Snapchat is launching a new set of tools and custom content around mental health and wellness, sources tell Axios.
Why it matters: It's the first product launch around what will be a bigger health and wellness push from Snapchat that will be rolled out in the next few months.
Details: Snapchat's search tool "Here For You" will launch in beta today, along with new content features.
When a user types in words that could imply they need help with health and wellness issues, the tool will surface a special section within Snapchat's search results.
It includes proactive resources from mental health experts, as well as content from partners on topics such as from anxiety, mental health and suicide.
For example, if a user were to type the word "anxiety" into Snapchat's search function, the show title for its new series "Chill Pill" would surface, as well as episodes of some of its other popular shows that show anxiety-relieving videos.
It will also surface original programming from Snapchat that talks about issues like suicide or depression in a constructive way.
The big picture: Many tech platforms are beginning to invest in health and wellness efforts to ensure the loyalty and wellbeing of their users.
Pinterest introduced emotional wellness activities like deep breathing exercises for users searching for resources around matters like anxiety or stress.
Instagram has focused heavy resources on combating bullying on its platform and has worked to expand its suicide content ban.
Between the lines: Snapchat and Pinterest's efforts are more about providing resources than fundamentally changing products to reduce user stress.
The company has dodged some of the bigger criticisms around user wellbeing that some of its competitors have faced due to its investments in privacy and combating misinformation.
It's also billed itself as a platform that's meant for close friends to interact, which could make its platform more appropriate for tougher conversations around personal health.
Internal Snapchat research shows that feelings of stress, depression and anxiety are the top mental health issues users say they and their circle of friends face, according to a Snap spokesperson.
What's next: Today's announcement, made on Safer Internet Day, will be followed up by a further rollout of health and wellness features in the next few months.
Go deeper: Tech companies target your sanity
2. Early states miss bulk of Bloomberg cash
Michael Bloomberg is funneling more than a third of his massive advertising war chest into the 14 states voting on Super Tuesday, data from Advertising Analytics shows.
Why it matters: While most candidates are focusing their dollars and efforts on early primary states, the Democratic presidential candidate has his eyes set on the states he thinks he can win — and those with the most delegates, Axios' Stef Kight and I write.
The big picture: Early states missed out on the Bloomberg money surge.
Total campaign spending on TV, radio and satellite ads on the Iowa caucus fell from 2016 to 2020. This was in part due to the decline in super PACs this election cycle, according to Steve Passwaiter, VP of political advertising at Kantar Media/CMAG, an ad measurement firm.
Super PACs aren't legally required to receive lowest unit rates by local broadcasters the way that candidates are.
It didn't help that Bloomberg largely skipped over the state.
Go deeper. Bloomberg's monopoly, Biden's market crash
3. Scoop: Google's next news investment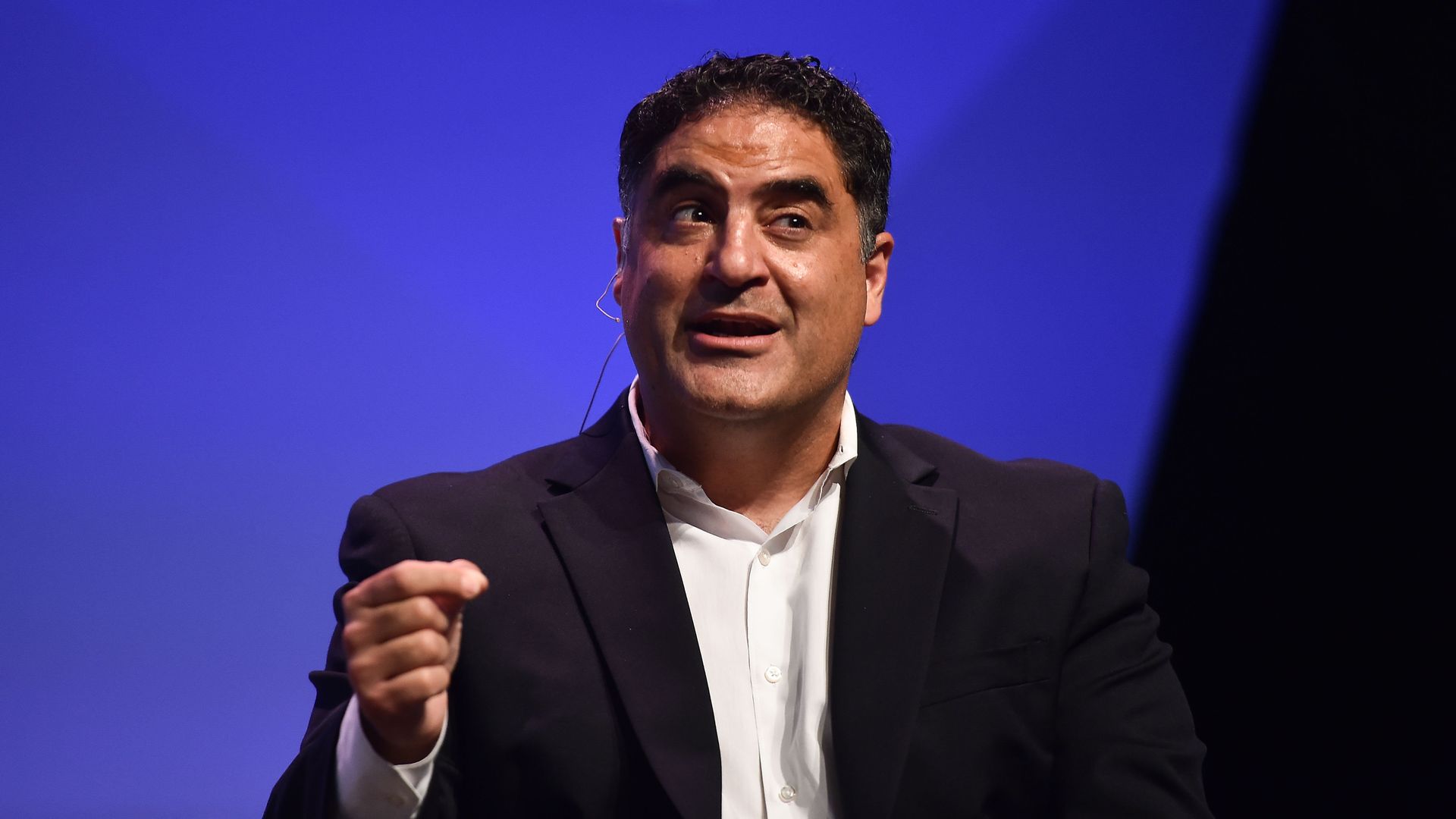 The Young Turks (TYT), one of the largest progressive digital publishers on YouTube, is receiving funding from Google-owned YouTube to launch an online course called TYT Academy that focuses on the creation of digital-first local news. Sources say the investment is in the mid-six figures range.
Why it matters: The investment is part of YouTube's $25 million commitment to news efforts, which is part of the $300 million Google News Initiative that was announced in 2018.
As one of YouTube's most successful publishers with 4.6 million for its main account and millions of followers across its affiliated channels, TYT is a logical fit for this type of investment.
The new class features a two-track video series, with each containing 8 videos. Users will take short quizzes along the way, and must pass a final exam after completing each track to earn a TYT Academy certificate.
First track: Journalism tactics and responsibilities.
Second track: Best practices for online video production across many online platforms, not just YouTube.
For now, the course is in a trial period. TYT plans to expand the program more broadly after first testing it with 10-15 people.
The goal of the class is to get everyday people engaged in digital media so that they can help report on their local communities.
Yes, but: While TYT takes a strong progressive position as an outlet, Steven Oh, TYT's Chief Business Officer and the creator of TYT Academy, told Axios on a phone call that TYT is "not interested in cranking out journalists who share our political viewpoint whatsoever."
The big picture: Facebook has also invested in online news courses from publishers. In December, Axios reported that Facebook would be funding an online deepfakes course for newsrooms by Reuters.
Our thought bubble: The videos, which have already been posted online for about two months for this course, appear to be non-partisan, but it's notable that YouTube is investing in a course from TYT, which has a progressive bent.
Facebook has said that it will include partisan publishers like Breitbart in its news tab, but says it won't necessarily pay Breitbart. The company hasn't released a list of all of the publishers who are being paid.
4. Marketers own up to data, journalism crises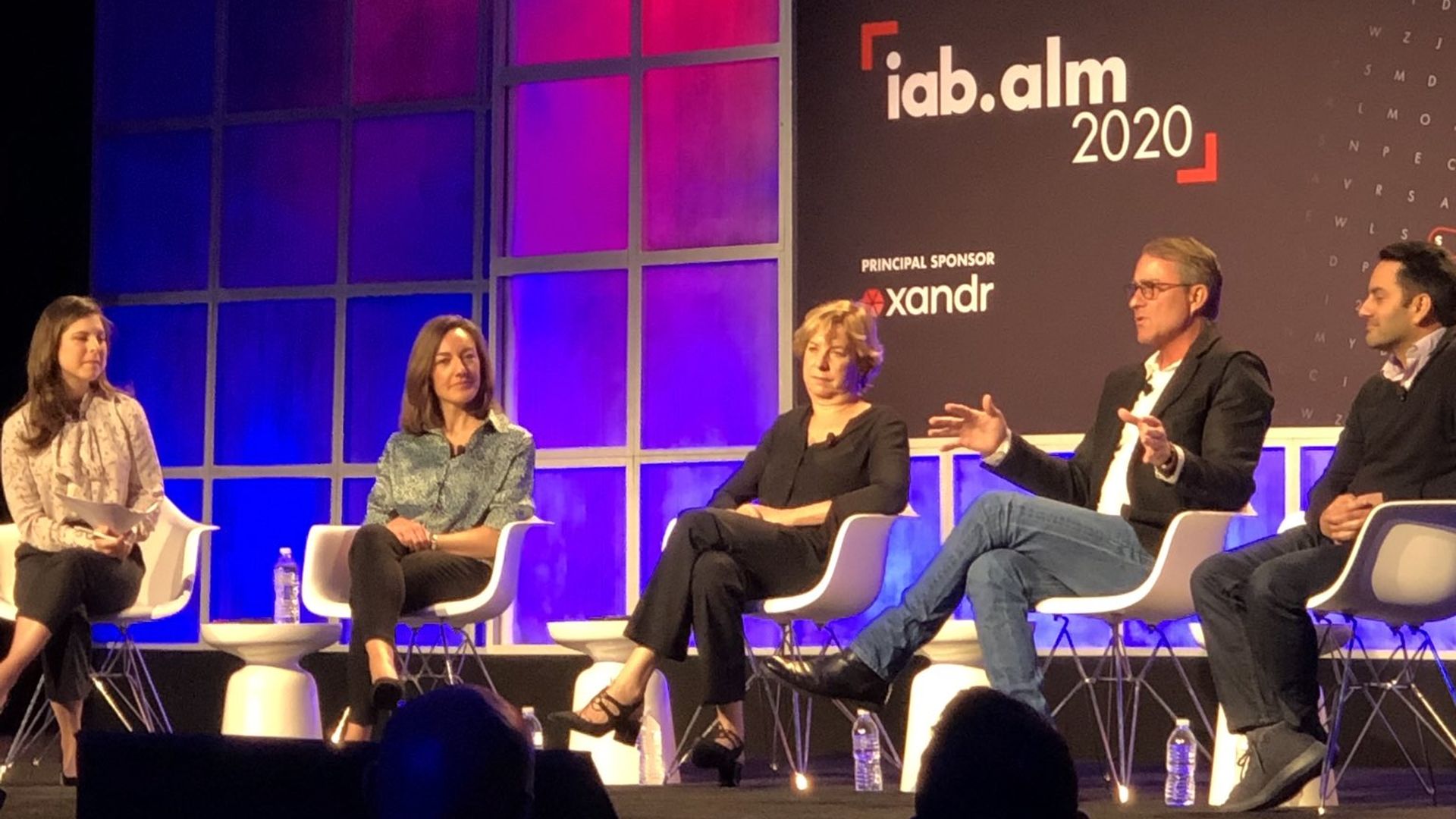 Marketers that for years funneled billions of dollars into platforms using sketchy third-party data, cookies and reckless privacy practices are beginning to come to terms with a new reality.
Driving the news: Speaking at the Interactive Advertising Bureau (IAB) annual leadership meeting in Palm Springs this week, executives confessed that new privacy regulation and industry changes are forcing them to finally be on their best behavior, after years or reckless spending.
"I've literally steered hundreds of millions of dollars to these platforms," Eargo CMO and industry veteran Shiv Singh told me on stage. "And at no point in that journey ... did I ask about their data policies or did I ask about what is their relationship with media or politics or consumer privacy or any of that. So my first response is that we all have a stake in this and I think at some level, we all have screwed up."
"IAB conference feels like an AA meeting where we tearfully admit our addiction to third party cookies and promise to clean up," tweeted Ari Paparo, CEO of ad tech firm Beeswax.
"We've lost thousands of jobs (in journalism) and advertisers took their money from one place and nobody said anything," said John Battelle, Co-Founder and CEO, Recount Media Inc. on stage.
Go deeper: Ad biz reckons with privacy rules
5. Podcast wars heat up with Luminary's global expansion
First on Axios: Luminary is expanding its service to 3 new countries, New Zealand, South Africa, and Ireland, sources tell Axios. The move expands Luminary's footprint to Africa for the first time and doubles its international presence, which to date was only Canada, the UK and Australia.
Most Americans subscribe to multiple video services, but not multiple audio services, according to Nielsen. But that could soon change if more podcasts begin to be offered exclusively on certain platforms. While younger generations are willing to invest in multiple services, older users are not.
Luminary's global expansion comes on the heels of the announcement that Richard Plepler has joined its board of directors and that former HBO President and CRO Simon Sutton has joined as CEO.
Luminary's subscription podcast offering is bolstered by offering dozens of podcasts to users exclusively on its platform.
The company raised $100 million last year to become the "Netflix" of podcasts.
The big picture: Podcasts companies are looking to invest more in their own exclusive content to lure users to pay subscription fees to their services.
Apple will reportedly fund exclusive podcasts for its platform. Bloomberg reported last month that Apple is also planing to make original podcasts promoting its TV shows.
Spotify announced Wednesday plans to acquire The Ringer, a sports media company founded by former ESPN personality Bill Simmons. It's the latest in Spotify's roughly $500 million investment in podcasting.
The Ringer shows that are currently exclusive on podcast platforms like Luminary and Pandora will remain exclusive.
The programs available on all podcast platforms will be available everywhere for the foreseeable future. There may be some podcasts from The Ringer that become Spotify exclusives in the future, although that's not expected to be the case for the most part.
Why it matters: Via Axios' Ina Fried: "The big question is whether this (Ringer deal) and other moves by Spotify and Luminary will mark the end of a world in which podcasts were largely openly and freely distributed."
6. Disney+ comes out swinging
Disney's strong showing shortly after it debuted its streaming service last November shows that it will be a formidable competitor to Netflix in the streaming wars.
Disney+ now has 28.6 million paid subscribers.
ESPN+ now has 6.6 million subscribers, up from 3.5 million in November.
Hulu, of which it owns a majority, has over 30 million subscribers.
In other streaming news:
7. Sportsbooks invade media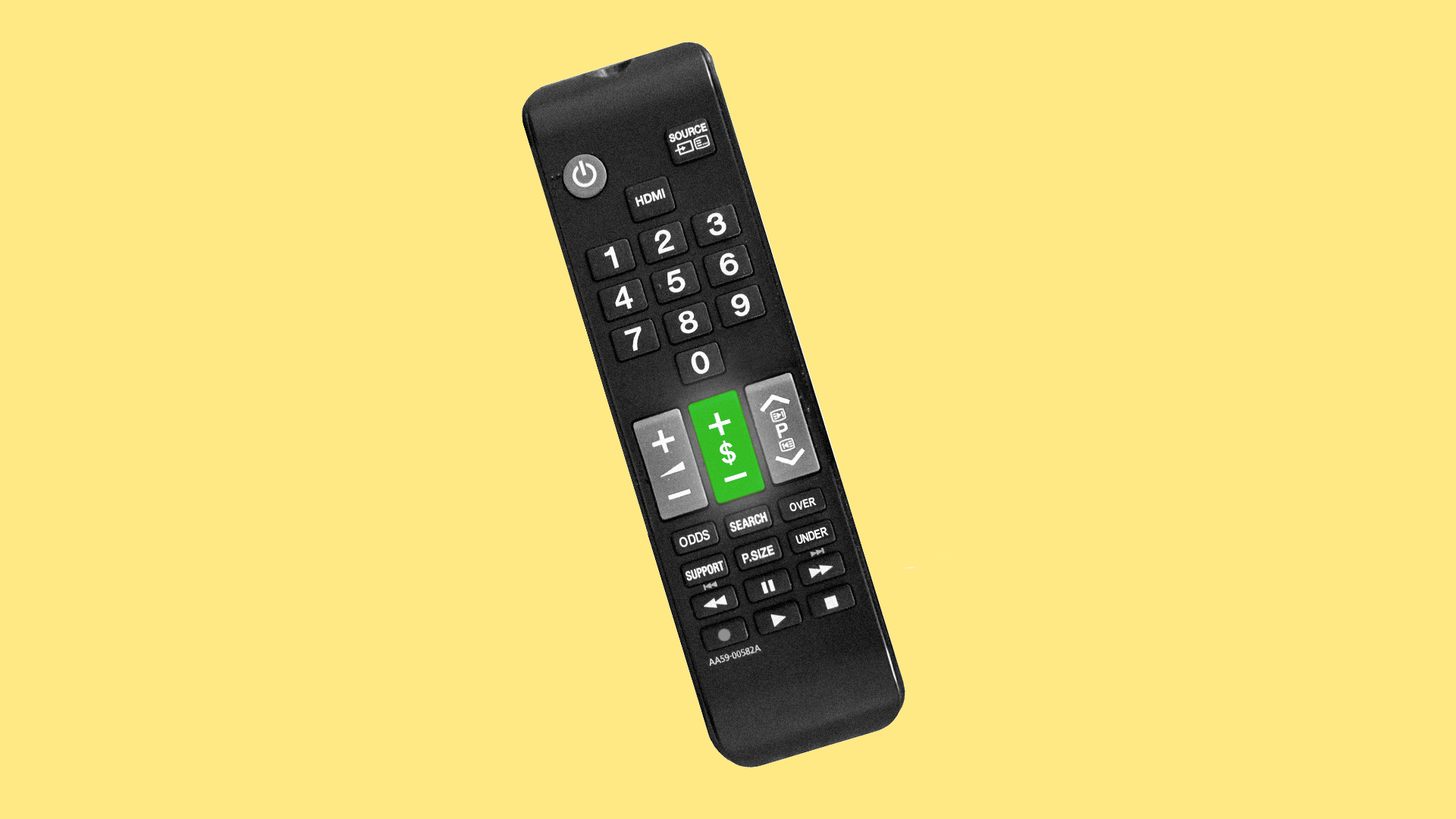 Almost all major media companies are teaming up with sportsbooks to juice their content offerings and boost engagement.
Driving the news: CBS Sports said Monday that William Hill, a UK-based sportsbook operator, will be the official sportsbook and provider of wager information for the network. Financial terms were not disclosed.
In an interview with Axios, William Hill U.S. CEO Joe Asher told Axios that the purpose of the partnership was to help lower the sportsbook's customer acquisition cost.
Why it matters: It's the latest media company to partner with a sportsbook to increase engagement with its content. Content partnerships for sportsbooks, on the other hand, help them acquire more customers.
Barstool Sports sold a 36% stake to gambling operator Penn National for $163 million last week. The investment valued Barstool at $450 million, a price that reflects Barstool's brand and hyper-loyal audience of young sports fans.
ESPN said last year it's partnering with Caesars Entertainment to produce sports-betting content.
Turner Sports and Bleacher Report announced a similar deal in February, building a branded Bleacher Report studio inside the Caesars Palace Sports Book in Las Vegas.
Yes, but: So far, Fox Corp. is the only major U.S. sports broadcaster to be starting its own sports wagering platform.
8. 1 stressful thing: Too many shows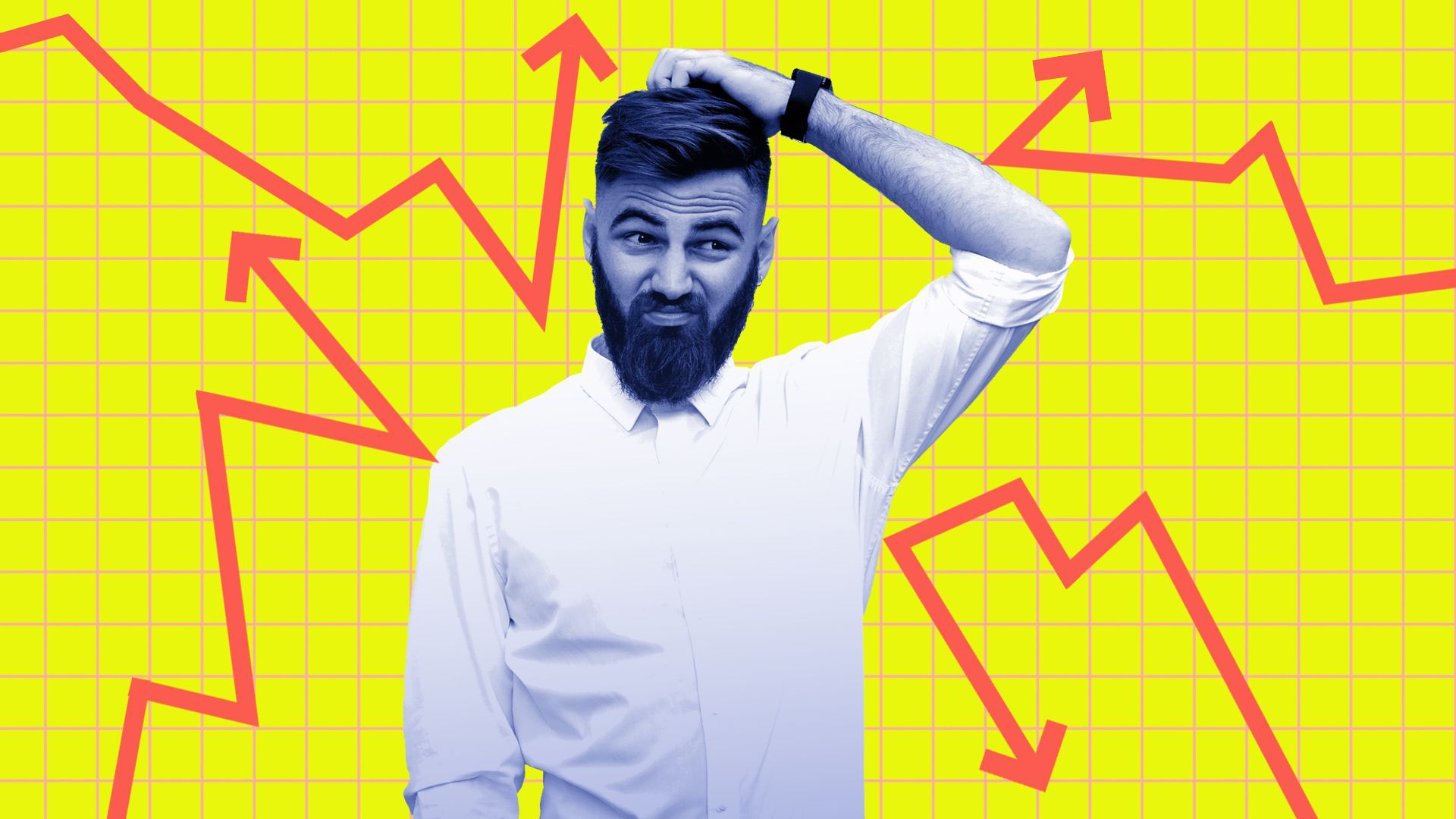 There were over 646,000 shows available in the U.S. across linear and streaming services last year, according to Nielsen's latest Total Audience report, a 10% increase from all of 2018.
Why it matters: As more streaming platforms emerge to compete for consumers' attention and budgets, the burden is falling on consumers to navigate an overwhelming number of content choices.