September 11, 2018
🇺🇸 Thank you for reading. Tell friends to follow along by signing up here.
Email awareness: Axios is adding two more newsletters:
Axios Edge, Felix Salmon's must-read weekly note covering the big stories that will drive the business world, launches this Sunday. Sign up here.
Axios Autonomous Vehicles, a weekly analysis of autonomous tech, and its impact on cities, policy and the economy, launches Friday, September 21. Sign up here. 
1 big thing: Verizon sets new 5G sights for Oath
Verizon is betting its future on 5G, and executives tell Axios that includes a more aggressive push to focus its media brand Oath on building over-the-top (OTT) brands with a lot of live streaming content.
Why it matters: Oath chief Tim Armstrong is reportedly on his way out, raising questions about Verizon's media arm and the company's overall media ambitions.
For months, Armstrong pitched Oath's advertising potential as its focal point, but it has thus far failed to turn that business into a serious ad competitor to Google or Facebook.
The company argues it has made progress, and that it's taken some time for it to combine all of its assets under one roof. (Yesterday it finally rolled out an integrated ad stack called "Oath Ad Platforms.")
But Armstrong's exit, combined with Verizon's repeated denial of interest in buying a linear TV network and the sunsetting of its video platform go90 this year, makes some industry experts bearish on Verizon's commitment to its media business.
The other side: Verizon Wireless group president and EVP Ronan Dunne tells Axios that the rumor mill is missing the bigger picture.
He says Oath will provide fertile ground for the company to deliver immersive experiences through 5G, which will in turn help it drive engagement and bundle its services, as well as build custom brand experiences that it can sell as a business to consumer service.
Dunne says that RYOT, the entertainment studio within Oath, will soon be one of the first parts of Oath to reap the benefits by 5G, creating new forms of storytelling that can be distributed on the high-speed network.
Sources at Oath say that the company is now looking to push Oath brands to do more live-streamed OTT programming.
Last month, Axios reported that Yahoo Finance will be the first of its brands to create a full 8-hour day of live programming. Sources say that other brands are in the process of following suit.
The company is placing its live bet on sports, in particular, given the application opportunities for immersive technologies (driven by 5G connectivity) to be deployed alongside games through Yahoo Sports, one of its more successful media brands.
But even with high ambitions, Verizon still has a long way to go in deploying its 5G capabilities at scale and it's unclear how its multi-billion investment in Oath will evolve without Armstrong at the helm.
The big picture: Verizon executives have repeatedly denied interest in acquiring CBS, or any other linear television network to help build out its live content portfolio. But one source familiar with their thinking says never say never.
2. CBS readies for a new era without Les Moonves
The dramatic departure of longtime CBS chief Les Moonves Sunday night came amid a flurry of big announcements from the company, including adding more women to its board, a legal settlement with its parent company and a $20 million donation to #MeToo causes pulled directly from Moonves' severance package.
Why it matters: Moonves is one of the most prominent corporate executives to be brought down by the #MeToo movement, and the drama that surrounds his exit will force CBS to fundamentally change as a company, with a ripple effect on the broader industry.
Perhaps the most significant impact of Moonves' departure will be the tone it sets for the media industry when it comes to responsible corporate governance.
Reports over the past year suggest that CBS' highest executives and governors, and to a small extent stakeholders, were complicit for years in allowing a culture of misogyny and misconduct.
Sources say that the board didn't take enough action on Moonves when the first Farrow report came out, because it wanted to wait for the outcome of its own internal investigation.
But the optics of leaving Moonves in place and letting him lead an earnings call without addressing the issue were bad. Companies that don't move more quickly on such reports will look like they learned nothing from this example.
CBS has overhauled its board to remove six white men and include three new women, and one African American man. It also means there will be a new board for CBS majority stakeholder Shari Redstone to work with.
Sources confirm the New York Times' reporting to Axios that Redstone helped pick its' new board members and that they were endorsed by the larger board.
The settlement affirms that her holding company, National Amusements Inc. (NAI) cannot propose a new merger between CBS and its former sister company Viacom (a merger Moonves led a fierce fight to avoid), for two years, but it doesn't exclude the independent boards from either CBS or Viacom from initiating the transaction.
It also says that a merger could still occur if at least 2/3 of the directors not affiliated with NAI request that it do so.
The new settlement agreement also formalizes NAI's position that it won't restrict CBS's ability to explore all strategic opportunities, including a possible sale to a bigger tech or telecom company.
NAI will retain its right to vote on any potential transaction, but has said that it is open to eventually relinquishing its voting control. CBS sees this as a win, because it means all that strategic options, including a potential sale (if it can find an appropriate buyer), are on the table.
Moonves wasn't just a corporate executive; he was also a programming wizard and a Madison Avenue charmer, and he used those skills to revive the business of the once-struggling broadcaster and to win over Wall Street.
"Moving past the Moonves era will be a challenge for the next CEO, given the company's performance on his watch," The Wall Street Journal's Keach Hagey and Joe Flint write in a new piece.
Go deeper: I discussed the saga with Axios' Dan Primack on his latest Axios Pro Rata podcast. Listen here.
3. Chart du jour: Snap's executive sweep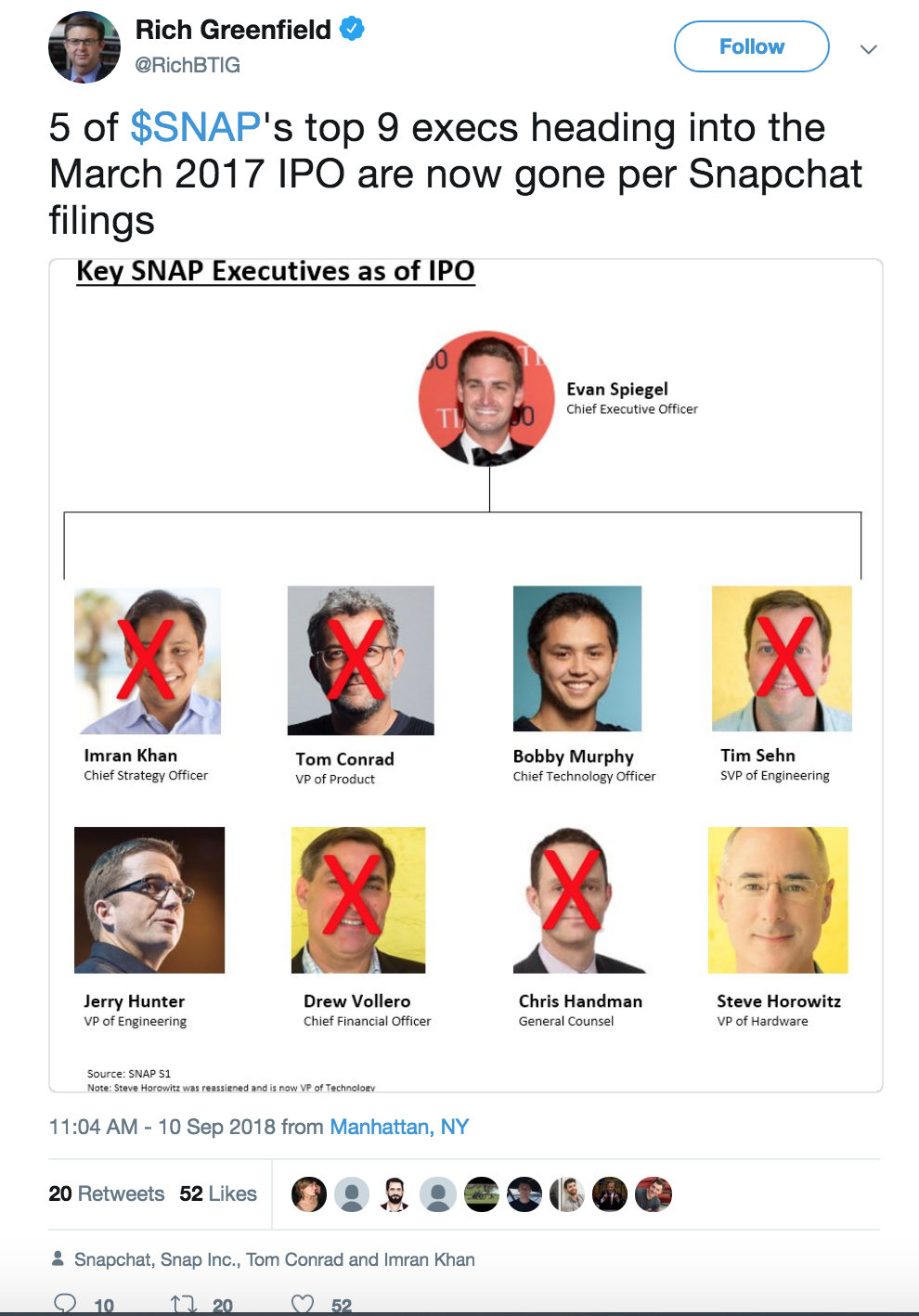 Moonves' departure comes amid a whirlwind of executive exits this week, Axios' Dan Primack reports. Analyst Rich Greenfield tweeted the chart above, looking at Snap's departures.
Jack Ma will step down as Alibaba's executive chairman, Tim Armstrong is most likely on his way out of Verizon, and Imran Khan is resigning as chief strategy officer of Snap.
4. The next generation of texting is here
Tech and telecom companies are pushing into the "rich messaging" arena, which allows upgrades over SMS texting such as video chat, high-resolution photo sharing and location sharing.
Why it matters: Companies and platforms are racing to build rich messaging services as people move communication with friends and family from open social platforms to encrypted messaging,
iMessage is currently considered one of the most widely-used rich messaging services. Social tech companies, like Facebook, Tencent, etc. own the bulk rich messaging app services around the world.
A push to compete with some of these platforms, and iMessage in particular, in rich messaging is coming from a consortium of mobile carriers, operating systems and manufacturers that have banded together to create an experience that works across carriers, devices and operating systems called RCS (Rich Communication Services) Messaging.
RCS Messaging takes features from a bunch of messaging platforms, like text, video cha and audio file sharing. It creates a seamless messaging system across devices, operating systems and wireless providers — (like Samsung, LG Electronics, and AT&T) — that could compete with the likes of iMessage, Facebook Messenger, WeChat or Whatsapp.
The goal is to use the mass reach of dozens of providers to eventually replace all standard text messaging with "rich" text messaging, that fosters far more engagement and advances mobile technology use.
Currently, there are 55 operators involved with the RCS push, with 167 million monthly active users.
The big picture: To give you a sense of how fast RCS is growing, the GSMA (Global System for Mobile Communications Association) expects RCS to double in adoption to 350 million global monthly active users by next year, a size roughly comparable to that of Twitter.
Go deeper: How today's teens communicate
5. Quartz's big bet on bots
Quartz, the business news site recently acquired by Japanese media company Uzabase, is launching "Correspondence by Quartz," a news bot that will be embedded in Samsung's rich messaging service (see above).
Why it matters: It gives Quartz access to distribute its news content to millions of new people globally. And it's Samsung's first big push into global news through its rich messaging platform. (It currently has CNN as a domestic-only news partner).
For now, the bot will be distributed only to Samsung customers with AT&T, but Samsung is working to expand that partner set in the upcoming months.
Quartz has been building all sorts of bots for years through its in-house bot studio, including commercial bots for clients.
It first gained attention for its bot efforts when it relaunched its app in 2016 to feature only one-to-one text communication between users and bots.
It's since launched bots on its site and on various social media platforms. Even its Amazon Alexa flash briefing is hosted by two bots.
The bottom line: Quartz, like The New York Times and others, believes the future of a sustainable news business model includes service journalism, or opportunities to make readers' lives better or easier, according to Emily Withrow, director of Quartz's bots studio. It's using customizable services, like bots, to do that.
6. Reddit rising for news
Reddit — not Facebook or Twitter — is the social media site where the highest portion of users are exposed to news, according to a new study from Pew Research Center. This is up from last year, when Twitter was surveyed as having the highest share of users mining news on its platform.
Why it matters: As Reddit becomes a more popular destination for news, it too will need to focus on the dangers of misinformation on its platform. For example, a recent report suggests that Reddit users flagged Iran's fake news campaign on the platform a year ago, but that executives ignored the warnings.
Reddit's audience has by far the biggest proportion of male users to female users out of all the companies surveyed. It also has the second-most educated audience, next to LinkedIn.
Yes, but: Facebook's user base is much larger than Reddit's, so proportionately more people still get news on Facebook than Reddit.
7. Social: the next big e-commerce disrupter
Instagram is building a standalone shopping app, The Verge reported last week. With millions of users and an effective ad format, it could be the next big thing in e-commerce.
Why it matters: Instagram and other social media apps are becoming disruptive e-commerce players, mainly because they are able to leverage social data to better understand and cater to users' interests.
"The idea of social commerce as a subset of e-commerce hasn't been something many brands have focused on ... But there's clearly a big push going on to give consumers more engaging experiences and more compelling ways to connect with brands ... Social media is good at delivering those experiences because they have sophisticated user data."
— J. Walker Smith is Chief Knowledge Officer, Brand & Marketing at Kantar Consulting
The latest ... Pinterest announced that it passed 250 million monthly active users yesterday, a growth point that seems in line with its booming sales, up 58% year over year, per Bloomberg.
Snapchat and Facebook are both beginning to roll out ads that feature augmented reality, giving marketers the ability to let users virtually test their goods before buying them.
Alibaba, China'e e-commerce titan, is already incorporating social experiences to its Taobao platform, offering the chance to message and video chat with merchants and other consumers, Axios' Steve Levine notes.
8. Dems chase millennials with streaming efforts
Joe Biden has signed a deal with the progressive millennial-focused website, ATTN: to host their new steaming show on IGTV (Instagram's new long-form video app).
Why it matters: He follows other Democratic politicos who are jumping into the media fray, hoping to win the attention of millennials ahead of the midterm elections and beyond.
Barack Obama will produce a range of shows, from unscripted series to documentaries, Netflix announced in May.
Bernie Sanders hosts an interview show called "The Bernie Sanders Show," that he started streaming over Facebook Live on a semi-regular basis, the New York Times reported in April.
Their efforts are being mirrored by Hollywood influencers, whose fervor for this year's midterm elections rivals that of recent presidential campaigns, according to The Washington Post.
The bottom line: From Axios' political reporter Alexi McCammond ... "Most young voters would never expect to see a politician on IGTV. But Democrats think their key to winning the 2018 midterms is turning non-voters into voters, so they're trying everything this cycle."
Sign of the times: Viral Videos Are Replacing Pricey Political Ads. They're Cheaper, and They Work. (NYT)
9. 1 fun thing: The NFL is back
Ratings for NFL broadcasts have generally been in decline, but the league still drives more viewers than most TV programming, having owned 37 of the top 50 most-watched programs in 2017.
This season's Sunday openers saw strong ratings on Sunday's opening day games, while the primetime matchup saw a slight dip, per Yahoo Sports.
Quiz: How much do you know about NFL media heading into the 2018 season? (Chicago Tribune)