Axios Media Trends
November 29, 2022
Today's Media Trends is 1,576 words, a 6-minute read. Tell your friends to follow along by signing up.
Situational awareness: Historic protests in China over the country's COVID-19 lockdowns are being largely ignored by Chinese state media, forcing internet users in China to screenshot and repost content on WeChat, Axios' Bethany Allen-Ebrahimian reports from Taiwan.
Meanwhile, the BBC says one of its journalists was arrested and assaulted by Chinese authorities while covering the protests.
1 big thing ... Scoop: Manning's Omaha Productions eyes investment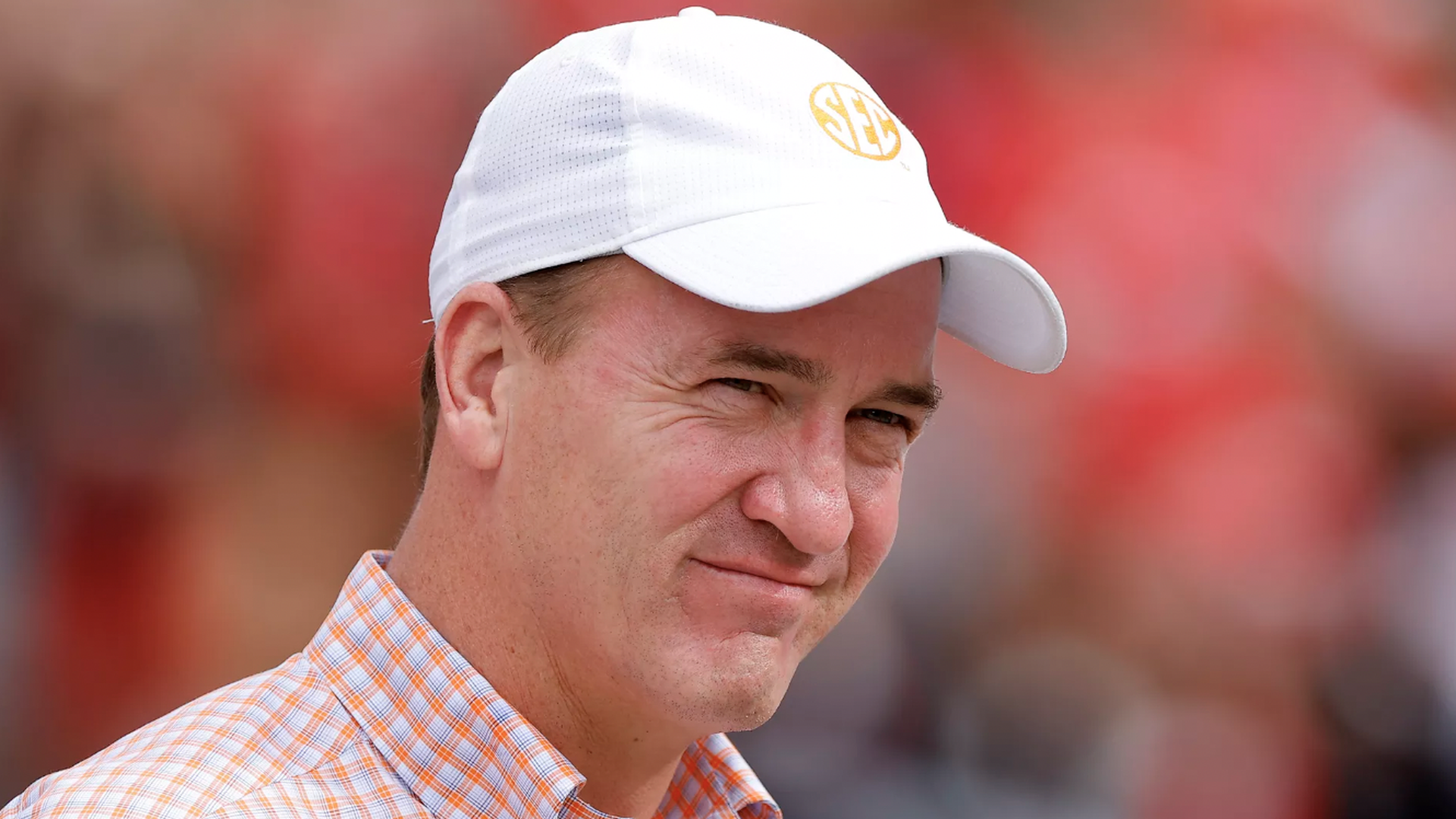 Peyton Manning's Omaha Productions is in deal discussions with Peter Chernin's new content studio, sources tell Axios.
The talks center around Chernin making an investment into the NFL star's sports and entertainment production company.
Why it matters: An agreement would unite a sports legend with a media mogul and allow Manning's Omaha to expand further into digital content, podcasts and sports-adjacent entertainment.
Details: A deal with Chernin would mark the first major outside investment into Omaha Productions, which launched officially in 2021.
Chernin, a veteran media executive and investor, launched The North Road Company with $800 million in outside funding in July to supply TV and film distributors with an array of scripted and nonscripted content.
The precise details of the deal discussions could not be determined.
Catch up quick: Omaha Productions is known for ESPN's popular "ManningCast," a broadcast program that features Peyton and his younger brother Eli.
Omaha also produces ESPN+'s "Places" franchise, a documentary series about the history of various sports hosted by star athletes.
Be smart: In recent months, the company has expanded into more sports-adjacent and lifestyle content, like reality shows, award shows and podcasts.
It's currently co-producing an unscripted series about professional sports collector Ken Goldin for Netflix, and it also produces digital content, like a barbecue show on YouTube.
Between the lines: Omaha makes most of its money from licensing and production deals and branded content.
In June, it announced a multiyear strategic partnership with Caesars Sportsbook to create a full-service audio production network to develop audio content for both companies' social channels.
It's dabbled in web3 initiatives, announcing a sports collectibles partnership with MINT Collective earlier this year.
2. Scoop: Yahoo eyes retail stock trading, $8B in revenue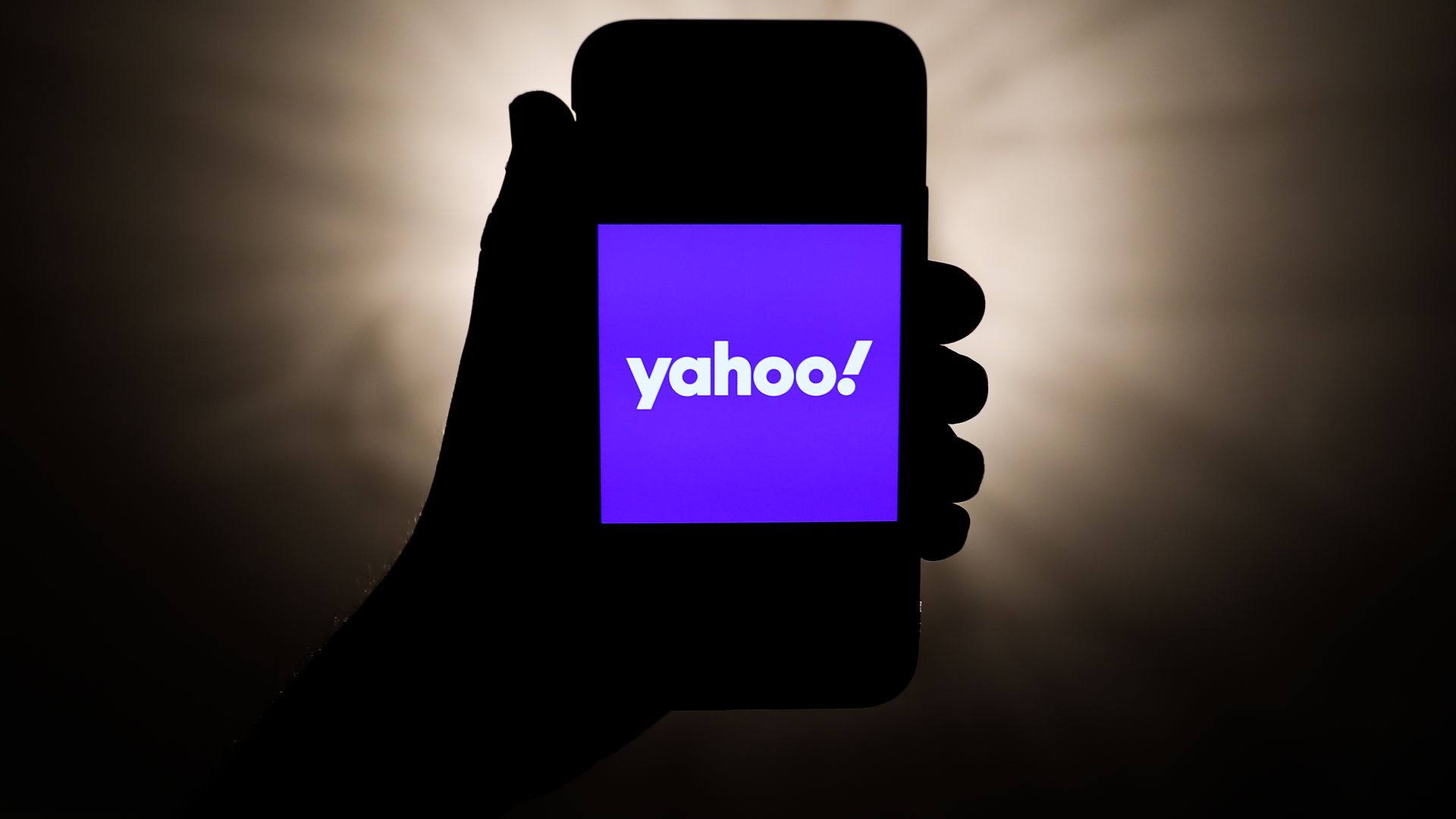 Yahoo today generates around $8 billion in GAAP revenues annually, a source told Axios, up from roughly $7 billion annually in 2020, the year before it was purchased by Apollo Global Management, Axios' Kerry Flynn and I write.
The source spoke anonymously because the company is private and the GAAP figure has not been previously disclosed.
Why it matters: Now that the company has sold off its noncore assets, it's planning to use its cash on hand to grow its core business lines like Yahoo Sports, Yahoo Finance and Yahoo Mail.
Those units could eventually be spun out either through a private sale or an IPO, Yahoo CEO Jim Lanzone told Axios.
Details: The company, which Lanzone said is "very profitable" in an interview with Axios Monday, plans to add on new commerce and transaction businesses, such as sports betting and, according to a company source, retail stock trading.
✏️ Publishing: As of now, Yahoo has no plans to sell its smaller web publishing sites, like TechCrunch, Engadget and Autoblog, and it could look to add more publishing assets that are complementary to some of those sites.
📈 Yahoo Finance: Executives are planning to build a retail trading platform within Yahoo Finance that would allow retail traders to leverage Yahoo Finance's data as part of a full suite of end-to-end trading tools, including buying and selling stocks, a source told Axios.
📧 Yahoo Mail: The company is also mulling over turning Yahoo Mail into a more commerce-driven coupon hub that capitalizes on the fact that many of its users already use Yahoo Mail as a second inbox for marketing emails, the source said.
🏈 Yahoo Sports: The company plans to strike deals with sports betting companies, sources told Axios. It held talks with PointsBet but walked away from the deal because the Australian sportsbook was losing too much money, a source said. CNBC first reported on the talks in March.
What to watch: On Monday, Yahoo announced a deal with Taboola in a move meant to boost its ad-tech division, the company's least profitable unit.
3. Scoop: Grid News CEO and co-founder steps down
The co-founder and president/CEO of Grid, a D.C.-based digital news startup, has stepped down amid confusion at the company over its business, sources told Axios.
In a Nov. 7 note to staff announcing his departure, Mark Bauman said he would be transitioning to an advisory role while the company looks for a new CEO that's more focused on monetization.
Why it matters: The startup — which received backing from an Abu Dhabi-based investment firm called International Media Investments, as well as tech executive Brian Edelman — raised more than $10 million, its founders said.
In a statement, Grid said its investors "are committed to the success of Grid, and although we are not disclosing specifics, we do not anticipate needing to raise funds from others to support our growing newsroom."
Unlike many new media startups, employees of Grid were not issued equity in the company.
Between the lines: Sources say the company is losing millions of dollars paying for high-end office space in Washington while also supporting the salaries of over 50 employees.
"We've been consistent in our external and internal messaging that year one is about establishing our product and brand, year two will be focused on our revenue as a company and year three and beyond is about building new products and continuing to expand our business in innovative ways," said Grid's chief revenue officer Brad Bosserman.
Details: Bauman, a journalist previously with the Smithsonian, National Geographic and ABC News, was one of two co-founders of Grid, along with Laura McGann, former politics editor of Vox.com and Politico.
McGann told Axios at launch that the goal for 2022 was to "introduce ourselves and showcase what we do through a number of products."
The duo said in January when the company launched that Grid was aimed to provide deeper context about a few important topics.
But slow revenue growth has pushed the company to double down on its publishing goals and focus on its traffic-building strategy.
In a July meeting, McGann told reporters the newsroom would get access to traffic stats and would begin implementing target publishing goals, according to audio obtained by Axios.
"The meeting in July was not a change in editorial strategy, but a recommitment to our editorial strategy," McGann said.
"It was about delivery on the commitment we made to readers at launch. No one on staff was given a traffic goal."
The big picture: While these types of growing pains aren't unusual for startups, data shows the company has struggled to build a sizable audience in its first year, leaving employees confused about the company's finances and direction.
Despite listing on its website four people who work on audience development, Grid has attracted just 12,700 followers on Twitter, 1,676 followers on Instagram and 3,739 followers on Facebook since January.
The company is charging between $35,000 and $50,000 for a weekly sponsorship of its flagship newsletter and is charging less than $10,000 for daily advertising takeovers of its home page, a source told Axios.
A spokesperson said the company has 190,000 free email subscribers to its daily flagship newsletter.
The company averaged over 2 million monthly visitors in September, according to internal figures shared with Axios.
4. 📺 Thanksgiving's massive sports audience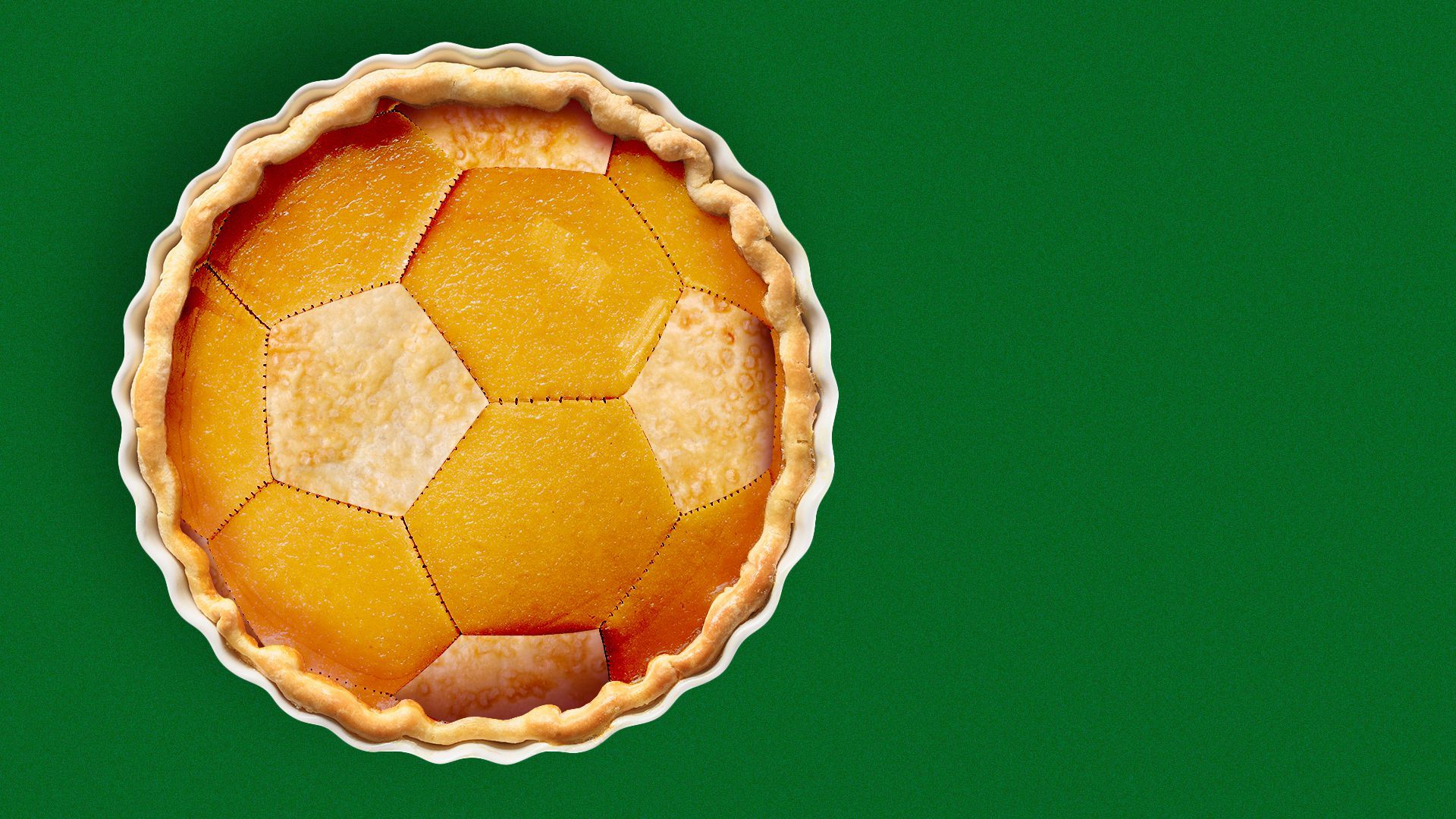 Huge audiences tuned into football and soccer over Thanksgiving weekend, with the NFL, World Cup and college football all drawing record viewership, Axios' Kendall Baker and I write.
Why it matters: That was particularly good news for Fox Corp., which aired the three most-watched games on three consecutive days.
Thanksgiving: The New York Giants-Dallas Cowboys matchup was the most-watched NFL regular-season game ever, averaging 42 million viewers across live TV and streaming, per Nielsen.
Friday: USA-England drew over 15.3 million viewers, making it the most-watched men's soccer match ever on English-language TV in America, Fox said.
Saturday: Ohio State-Michigan drew 17 million viewers, making it the most-watched regular-season college football game in Fox's history and the most-watched regular-season game on any network since 2011.
For context: The annual Macy's Thanksgiving Day Parade — one of the few nonsports events that routinely ranks among the year's top broadcasts — drew 27.7 million viewers on Thursday across NBC and Peacock.
5. 🍎 Musk threatens war with Apple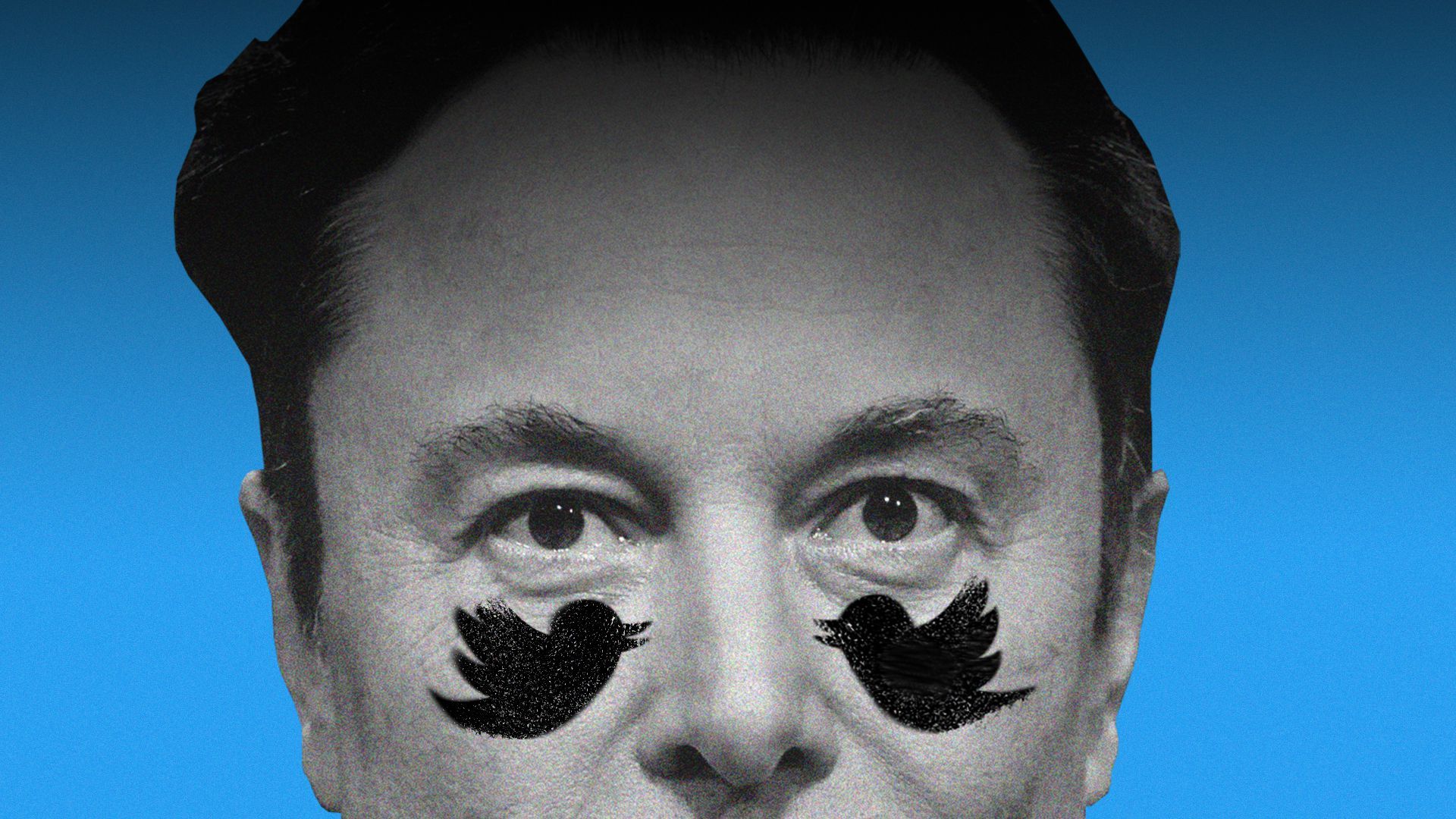 Elon Musk on Monday fired off a series of tweets aimed at Apple for allegedly threatening "to withhold Twitter from its App Store" and for pulling most of its ad spend on Twitter.
Why it matters: The tweets are part of a broader narrative Musk is trying to paint that Apple is a monopoly and uses its power to censor voices and charge "a secret 30% tax" on transactions in its App Store.
Musk has used a similar playbook to put pressure on advertisers that have threatened to pull ad dollars from Twitter in recent weeks, alleging they are trying to "destroy free speech."
Google, like Apple, enforces content moderation policies for app eligibility in its Google Play store (which serves Android devices), but as of now, the company has yet to contact Twitter about any potential violations or issues, a source told Axios.
6. 📷 1 fun thing: Nat Geo's top pics
National Geographic on Tuesday unveiled its third annual selection of the year's top photos, in a newly titled franchise called "Pictures of the Year."
The rebrand is meant to signify a shift from selecting photos that captured news headlines over the past year to showcase the most moving photos taken by the company's 132 photographers globally, its editor-in-chief Nathan Lump told Axios.
📷 This year, over 2.2 million images were filed from 60 different countries. The top photos feature a range of images from wildlife photography to pictures of Ukrainians waiting out Russian attacks in a Kyiv bomb shelter.