Axios Media Trends
May 23, 2023
Today's Media Trends, copy edited by Sheryl Miller, is 1,677 words, a 6½-minute read. Sign up.
🇫🇷 Axios will be on the ground at Sport Beach hosted by Stagwell at Cannes Lions this June. Register for our events.
Situational awareness: Shutterstock this morning said it has agreed to buy Giphy, the short-form video company, for $53 million in cash. Meta, then Facebook, bought Giphy for roughly $400 million in 2020, but was ultimately forced to sell it due to antitrust concerns.
🖥️ Max, the newly combined streaming service for discovery+ and HBO Max, debuts today. Some users have reported technical errors.
1 big thing: Biden spends big
In its first month, President Biden's re-election campaign has already outspent Donald Trump's team in online ads in 2023 by more than triple in an attempt to jump-start small donations and lessen Trump's digital advantage, Axios' Alex Thompson and I write.
Why it matters: Biden needs to lean more heavily into digital advertising to gain traction with donors, as he can't rely on his organic reach online as much as Trump, who is currently the leading GOP presidential contender.
Despite Trump being temporarily banned by most major social media platforms in the aftermath of the Jan. 6 insurrection, his following still dwarfs Biden's and those of the 2024 GOP rivals.
Biden's campaign wants to signal strong grassroots support with a large number of individual donors when it discloses fundraising numbers in July.
Be smart: That's a shift from the 2020 election when Trump's campaign focused on digital early on and hired a digital-first campaign manager, Brad Parscale.
Parscale ultimately was replaced, but Trump's campaign spent more online than Biden's, even as Biden's team spent significantly more on TV.
👀 Details: Parscale and former digital director Gary Coby, who led Trump's digital teams in 2016 and 2020, are not with Trump's 2024 campaign.
Instead, Trump's digital effort is being led by Parks Bennett, co-founder of the firm Campaign Inbox.
Trump's main super PAC, Make America Great Again PAC, has spent nothing on Facebook or Google ads — but has dumped several million dollars into TV advertising.
The big picture: The vast majority of election ad spending is still on broadcast television, but the proportion of digital advertising has been increasing steadily during the past decade. More eyeballs are there and it's critical to each campaign's small-dollar fundraising strategy.
What to watch: Neither campaign is on the popular app TikTok, although the Democratic National Committee has an account. For security purposes, the DNC says it posts to TikTok only with a burner phone.
2. Exclusive: Daily Wire is bringing all of its podcasts to Twitter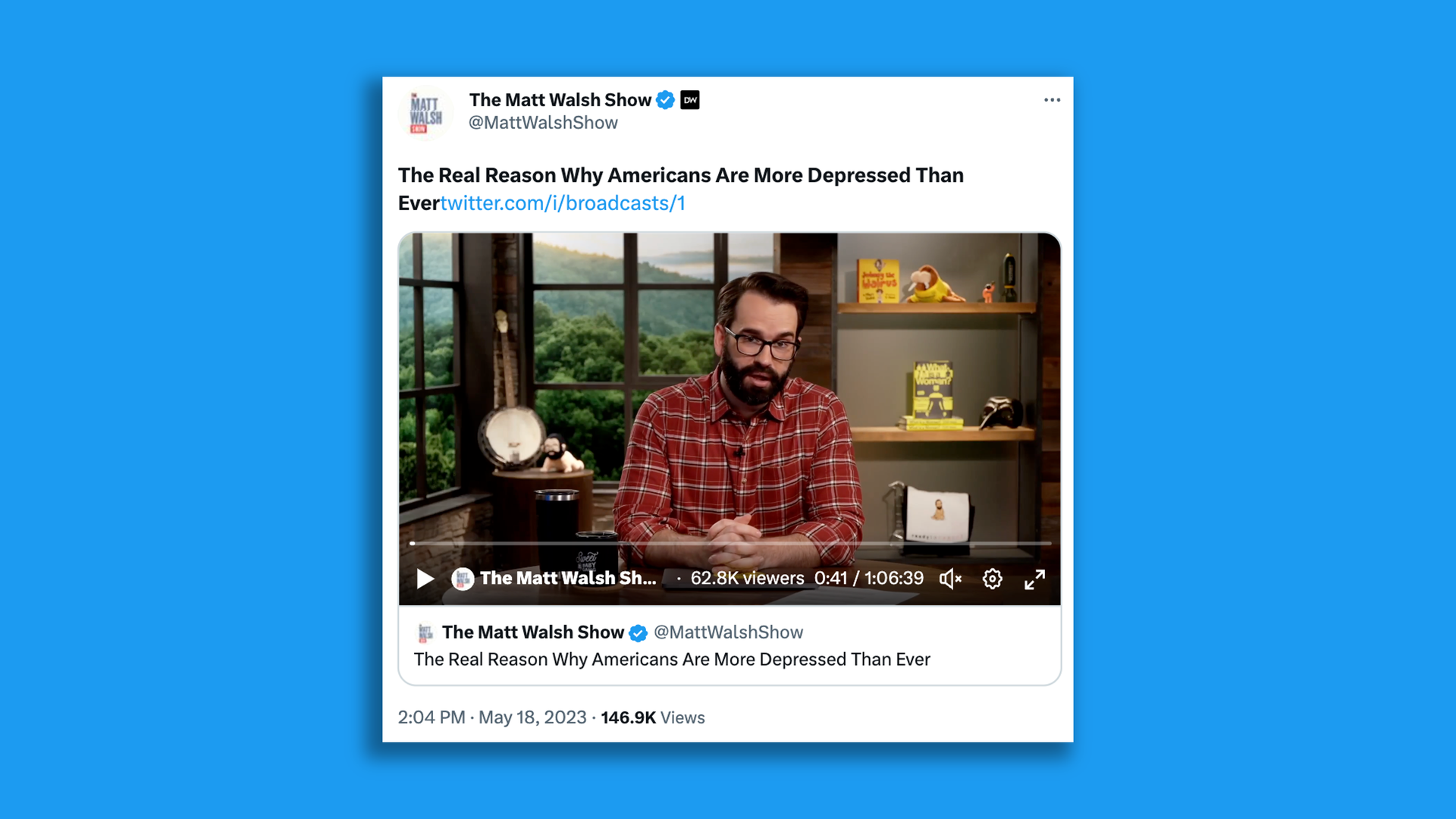 The Daily Wire, a conservative media and entertainment company, plans to put its entire slate of podcasts, which are almost all recorded as videos, on Twitter beginning May 30, company executives told Axios.
The big picture: Elon Musk's free speech absolutism is pushing conservatives to embrace the platform.
Last month, ex-Fox News star Tucker Carlson said he would be bringing his daily prime-time show to Twitter.
While Musk said he and Carlson hadn't brokered any sort of official deal, Carlson said he would be moving over because Twitter is the last Big Tech platform remaining in the world "that allows free speech."
Yes, but: Critics argue Musk's Twitter favors certain speech in some instances. Musk recently hired longtime advertising veteran Linda Yaccarino as CEO, which could bring some consistency to the company's content moderation policies and some assurance to advertisers.
Details: In a statement Tuesday, Daily Wire co-CEO Jeremy Boreing echoed Carlson's thoughts. "At this moment, Twitter is the largest free speech platform in the world," he said. 
Like Carlson, The Daily Wire hasn't brokered any sort of exclusive deal with Twitter, although a source said that the two companies have been in touch about ways to best optimize the platform.
Each Daily Wire show will have its own Twitter account set up to distribute the show and to tweet out the show's sponsors, often with a call to action, such as texting a number for more information.
Catch up quick: Last month, outspoken Daily Wire host Matt Walsh said YouTube removed his right to monetize his videos over his comments about transgender influencer Dylan Mulvaney.
"Twitter drives the national conversation in a way no other social media platform does, and we see a lot of opportunity in that," said Daily Wire spokesperson Alyssa Cordova.
"Our hosts already have massive Twitter profiles and are regularly driving trends or trending themselves, and it just makes sense that their shows would also be right where the conversation is happening."
3. 🐭 Disney's reputation hit
The Walt Disney Company took a big hit in this year's Axios Harris Poll 100, dropping a dozen spots to 77th after tangling with Florida Gov. Ron DeSantis over students' LGBTQ+ rights, Axios' Margaret Talev and I write.
Why it matters: In voicing opposition to DeSantis' so-called "Don't Say Gay" bill last year, Disney gained favor with Democrats but took such a large reputation hit with Republicans that its overall reputation score was severely impacted.
By the numbers: The company was ranked the fifth most polarizing brand of 100 in this year's survey — measured by the gap between the assessments of Republican and Democratic respondents.
Overall, Disney's Reputational Quotient, or RQ®, score was 70.9 out of a possible 100. That's down from 73.4 in 2022. The score represents measurements across multiple dimensions that touch on character, trust and trajectory.
Among Democrats, it jumped to 80.3 from 72.5. But it plunged 14 points with Republicans, to 61 from 75.
The average RQ gap between Republicans and Democrats in this year's survey was 4.4. In Disney's case, it was 19.3.
Zoom out: While Disney's reputation score has been declining since the 2017 survey, that trend had been bipartisan — until this year.
Go deeper ... Full poll results: Social media sinks. Everyone loves Patagonia.
4. 🍳 BuzzFeed's new store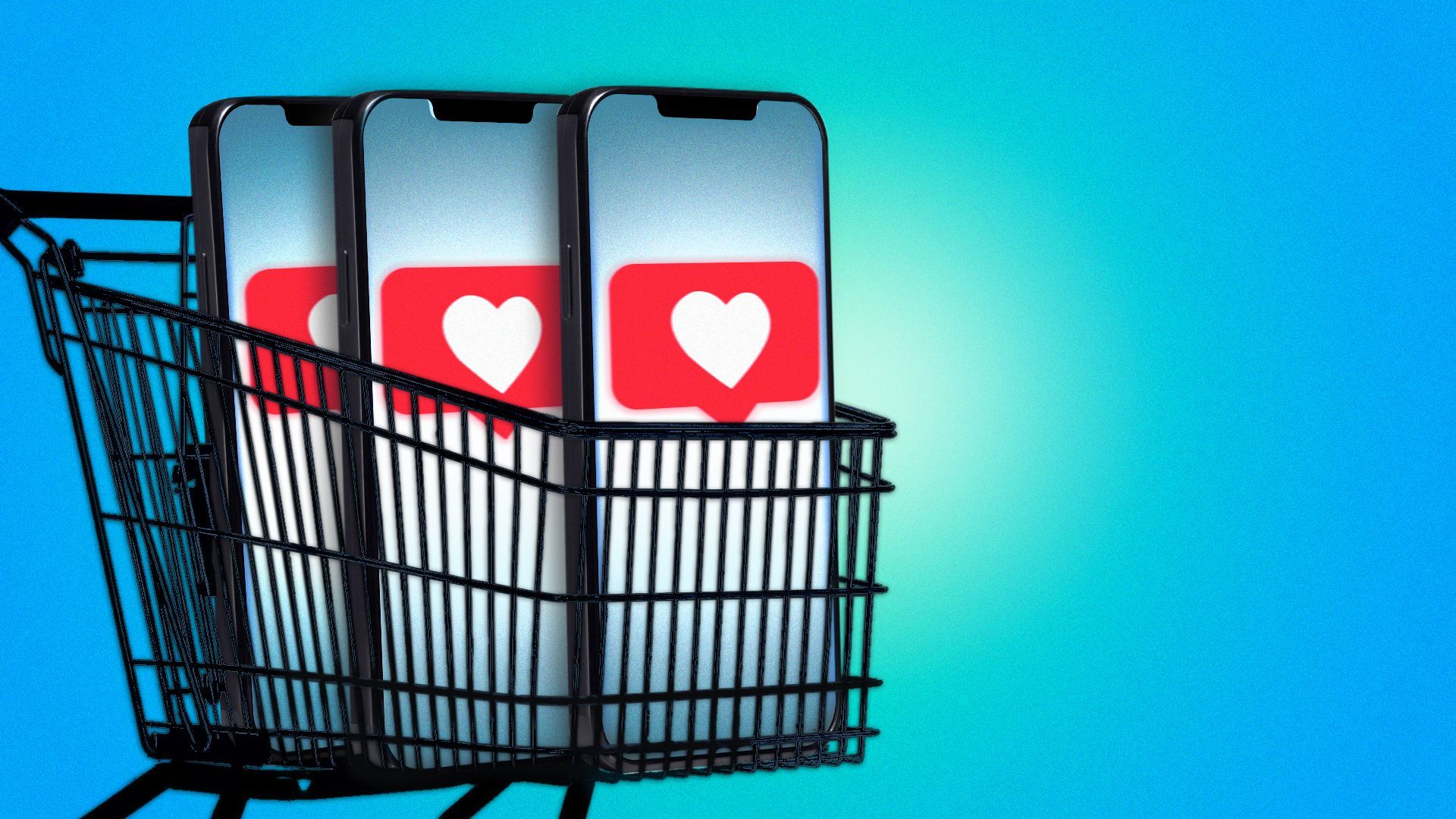 BuzzFeed will debut today a new online retail storefront for Goodful, a lifestyle commerce brand it launched in 2016 initially as a joint venture with snack company Mondelez.
The store will be powered by Verishop, the luxury e-commerce site founded by former Snapchat executive Imran Khan and his wife, former Amazon executive Cate Khan.
Why it matters: The site marks BuzzFeed's first online retail store that combines licensed and curated goods under one brand. It's also Verishop's first white-label offering.
Goodful will offer users hundreds of goods that are both licensed and curated, said Jessica Probus, BuzzFeed's head of content.
The site will launch in conjunction with a group of eight online content creators who are tied to the Goodful brand. "It's not a revenue split," Probus said. "It's more of a traditional content creation contract."
Zoom out: BuzzFeed CEO Jonah Peretti told Axios last month that the company plans to significantly increase the amount of content it produces via independent internet creators.
By the numbers: Last year, BuzzFeed made $68.1 million from commerce and other businesses, including affiliate revenues, product licensing and events — amounting to roughly 15% of its overall revenues.
5. 📉 Media companies face delistings
Innovid has become the latest media company at risk of delisting, with the New York Stock Exchange sending the ad tech firm a notice because its average closing price was less than $1 over a period of 30 consecutive trading days.
Why it matters: The collapse of some media stocks has come from bad SPAC deals, Axios' Kerry Flynn writes.
Details: Innovid and BuzzFeed both went public in December 2021 — the former on the NYSE and the latter on the Nasdaq. They have each seen their stock prices collapse over the past year.
BuzzFeed has avoided a delisting notice. Its shares spiked following news of it working with OpenAI and striking a new deal with Meta. But it's since come back down to trading under $1 over the past month.
Yes, but: Audacy, formerly known as Entercom, did not go public via a SPAC deal. Its IPO was in 1999.
Go deeper: Sign up for Axios Pro Media Deals authored by Kerry Flynn and Tim Baysinger.
6. 📺 ESPN breaks the bundle
ESPN is looking to one day sell its channel directly to cable cord-cutters as a subscription-streaming service, the Wall Street Journal reports.
Why it matters: ESPN is currently one of the most expensive channels within the cable bundle. Without it, the entire business model supporting the cable industry could collapse.
Details: The transition plan, being dubbed "Flagship," includes ESPN continuing to offer its linear TV channel after launching a stand-alone streaming option.
ESPN currently offers a stand-alone subscription service for sports fans called ESPN+ that has more than 25 million subscribers, but that service doesn't include the premium sports rights that ESPN's cable subscribers can access, like Monday Night Football.
The big picture: The sports streaming landscape has become increasingly crowded, with Big Tech firms like Apple, YouTube and Amazon vying for exclusive sports rights.
What's next: The migration of sports rights to streaming will usher in a new wave of fan engagement through things like micro-betting that require real-time streaming speed.
7. Tegna deal collapsed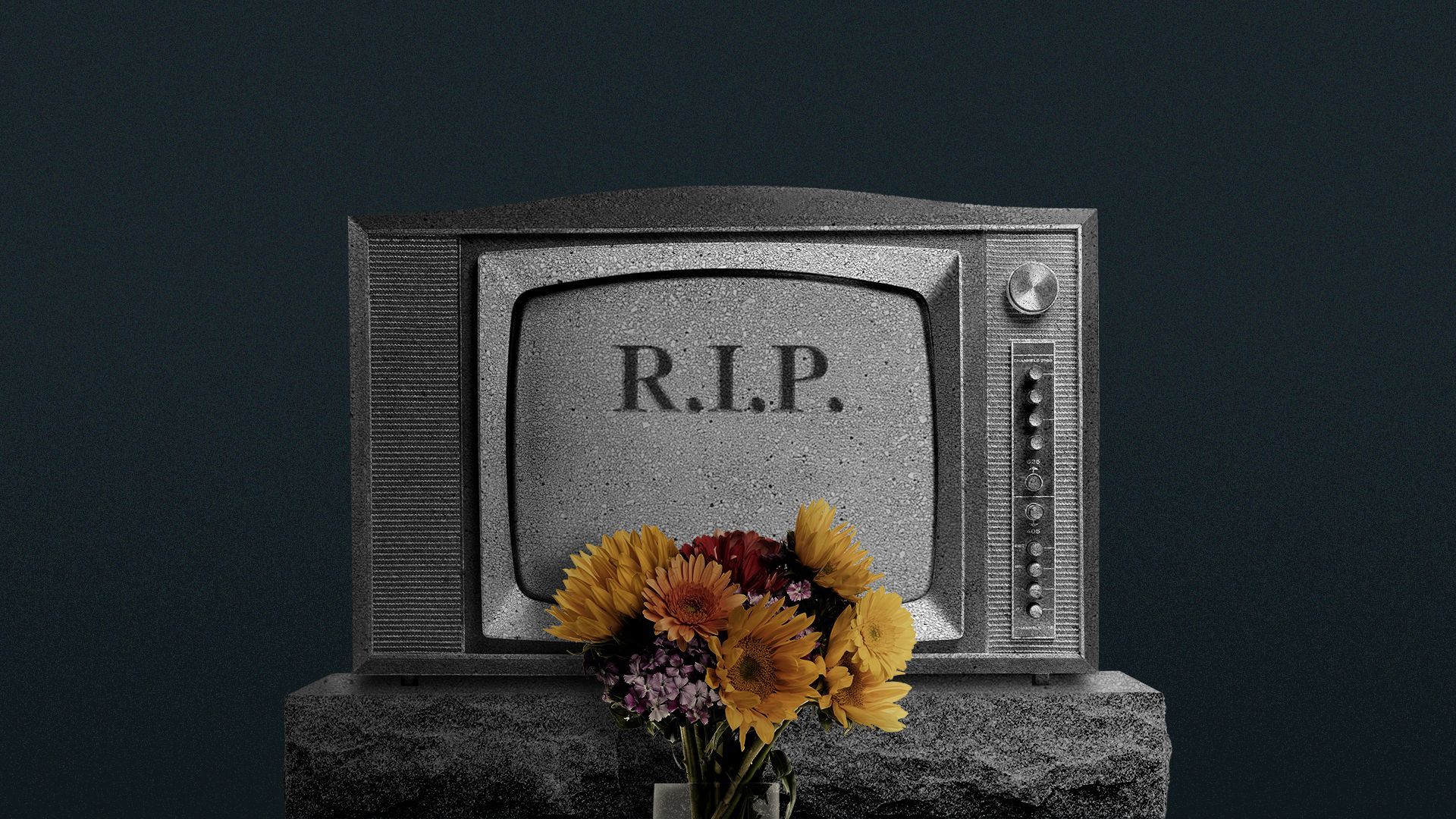 Standard General's 15-month effort to acquire local broadcast group Tegna for $5.4 billion officially collapsed on Monday, as a key financing deadline expired, Axios Tim Baysinger writes.
Why it matters: The expiration is the final step in killing the deal, ending a wild regulatory and legal journey and sending the companies onto separate paths after the FCC stepped in and effectively killed the transaction.
What we're watching: Whether Tegna is eventually wedded to a buyer or is destined for a solo future.
Tegna has been the subject of buyout rumors as far back as 2017.
8. 🚨 Government sounds alarm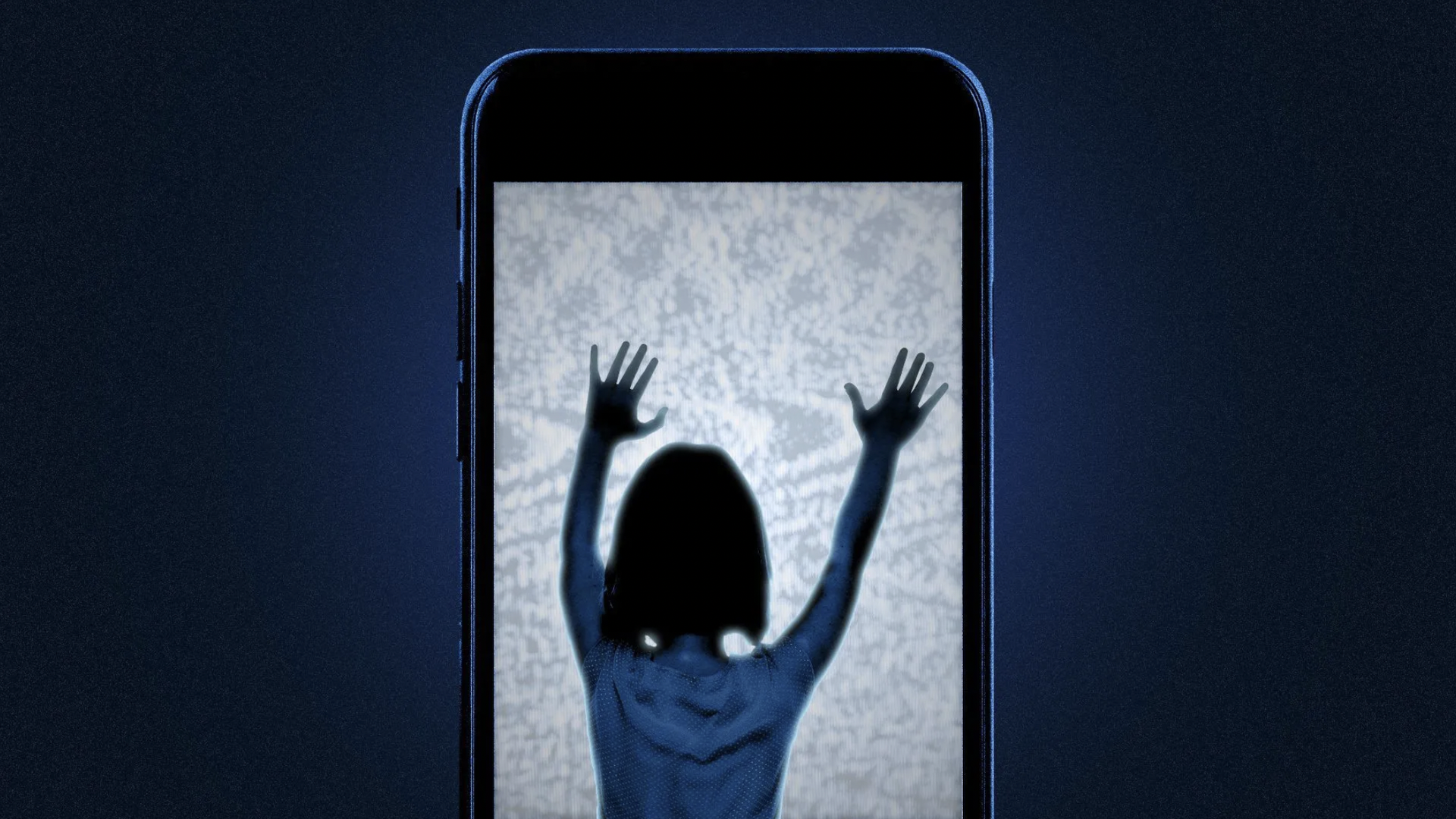 Surgeon General Vivek Murthy issued a warning today that social media poses a threat to kids' mental health, escalating calls for new safeguards aimed at minors, Axios' Tina Reed writes.
Murthy told Axios he's calling on policymakers, platforms and parents to create safe limits. He's previously said he believes age 13 is "too early" for kids to join social media.
The White House is concurrently releasing plans that include creating an interagency task force on kids' online safety, establishing best practices for teaching digital literacy and habits, and supporting efforts to stymie harassment and child abuse online.
The big picture: The surgeon general's warning comes as a larger battle looms over who is responsible for age verification online.