Axios Media Trends
April 21, 2020
Today's Media Trends is 1,824 words, a 7 minute read. Sign up here.
Earnings update: Netflix and Snap report Q1 after the bell today. Both are experiencing record engagement due to the pandemic.
1 big thing: Local media outlets launch in pandemic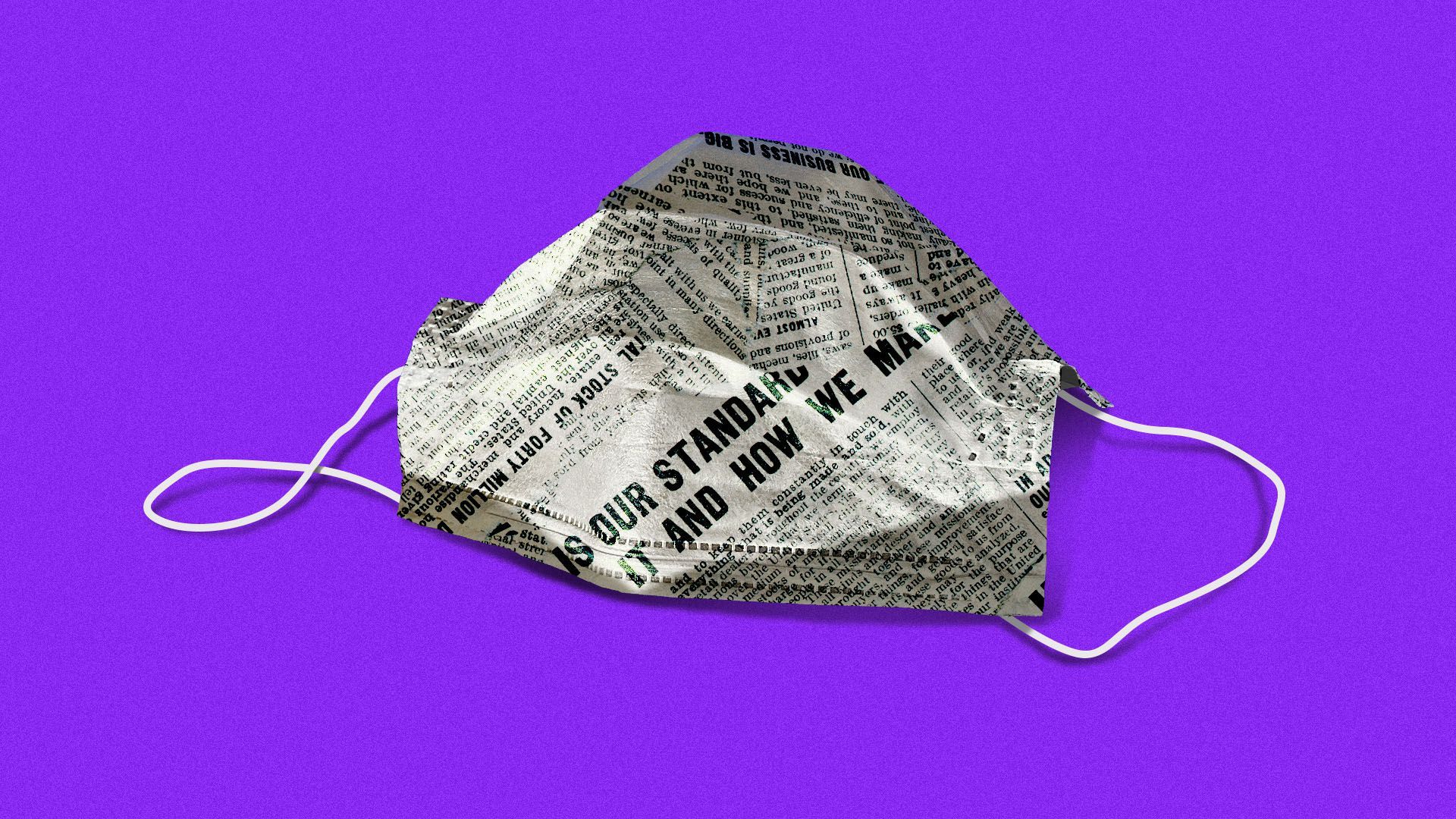 Local newsrooms have been hit hard by the crisis over the past month, but several are planning expansions that can provide a much-needed shot of optimism for the industry.
Driving the news: McClatchy plans to launch a new digital local news outlet called "The Longmont Leader" this spring, serving the residents of Longmont, Colorado, executives tell Axios.
McClatchy will be taking over all of the existing assets of the "Longmont Observer," a free, nonprofit, hyperlocal news website in the community currently run by local volunteers.
The new outlet will be designed similarly to how McClatchy launched its first local newsroom in Youngstown, Ohio, six months ago with Google's funding.
McClatchy will hire 5 people to start. That includes one person for sales and revenue operations, along with two reporters, an editor and an assistant editor.
"We're in middle of global pandemic, and local news is more a important need than ever," says Mandy Jenkins, general manager of The Compass Experiment. "We're just going to jump in and try to make a quick impact on the community."
Yes, but: McClatchy has had its own financial struggles throughout the pandemic and leading up to it.
The company is able to move forward with this project because Google is fully funding it. Google's Richard Gingras told Axios last year that Google is investing "many millions of dollars" on the partnership overall.
6AM City, a local news company centered around newsletters, is planning a significant growth effort this year in markets across the southeast, its COO Ryan Heafy tells Axios.
The company is in final stages of talks to acquire several other local media brands, and is planning to launch a major outlet in Atlanta this year in partnership with a larger media company.
The company has 27 employees in 7 cities across 4 southeastern states.
Heafy says that it is on track to meet its goals during coronavirus crisis due to higher demand. 6AM City has 250+ active advertisers, and expects to book roughly $3.5 million in revenue this year.
Other efforts to bolster local journalism are still underway. Report for America, an initiative of The GroundTruthProject that places emerging journalists into local newsrooms, will announce on Thursday a large new class of corps members that it will place into local newsrooms this upcoming year.
Be smart: There's some historical precedent for newsrooms launching during financial crises, with the most famous example being Henry Luce launching Fortune Magazine, one of the first serious business magazines, in 1930 during the early months of the Great Depression.
The upside of doing so is that the demand for news tends to increase in times of crisis, but the downside is that it's tough to sustain a business model for journalism when the economy is bad — ad money dries up and consumers get pickier about their wallets.
Bonus: Axios has an app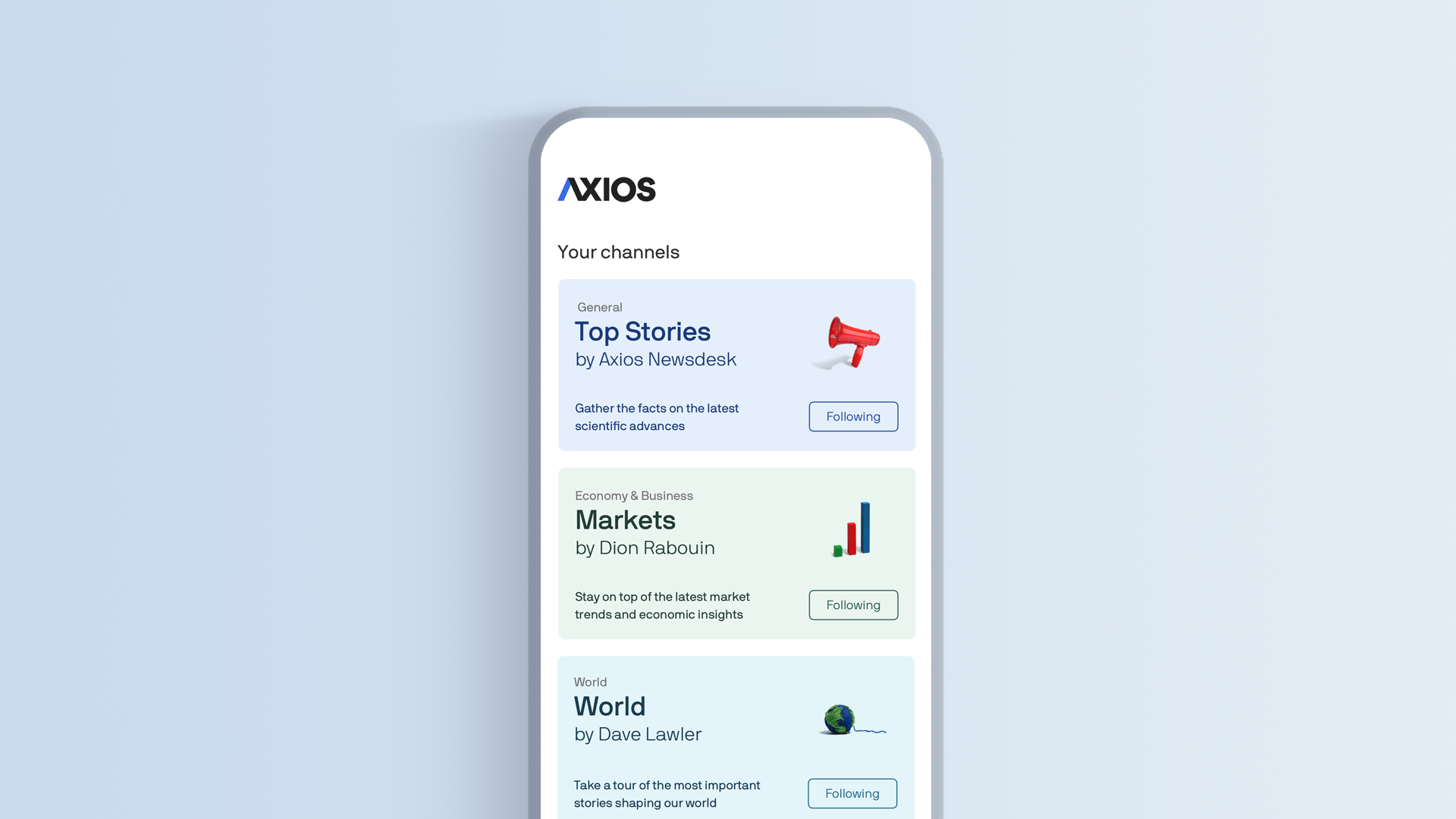 The Axios mobile app is here, letting you easily follow my stories and updates, along with a feed of our most important Axios stories.
Why it matters: The app captures our thinking on the future of news and newsletters — a watch-listen-read experience that loads very fast.
2. Desperate for viewers, sports networks try new tricks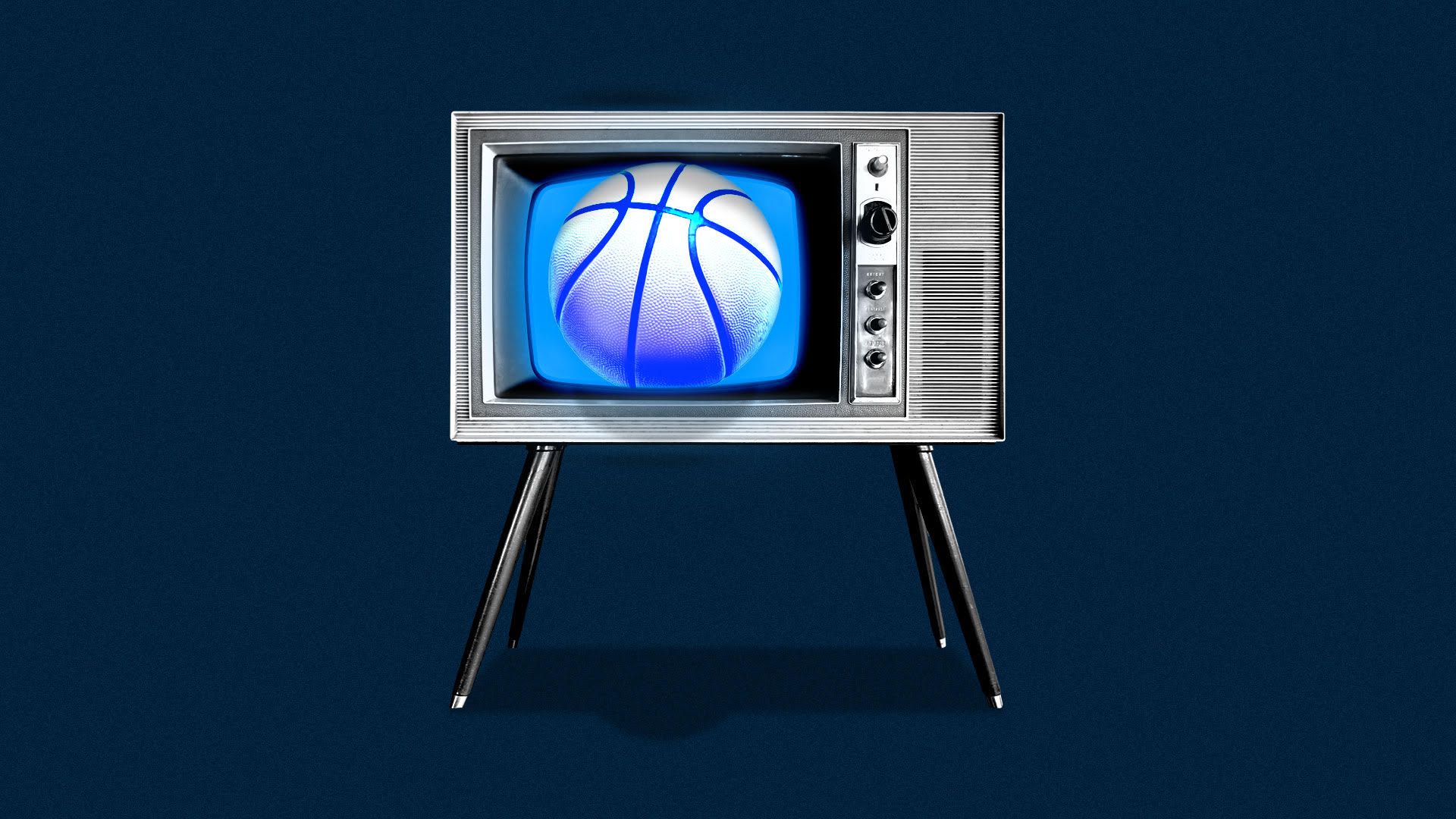 Virtual competitions, reruns of classic games and sports documentaries are filling a void for both TV networks and fans during the coronavirus pandemic, Axios' Kendall Baker and I write.
The big picture: All the substitute programming in the world isn't going to make up for a loss of live sports. In the past 90 days, each of the top 9 cable sports networks have lost more than 25% of their audiences compared to January, per data from Samba TV.
Driving the news: ESPN's "The Last Dance," which chronicles Michael Jordan and the Chicago Bulls' 1998 championship run, averaged a record-breaking 6.1 million viewers on Sunday night, the network said Monday.
The previous high for a documentary premiere in the 30 for 30 era was "You Don't Know Bo," which drew 3.6 million viewers on Dec. 8, 2012.
Between the lines: CBS' Masters rewind drew 2.2 million viewers, virtual racing started off strong but has since lost steam, and ESPN's H.O.R.S.E. challenge drew just 686,000 viewers.
3. Media industry sees advocacy avalanche
Advocacy and corporate reputation television ads are spiking, while other industries continue to pull back spend, according to data from Advertising Analytics.
Why it matters: Brands are expected by consumers to address the coronavirus issue in a direct and empathetic tone.
This means that any messaging that a company would typically do around sales that would place their ads in a different category, like retail or entertainment, have likely been cut or replaced by messaging around corporate responsibility or advocacy linked to the virus.
The big picture: Advocacy, or any type of cause and appeal advertising, usually recedes during election years, because corporations and interest groups like to hold off messaging to lawmakers until elections are over and they know which party will control Congress and the White House.
But some companies, candidates and non-profits are looking to take a stand on issues related to the virus.
Between the lines: More brands are flocking to television than this time last year, owing to more people watching TV, according to data from iSpot TV.
4. Ad agencies prep for losses worse than Great Recession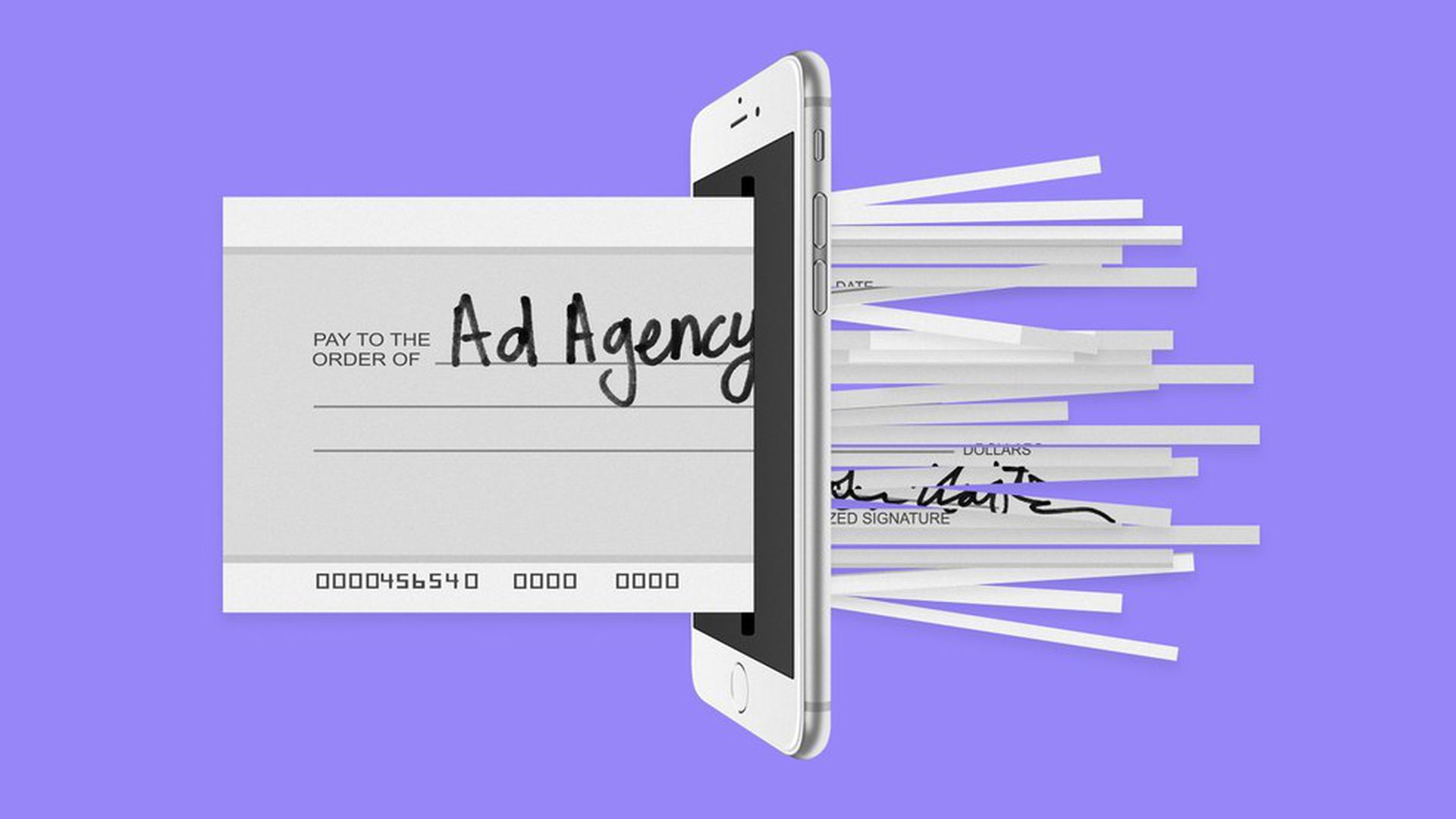 Many of the biggest advertising holding groups are forecasting that their clients will severely pull back on ad spend due to the coronavirus.
The big picture: In a note to clients Tuesday morning, MoffettNathanson senior analyst Michael Nathanson predicted the drop in organic growth during the coronavirus crisis will be steeper than the financial crisis for major ad agencies holding groups like WPP, Omnicom and Interpublic (IPG).
Yes, but: Nathanson says he also predicts "a more rapid, although still gradual, recovery with a return to prior levels of organic growth in 2021."
This is in part due to the fact that agencies are labor intensive and are able to adjust headcount as necessary to stabilize margins.
The state of play: Publicis Groupe chief executive officer Arthur Sadoun told investors last Monday that he expects a far worse ad decline than the the 10% plunge during the financial crisis, after the company bumped up its earnings report.
Omnicom's CEO wrote in a letter to staff obtained by CNBC that it anticipates cuts and furloughs.
Dentsu has implemented 10% pay cuts, furloughs, and layoffs across the U.S. amid the pandemic, as clients are expected to further pull back spend.
WPP withdrew guidance for 2020 in late March, after experiencing an uptick in client ad cancellations. The company's CEO Mark Reed says the company has freezon hiring, and couldn't commit to avoiding layoffs, although he said it would be a last-resort measure.
IPG (Interpublic Group) withdrew its financial performance targets for full-year 2020.
Go deeper: Ad market expected to take a big hit in 2020
5. Free Bloomberg subscriptions for college students
Bloomberg Media is offering free subscriptions to college and grad students worldwide for three months starting Wednesday, April 22. They'll have free access to Bloomberg.com and its mobile app until July 31.
Why it matters: A typical monthly Bloomberg subscription is $34.99, although U.S. students can access it for $9.99, which makes this is a pretty expensive giveaway, particularly for international students.
Details: Students can register with their university address for verification. Free subscriptions will not include access to The Information, which Bloomberg began offering bundled subscriptions to earlier this year.
Bloomberg Media says the thinking behind the effort is to give students access to as much information as possible as they try to navigate what this pandemic means for their future.
The big picture: Bloomberg's offer follow similar efforts, like that from The New York Times and Verizon, to offer students free access to what's typically costly journalism during the coronavirus crisis.
6. What's next for theaters
President Trump's latest guidelines for "Opening Up America Again" may be too optimistic for things like movies theaters and concerts, analysts predict.
Georgia's governor said yesterday that the state will reopen theaters on April 27, granted that they take strict social distancing and safety precautions.
But at this point, it's unclear whether any of the major theater chains will actually reopen by next week.
Yes, but: Even if distressed theater chains, concert venues, ticketing platforms and politicians are eager for out-of-home entertainment to re-open, surveys show that consumer sentiment around attending leisure events is still largely behind the federal government's plans to open up.
And at this point, so many theater chains have laid off or furloughed employees that it will be almost impossible for them to quickly get back up and running again without reassessing their workforces and finances.
By the numbers: According to a new Morning Consult survey, about a third of U.S. adults say they won't be comfortable going to out of home entertainment for another 3-6 months, and about a quarter say they wouldn't go for at least another six months.
According to Trump's plan, large venues, such as movie theaters and sporting venues may begin to open up in the next few months during "stage one" of the three-phased plan, so long as they operate under strict physical distancing protocols.
The bottom line: Analysts say that they expect theater chains to take extra precautions upon opening, including additional cleaning and distancing measures, but even with those efforts, consumers will still have doubts until there's a vaccine.
"[I]t's hard to envision people returning with the same vigor that they showed in the past, and it's likely that at best, box office would be a fraction of what it was prior to the pandemic," says Michael Pachter, a research analyst at Wedbush Securities 
"Once there is a vaccine, things will likely return to a semblance of normal over time, but if there is a genuine risk of contracting the virus by attending a theater, it's hard to see how many people will feel comfortable doing so."
7. Trump show dominates pandemic
President Trump's presence during the coronavirus pandemic completely dwarfs Joe Biden's across nearly every media channel. As the president riffs for hours in front of TV cameras, Biden is chugging away on virtual livestreams — practically unnoticed, Axios' Neal Rothschild, Alexi McCammond and I write.
The big picture: Biden may be the Democratic nominee for all practical purposes, but the virus crisis is making it easier for Trump to dominate pretty much all measures of media attention — and harder for Biden to gain any traction.
Reality check: The extra exposure for Trump hasn't necessarily achieved his goals. The president's approval rating has taken a 6-point hit since late March, as two-thirds of Americans in a Pew survey saw him as taking action too slowly on the coronavirus response.
8. Facebook's next free speech test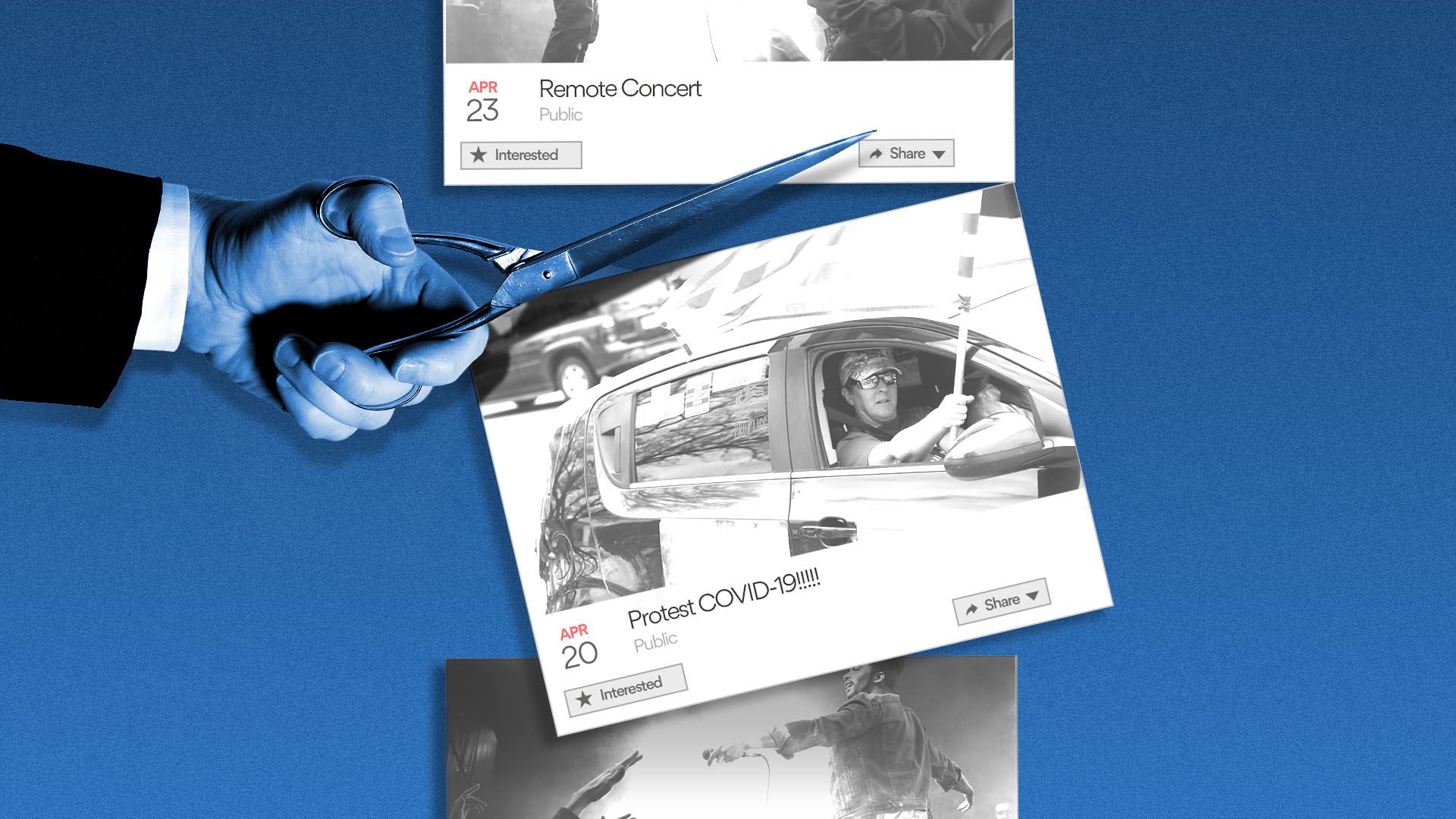 Facebook's decision to take down some events organized by protesters against state and local pandemic measures is putting conflicts between public health and free speech into stark relief, Axios' Scott Rosenberg writes.
Driving the news: CEO Mark Zuckerberg said Monday that Facebook would treat some efforts to organize protests against social distancing rules as "harmful misinformation" and take them down.
Why it matters: Facebook keeps finding itself playing the role of government without either the machinery to do the job right or the accountability that it should bear.
9. 1 fun thing: Free is hot
Fandango, the digital movie ticketing company owned mostly by NBCUniversal, has acquired the free, ad-supported video service Vudu from Walmart, Vudu announced Monday. Deal terms weren't disclosed.
Why it matters: Big media companies are investing in ad-supported streaming services that could help them transition their dying TV ad businesses to digital while also bolstering their streaming offerings.
The big picture: Vudu was one of the last ad-supported streaming platforms that was nearing a sale to a major media company.