Axios Media Trends
July 10, 2018
Thanks for subscribing to Media Trends. Tell friends to follow along by signing up here.
Situational awareness: The Fox/Disney/Comcast/Sky M&A dance is expected to heat up this week. 
Fox CEO Rupert Murdoch, Comcast CEO Brian Roberts and Disney CEO Bob Iger are all expected to meet in Sun Valley at the annual Allen & Co. Conference.
Comcast is expected to make a formal bid for Sky Broadcasting in Europe. Fox is expected to submit a counter bid.
Comcast is also reportedly lining up buyers to divest Fox's regional sports networks in an effort to win Fox's entertainment assets over Disney. 
1 big thing: The rising cost of digital TV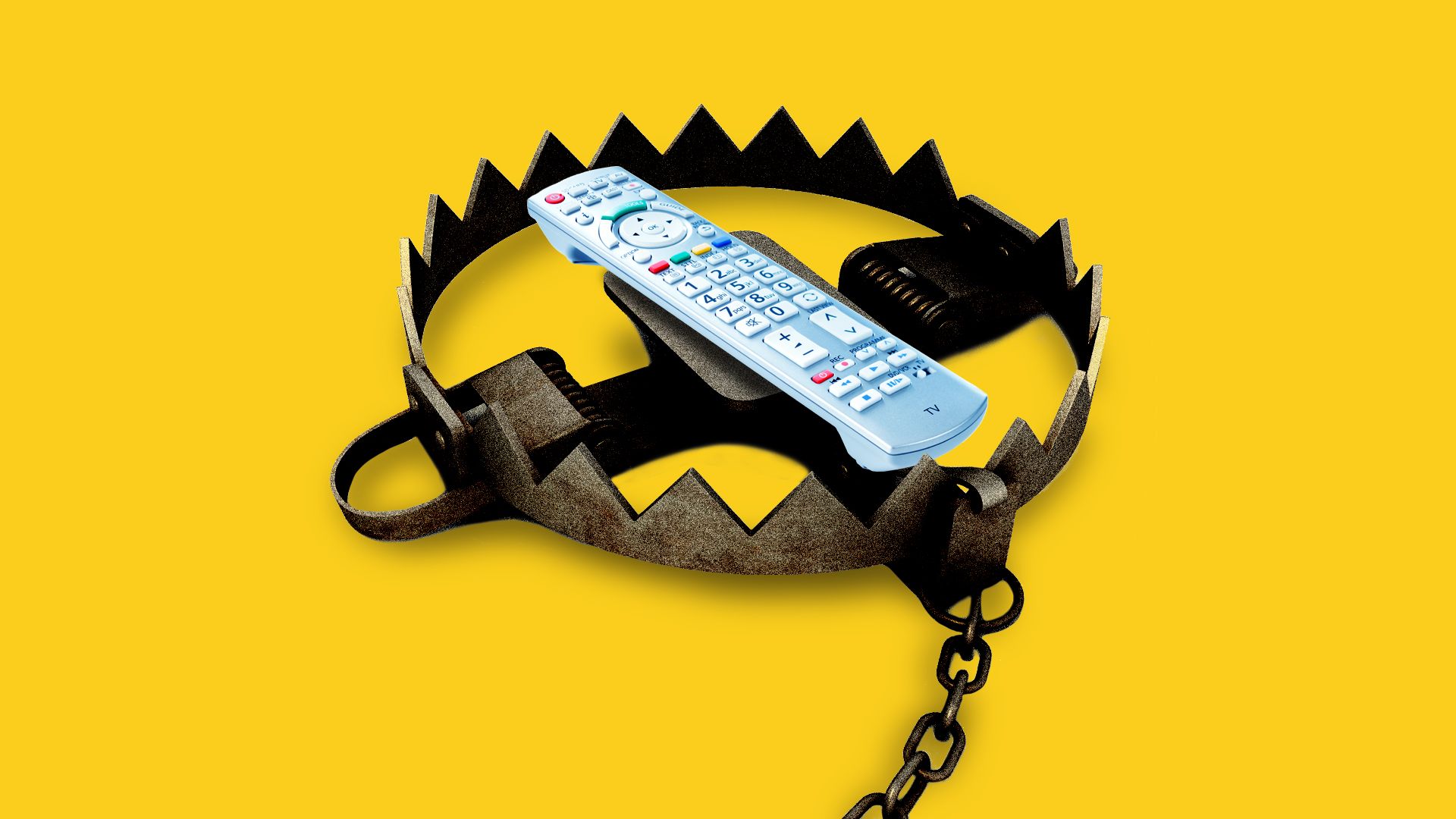 Digital content bundles that Americans are using in the place of cable packages are significantly hiking their prices as they grow and hook consumers.
Why it matters: Bundled content packages with fewer channels are an increasingly popular way for consumers to watch video content, but there is little regulation around pricing, consolidation and distribution fees to protect consumers from long-term price inflation. 
The context: Regulators rarely step in to stop price hikes for traditional Pay-TV service providers, which are seeing consumers depart in droves, in part because of pricing, but also because of experience.
And because the pricing fights are handled by the market between distributors and content creators, the disputes are becoming far more frequent and are leading to a record number of programming blackouts for consumers.
The digital distributors: Most digital multichannel video programming distributors (dMVPDs) — or skinny bundle packages with live programming — have hiked the prices of their digital TV subscription fees as their user bases continue to grow.
The on-demand companies: The largest subscription video on-demand companies (SVODs) — like Netflix and Amazon — are also increasing prices.
Amazon raised its subscription from $8.25 to $9.91 monthly after it revealed it had 100 million subscribers in April.
Netflix raised its subcription from $11.99 to $13.99 monthly in October. That's nearly double what it was just four years ago at $7.99 per month in 2014.
Variety reported in July that Netflix is testing a pricier 'Ultra' plan for $16.99 monthly.
Bottom line: Most consumers end up subscribing to more than one of these skinny bundles in order to access both live and on-demand programming. Eventually, consumers could expect to pay more for digital programming in total than they do now for their traditional cable or satelite package.
The bigger picture: Regulators at the FCC and FTC can't stop these services from raising their prices, even if they collectively end up one day costing consumers more than they pay now for hundreds of cable channels.
The only opportunity there is to keep the rising costs of skinny bundle services in check is by addressing competition during regulatory reviews of mergers and acquisitions.
Still, a federal judge passed on the opportunity to set a wide precedent in managing competition in the digital skinny bundle world by letting the AT&T merger with Time Warner go through without requiring any divestitures.
What's next? Expect this trend to carry over to other on-demand media. Spotify is testing a 10% subscription fee increase in Norway.
The kicker: Knowing that the streaming surge is coming and it's reliant on internet access, almost every major Pay-TV provider with a broadband (internet) offering (think Comcast, Verizon, etc.) has touted the growth of its broadband business to investors on earnings calls over the past several quarters.
2. When the servers eat the storytellers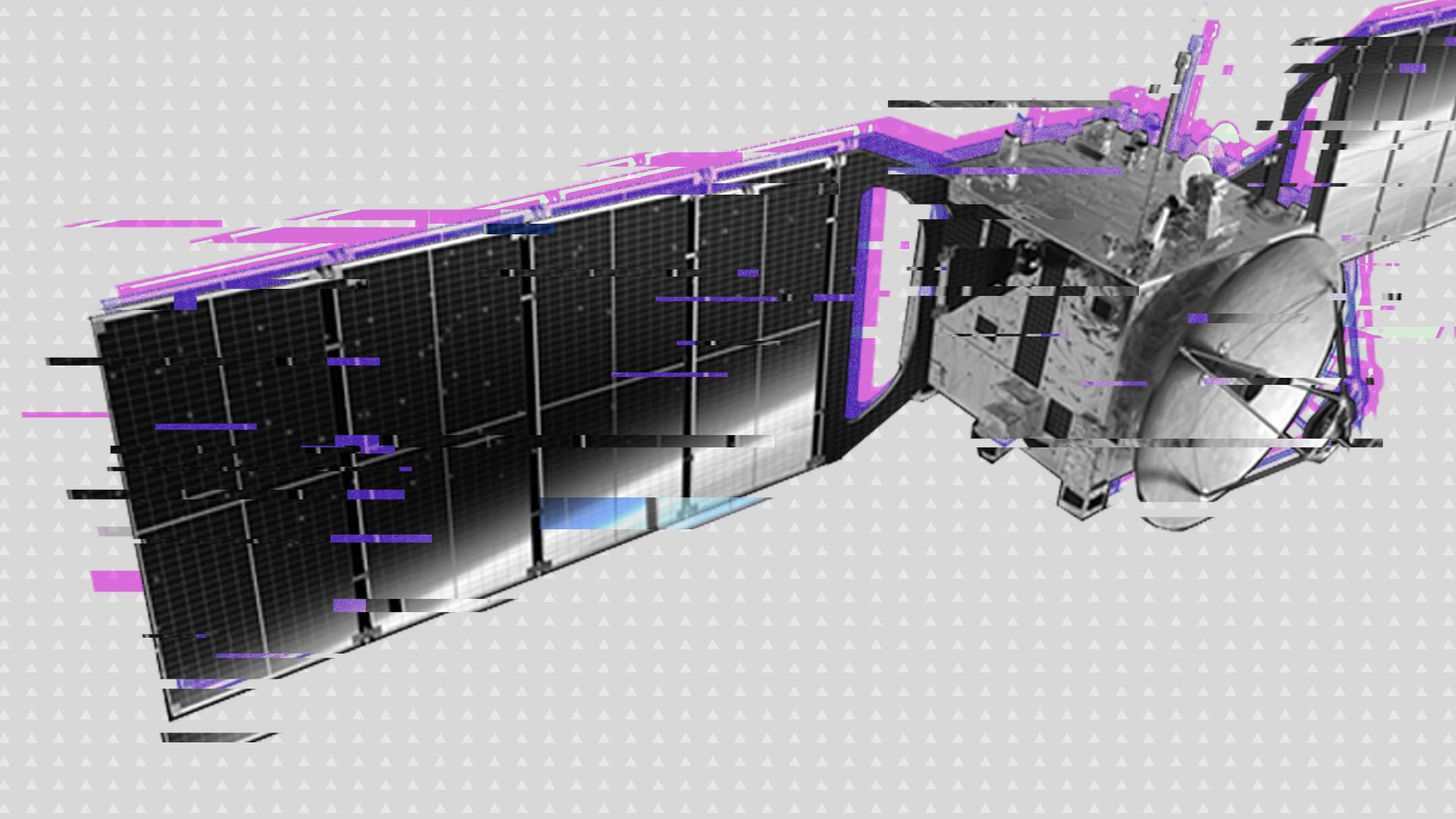 Media analysts and experts are torn on whether new AT&T media boss John Stankey has the right strategy in pushing HBO CEO Richard Plepler to create more hours of content to drive more revenue, a position that was revealed via a recorded discussion first obtained by The New York Times.
Some argue Stankey has the right idea, and that HBO could produce more quality content at scale without alienating its audience that appreciates its reputation for quality.
"HBO is going to do more high. And they have room to. It's not about a 1-to-1 race."
— Jason Hirschhorn, an influential media executive and critic, in a blog post
Others say the $2 billion HBO has been investing in content is nowhere near enough to build a subscription video on-demand service out of HBO that could compete with the streaming giants like Netflix and Amazon, who spend upwards over $10+ billion and $6 billion on content per year, respectfully.
"It's naive of Stankey to imply that HBO needs catch up Netflix, $2 billion is not going to do it."
— Michael Pachter, managing director of Equity Research at Wedbush Securities to Axios
The bottom line: Recode's Peter Kafka posted a longer version of the full exchange Monday night, and if you read it, the exchange seems less contentious. Kafka points out that Stankey constantly reassures HBO that it would be given the resources and autonomy to grow while preserving its brand.
The big picture: Storytellers have been worried about the future of their craft given the harsh business circumstances swallowing the media business.
John Landgraf, the CEO of 21st Century Fox-owned cable network FX and FX Productions, told Axios in March that he's worried media companies being bought by telecom or tech giants that don't have content at their core could lead to less quality storytelling.  
"I worry about the future of fictional storytelling, to be honest, in an environment where it's farther down the scale of priorities. I'm not saying it's a non-priority, it's just not the number one priority to a company like Google or Facebook and I worry about that."
Go deeper: Media mega-trend: The rise of new content creators
3. Where HBO stands
When Stankey's comments were first reported, it startled a lot of people who never thought of HBO as a network trying to take on Netflix directly as a streaming company, but rather a premium cable channel that people are willing to pay extra for.
Why it matters: Unlike Netflix, HBO is still mostly sold through a wholesaler — it's purchased as an add-on subscriptions to a Pay-TV package, not through a standalone digital streaming subscription.
Time Warner executives explained this repeatedly throughout the the six-week AT&T/Time Warner trial earlier this year.
From my notebook on April 18: Time Warner CEO Jeffrey Bewkes to AT&T lawyer Dan Petrocelli "We need to get HBO into every carriage and cable system. For most households that have HBO, the great majority have it as an add-on. It's why marketing there is so important."
When it comes to the streaming landscape, Netflix is by far the most dominant player, according to ComScore's latest State of OTT report out last week.
Reach of total OTT households:
Netflix: 73%
YouTube: 50%
Hulu: 36%
Amazon: 28%
Overall, OTT is exploding in the U.S., per the report. Total U.S. OTT Households:
Oct. 2016: 40 million
Apr. 2017: 50.6 million
Oct. 2017: 55 million
Apr. 2018: 59.5 million
The international angle: In potentially pushing HBO to grow its consumer base like a streamer, not a cable channel, AT&T could expand its customer base even more internationally. (HBO already has some overseas reach in places like Latin America, Europe and Asia.) This is significant because other media and telecom companies, like Comcast, are pushing to grow internationally through streaming deals.
4. Shot: What a new SCOTUS could mean for freedom of the press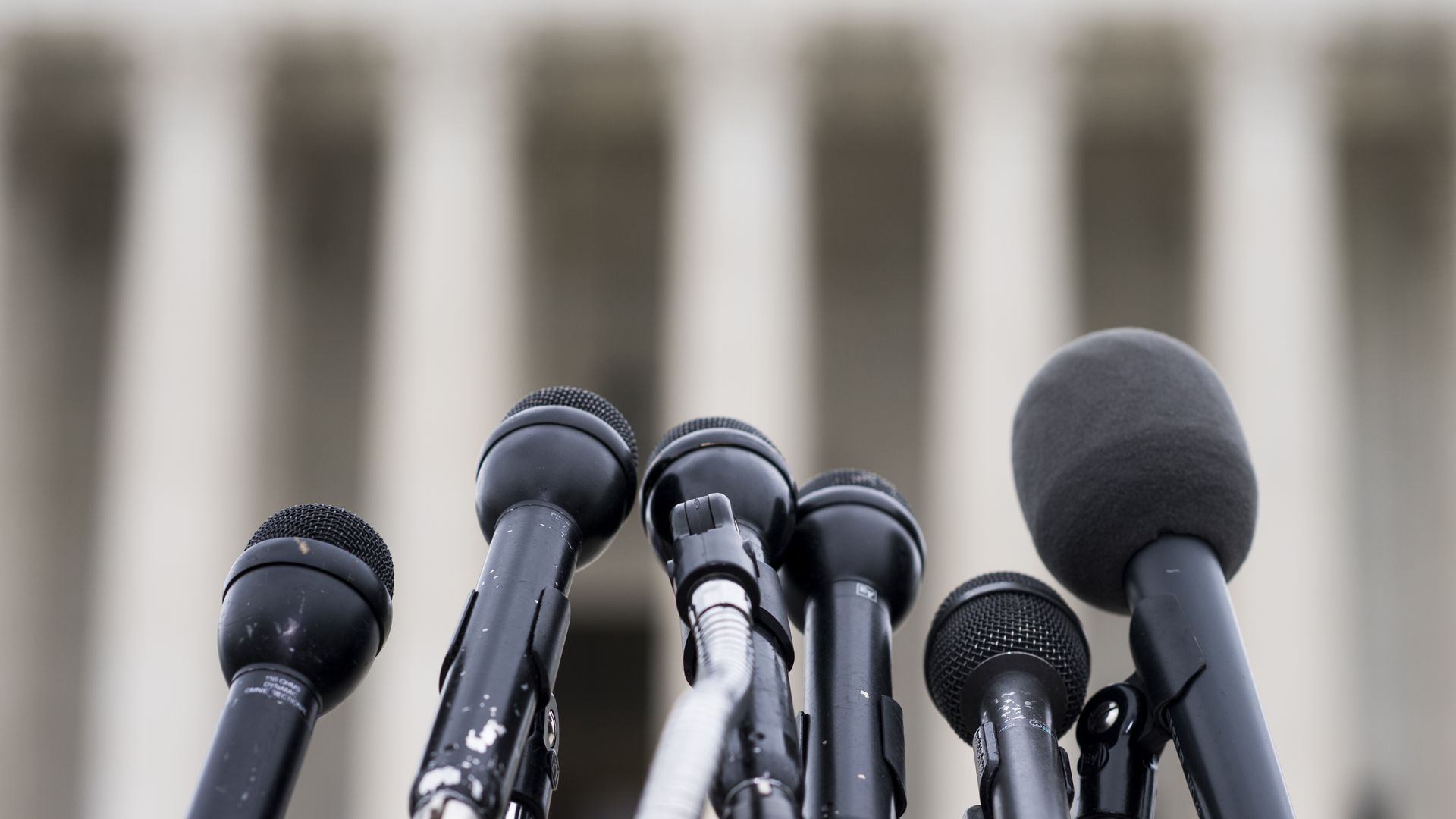 Press freedom experts worry that the new Supreme Court Justice nominee, Brett Kavanaugh, could share President Trump's view that U.S. libel laws need to be rewritten.
Why it matters: Journalists enjoy legal protections laid out by the First Amendment to the U.S. Constitution.
"This Court is likely to tackle some of the most consequential questions that are at the heart of newsgathering and the ability of journalists to do their jobs and hold the powerful to account. We hope that, if confirmed, Judge Kavanaugh will be a strong defender of the First Amendment and rights that protect journalism at a time of extraordinary technological change."
—
Bruce D. Brown, Executive DIrector, Reporters Committee for Freedom of the Press
The big picture: An independent judiciary has also played an incredibly important role in protecting freedom of the press long-term, specifically in shielding the press from libel laws that would make it much more difficult to cover public officials, according to Sarah Matthews, Staff Attorney at the Reporters Committee for Freedom of the Press.
Kavanaugh, in particular, is a constitutional conservative that some legal experts argue would likely side with conservatives in supporting corporate free speech cases.
When it comes to libel, the Hollywood Reporter's Eriq Gardner details a decision authored by Kavanaugh at the U.S Appeals Court for the D.C Circuit four years ago that allows litigation to be used to deter free speech.
When it comes to net neutrality, Vice has an article explaining why Kavanaugh is a major Net Neutrality opponent.
Be smart: Even if Kavanaugh's nomination was approved and he agreed with Trump's desire to revisit libel laws, the First Amendment — on cases of religion, corporate speech, and more — has almost always won under Chief Justice Roberts.
5. Chaser: Where the US stands globally on press freedom
The U.S. ranks 45th out of 180 countries on the World Press Freedom Index, according to a Reporters without Borders study.
Why it matters: The U.S. has relatively strong free press standing compared to the rest of the world, but not compared to some of our European counterparts.
The U.S. ranking is similar to countries like the U.K., Taiwan, South Korea, Romania, Italy, Botswana, and Senegal.
Nordic countries, like Norway, Sweden, Finland, the Netherlands and Switzerland, take the top five spots on the Press Freedom Index.
Bringing up the rear: Oppressive regimes in North Africa, the Middle East and Asia, like North Korea, China, Saudi Arabia, Sudan, Somalia and Iran.
6. Bloomberg Facebook show will teach millennials about $$$
Bloomberg is the latest media company to launch a show with Facebook Watch, Axios has learned. It joins roughly 19 other publishers in doing so by the end of the summer.
Why it matters: It's an opportunity for Bloomberg, like other news publishers, to tap into Facebook's massive 2+ billion user base while not having to invest too heavily financially. Facebook will be funding these shows at least in the short-term, while publishers experiment with the format and technology.
The weekly show will be called At What Cost? and its aim is to reach millennials with four-six minutes of analysis on how the week's biggest headlines will impact their futures and finances. Bloomberg journalists will either field questions from the Facebook community, or break down commonly used terms in business news for a mainstream audience.
Bloomberg was the first company to launch a 24/7 network on Twitter called TicToc last year. It's since invested in spreading its Twitter network teams to Hong Kong and London. A separate team will be managing its new Facebook show.
7. NEW: Philo raises another $40 million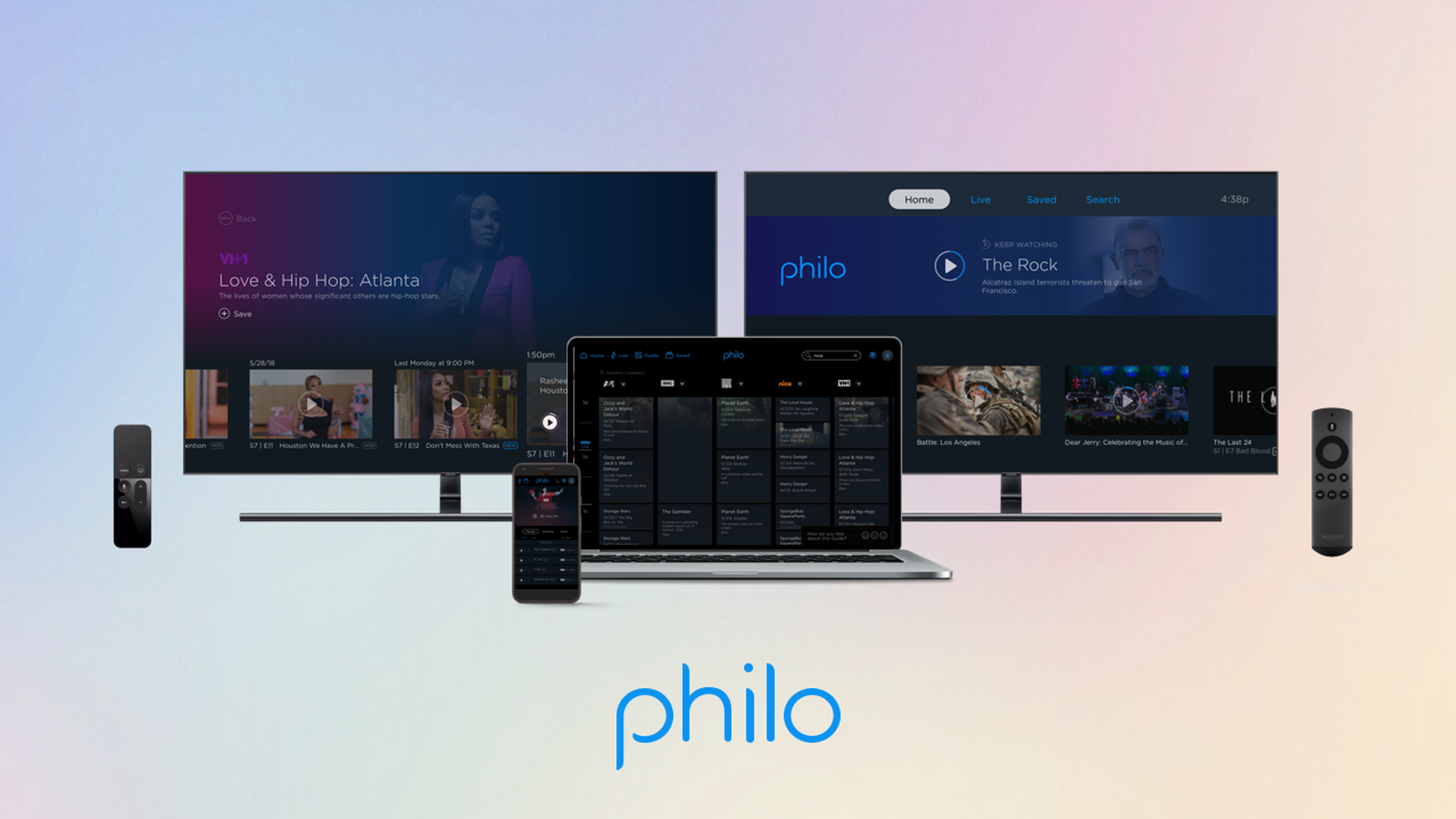 Philo, a live, digital streaming service that focuses solely on entertainment and lifestyle programming has raised more than $40 million from existing investors with AMC Networks, Discovery and Viacom leading the company's Series C round of funding.
Why it matters: Philo launched the industry's first entertainment-focused streaming, an option that has since been implemented by other skinny bundle providers, like CBS, AT&T and soon-to-be Disney.
The purpose is to target consumers who are sick of paying expensive Pay-TV packages that include costly sports channels that they don't watch.
What's next: The skinny bundle service is also launching on Amazon Fire TV and Apple TV.
8. 1 fun thing: Vinyl makes a comeback
Vinyl sales are up over 19% year over year to 7.6 million units sold, according to the same Nielsen Music's 2018 mid-year report.
Why it matters: The resurgence of physical album sales are showing new signs of resilience, per Nielsen, as independent retail events like Record Store Day drive music fans to stores.
Vinyl LPs now comprise over 18% of all physical album sales, per Nielsen, up from 13% last year through six months.
This year's celebration of Record Store Day specifically led to the highest non-holiday sales total at independent retail since 2005, which Nielsen says extended vinyl's hot streak.
The top 5 Vinyl LP albums:
Jack White, Boarding House Reach, 37,000 albums sold
Kendrick Lamar, Damn. 30,000 albums sold
Guardians Of The Galaxy, Guardians Of The Galaxy: Awesome Mix, 28,000 albums sold
Michael Jackson, Thriller, 28,000 albums sold
Fleetwood Mac, Rumours 28,000 albums sold