Axios Media Trends
January 12, 2021
Today's Media Trends is 1,566 words, a 6-minute read. Sign up here.
🚨Breaking: Netflix released a teaser of its 2021 film slate, promising a new film debut every week. The move is reminiscent of what traditional movie studios have done for years to tease their movie slates, but most traditional studios are bracing for film delays from the pandemic.
1 big thing... Scoop: Univision enters streaming wars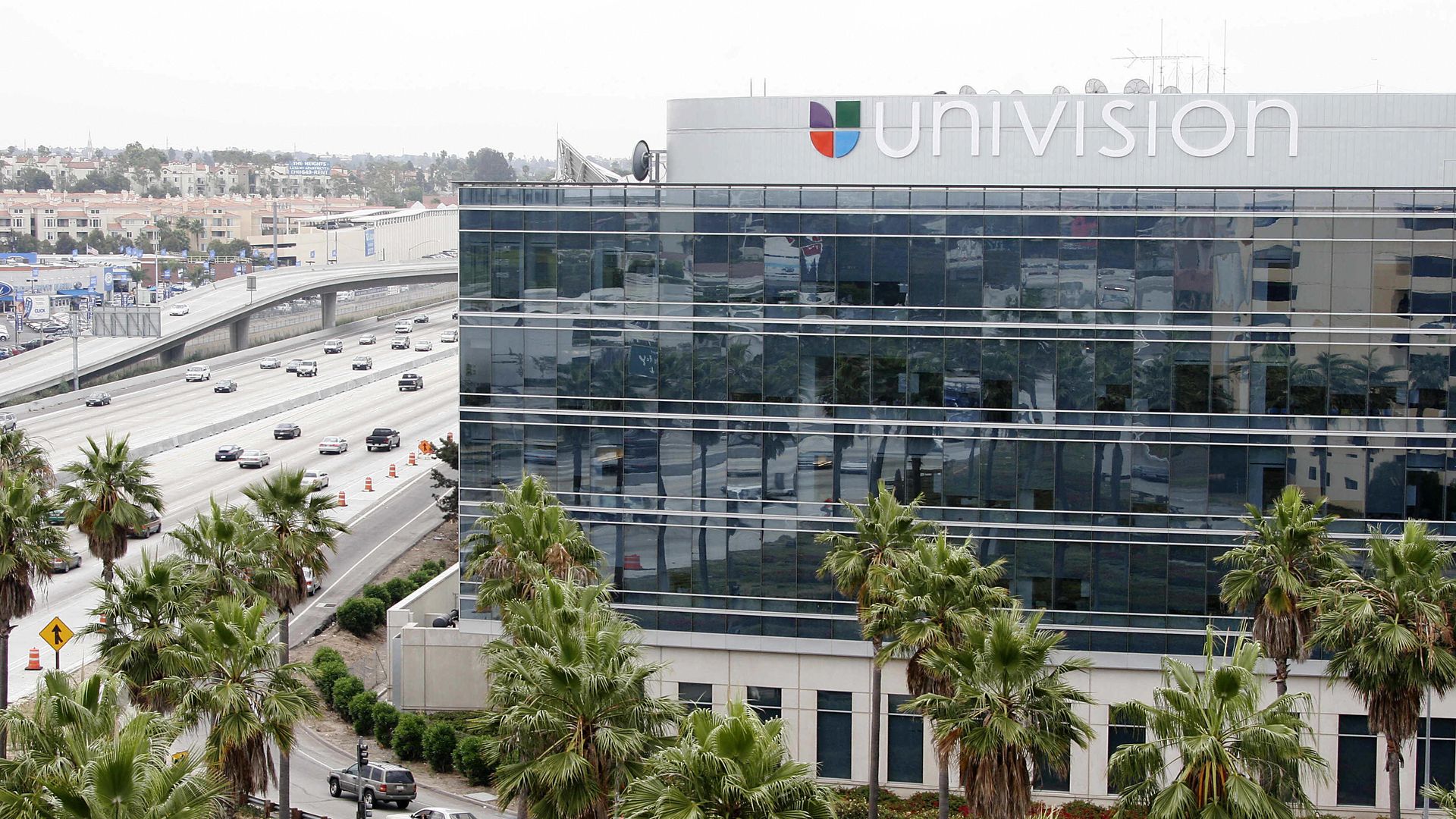 Univision, the largest Spanish-language broadcaster in the U.S., will announce today the launch of "PrendeTV," a free, ad-supported streaming service, sources tell Axios.
The big picture: Univision becomes the latest major broadcaster to jump into the streaming wars.
The service is set to launch in the first quarter of this year.
Univision rival Telemundo doesn't have its streaming service, but its programming is featured on Peacock, the streaming service launched last year from its parent NBCUniversal and Comcast.
The service will feature both live, linear channels and on-demand content, sources tell Axios. It will include 30 live, linear streaming channels at launch, each of which will focus on different categories, such as movies, news, sports, comedies, etc.
All of the programming will be in Spanish.
The service will feature a linear TV-like experience, where all of the content is organized into various ad-supported channels, but it can all be streamed digitally.
Each channel will have a mix of movies, novelas, and series — just like a regular linear TV channel.
The service will feature 10,000 hours of video-on-demand programming from both Univision and Televisa's libraries that will not available on any other streaming platform.
The app for PrendeTV, which in Spanish means "turn on," will be available via that PrendeTV app and via desktop and mobile web. The app will be available for free on connected TVs.
The big picture: Last month, Former Viacom CFO Wade Davis' ForgeLight LLC and Searchlight Capital closed their acquisition of 64% of Univision. The company's biggest programmer, Televisa, will retain the remaining 36%.
Following the announcement of the deal last year, Davis — who helped build out ViacomCBS's free, ad-supported strategy, told Deadline: "It's really remarkable when you look at the competitive landscape that there is no high-quality, differentiated OTT service for this audience that is at scale. … It's a huge opportunity that is completely open from a competitive standpoint."
Be smart: Univision is a little late to enter the streaming wars, but new ownership is looking to push aggressively into digital in the months ahead.
In late 2019, then-CEO Vince Sadusky told Axios that the company had no plans to launch its own streaming service.
Sources say changes in the media landscape, accelerated by the pandemic, and changes in leadership, are reasons the company has decided to venture into streaming.
What's next: The company on Monday announced the hiring of veteran TV ad sales chief Donna Speciale, to lead the company's ad sales.
2. Exclusive: OZY's $50 million year draws buyer interest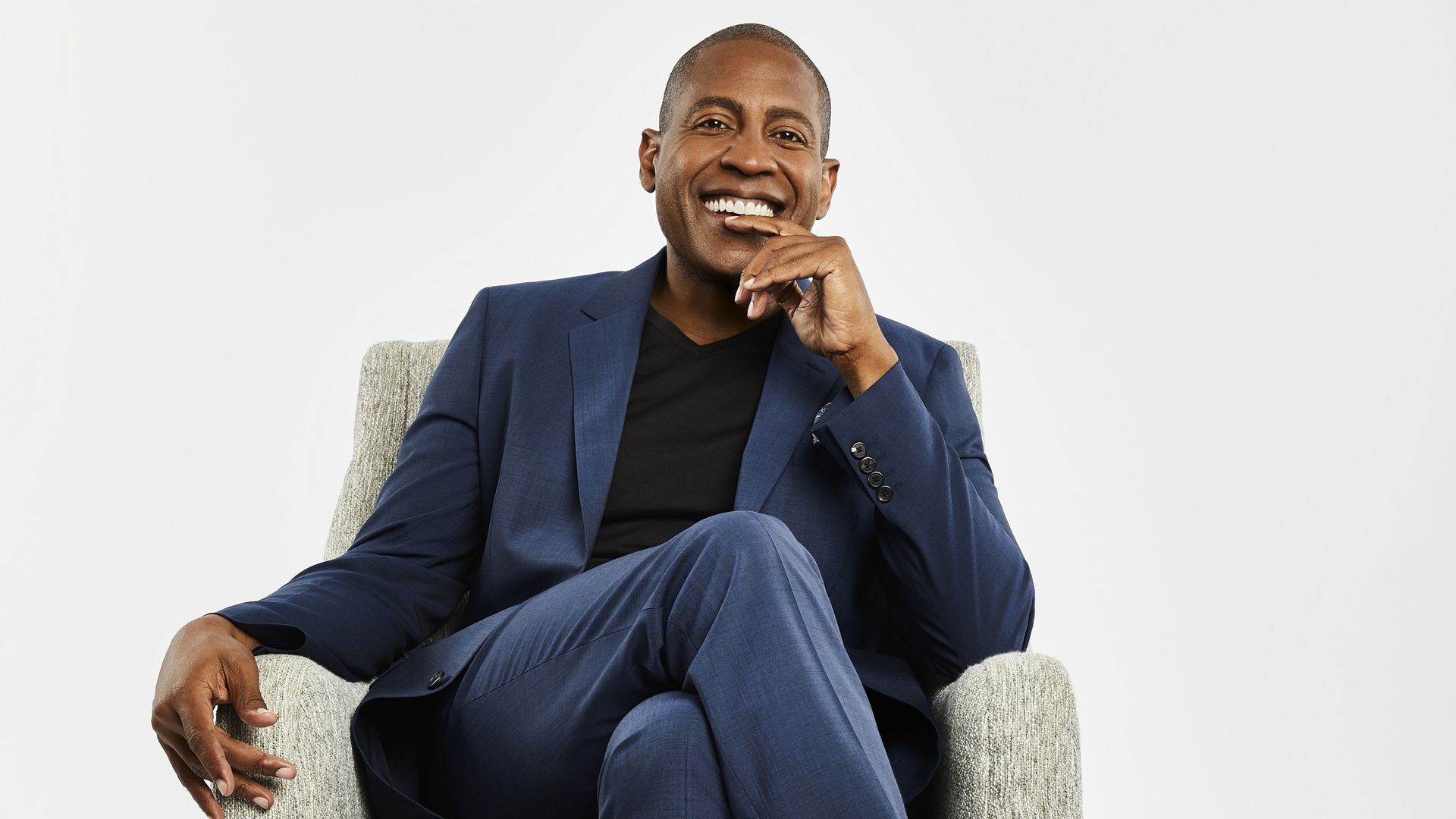 OZY brought in $50 million in revenue last year, helping it hit profitability for the first time in its 7-year history.
Why it matters: The company has received acquisition offers from at least two major media companies, its founder and CEO Carlos Watson tells Axios.
Watson isn't interested in a sale right now, but the offers speak to OZY's success amid the pandemic.
OZY launched in 2013 as a digital-native outlet that aimed to help inspire innovators and people who were curious about trends shaping the country.
It has since raised a little over $70 million from venture capitol groups and has 75 full-time employees.
The big picture: OZY has grown revenue by 50% year-over-year for four years in a row. "We tried to be incredibly disciplined about spending," says Watson.
Half of the company's revenue comes from TV and podcasts, with the rest from its digital division via branded content and advertising.
Branded content and advertising exists on the company's website and via its 5 newsletters, which collectively have more than 20 million subscribers.
In the past four years, OZY has produced and sold 12 prime time TV shows, with 9 being renewed or as spin-offs of previous shows, Watson tells Axios. "It's become a big meaningful business," Watson says.
Next year, the company will host three virtual festivals and it hopes to expand its in-person OZY Fest events — often dubbed a mix between Ted Talks and Coachella — globally over the next three years to other world cities.
The bottom line: OZY is one of the few digital media companies today that was founded and is run by a person of color.
"More than half of our company is people of color, more than half of our leadership team is female," Watson says. "Half of our stories feature a woman or person of color as a rising star or subject ... 30% of our audience across platforms is people of color."
Watson co-founded OZY with Samir Rao, an Indian-American businessman, and Louise Rogers, a British-American private equity executive.
3. The online right is moving underground
The online purge of far-right figures and platforms that followed last week's Capitol insurrection looks to be driving radicalized users into darker corners of the internet, Axios' Kyle Daly and I write.
What's happening: Downloads have surged for messaging apps that are securely encrypted or designed to cater specifically to the ultra-conservative user.
The closing of far-right-friendly social network Parler after Apple, Google and Amazon withdrew service drove some users to look for alternatives that commit to not policing right-wing content.
Why it matters: Monitoring and curbing chatter that can spark real-world violence is even harder on private and ephemeral platforms than in more public forums.
What's next: Despite its troubles, Parler is already showing signs of new life.
It switched its domain registration Monday to Epik, a provider that has in the past revived other digital havens of the far right, including Gab, 8chan and neo-Nazi site the Daily Stormer.
Go deeper: All the platforms that have banned or restricted Trump so far

Bonus: Stock performance post Trump-bans
4. Right-wing media decoupling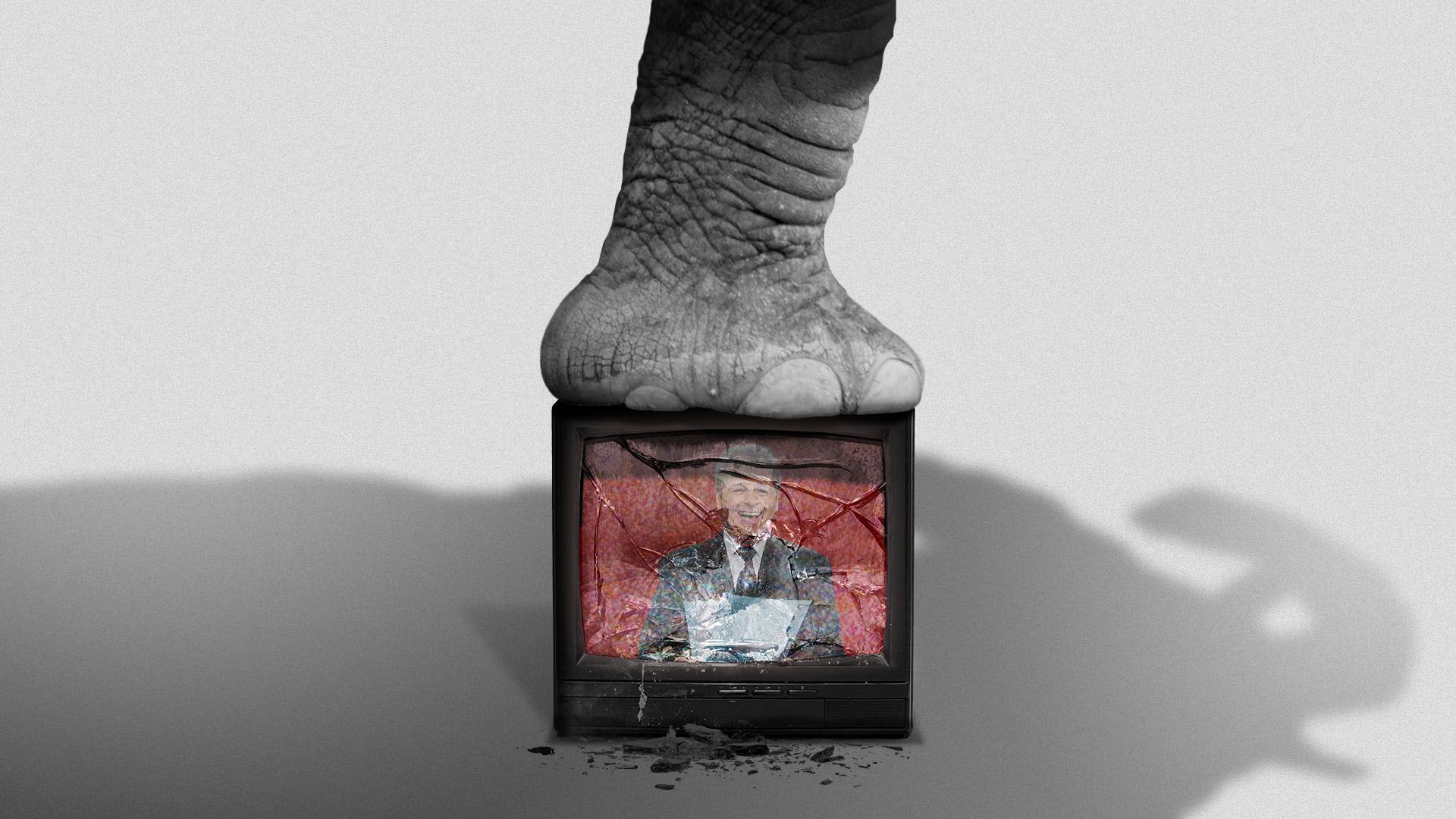 Following the Capitol siege, the right-wing media landscape is beginning to split between entities that want to double down on pro-Trump rhetoric and those that want to stick with the establishment.
Why it matters: The future of the Republican Party, in part, hangs on whether fringe conservative media or traditional conservative commentary will dominate with audiences.
Driving the news: Fox News said Monday it will replace its 7 p.m. evening news hour hosted by Martha MacCallum with a right-wing opinion show.
On the other side, Cumulus Media, home to many right-wing radio personalities, has told hosts to stop suggesting the election was stolen, the Washington Post reports.
Be smart: Fox News' update is notable given that other right-wing entities owned by Rupert Murdoch have decided to publicly disavow the president.
The Wall Street Journal editorial board wrote a piece urging Trump to resign last week. Late last month, the New York Post said Trump was "cheering for an undemocratic coup" with his efforts to overturn the election he lost.
CNN reports that Murdoch was directly involved in the decision-making around the Fox News lineup shakeup.
What to watch: The increase of political money being poured into media will also impact whether and how this split evolves.
Epoch Times, a pro-Trump media outlet backed by a political PAC, doubled its revenue over the past two years despite efforts by tech platforms to limit its distribution, Axios' Lachlan Markay reports.
5. Scoop: Chalkbeat expands from education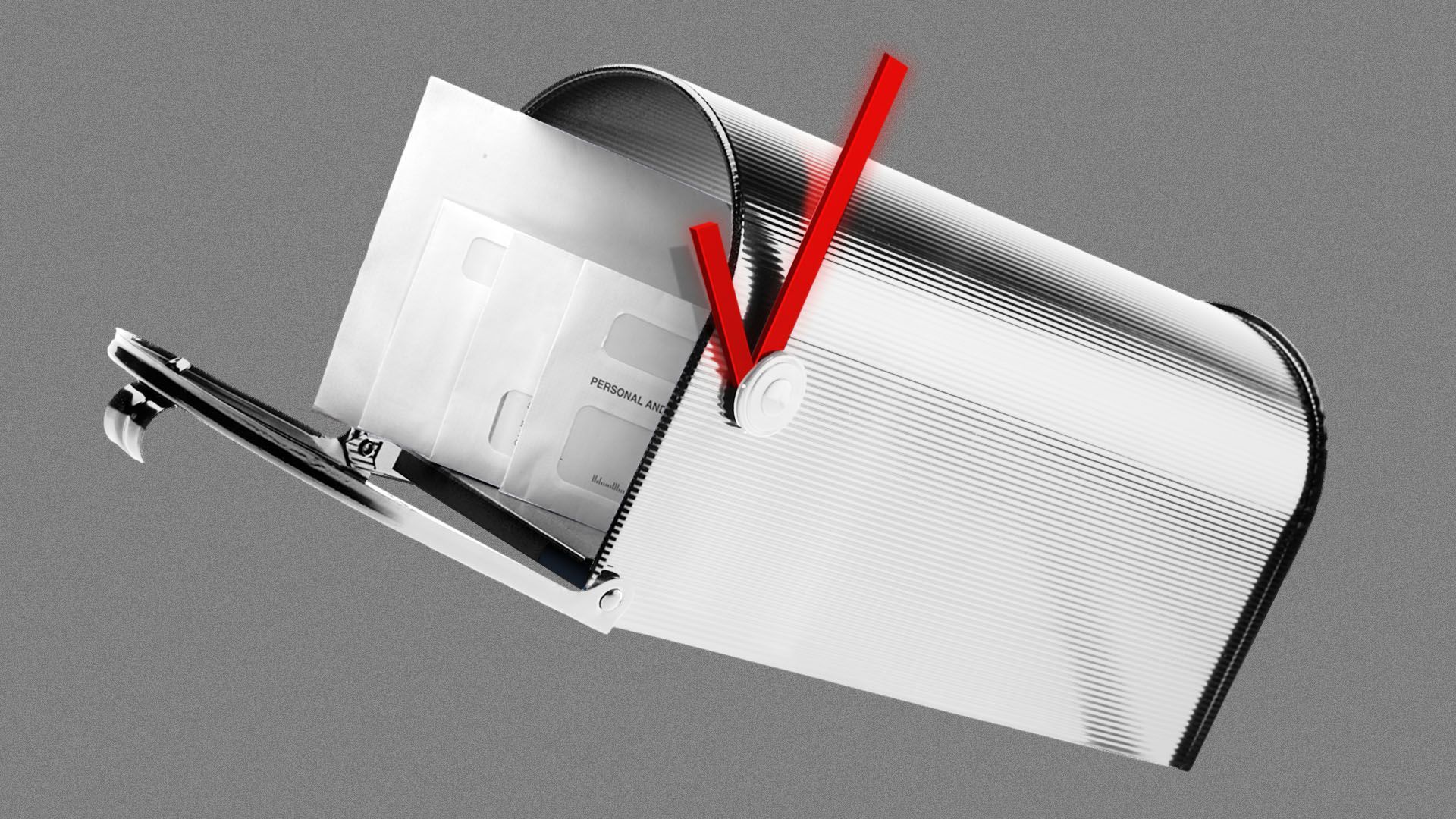 Chalkbeat, a nonprofit news organization that covers education at the local level, plans to expand its pop-up newsroom, called Votebeat, to cover voting at the local level through the 2022 midterm elections.
Why it matters: It's Chalkbeat's first real foray into a beat other than education.
Details: Votebeat launched in October 2020 as a three-month project covering local election integrity and voting access.
Moving forward, Jessica Huseman, formerly of ProPublica's ElectionLand, will serve as editorial director of the project.
The project will cover everything from misinformation to legal battles around voting.
The big picture: The project becomes more important following last week's Capitol siege, as the country remains divided about the outcome of the 2020 election.
6. The science of mob thinking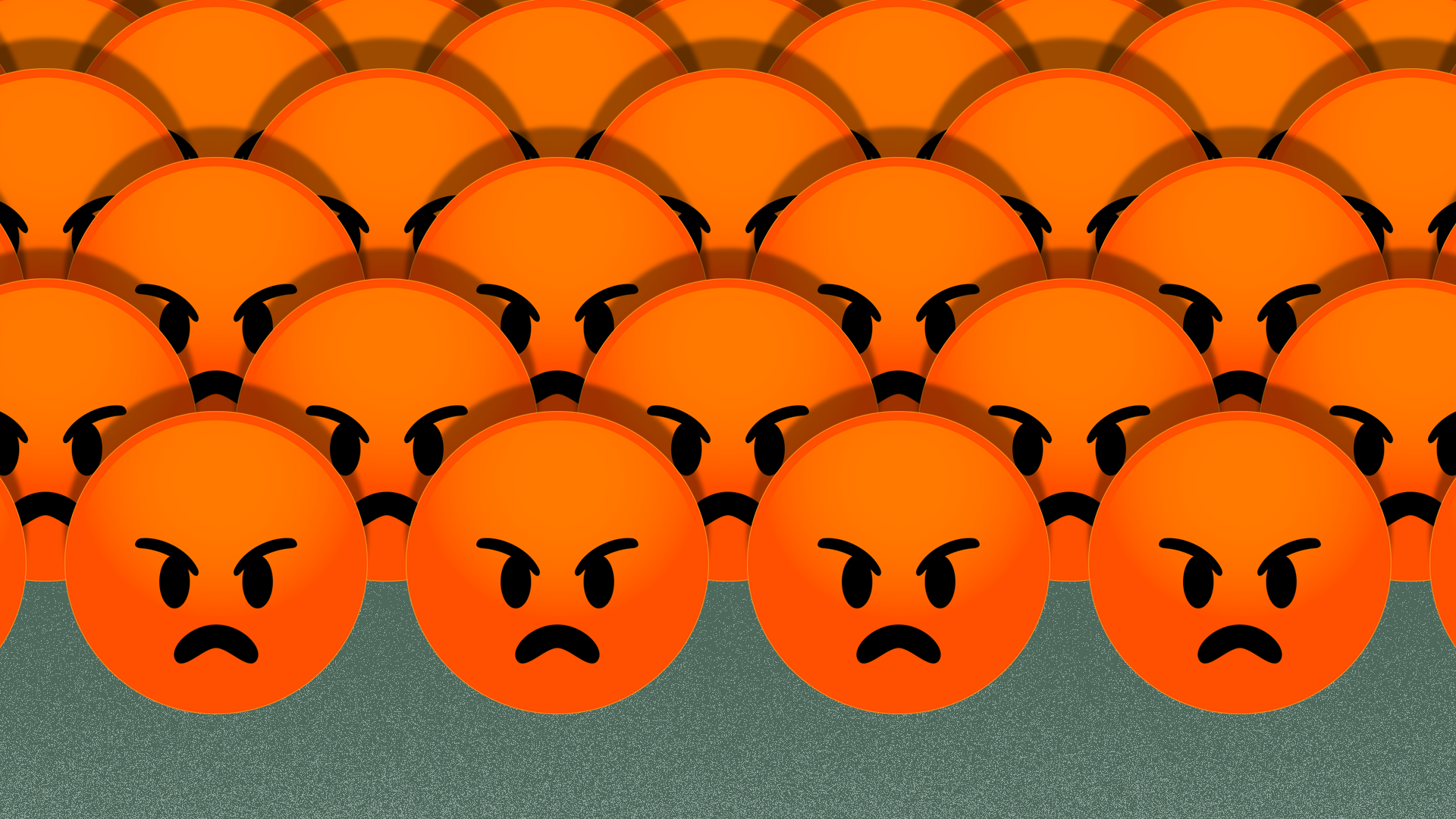 The way people determine what's true and what's false, especially online, relies heavily on people trusting sources of information over substance, experts tell me and Axios Science Editor Alison Snyder.
Rather than trying to fact-check everything, experts say, people use heuristics — a kind of mental shortcut for fact-checking that can rely on cues like whether the information is coming from people they think they can trust.
Racial identity is often a key heuristic that helps people interpret facts, says Britt Paris, an assistant professor of library and information science at Rutgers University.
Trump has became an important heuristic and authoritative source of information for huge swaths of the population, says Pete Ditto, a psychological science professor at the University of California, Irvine.
The big picture: The rapid digitization of news, expedited by the pandemic, means more people are relying less on personally fact-checking information, and more on using heuristics to determine what's true or false.
The bottom line: "We think that we we are rational creatures who analyze everything in front of us. The truth is, we don't hardly do that ever," says Gaurav Suri, an experimental psychologist and computational neuroscientist at San Francisco State University.
7. 1 fun thing: NFL on Nick
While CBS was handling the main broadcast of Sunday's wild card game between the Bears and the Saints, Axios' Ina Fried was watching the game on Nickelodeon's first-ever NFL broadcast with her 8-year-old son Harvey.
Nick used special effects to digitally fill the end zone with slime after touchdowns. But the real breakthrough was summoning Spongebob and other familiar characters to make it fun.
Why it matters: It's the latest in a spree of efforts by the NFL to reach new and younger audiences.
ABC's Freeform also broadcast the Ravens-Titans game earlier in the day with Ravens fan and Ace of Cakes star Duff Goldman offering baking tips along with his football commentary.