Axios Media Trends
November 26, 2019
Today's Media Trends is 1,583 words, a 6 minute read. Sign up here.
Situational awareness: Attorneys general from Texas and Nevada said Monday that they are no longer looking to block the $26 billion merger between Sprint and T-Mobile.
The 14 remaining state attorneys general that sued to block the deal are still expected to bring their case to court on December 9th.
1 big thing: The free press gets squeezed in democracies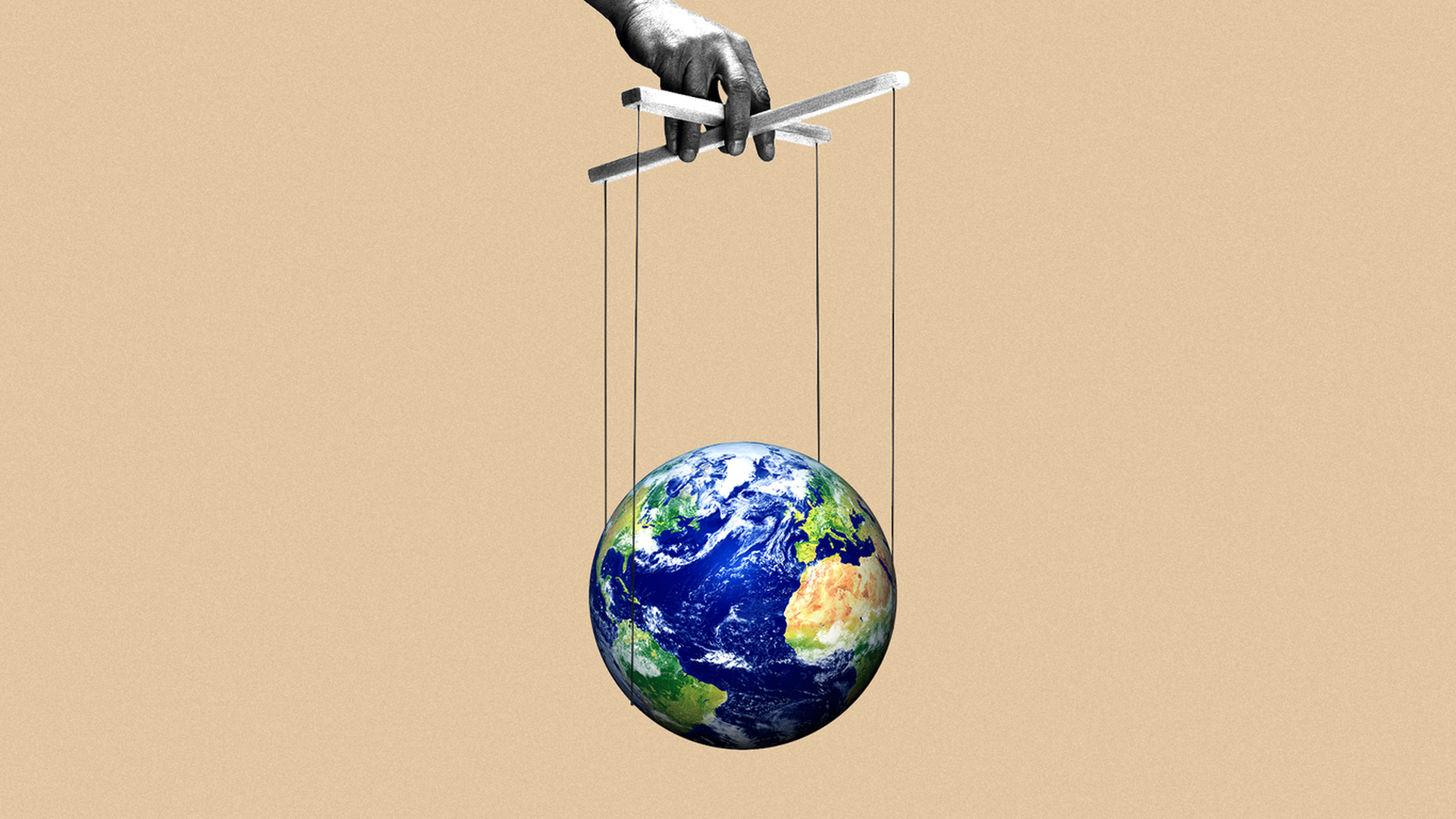 The corruption indictments issued for Israeli Prime Minister Benjamin Netanyahu last week include charges that he sought to manipulate the media to secure more favorable coverage, Axios' David Lawler and I write.
Why it matters: Such interventions have become more prevalent around the world, including in democracies. As we've seen in places like Russia and Turkey, one of the surest signs democracy is being eroded is a crackdown on independent media.
Driving the news: Netanyahu was indicted for an arrangement he allegedly brokered with a telecom magnate, in which the prime minister offered favorable business regulations in return for positive coverage of him and his wife Sara.
The deal was with Shaul Elovitz, who was formerly the majority shareholder of telecom group Bezeq. Bezeq owns a popular Israeli news website Walla.
Natanyahu was also indicted on charges that he struck another deal with a Tel-Aviv-based daily newspaper called Yedioth Ahronoth to limit the circulation of its competitor in exchange for less critical coverage.
Be smart: Such attempts to delegitimize negative coverage and control the press are increasing across democracies globally.
In Hungary, Prime Minister Viktor Orbán and his allies have "systematically taken control of roughly 90% of the country's media outlets," per NPR.
In Turkey, President Erdogan's allies in the business community have bought up a handful of mainstream-media outlets that have subsequently adopted a pro-government stance.
In the Philippines, President Rodrigo Duterte's government has used an aggressive "cyber libel" law to lodge several cases against independent media site Rappler and its CEO Maria Ressa, per Poynter.
In Venezuela, U.S. journalists were arrested and detained by the country's military counter-intelligence agency earlier this year at the command of President Nicolás Maduro.
The big picture: Internet freedom is in decline around the world, according to an annual Freedom House report.
Go deeper: More examples
2. The next pro-Trump social media network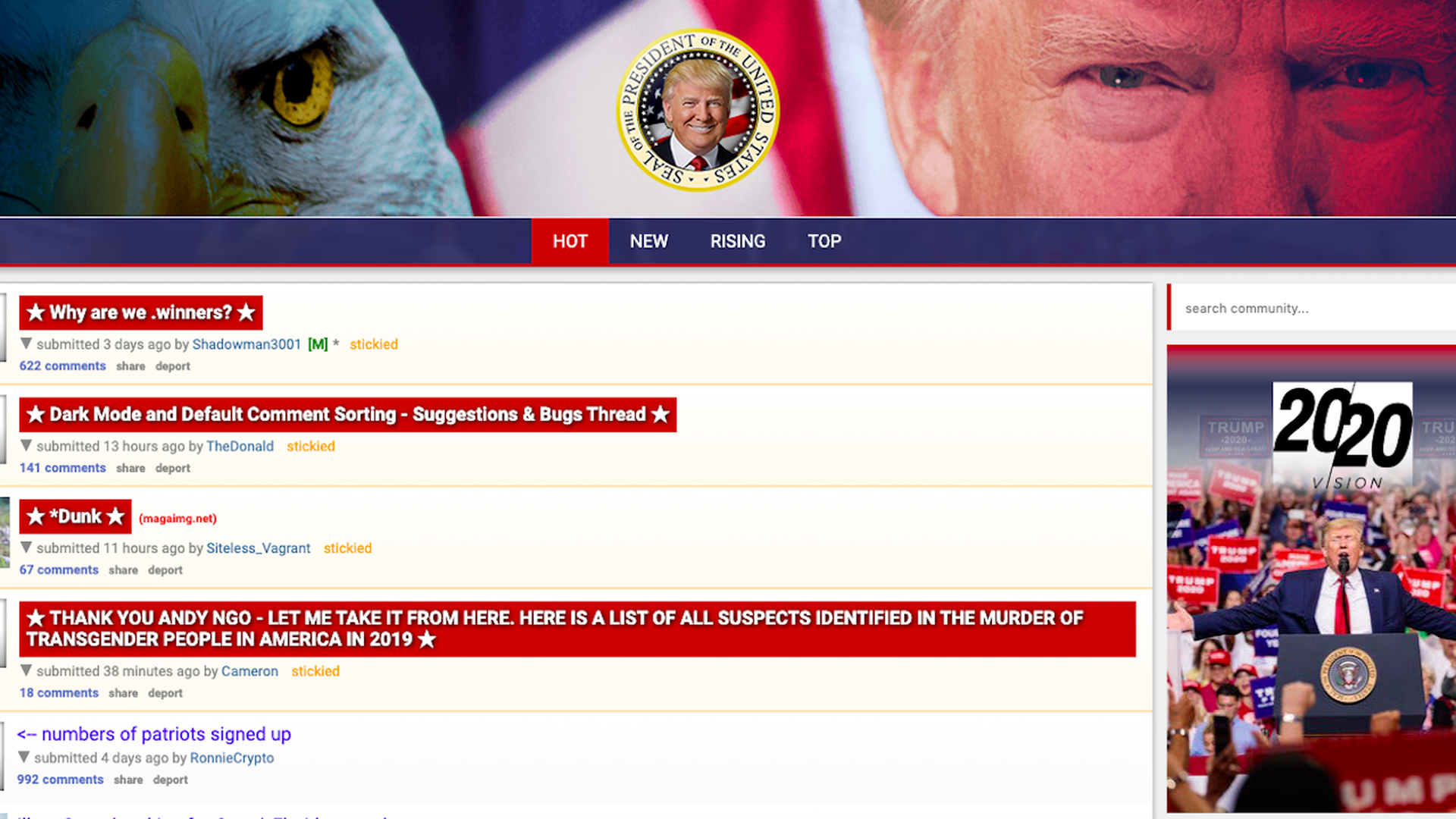 Efforts to crack down on nefarious content have forced pro-Trump communities online to migrate to newly-created sites and private groups, according to a new report from social intelligence firm Storyful provided to Axios.
Driving the news: Moderators of the r/The_Donald subreddit have urged users to move from Reddit, where their original subreddit page had been quarantined in June, to a newly created site called thedonald.win.
The site, which bears several similarities to Reddit, bills itself as "the forum of choice for The President of The United States, Donald Trump!"
Several of the top posts discuss what type of content will get users banned from social media sites like Reddit or Twitter.
Between the lines: Operators of thedonald.win say increased "thought-censorship" on Reddit motivated them to create the site.
The big picture: This isn't the first time pro-Trump groups have created their own social media site, after facing pressure from mainstream sites to adhere to content policies around hate speech.
Previous examples include Gab and 8chan, which later relaunched as 8kun.
3. Scoop: Complex is launching a sneaker marketplace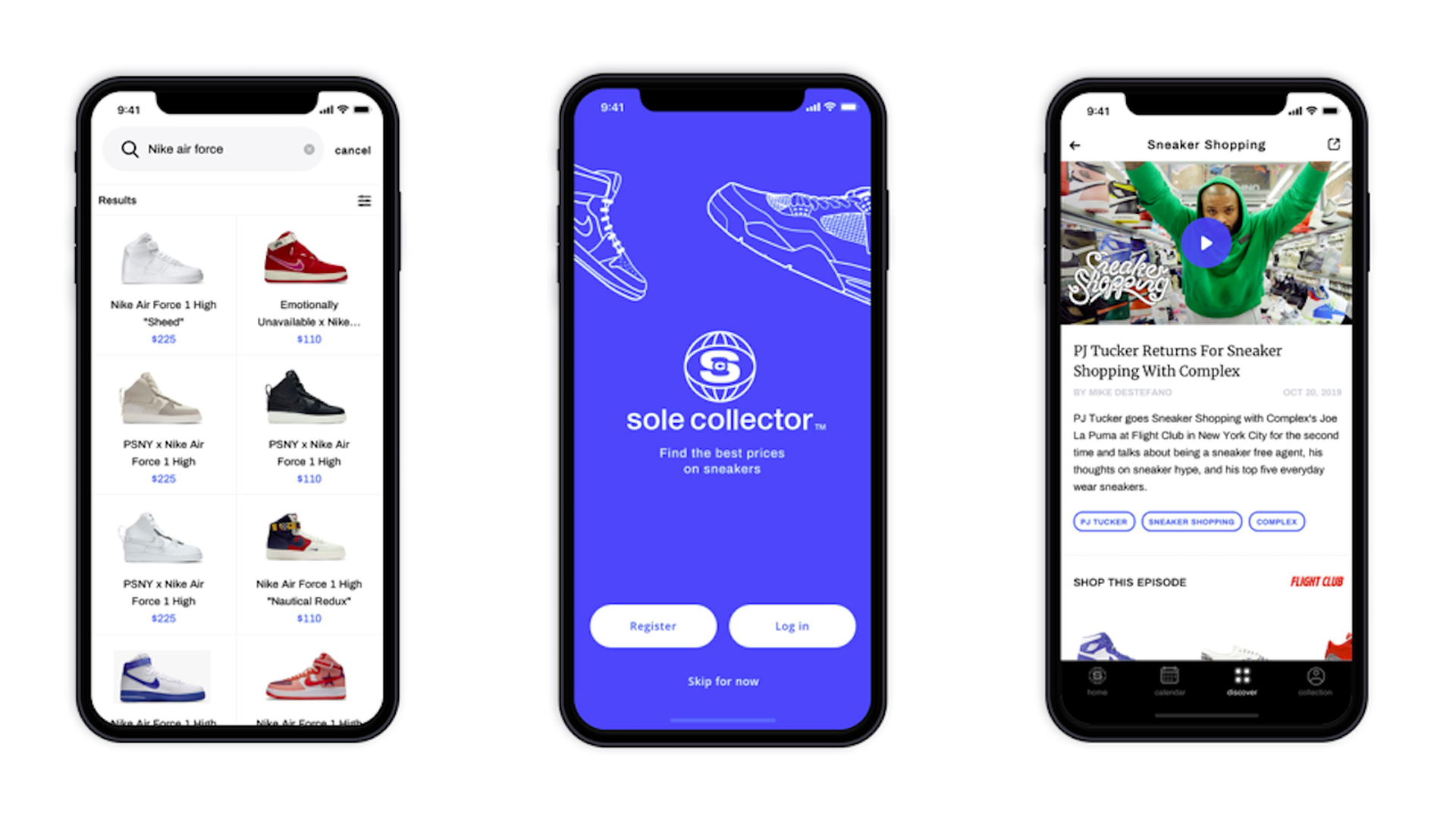 Complex Networks is building a sneaker marketplace and editorial app under the name of its current sneaker site, Sole Collector, sources tell Axios.
Why it matters: Sneaker content has become one of Complex Networks'' strongest franchises, and the company wants to grow its commerce business. Sources say that roughly 15% of the company's reported yearly revenue of $200 million now comes from commerce.
Details: The company is in talks with all of the major sneaker marketplaces for new and resale sneakers, per sources. The 3 biggest sneaker marketplaces in America are StockX, GOAT and Stadium Goods.
The site, which will launch in 2020, will be built off the Sole Collector brand that Complex Networks acquired in 2013 and subsequently expanded.
The marketplace will feature a mix of commerce and high-quality content about sneakers, which is how the company is hoping to differentiate itself from other sneaker marketplaces.
Complex Networks is also working with FIT and e-learning company Yellowbrick to build a 7-figure e-learning business that offers an intensive course in the sneaker business called "Sneaker Essentials." Complex Networks will take a cut of the revenue from class sales.
And if you want to dive deeper into the world of sneakers, I recommend signing up for Mike Sykes' newsletter, "The Kicks you Wear."
4. The new power brokers in sports media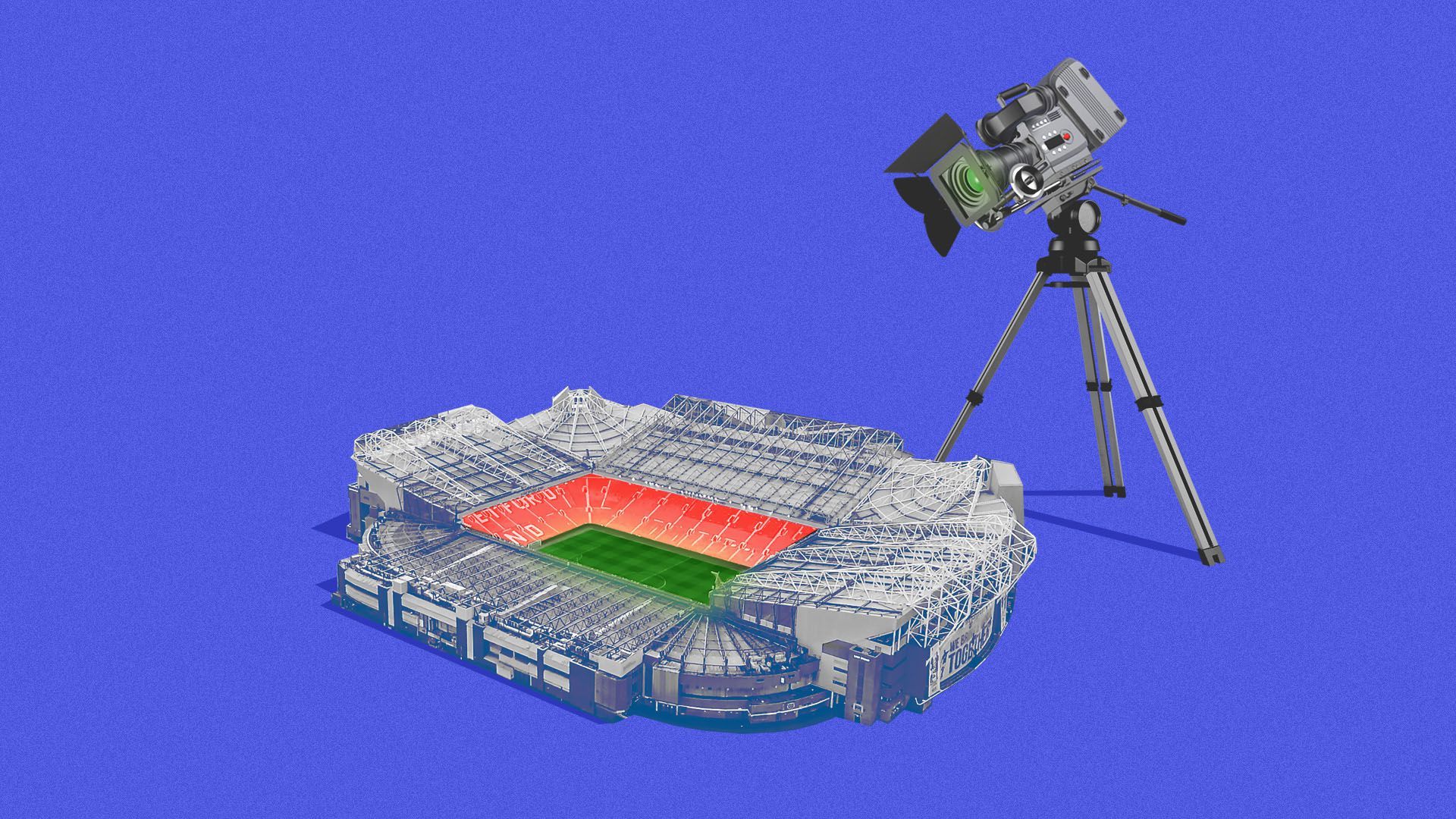 The sports media landscape has shifted significantly over the past few months, with flagship sports brands falling victim to layoffs, shutdowns and consolidation, while newer players report strong growth.
Driving the news: Minute Media, a holding group that owns other digital websites — including sports sites like 90min and The Big Lead — announced last Thursday that it had acquired Derek Jeter's Players Tribune. Deal terms were not disclosed.
The Player's Tribune, which launched in 2014, had raised $58 million to-date and has experienced layoffs over the last year amid sales rumors.
Deadspin has effectively shut down after the majority of its staff resigned earlier this month in response to the site's interim editor-in-chief being fired for refusing to "stick to sports."
Sports Illustrated lost dozens of staffers after its new owner, media startup TheMaven, acquired the property for its brand value in June.
The big picture: Upstarts like The Athletic and DAZN continue to grow, and ESPN's streaming service has added over 1 million subscribers since August.
The Athletic has well-over 600,000 subscribers, according to sources, and has to-date introduced over 120 podcasts. Its team has grown to 550 total of mostly full-time staffers, covering nearly 280 professional and collegiate teams and clubs and leagues.
DAZN is closing in on 8 million subscribers, per CNBC, which is up from 4 million reported in May. About 90% of those subscribers are international.
ESPN+, the new digital streaming service from legacy sports brand ESPN, now has 3.5 million subscribers, according to Disney CEO Bob Iger.
5. Super Bowl sells out
Fox Sports has sold all of its advertising inventory for Super Bowl LIV, the company has confirmed to Axios. It's sold a total of 77 spots, with the most expensive 30-second spot costing $5.6 million.
Why it matters: The Super Bowl is one of the most visible advertising opportunities in America, next to the Olympics. As more television viewing moves to on-demand streaming, there are fewer big opportunities for advertisers to reach consumers live.
Be smart: Super Bowl ads have generally gotten more expensive over the past few years, despite the fact that Super Bowl viewership on traditional television has waned. Streaming options and social media are likely to have impacted live TV viewership.
By the numbers: The average rate for a 30-second Super Bowl in-game ad has increased by nearly 100% over the past decade.
Last year, reporting from Bloomberg suggested that CBS was selling some 30-second Super Bowl spots for around $5.2 million.
Variety's Brian Steinberg reports that Fox is seeking "between $2 million and $3 million for the most expensive advertising slots in its pre- and post-game coverage."
The big picture: This year marks the first time in half a decade "that the network showing the big game hasn't had to go down to the wire to dispense with its high-priced ad slots," per Steinberg.
6. The billionaires election
The campaigns of the three billionaires running for president next year have collectively spent around two-thirds of all ad dollars for the 2020 election so far, according to data from political advertising firm Advertising Analytics.
Why it matters: Self-funded billionaires like Tom Steyer and Michael Bloomberg are trouncing candidates like Elizabeth Warren and Bernie Sanders that are getting most of their money from small-dollar fundraising. 
Yes, but: Although Donald Trump is a billionaire, his campaign this time around isn't self-funded, and his campaign has seen a lot of small-dollar donations too.
The Trump campaign has raised most of its money alongside big Republican political groups like the Republican National Committee, which is easier to do as an incumbent.
Go deeper:
7. Netflix goes after historic theaters
Netflix confirmed Monday that it would reopen the historic Paris Theater in Manhattan through an extended leasing deal.
The news was first reported by Deadline, which also reported last week that the deal to keep the last remaining single-screen theater in Manhattan open was a 10-year agreement.
Why it matters: The move guarantees Netflix will have a place in New York City to air its Oscar-contending movies. In order to qualify for The Oscars, a film must debut in a physical theater in Los Angeles county or New York City for seven days.
Traditional theater chains like AMC Theaters and Regal have refused to air Netflix films because Netflix doesn't want to give them an exclusive window of up to 90 days to air films before they go to streaming.
Reports this summer suggested that Netflix is also nearing a deal to buy the historic Egyptian Theatre in Los Angeles.
The big picture: Reports earlier this year suggested that Amazon was in the running to buy the Landmark movie theater chain, which owns dozens of theaters.
Go deeper: The Justice Department is currently looking to relax rules that bar a traditional movie studio from buying a theater.
8. 1 D.C. thing: Jon Steinberg's next project
Cheddar is launching a political show called Cheddar Capital early next year, executives tell Axios.
The show will be based out of D.C. and is the brainchild of Steinberg's newest hire, Altice News' VP and GM for political partnerships Peter Cherukuri.
Why it matters: Cherukuri is a political publishing veteran, having spent years managing political and policy partnerships at places like POLITICO, HuffPost, Roll Call, and National Journal.
The show, which will cater to a millennial audience, will be 30 minutes in length. The format will be interviews and round tables. 
Cheddar, which is now owned by Altice USA, is carried by most major streaming platforms, as well as most major cable providers.