Axios Media Trends
April 05, 2022
Today's Media Trends is 1,443 words, a 6-minute read. Sign up here.
📅 TODAY: Axios' What's Next Summit starts at 9:30am. I'll be interviewing NBCUniversal News Group chairman Cesar Conde and Accenture CEO Julie Sweet. Watch live here.
I'll be asking Conde about this.
🚨 Situational awareness: Elon Musk is joining Twitter's board after disclosing a 9.2% stake in the company Monday.
1 big thing: Another BuzzFeed fight
BuzzFeed and some former employees are fighting over who should pay for arbitration on claims over its IPO, according to letters obtained by Axios.
Why it matters: The cost of the arbitration fees would be more for some former employees than what they stand to win in the complaint, their lawyers argue.
If the arbitrators side with BuzzFeed, claimants could ask their lawyers to cover some costs, or the cases could get dismissed if they can't come up with the cash.
State of play: BuzzFeed wants claimants to pay 50% of the fees associated with the arbitration process, according to a letter, obtained by Axios, from BuzzFeed's lawyers to the third-party arbitration group.
Lawyers representing dozens of former employees argue BuzzFeed is required to pay in full under its own rules that are stated in the claimants' employment contracts, per a separate letter filed to the same group on Monday.
Be smart: The fees aren't massive, amounting to roughly $100,000–$200,000, but they would impose a significant burden for the employees who already are underwater from being unable to sell their shares, the former employees' lawyers argue.
What's next: The American Arbitration Association should make a decision on the matter in the next few weeks. If it sides with the claimants, BuzzFeed would have to pay the arbitration in full.
If it doesn't, it could upend the effort by dozens of former employees to get paid for the money they say they lost due to BuzzFeed's botched IPO share transfer saga.
2. Exclusive: iHeartMedia building a new NFT network for podcasts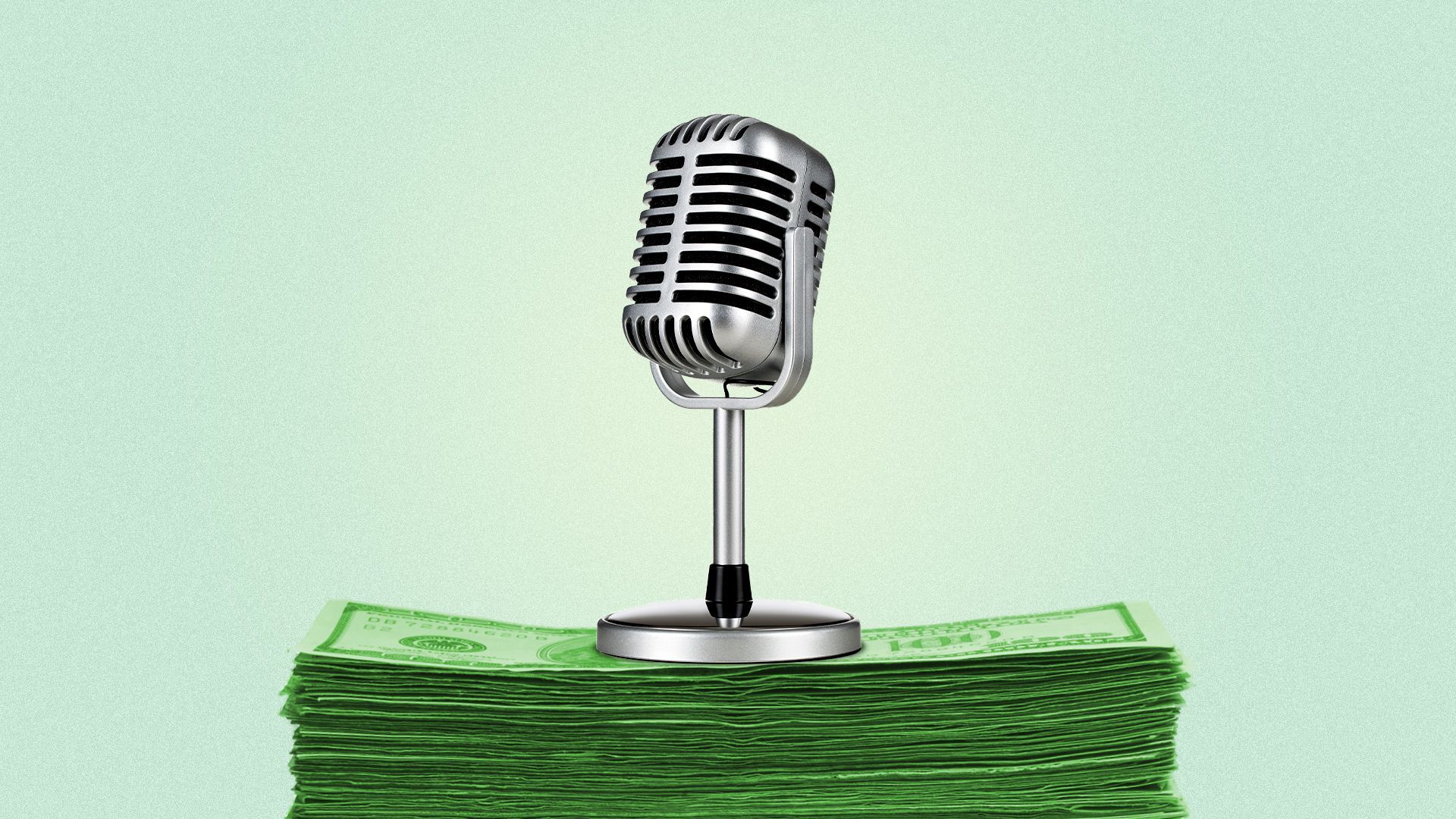 iHeartMedia, the holding company of iHeartRadio, is pouring several hundred thousand dollars into purchasing the rights to roughly a dozen NFTs to create a new NFT-based podcast network, executives tell Axios.
Why it matters: It marks one of the first major media franchises to introduce a podcast slate of characters and voices united across prominent NFT collections.
Details: iHeartMedia is currently in talks to make 10-15 investments in prominent NFT collections over the next few days — including CryptoPunks, Mutant Ape Yacht Club, and World of Women — per Khalil Tawil, EVP of strategy at iHeartMedia.
It's also eyeing work from emerging NFT creators such as Qurkies, CrypToadz, and Loot for Adventurers.
The idea is to combine the IP from the various NFTs it acquires into a content collection that it will call the "Non-Fun Squad" universe, said Conal Byrne, CEO of iHeartMedia's Digital Audio Group. "We can world-build for them, creating narratives around them, and bring those stories to life via podcasts."
The first commercial manifestation of that universe will be a podcast network called "the Non-Fun Podcast Network," which will feature a podcast slate centered around the content, characters and worlds from the Non-Fun Squad.
The podcasts will be hosted by voices that portray the various NFT characters. Tawil said the company is only eyeing NFT rights that allow it to "commercialize and bring to life," the actual NFTs it will buy in ways that work for podcasts.
The big picture: "This is really pushing the envelope to pressure test the assumptions we have around what is IP, what is a host, and what is talent," Byrne said.
What's next: In addition to giving iHeartMedia access to NFT characters that it can build stories around, Byrne says iHeartMedia plans to test five to 10 of its existing podcast shows as IP for DAOs, a kind of crypto-driven community.
🪙 Axios Crypto, a new daily newsletter by Brady Dale tracking the rise, role and regulation of virtual money, has officially launched. Sign up here.
3. Get to know Joe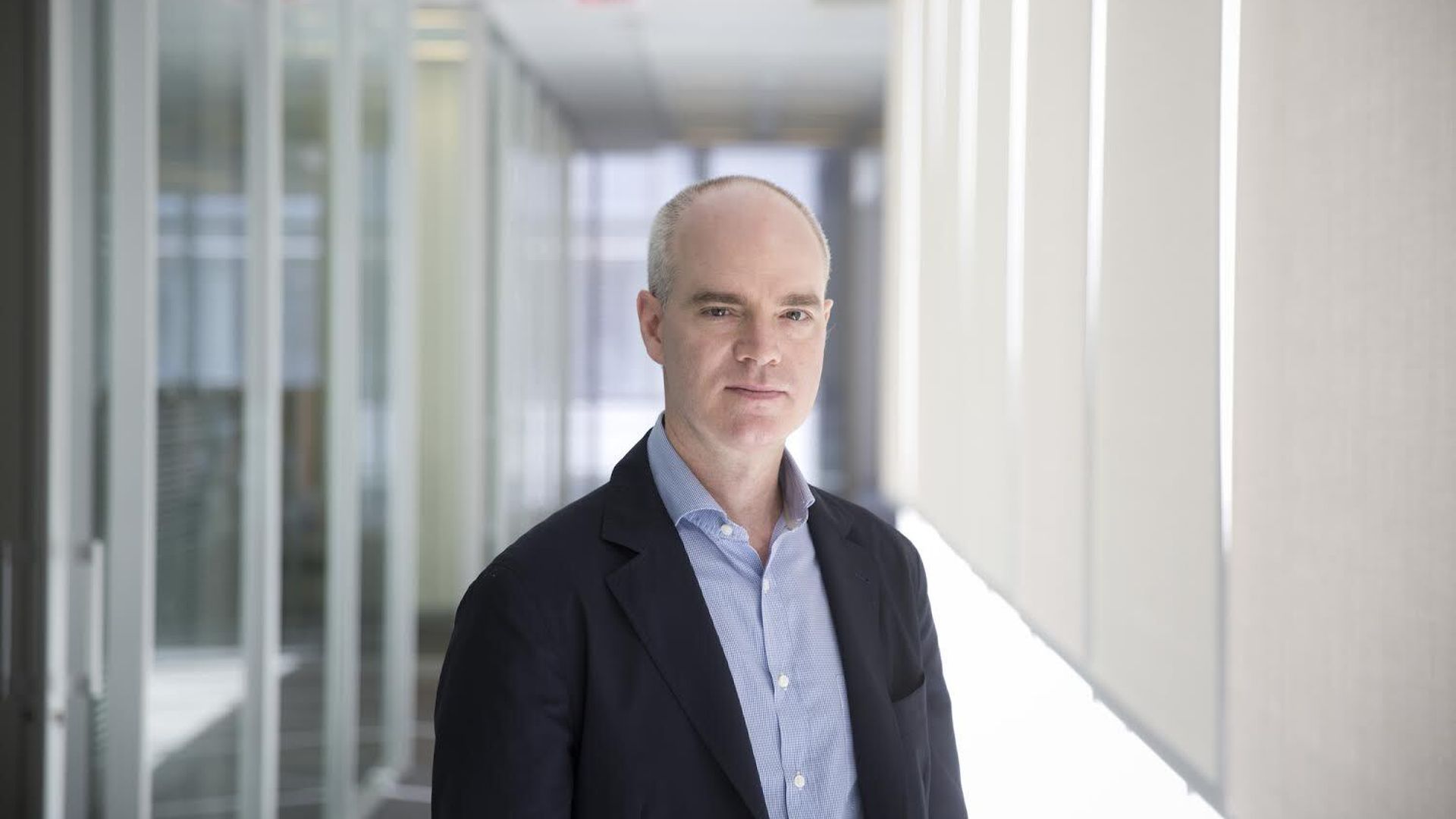 New York Times managing editor Joseph Kahn has been leaning into his leadership role ahead of likely being announced as the Times' next executive editor, sources tell Axios.
State of play: At a "State of The Times" companywide presentation a few weeks ago, Kahn was the only editor to make solo remarks.
Kahn's remarks followed publisher A.G. Sulzberger and CEO Meredith Kopit Levien.
The Times' current top editor Dean Baquet held a question and answer session later with Jake Silverstein, editor-in-chief of the New York Times Magazine.
Kahn also recently took a trip with Baquet to the Times' Washington bureau to meet with staff there in the wake of a controversy surrounding one of its reporters based in Washington.
Why it matters: Kahn is seen internally as an obvious pick for the Times to replace Baquet, who is expected to depart this year. But his leadership style is significantly different.
Baquet is a very high-profile, charismatic newsroom figure who exudes warmth and is a master of people skills.
Kahn is a much more low-key and understated figure. He's cerebral and measured and tends to lead from behind.
The big picture: Kahn's potential appointment comes as the Times reckons with internal and external pressure around ethics, talent and bias.
Quick bio: A former international editor and Beijing bureau chief, Kahn is calm, measured, trusted and extremely well respected within the Times.
Having spent many years in China as a correspondent, he speaks fluent Chinese. Sources close to him say he likes music, especially classical, and enjoys skiing. Kahn comes from wealth.
What to watch: The Times is expected to name at least two managing editors under Kahn. Names that have long been speculated include assistant managing editors Marc Lacey and Monica Drake and deputy managing editors Carolyn Ryan, Rebecca Blumenstein, and Cliff Levy.
4. America's internet splits along party lines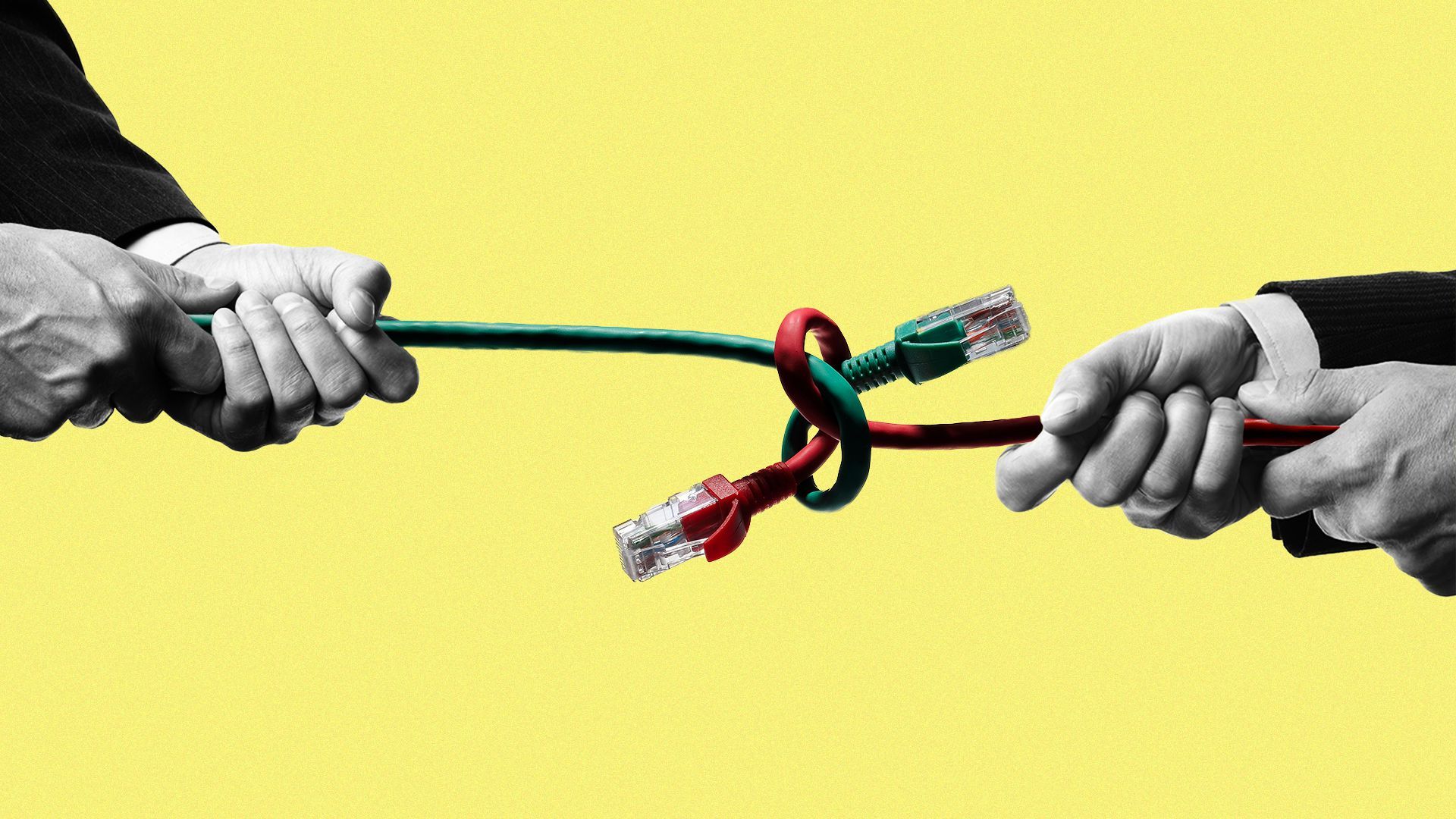 New investments flooding partisan media platforms are starting to restructure America's internet business around the nation's deepening political divide, Axios' Scott Rosenberg and I write.
Why it matters: For years, internet theorists warned of the "splinternet" — a breakup of the global internet into regions governed by different laws. Something like that is now starting to happen within the U.S., splitting the online world into red and blue sectors.
The Daily Wire, a conservative digital media company, plans to invest "a minimum of $100 million" over the next three years in kids entertainment in response to Disney's opposition to Florida's recently passed Parental Rights in Education Bill — dubbed the "Don't Say Gay" bill by critics.
The outlet, co-founded by podcast giant Ben Shapiro, has been at the forefront of building products that provide conservatives with alternatives to mainstream brands they feel don't support their views, including movies and razors.
The big picture: Red and blue America have reacted to the current information environment in radically different ways.
Progressives are focused on making sure existing media and online platforms crack down on misinformation.
Conservatives increasingly feel disenfranchised by media, from mainstream news outlets to social platforms, and have begun to invest in alternatives.
What to watch: Billionaires are throwing ever-larger sums of money at both of these efforts.
On the right, Donald Trump's new social network, which is struggling to launch, has reportedly raised $1 billion for its blank check IPO.
Conservative tech billionaire Peter Thiel is backing a conservative rival to Facebook, called Rumble, and a conservative rival to Tinder, called The Right Stuff.
Conservative billionaire Rebekah Mercer co-founded and funded conservative Twitter alternative Parler.
On the left, billionaires Reid Hoffman, George Soros and others are backing a new public benefit corporation that aims to tackle disinformation by funding left-leaning local news sites.
Other billionaires — including Jeff Bezos, Marc Benioff and Laurene Powell Jobs — have bought up venerable media properties.
Between the lines: Media companies and online platforms thrived in the past by serving as big an audience as possible.
As the business model for internet media shifts toward direct relationships with paying customers, companies are placing less value on scale for its own sake — and more on products that engage true believers.
5. Hollywood's new reality
Nearly 9 million people tuned into the Grammys on CBS Sunday evening, according to preliminary Nielsen ratings, a very slight improvement from last year's pandemic low.
Why it matters: Prior to the pandemic, the Grammys had never seen a show drop below 20 million live viewers.
The big picture: The Grammys' live TV audience has been in decline for years, but it hit a new low last year during the pandemic.
This year's event, which had the benefit of a live audience and fewer COVID restrictions, couldn't reverse the downward trend.