Axios Media Trends
September 06, 2022
Today's Media Trends is 1,528 words, a 6-minute read. Tell your friends to follow along by signing up.
Situational awareness: Chris Cuomo got his first tour of the NewsNation offices in Chicago last week, sources told Axios. He starts officially on Oct. 3.
1 big thing: Yahoo buys The Factual to add news credibility ratings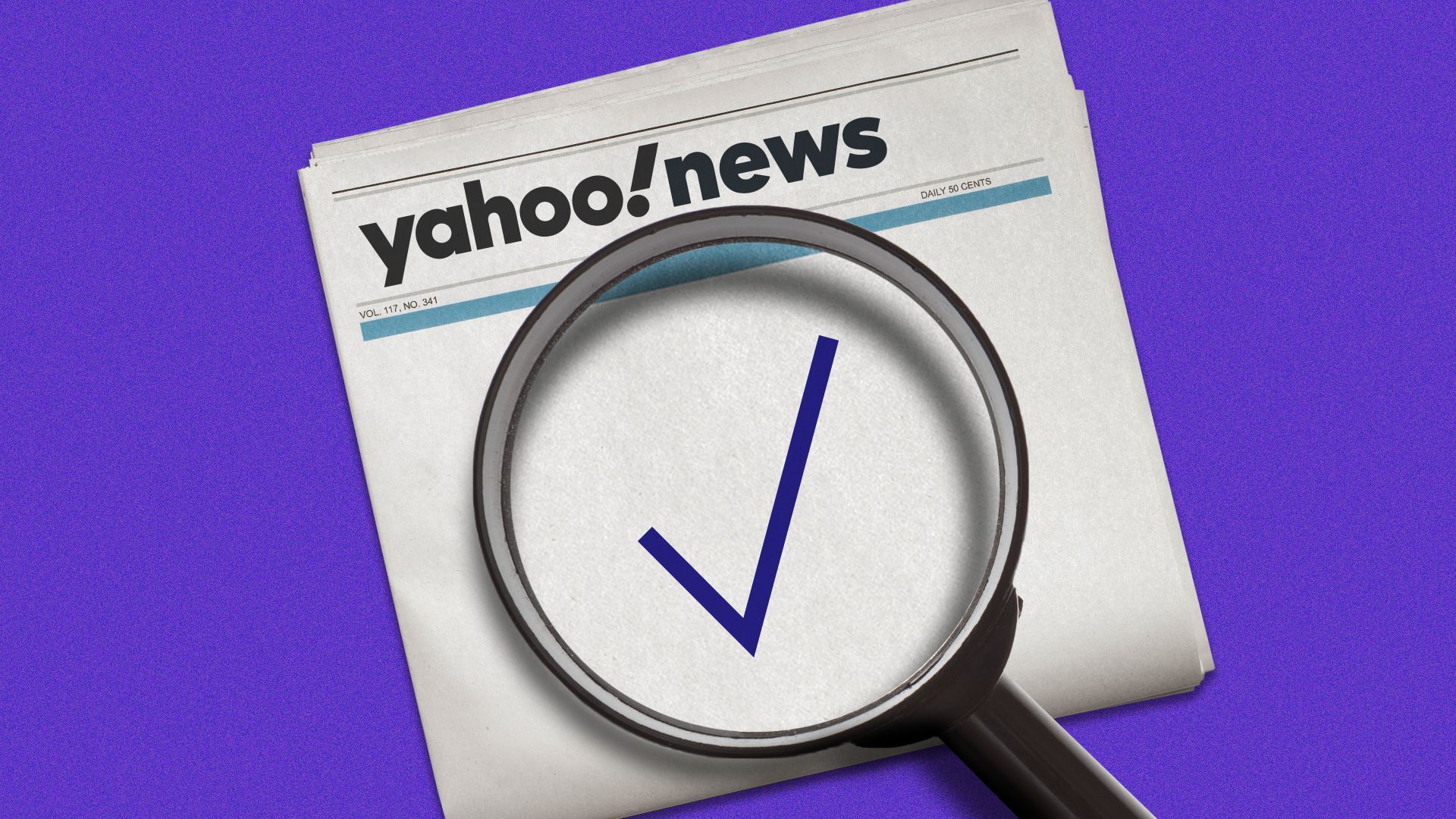 Yahoo has acquired The Factual, a company that uses algorithms to rate the credibility of news sources, Yahoo president and general manager Matt Sanchez told Axios.
Why it matters: The deal could provide Yahoo News' 200 million+ monthly visitors with ratings for the thousands of news sources Yahoo aggregates on its site.
"One of the biggest things that we hear from our users is that they're worried about bias and how to understand the content that they're consuming," Sanchez said.
Details: With the transaction, which closed last month, The Factual's eight employees, including its founders, have joined Yahoo News full time.
For now, The Factual will operate independently with its current branding, as Yahoo executives figure out the best way to integrate the company's technology with the syndicated and originally reported articles on its site.
Eventually, Yahoo plans to bring The Factual's labels to the hundreds of thousands of articles Yahoo News distributes from thousands of news partners across 15 languages globally.
Financial terms of the deal were not disclosed.
Be smart: While Yahoo has a set of its own criteria it applies when it adds syndication partners across all Yahoo properties, Sanchez said labels will help the readers "make their own informed decisions about what they're reading," which will add trust over time.
For example, an article with a low-credibility score from The Factual may show a reader that the article includes a strong opinion not backed by fact, but that wouldn't necessarily mean it violates Yahoo's distribution standards, Sanchez said.
How it works: Launched in 2019, The Factual uses artificial intelligence to rank articles based on four criteria: site quality, author expertise, article tone (level of opinion) and quality of sources.
It creates a score for each article based on a weighted average of those qualities, which is presented to the reader via a label. The label also notes the political leaning of the outlet that produced the article.
The Factual will continue to license its technology to other companies, which is how it made money up until this point, but the acquisition wasn't a revenue play, Sanchez said.
The big picture: The deal marks Yahoo's first acquisition since Apollo Global Management bought it and AOL for $5 billion from Verizon in 2021.
Yahoo CEO Jim Lanzone previously said he wants to focus more on expanding the individual brands within Yahoo's portfolio and that he is interested in acquisitions to support those brands.
Prior to the Apollo deal, Yahoo was experimenting with selling subscriptions to some of its stand-alone franchises, like Yahoo Fantasy or Yahoo Finance.
Asked about subscriptions for Yahoo News, Sanchez said, "That's not where we're focused."
2. Ad slowdown, explained
A new analysis from MoffettNathanson, a leading market research firm, suggests the slowdown in digital ad growth among major tech companies "reflects the movement of budgets to emerging ad platforms like TikTok and Apple," in addition to broader macroeconomic concerns.
Why it matters: While tech giants like to mostly blame macroeconomic factors for slowed ad growth, competition is clearly having a big impact on middle-funnel marketing platforms.
Details: A separate report (see chart above) out Tuesday from InMobi, a mobile ad tech company, finds that the adoption of Apple search ads among performance advertisers in the past year has surpassed Facebook's.
Apple's new app tracking policy, which has been in effect for roughly a year, has clearly made an impact on competitors that leverage users' iOS app data to target ads on their own platforms.
The report looks at the percentage of the biggest performance-advertising spenders who have made use of each platform.
The big picture: The MoffettNathanson analysis rejects the notion that increased investments in direct-to-consumer startups last year are to blame for a slowdown in this year's ad spend comparatively.
Because venture funding in startups remains healthy, albeit smaller than 2021, analysts don't foresee a venture investment slowdown as having a meaningful impact on this year's ad growth slowdowns.
Rather, the shift in consumer spend from goods to services in the wake of inflation and supply chain issues is likely having a bigger impact on ad spend for middle-funnel platforms that relied heavily on retail and e-commerce ad growth last year.
What to watch: Bottom-funnel search advertising platforms like Google and Amazon continue to show resilience.
3. 🤑 Platform pullback
Facing economic headwinds, tech platforms have pulled back on providing financial support for news organizations, studios and individual creators to produce content for them, Axios Pro author Kerry Flynn and I write.
Why it matters: Content creators are no longer guaranteed to receive checks from platforms and instead must be more strategic on how they monetize themselves.
Driving the news: Snap announced last week it plans to discontinue investments in some Snap Original shows.
The company said it will honor recent deals and continue to support its own show, "Good Luck America." But it will stop most new investments.
State of play: Platforms have sought original programming as a way to entice new users and increase engagement, akin to entertainment platforms like Netflix and Hulu.
What to watch: Global regulatory pressure on tech firms to pay media outlets for their content could make efforts to pull back tougher.
Go deeper: Subscribe to Axios Pro today and get $300 off your subscription.
4. Parler returns to Google Play Store
A year and a half after it was removed from Google's Play Store, Parler, a Twitter alternative that attracts conservatives, has returned to the showcase for Android apps.
Why it matters: Google removed Parler following the Jan. 6 Capitol attack, which was incited by misinformation and violent speech online.
Details: Beginning Sept. 2, Parler became available for download in Google's Play Store, in addition to Apple's App Store, where it was brought back in April 2021.
The app is being reinstated in response to a slew of measures Parler has taken to moderate the content on its app, including allowing users to block and report other users and actively monitoring content for things like violent speech.
The big picture: Big Tech platforms took unprecedented measures to kick users and apps off of their platforms following the Capitol siege, including banning former President Trump.
In response, Trump created his own social network, Truth Social, which — as Axios has recently reported — has not yet been accepted into the Google Play Store, due to content moderation concerns.
A source told Axios that Truth Social is actively working on updating its app to meet Google's content moderation standards and could be available via the Play Store soon.
What to watch: The blank check company looking to take Truth Social public has failed to win shareholder support to extend its timeline to complete its merger with Truth Social, Reuters reports.
Without an extension, the SPAC could be forced to liquidate on Thursday and return all of the money it raised from outside investors in its SPAC IPO in September.
It's unclear how Truth Social would receive the funds necessary to continue operations long term without that cash. It does have a few options to push the vote, as Axios' Dan Primack notes.
5. Midterm madness begins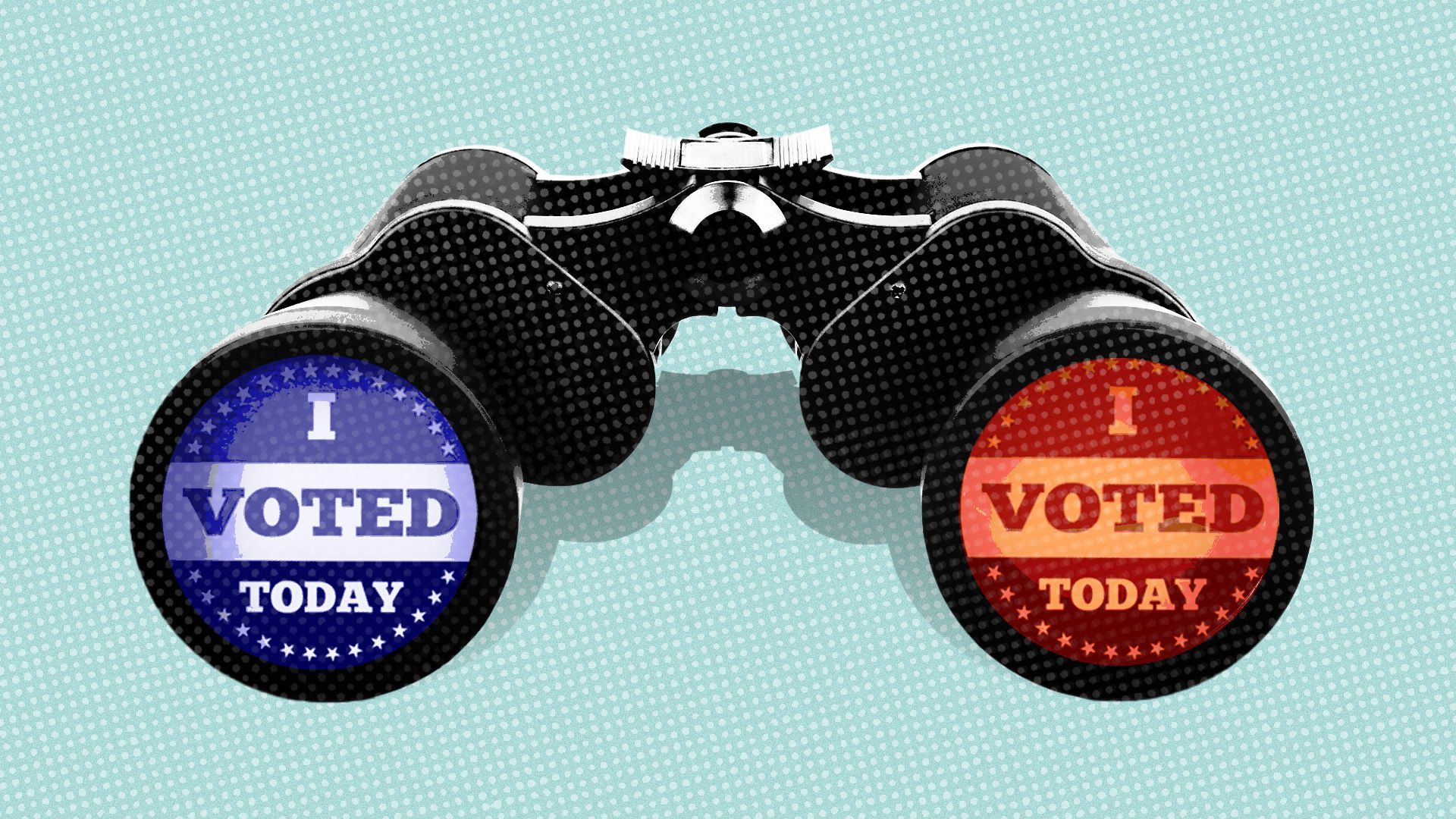 New shows are launching this week ahead of the midterms this November:
The Washington Post and Newsy are teaming up for a new 30-minute political show called "Election '22: What Matters" that will run Sept. 9 through early November across Newsy's over-the-air network on Fridays at 8:30pm.
The show, co-hosted by Washington Post senior news anchor Libby Casey and Newsy political director Andrew Rafferty, will cover a topic relevant to the elections each week leading up to the midterms, including inflation, reproductive rights and health care.
The New York Times is bringing back its election podcast that first launched in 2016 called "The Run-Up." Hosted by national politics reporter Astead Herndon, the podcast will explore big issues ahead of the midterms, beginning today.
Meanwhile, tech companies are also bracing for the election craziness ahead.
6. 🎥 1 fun thing: Action era
The continued box office success for "Top Gun: Maverick" has helped the action genre reign supreme at the box office this year.
Why it matters: Action movies have become more popular at the box office amid the streaming boom in recent years.
Streaming has pushed more lower-budget and indie films to at-home streaming windows.
High-impact scenes often warrant more cinematic, big-screen experiences than romantic comedies or dramas.
Between the lines: Familiar franchises from Marvel, DC Comics and others tend to be an especially powerful pull at the box office.
Case in point: Sony's rerelease of "Spider-Man: No Way Home" was one of the top films over this past Labor Day weekend, despite initially debuting last December.
The big picture: Despite a lackluster end-of-summer slate, Saturday was the box office's most-attended day all year, thanks to a new "National Cinema Day" holiday that offered discounted admissions for moviegoers of all ages.
Over 8 million moviegoers attended films across more than 3,000 participating locations, per the National Association of Theatre Owners.