Axios Media Trends
August 09, 2022
Today's Media Trends newsletter is 1,540 words, a 6-minute read. Tell your friends to follow along by signing up here.
🚨 Situational awareness: ESPN has pulled out of Big Ten media rights negotiations, "ending one of the longest sports media relationships in the business," Sports Business Journal's John Ourand reports.
1 big thing: 💰New money, old problem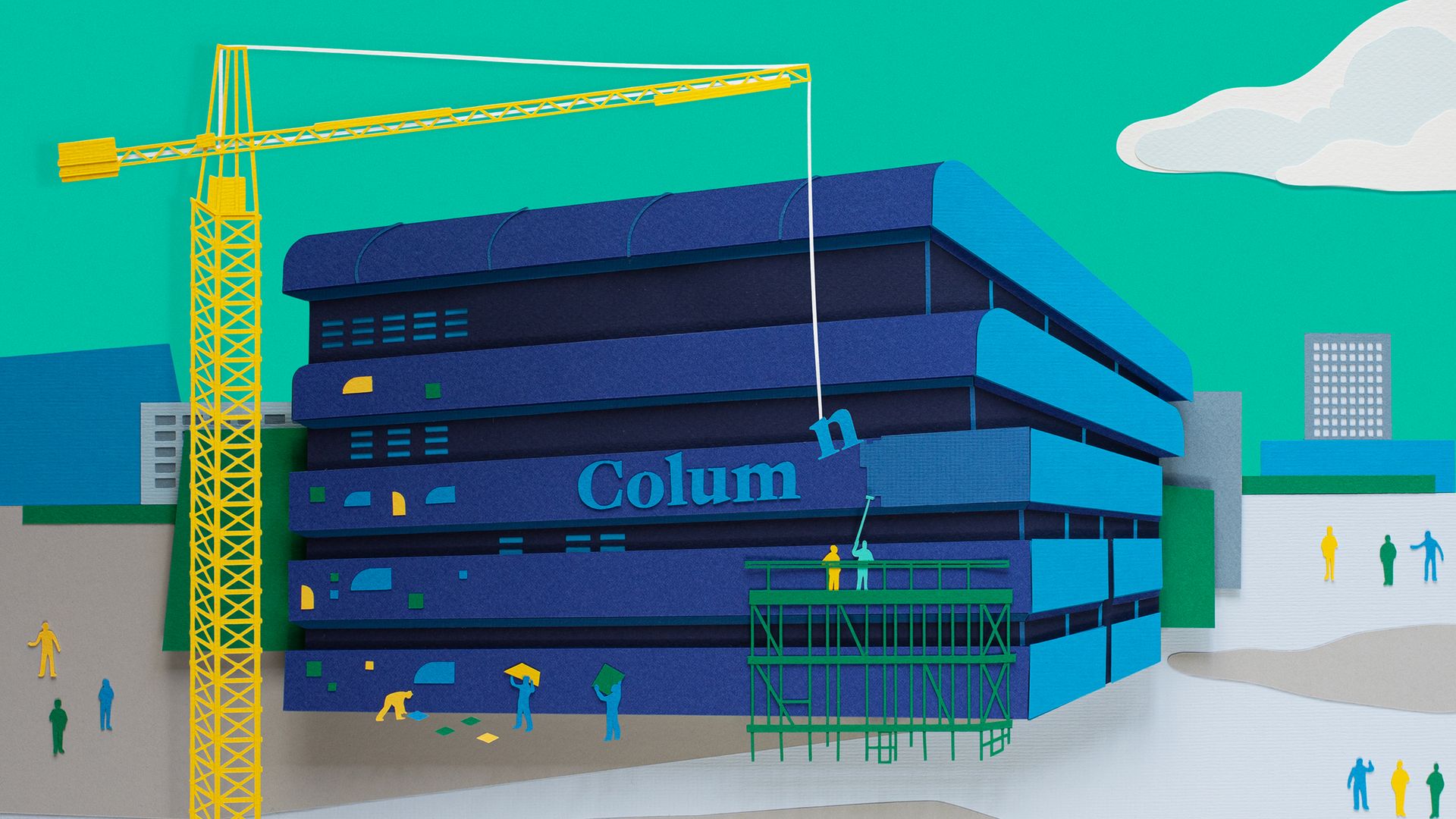 Column, a public benefit company that provides software to streamline the placement of public notices, has raised a $30 million series A investment round led by Lux Capital, a venture firm, its founder and CEO Jake Seaton told Axios.
Why it matters: It's a rare injection of high-growth capital into a company that services local newspapers.
The money will help Column expand its services to improve public information systems and transactions beyond public notices.
Catch up quick: Seaton, the fifth generation of a local newspaper family from Kansas, launched Column in 2020 to make it easier for local newspapers and community officials to place public notices.
Legal requirements to place public notices in local newspapers have made them one of the most reliable revenue streams for local newspapers for centuries.
In the past year, Column has processed hundreds of thousands of notices across newspapers in all 50 states through its platform, representing tens of millions in transactions and at least one public notice transaction every minute, a spokesperson said.
Between the lines: In addition to Lux Capital, the funding round also includes new investments from previous seed funds and angel investors, including former Washington Post executive editor Marty Baron.
What's next: The new capital will be used to expand Column's offerings to digitize other outdated public information systems, like government procurement officers placing project proposal notices or trustees placing sheriff sale notices to manage virtual property auctions.
This fall, Column will publicly release the first-ever API, or digital interface, for public notices, which will provide machine-readable access to 60+ notice categories.
2. Digital media survival guide
The influx of venture capital and private investments into digital media companies has helped launch a new generation of outlets, Axios' Kerry Flynn and I write.
Yes, but: It's also led to a succession of quick exits by those investors, some with strong returns, others not so much.
Why it matters: Media companies with a clear/niche focus are more likely to find strategic partners and generate a strong exit multiple for investors, as opposed to outlets that focus on scale and generalist content.
The New York Times' $550 million purchase of The Athletic, a subscription sports publication, was a perfect fit for its growing subscription bundle.
Informa's acquisition of Industry Dive last month is meant to support its focus on matching its B2B events business with B2B content.
Cox Enterprises' announcement on Monday that it will acquire Axios for $525 million was in part driven by Axios' clear focus on building a niche audience and its local news build-out.
The bottom line: The publishing landscape has changed dramatically in the past few years, and it no longer favors outlets looking to scale on social media. It favors companies that develop direct relationships with their audiences — as exit multiples reveal.
3. Exclusive: Kara's last Code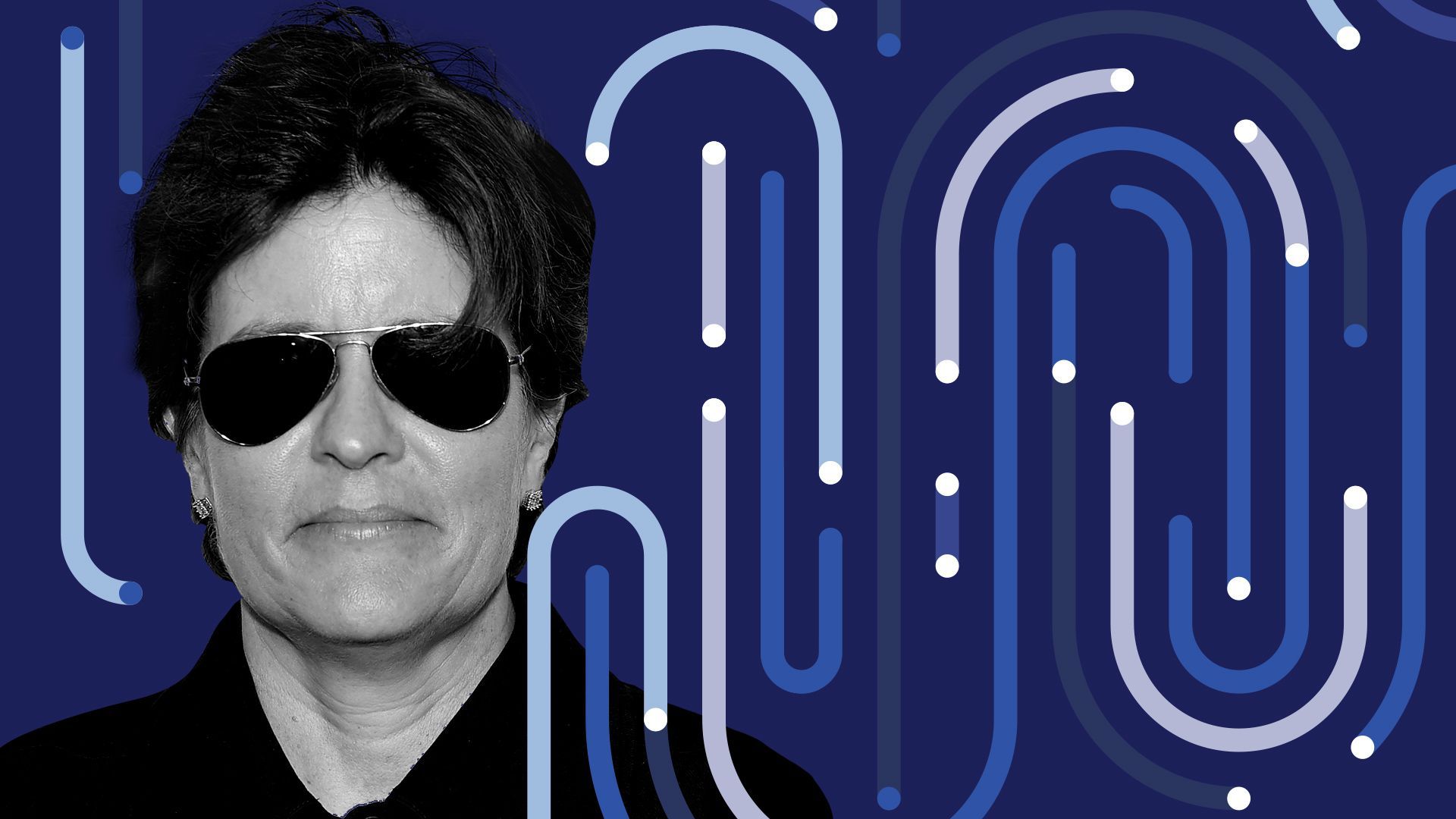 After 20 years, this year's annual Code Conference from Vox Media will be Kara Swisher's last year hosting and organizing the event, Swisher told Axios.
She'll still appear on stage to conduct select marquee interviews at future Code Conferences.
Why it matters: Swisher, who recently rejoined Vox Media from the New York Times, plans to turn her attention toward new projects that explore topics beyond tech and reach a wider set of people.
Catch up quick: When Swisher and veteran tech journalist Walt Mossberg launched Code two decades ago, "it was a much smaller community," Swisher said.
Today, Code has become one of the most established business-to-business tech conferences in the country, but its audience is exclusive.
Only 20% of the 4,000 tech executives that apply to attend are accepted and pay a registration fee of $7,000–$9,500.
Between the lines: Pivot, a multiplatform franchise hosted by Swisher and NYU professor Scott Galloway, will continue to be a bigger part of Swisher's day-to-day focus.
Pivot is focused on spotlighting new companies and entrepreneurs across a broader array of topics — including everything from psychedelics to climate change tech.
Last year, the company hosted its first-ever Pivot conference in Miami that was attended by both high-level industry executives as well as Galloway and Swisher super-fans.
"I didn't have to have all the CEOs of all the big names and stuff like that. I could sprinkle them in and then show you companies you've never seen before," Swisher said.
"I can create really interesting experiences that maybe the Code audience, which is more formal, wouldn't like."
The big picture: Swisher's move back to Vox Media comes amid a greater shift in the news industry toward elevating journalists as independent creators.
Part of the reason Swisher left the Times is because she didn't feel as though she could be as entrepreneurial.
"I wanted to do what I wanted to do, and not have to have a large committee to do it," she said.
What's next: Swisher plans to launch an interview podcast with New York Magazine, a brand owned by Vox Media, this fall. She'll continue expanding the Pivot franchise with Galloway under the Vox Media umbrella.
What to watch: This year, Swisher said Vox Media will move the Pivot conference out of Florida in response to the state's new "Don't say gay" bill.
4. Exclusive: NYT plans advertising expansion into non-news products
The New York Times is planning to aggressively expand its advertising business across its bundled products, like games and sports, executives tell Axios.
Why it matters: Over the past 10 years, the Times has pivoted its strategy to focus on attracting more consumer revenue via subscriptions.
Now that it's reached a critical mass of subscribers outside of news, it sees an opportunity to build more ad products that cater to those users.
Details: A central part of the Times' ad expansion strategy will be managed by veteran ad executive Mohit Lohia, who will be joining the Times from Amazon this month.
The Times is currently running tests and experiments to try to find the right balance between its ad offerings and subscription experiences across all of its products, but especially games.
"Rule No. 1 is not being disruptive or annoying," said Lisa Howard, global head of advertising at the Times.
Between the lines: A major part of the Times' expansion into games was its acquisition of the viral word game Wordle earlier this year.
While fans were excited to hear that the game would remain free, they bemoaned the idea of ads one day coming to it.
Alex Hardiman, head of product at the Times, said when asked about Wordle, "We're looking at games. We want to be very, very thoughtful about where and how we test new premium ad units on any game."
What's next: Hardiman described The Athletic's foray into advertising later this year as "one of the first big moves" to scale the Times' ad business across its subscription bundle.
5. 🏀 Overtime raises $100 million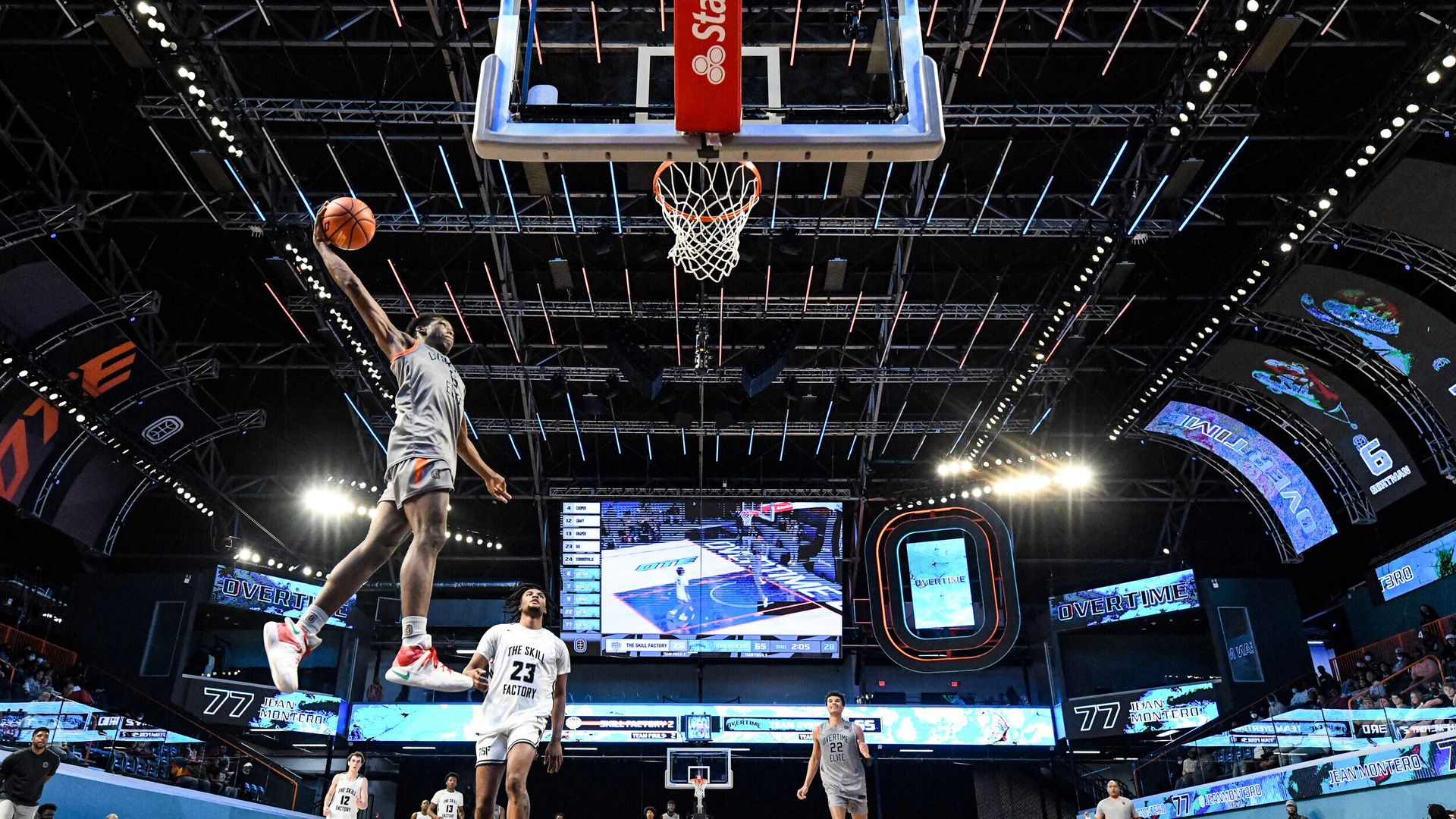 Overtime, a sports media company targeting Gen Z and millennials, has raised $100 million in series D funding, its co-founder and president Zack Weiner told Axios.
The round is being led by Liberty Media Corporation, which owns several sports and media entities, in conjunction with return investor Counterpoint Global, an investment fund from Morgan Stanley.
Why it matters: The latest round values the 6-year-old company at over $500 million, according to a source familiar with the figures.
The big picture: Overtime is one of the biggest media companies, let alone sports media companies, targeted specifically toward Gen Z audiences on social media.
It currently produces over 50 digital shows about sports lifestyle and culture across its massive online footprint, which includes more than 65 million followers across all of its 80 social media channels.
Between the lines: The funding will be used to grow Overtime's new sports leagues, Overtime Elite for basketball and OT7 for football, and create more leagues for other sports down the line.
The leagues have caught the attention of many high-profile athletes, fans and even professional league scouts.
By the numbers: Overtime has raised a total of $250 million to date from heavy hitters in sports, tech and entertainment.
"We've been eight figures in revenue for a few years now and have been doubling every single year," Weiner said.
6. Discipline comes for streaming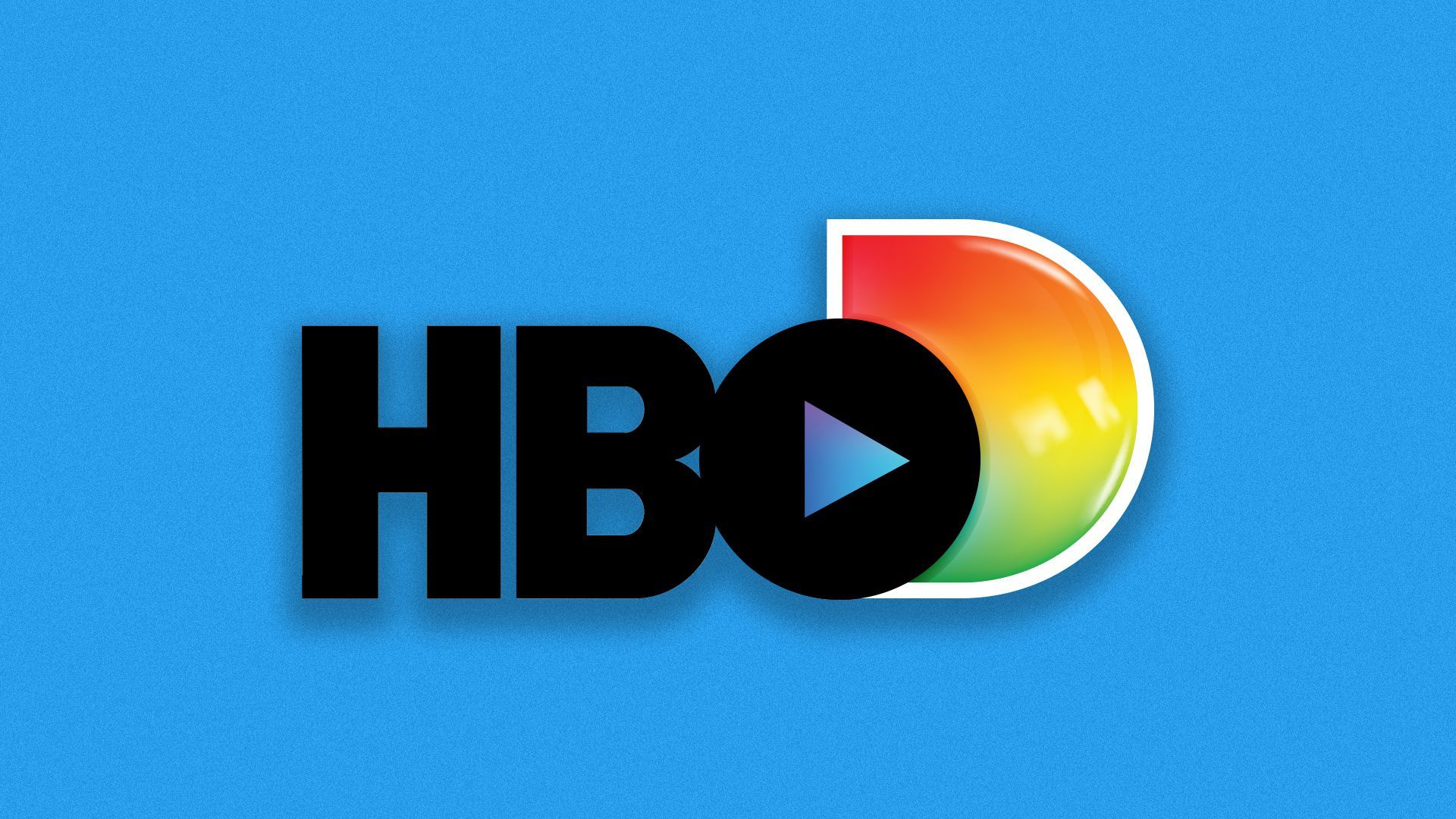 Warner Bros. Discovery will launch its planned streaming service that combines HBO Max and Discovery+ next summer.
Why it matters: The roll-up is part of a broader plan to streamline streaming assets and cut costs.
Executives believe streaming should complement its other business lines, like theatrical movies and television, not replace them.
Between the lines: As a part of that shift, the company will be more disciplined about how it spends money on its streaming content versus its theatrical releases.
Warner Bros. Discovery CEO David Zaslav defended Warner Bros. Discovery recent decision to write down "Batgirl" and other premium movies, saying it didn't make economic sense for expensive films to go direct to streaming.
The big picture: The shift in focus has resulted in a strategic dismantling of many of the efforts put in place by WarnerMedia's previous leaders under its ownership of AT&T.
With over $50 billion of debt on its books, the leaders of the newly combined company are focused more on cost discipline than bloated content libraries.
What's next: Disney's earnings report Wednesday will serve as a key indicator of whether Wall Street's appetite for streaming profit losses is growing smaller.