Axios Media Trends
October 04, 2022
Today's Media Trends is 1,462 words, a 5½-minute read. Tell your friends to follow along by signing up.
Situational awareness: The Washington Post's chief product officer Kat Downs Mulder is heading to Yahoo News, marking the third C-suite executive from the Post to exit since July.
🦚 NEW: NBCU CEO Jeff Shell told CNBC this morning that Peacock now has 15 million paying subscribers, up from 13 million at the end of the second quarter.
1 big thing: Daily News plots local comeback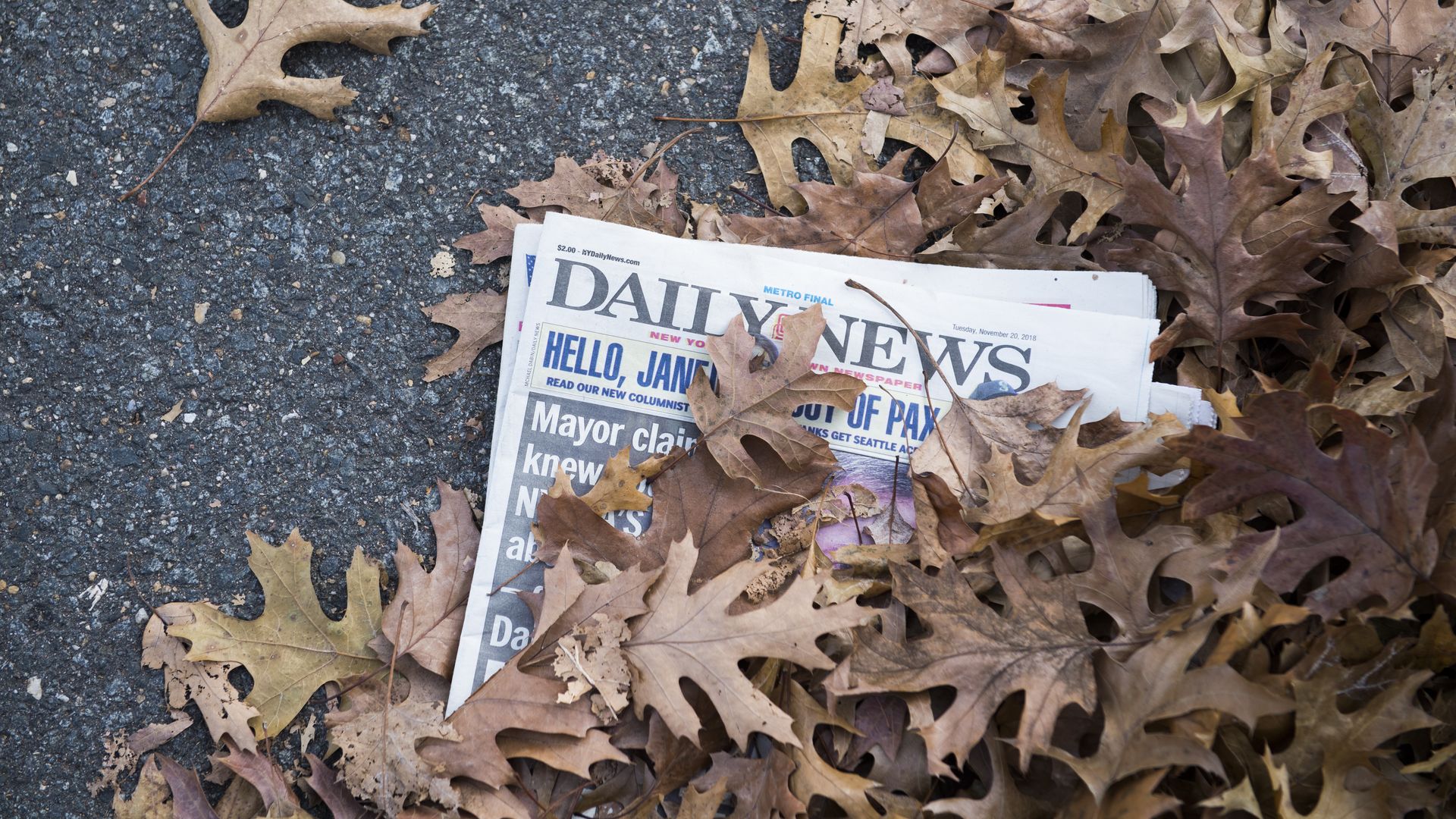 The New York Daily News plans to shift its coverage priorities toward producing more local content about issues impacting New York City, according to a memo sent to staff this morning by the paper's executive editor Andrew Julien and general manager Michael Gates.
Why it matters: The Daily News sees an opening to cover its hometown in the wake of a few larger, national publications pulling back in print, sources told Axios.
The Wall Street Journal shuttered its Greater New York section last year.
The New York Times stopped publishing its Metro section in print at the start of the pandemic.
The intrigue: The memo praised the support for its strategy from its new owners, Alden Global Capital, a hedge fund known for cutting journalists at local papers to maximize profits.
The pair also reaffirmed the company's commitment to its print product, noting, "management of the public company that previously owned our beloved newspaper was planning to shut down the print edition of the newspaper. We will not be doing that."
Details: The company plans to expand the number of pages in its daily print edition by about 16% by adding more local news content (roughly eight additional pages), according to a source familiar with the company's plans.
Areas where the company plans to increase its focus include neighborhood-specific coverage of New York City, local housing and real estate, the local education system and schools, and the resurgence of New York's food and entertainment scene in the wake of the pandemic.
Yes, but: It's hard to say whether a newfound commitment to local news will help the paper compete for eyeballs, especially amid a resurgence of local digital outlets in the city.
It's also unclear how much the company actually intends to invest in its newfound local expansion mission, despite the optimistic memo.
2. 🎧 Scoop: Audacy shopping Cadence13
Audacy, the publicly traded radio and digital audio company, has hired bankers as it looks to sell Cadence13, one of its two podcast studios, three sources familiar with the process told Axios.
Why it matters: Offloading the studio could help alleviate some of the company's debt as it faces financial challenges.
The company's share price closed at an all-time low Friday at 39 cents.
Audacy risks being delisted by the New York Stock Exchange if its share price doesn't increase in the next six months.
Catch up quick: Audacy, which was previously called Entercom, became one of the largest radio companies in the country after merging with CBS Radio in 2017.
The company has since made several acquisitions to grow its digital business in areas like podcasts and sports betting.
Details: The company has hired Evolution Media Capital, a boutique investment firm that focuses on deals in sports, media and entertainment, to help shop the deal.
Sources say the company has pitched the studio to most of the major audio giants.
While some partners have expressed interest in buying both Cadence13 and Pineapple Street Studios together, sources say Audacy has no plans to sell its other podcast assets.
By the numbers: Audacy, then Entercom, paid $9.7 million for a 45% stake in Cadence13 in 2017. The company, which was then called DGital Media, renamed itself Cadence13 after the deal.
In 2019, Entercom bought the remaining 55% stake in Cadence13 in a deal reportedly valuing the company at nearly $50 million.
Today, the company is hoping to sell the studio for at least double its value in that 2019 deal.
3. 💰Scoop: Punchbowl expands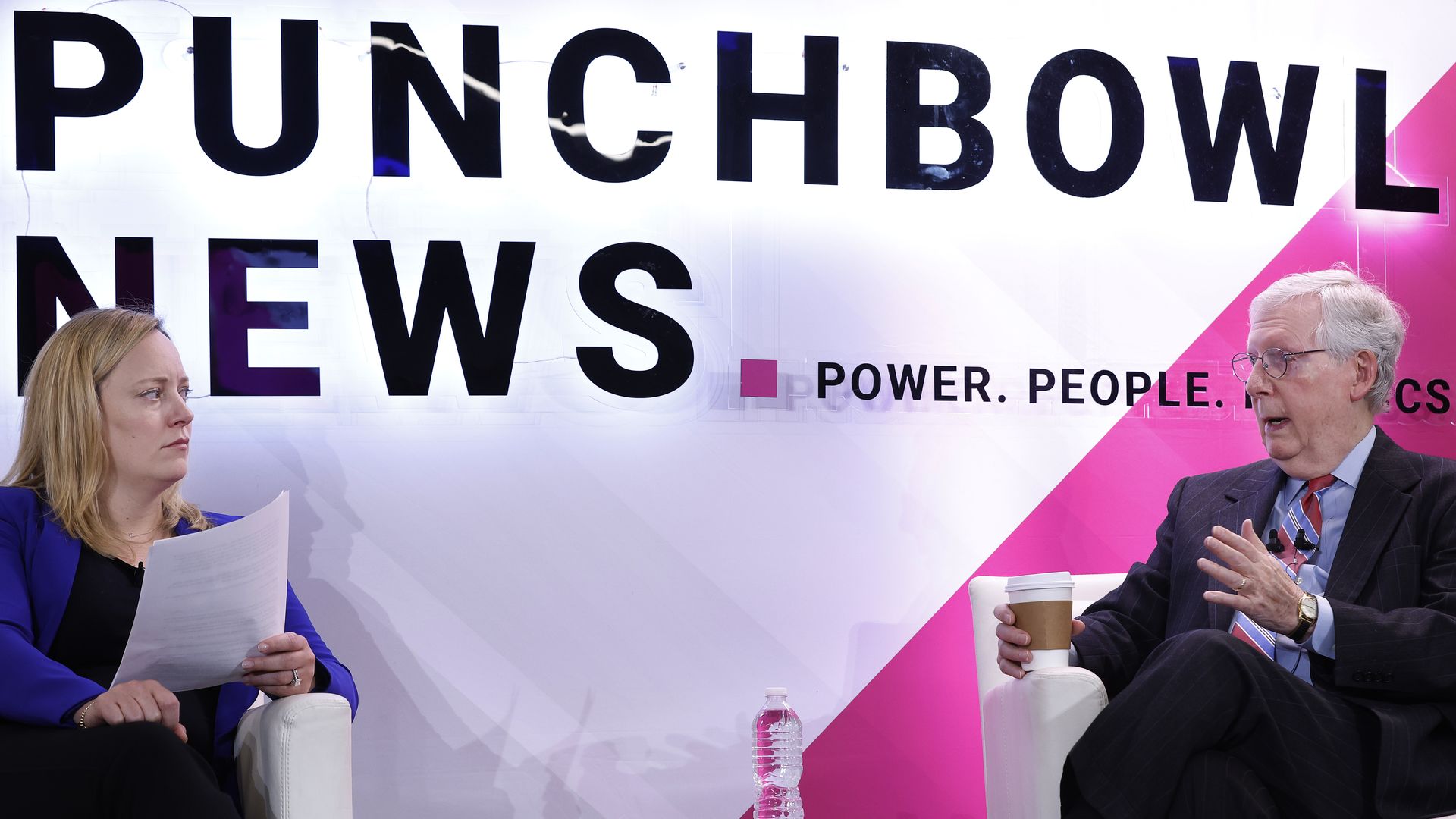 Punchbowl News, a D.C.-based political media startup, is expanding its coverage to include financial services, according to a memo to investors obtained by Axios.
Why it matters: It's Punchbowl's first major expansion since the company launched in January 2021. The new vertical paves the way for the company to dive even deeper into enterprise subscription sales and opportunities outside of Washington.
To date, most of Punchbowl's coverage has focused on covering Congress and congressional leadership.
The company's co-founders, Anna Palmer, Jake Sherman and John Bresnahan, worked together for years as star Capitol Hill reporters at Politico.
Details: The company has hired Brendan Pedersen, a congressional reporter for American Banker, to cover all things financial services in Washington, per the memo.
Pedersen will be responsible for covering financial services from a political, legislative and lobbying lens. His coverage will include everything from crypto regulation to lobbying by financial services companies and more.
"The financial services industry is one of the most influential sectors in town. Its CEOs and executives are some of the top donors to Republican and Democratic campaigns," Punchbowl executives wrote in the memo. "These titans have the ear of the leadership."
The big picture: Punchbowl launched in 2021 with four employees, but it has quickly made an impression on Washington's news-hungry political junkies.
The company brought in over $10 million in its first year in business in 2021, with around 10% of that revenue coming from paid subscriptions, Axios reported.
Today, the company has 14 employees total, including Pedersen. It hired a full-time business executive from Bloomberg in August to manage Punchbowl's enterprise subscription sales.
The company makes most of its revenue selling newsletter sponsorships to advertisers, but it recently redesigned its website to be able to sell more sponsorships online.
4. Rate of journalists killed worldwide climbs
The number of journalists who have been killed this year has surpassed the total number killed in both 2020 and 2021, according to data from the Committee to Protect Journalists (CPJ).
Murder rates hit a 19-year low last year, but are spiking again amid global tensions around press freedom.
Driving the news: A second journalist was killed in the Philippines this year, authorities confirmed Monday.
Percival Mabasa, a radio host and prominent government critic, was fatally shot during an ambush, the New York Times reports.
Another radio host was stabbed to death shortly after President Ferdinand Marcos Jr. was elected.
The big picture: Around the world, more journalists are being killed in areas outside of conflict zones, a trend that speaks to the growing level of threats to press freedoms in places where democracy is sliding.
In Mexico, at least 13 journalists have been killed so far this year, per CPJ, marking the deadliest year in the country ever for journalists by far.
Startling stat: Some reports suggest that even more journalists, at least 18, have been killed in Mexico this year, which would put the death total of journalists in Mexico above that in Ukraine this year.
What to watch: In the U.S., local police said they have arrested a suspect in the stabbing death of Las Vegas Review-Journal investigative reporter Jeff German last month, but there have been no further case updates.
5. 📉 Ad forecast continues to shrink amid economic uncertainty
The U.S. advertising sector is continuing to grow, but at a slower pace than originally anticipated, according to new estimates from Magna, a global ad agency.
By the numbers: The advertising industry is expected to grow 9.8% this year compared to 2021, according to Magna's latest September forecast.
Magna originally forecast last December that the U.S. ad market, including cyclical factors like elections, would grow 13% in 2022.
In March it reduced its estimate down to 11.5% and then in June it reduced its estimate again to 11.1%.
Yes, but: The market is still growing, it's just growing slower compared to the historical highs of 2021.
This year, U.S. ad revenues are expected to cross $300 billion for the first time.
Be smart: The rate of advertising growth typically parallels the state of the economy, but as Vox Media's Peter Kafka notes, the economic outlook isn't all that bad, prompting different theories about what's causing the slowdown.
Magna suggests economic uncertainty and inflation are causing some verticals that rely on direct consumer dollars, like consumer packaged goods companies, restaurants and retail, to moderate spending. At the local level, some of those cuts will be offset by political advertising.
What to watch: The deceleration in growth is expected to continue into 2023, with Magna's latest estimate suggesting that the U.S. ad market will only grow 4.8% next year, compared to 10.2% forecast in June.
Magna blames the continued economic slowdown and the lack of major cyclical events like elections and the Olympics next year.
6. Empire of Risk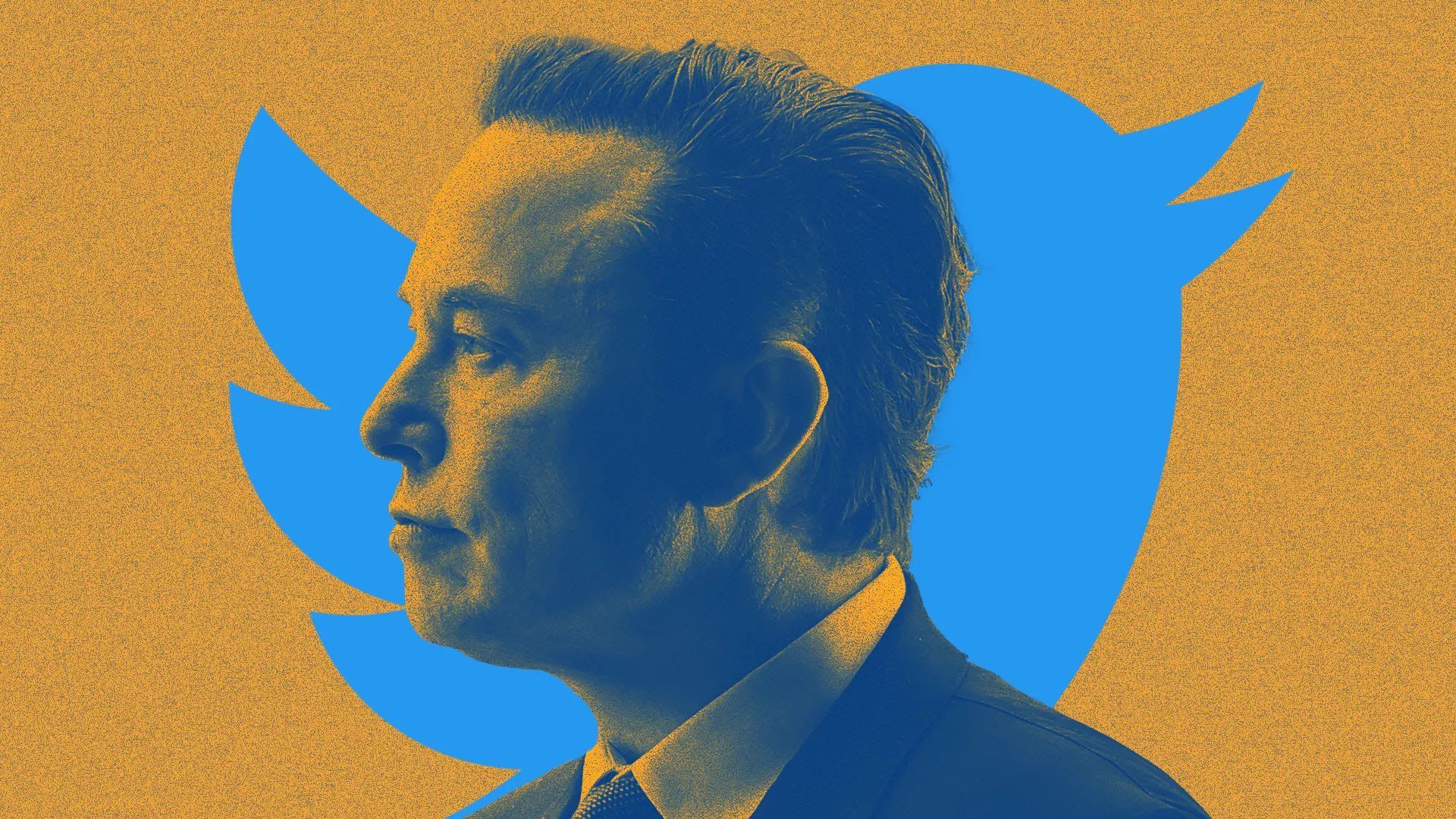 Ahead of the trial between Elon Musk and Twitter in two weeks, Axios' Erica Pandey, Joann Muller, Miriam Kramer and Naomi Shavin report how Elon Musk's philosophy on risk brings people far beyond his consumers and employees into the experiments he runs.
Empire of Risk, the second installment of Axios podcast docuseries, "Elon Musk vs. Twitter," digs into the risky business moves that created Tesla and SpaceX.