Axios Media Trends
June 02, 2020
Today's Media Trends is 1,909 words, a 7-minute read. Sign up here.
Situational awareness: People and businesses are taking to social media to support #BlackoutTuesday, a moment of solidarity where users post black photos, primarily to Instagram, in support of the Black Lives Matters movement. The effort was originally organized by workers in the music industry.
1 big thing: Coronavirus is old news
Coverage of George Floyd's death and the ensuing protests this weekend completely dwarfed coverage of the coronavirus, even as the death toll from the pandemic ticked beyond 100,000 in the U.S., Axios' Neal Rothschild, Bryan Walsh and I write.
Why it matters: For months, Americans struggled to understand the severity of the pandemic, as hospitals needed to stay closed to outside visitors, let alone journalists with cameras. Now, the opposite is unfolding, with stark images and videos going viral around the protests sweeping the country.
By the numbers: Across the board, coverage of the protests and demand for that content is skyrocketing, overtaking news about the pandemic.
The big picture: The media has the ability to shape the outcomes of both crises, depending on the way that it covers them.
Be smart: Ideally, the media should have no problem paying attention to both issues, but pressure to keep viewers glued to their screens will make it difficult to avoid the unique visual opportunity that the protests present.
One constant across both issues is that the press itself was intimately hit.
2. By the numbers: Journalists attacked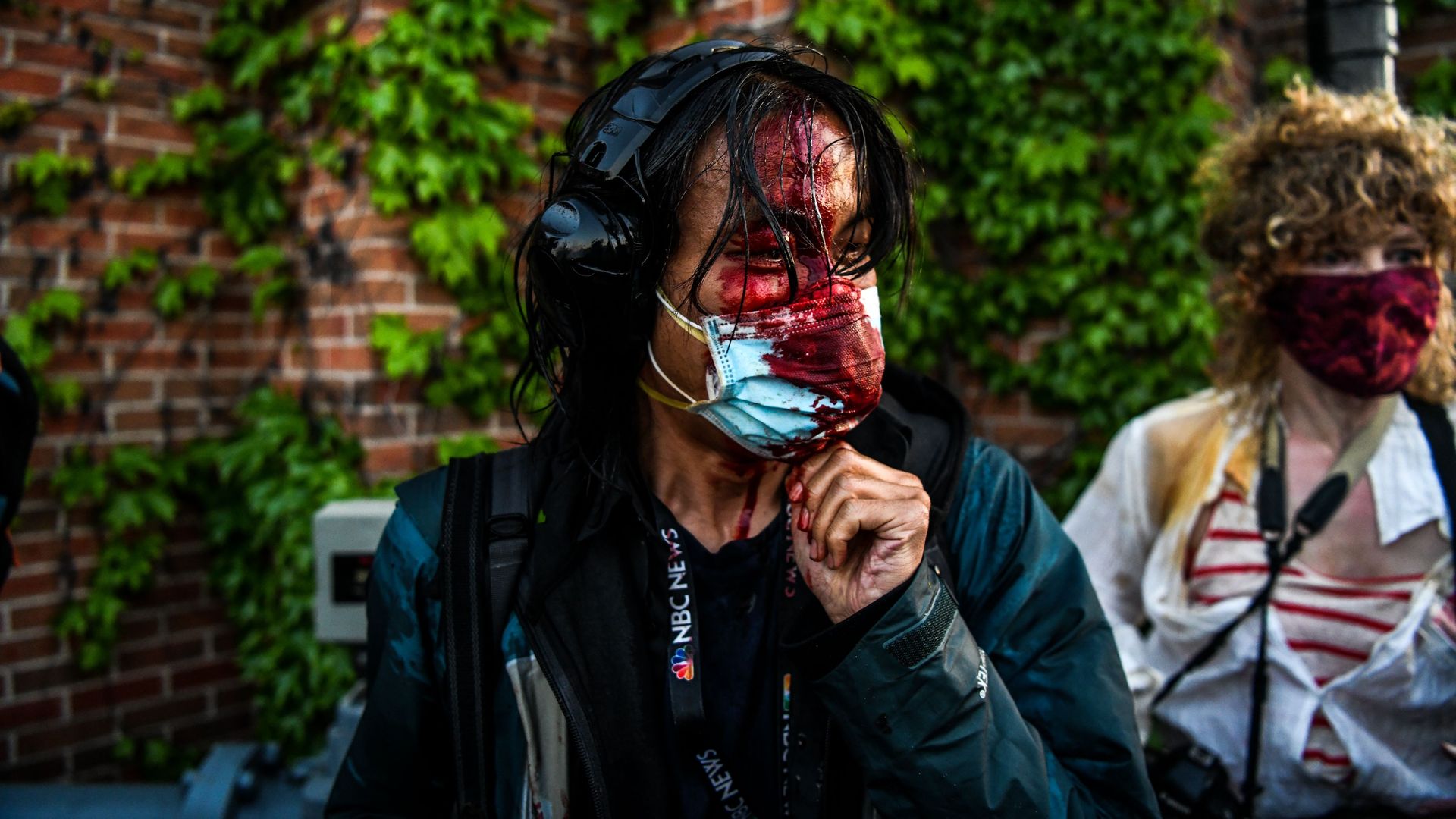 The U.S. Press Freedom Tracker says it's currently investigating over 100 violations of press freedoms in the past 3 days, which is astonishing given the fact that it normally documents 100-150 press freedom violations in the U.S. per year.
Driving the news: Dozens of journalists across the country tweeted videos Saturday night of themselves and their crews getting arrested, being shot at by police with rubber bullets, targeted with tear gas by authorities or assaulted by protesters.
By the numbers: (Based off a list compiled by Nick Waters)
Shot at: (mostly non-lethal rounds/rubber bullets): 45
Tear gas: 12
Pepper Sprayed: 13
Attacked/hit: 21
Arrested: 15
Detained: 5
Threatened: 11
Be smart: Many of these incidents, because they target the press, were captured live on camera. The footage could help to verify unnecessary police action against journalists.
Why it matters: The incidents show how easy it can be for journalists to become entangled in the stories they cover, especially during a time of civil unrest.
They also show how a hostile environment for the press, made worse by the president's incessant bemoaning of the mainstream media, can make it difficult to cover important moments, like protests.
What's next: The Committee to Protect Journalists says it's investigating over 100 reports of violence against journalists from past several days.
On Monday, 18 journalism organizations, including The National Press Club, wrote an open letter calling on police nationwide to halt use of violence, arrests against journalists covering protests.
Go deeper: We've got a full breakdown here of what went down.
3. Brands take a stand
Twitter, Google, Nike and Netflix are among the dozens of brands over the past two days that have taken public stances in favor of Americans protesting racial inequality.
Some companies have changed their logos in solidarity with the movement and put out statements, while others have pledged money in support of efforts to address social injustice.
Why it matters: Data shows that brands have less to lose when speaking out on issues such as civil rights and gay rights than they would when speaking out against other hot-button issues, like abortion or guns.
Other studies have shown that brands with the best reputations among consumers are ones that stand up for issues, regardless of whether those issues are considered liberal or progressive.
Be smart: Brands that don't speak up face a grim reality, not just from their consumers, but also their employees.
"Dozens" of Facebook employees staged a "virtual walkout" Monday over the company's decision not to take action against President Trump's provocative messages in the face of nationwide protests against police violence, the New York Times reports.
The bottom line: Overall, according to new data from Morning Consult, brands that do not make an official statement are viewed less favorably than brands that do.
4. Police scanner apps get record downloads
Five of the most popular police scanner apps are experiencing a combined record number of downloads, as thousands of protestors look to take to the streets across American cities, according to new data from Apptopia.
Scanner Radio - Fire and Police Scanner
Police Scanner
Radio Police Scanner (App)
Police Scanner Radio & Fire (App)
Police Scanner + (App)
Details: The apps allow users to listen to live audio from fire and police scanners, weather radios, air traffic and marine radios, etc. in real-time around the world.
5. Exclusive: Pacific Standard finds a new home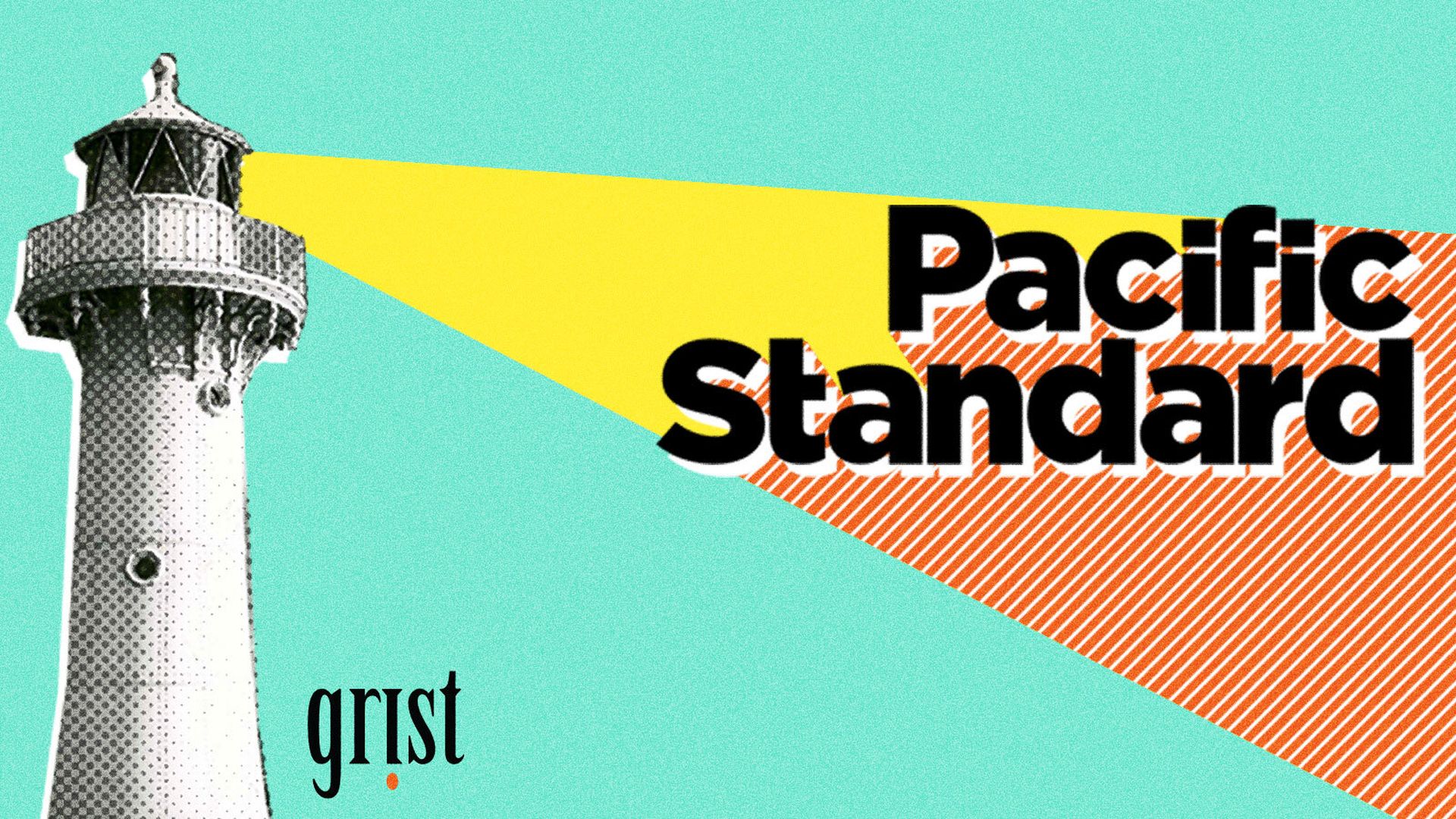 Grist, a twenty-year-old non-profit online magazine that focuses on climate and environmental coverage, has taking full ownership of all the assets of what's left of Pacific Standard, an award-winning magazine that closed in 2019.
Why it matters: Pacific Standard shut down in 2019 after its main backer, an academic publishing house, withdrew its funding, showcasing the risk that comes with quality journalism being funded without a reliable business model.
It's also a timely investment.
"One of the many reasons we were enthusiastic about taking on the Pacific Standard's archives and brand is its long history of reporting on social justice and race," says Grist CEO Brady Walkinshaw.
Details: "There is no cash component as a part of the deal fro Grist," says Walkinshaw. "We're not purchasing it. We agreed to take it on to keep 12 years of work in the pubic domain."
Grist will be taking over 20,000+ stories from the Pacific Standard's archives, as well as all of its audio and video assets. The content still generates a small but notable monthly audience of 1 million readers per month, which still brings in a small amount of ad revenue as well ($2,000 - $3,000 monthly).
It's looking at relaunching the brand, and it plans to reinvest that revenue to grow its freelance budget to support reporters doing work on social and environmental justice.
Walkinshaw says Grist is committed to keeping the outlet public and free.
The big picture: Grist's takeover of Pacific Standard is a good example of how media companies of any size can help to support the great work of other outlets.
Grist is small, but its readers are hyper-loyal and its subject matter expertise, environmental justice, is becoming more important every day.
Over the years, it has broadened its scope to cover culture, politics and food systems — all related to climate change and environmentalism.
The company makes about $6.5 - $7 million in revenue annually from a variety of sources, including philanthropy, grants, membership fees, advertising and branded content sponsorships. Membership fees, while a small portion of the overall pie, have doubled in the past year.

6. Exclusive: Washington Post makes major move into local
The Washington Post has signed all 30 of McClatchy's local news outlets to its Zeus Performance product, a software that gives sites better speed and ad view-ability and performance, executives tell Axios.
The deal comes roughly a week after The Post inked a partnership with the Local Media Consortium, which represents 3,500 local media outlets from 90 media companies. The Post already works with several local TV stations and newspapers, like the Dallas Morning News and Seattle Times.
Why it matters: By adding more local news outlets, The Post can start to build a local news ecosystem within its tech stack.
"With that scale, we can begin to experiment with creating new products and business solutions catered to local news," says Jarrod Dicker, VP of commercial technology and development at The Post.
One idea that's been floated could potentially be a single sign-in mechanism for a bunch of local sites.
Details: The partnership, in which McClatchy pays The Post a fee to license its software, will deliver a better ad experience to McClatchy sites.
McClatchy Vice President and Head of Advertising Nick Johnson says that the Zeus partnership will primarily help the network of local news sites deliver more viewable ads — ones that load more pixels faster.
"The benefit of this for local is particularly that it will allow national advertisers to execute big campaigns in many markets uniquely," says Johnson.
The big picture: Many bigger media and tech giants see ample opportunity in local news and advertising.
The Post, is looking to build out its network of premium sites so that it can eventually create an ad network that it hopes can compete with the likes of Google and Facebook.
Vox Media launched a local ad network in conjunction with Google earlier this year.
Amazon, as Axios noted last week, is looking to potentially tap into the local audio ad network.
7. Adweek acquired by another private equity firm
Shamrock Capital, a Los Angeles-based investment firm, announced this morning that it's acquired Adweek, the advertising trade publication, from Beringer Capital. Deal terms weren't disclosed.
Why it matters: It's the second private equity firm to own Adweek in less than five years. The sale speaks to the uncertain value of trade magazine companies.
Adweek was bought by Beringer Capital, a private equity firm based in Toronto that owns digital marketing companies, in 2016.
Beringer bought it from Mediabistro Holdings, which owns a bunch of B2B PR and marketing outlets, in 2015.
A source familiar with the situation says that Beringer Capital was hoping that the investment could help its portfolio companies.
The big picture: There's been lots of talk amongst media bosses about which outlets, given the current economic climate, can be easily gobbled up for cheap.
8. 1 📺 thing: Everyone wants in on the conservative TV biz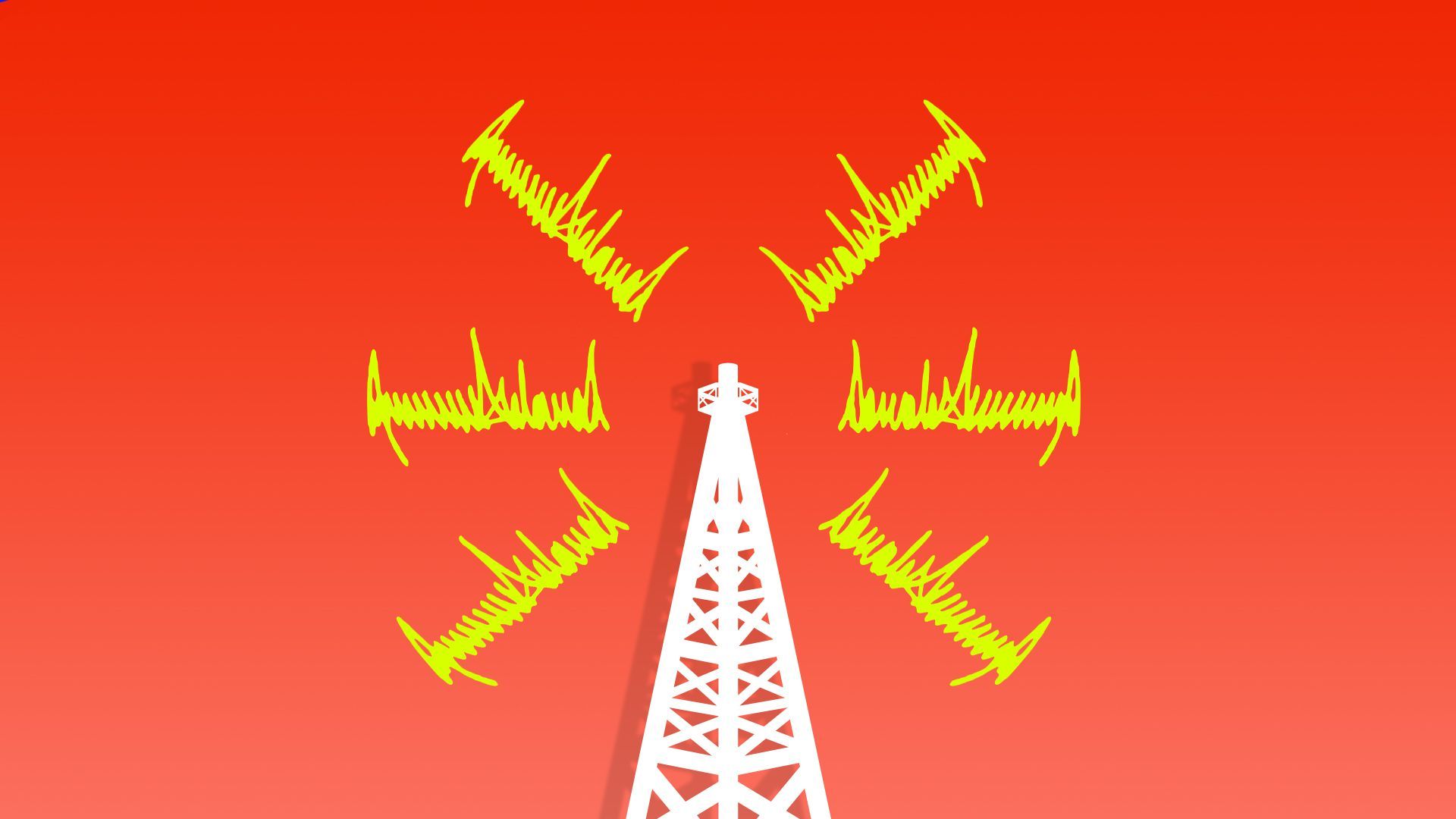 The conservative TV business is a hot commodity during the Trump era.
Why it matters: Network owners see it as an opportunity to get close to President Trump and to drive ratings. Fox News has consistently led the three major cable networks in ratings for well over a decade.
Driving the news: Bill O'Reilly's show, "No Spin News," which currently airs on his website and across YouTube, will be broadcast twice daily on The First, a conservative digital television network that runs on several platforms, including ViacomCBS-owned Pluto TV.
The First is one of a few networks bringing on big-name conservative talent to gain traction during the Trump era. It also added popular conservative pundit Dana Loesch to its daily lineup in January.
The New York Times' Ben Smith reports that NBCUniversal CEO Jeff Shell has suggested turning CNBC's prime-time hours over to right-wing talk shows.