Axios Markets
November 29, 2023
Good morning, folks. And RIP to legendary investor Charlie Munger of Berkshire Hathaway, after a heckuva 99-year run.
Today's newsletter is 1,012 words, a 4-minute read.
1 big thing: What to watch at COP28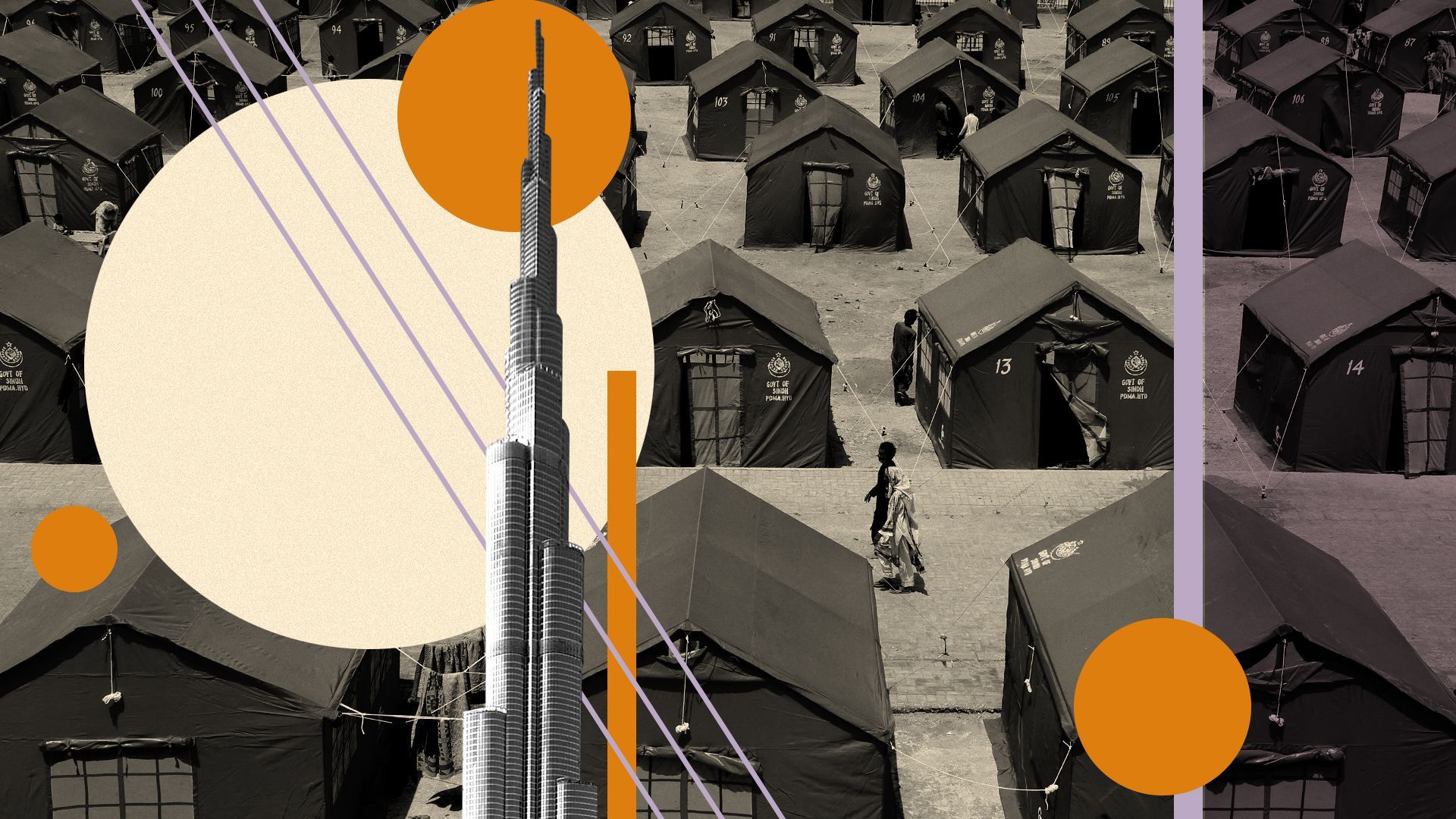 The COP28 climate summit, this year's edition of the closely watched two-week annual gathering chaired by the United Nations, begins tomorrow in Dubai, Axios' Andrew Freedman writes.
Why it matters: The summit will be a test of how quickly and steeply the global community is willing to reduce planet-warming greenhouse gas emissions in a manner that is consistent with meeting the Paris Agreement temperature targets.
Right now, the world is on course to sail past those benchmarks, yielding a potentially catastrophic amount of warming of about 3°C (5.4°F) compared to preindustrial levels.
The big picture: On the one hand, renewables like solar and wind are surging in the U.S., Europe and China. On the other, oil and gas companies are showing few signs of cutting production or turning their attention and windfall profits to low-carbon ventures.
In fact, some companies are seeking to expand their production in the coming years, foreseeing lasting oil and gas demand, while banking on new carbon capture technology to neutralize emissions.
The intrigue: This summit is unique in that it is the first to be chaired by the CEO of a national oil company, Sultan Ahmed al-Jaber (head of the Abu Dhabi National Oil Company). Additionally, the fossil fuel industry has been invited to participate more than any other COP since the gatherings began in 1995.
How these companies choose to exert their influence will be a test of al-Jaber's strategy of treating the oil and gas industry as part of a solution to human-caused climate change, rather than the problem.
Zoom in: Because of his fossil fuel ties, al-Jaber is under an intense microscope. He came under withering criticism early this week when reports emerged, first via the BBC, that he and his staff allegedly pursued oil and gas deals during COP-related meetings with foreign officials.
("The documents referred to in the BBC article are inaccurate and were not used by COP28 in meetings," a COP spokesperson told Axios.)
In an interview with Axios in September, al-Jaber said he was committed to weaning away from fossil fuels, but the energy transition needs to be carefully managed.
"We know that a phase-down of fossil fuel is inevitable," al-Jaber said, emphasizing that no substitute currently exists that could power global energy needs.
"We should stay laser-focused on eliminating emissions from fossil fuel, and we should stay focused on the decarbonization of the whole energy system while we build the new energy system," he said.
What we're watching: Much of COP28's bandwidth will be taken up by setting up the rules governing the "loss and damage" fund. Broadly, this is a voluntary mechanism used by countries to add money to help developing nations withstand climate impacts.
Also: The past two summits in Glasgow and Sharm el-Sheikh were especially notable for deals struck along the sidelines. That may continue this year, given the attendance of enough world leaders and global financial titans that rival Davos' World Economic Forum.
Funding announcements aimed at catalyzing the energy transition and helping developing countries withstand climate impacts may be especially significant.
2. Charting the green pivot
The oil and gas industry's clean energy investments have grown rapidly.
But they remain a small slice of the sector's overall spending, Axios' Ben Geman reports.
3. Catch up quick
4. The six-month test
The share of adults who say they can cover six months of expenses using their savings is considerably lower than it was last year, polling by Morning Consult shows, Axios' Kate Marino writes.
And the share that simply doesn't know how long their savings will carry them has grown, to about 21%, from 15.5% in July 2022.
Why it matters: Evidence has stacked up showing Americans are saving less and drawing down their existing savings cushions.
The drawdown shows how consumption patterns are sticky — people want to maintain their lifestyles, even if it costs more and they have to dip into their savings, says Jesse Wheeler, senior economist at Morning Consult.
This spending has been buoying the economy — though it's unclear how long that'll last.
Between the lines: The rise in the cohort that doesn't know how long they can live off their savings is particularly notable, says Wheeler.
It shows that "people are feeling pretty uncertain about what lies ahead," — and that may be one reason that sentiment has remained so gloomy while the data shows the economy humming, he says.
5. The dollar's biggest monthly drop in a year
The dollar is down big this month, putting in its worst performance in a year, Matt writes.
Why it matters: The decline in the greenback — as measured by the U.S. dollar index — is a reflection of growing certainty in financial markets that the Federal Reserve has basically vanquished inflation and will start to cut short-term rates in 2024.
The dollar index is down 3.6% through Nov. 28, the sharpest monthly slide since last November's 5% drop.
How it works: The Fed sets monetary policy by moving short-term interest rates up and down. Those same short-term interest rates are also big drivers of currency values.
When central banks raise short-term interest rates, their country's currency tends to rise, all else equal.
Flashback: That's what happened in 2022. As the Fed ramped up interest rates to counter inflation, the dollar — as measured by the U.S. dollar index — soared nearly 20%.
State of play: But now inflation is down to nearly 3%, and Fed officials are sounding dovish (yesterday it was governor Christopher Waller), so expectations are growing that 2024 will bring rate cuts.
What they're saying: More weakness for the buck could still be yet to come, Bank of America analysts said in their recent 2024 currency outlook.
"Our economists expect three Fed cuts next year, starting in June ... The bottom line is a soft landing in the US that allows the Fed to cut rates and helps bring the USD down from a still overvalued level," they wrote.
Was this email forwarded to you? Subscribe here.
Axios Markets is edited by Kate Marino and copy edited by Mickey Meece.