January 28, 2021
Did you miss me? I've been out sick for the last few days with what I (and my doctor) initially thought was COVID-19 but turned out to be something similar but different. There's still no confirmed diagnosis, but now that I'm well enough to sit at my laptop and type for hours, I'm back, baby!
The sickness hit me on Friday so I didn't get a chance to go to Sedona, but thanks to everyone for all your amazing suggestions. Hopefully, I'll get to use them sometime soon.
Was this email forwarded to you? Sign up here. (Today's Smart Brevity count: 1,146 words, 4 minutes.)
🎙 "Vanity and pride are different things, though the words are often used synonymously. A person may be proud without being vain. Pride relates more to our opinion of ourselves, vanity to what we would have others think of us." - See who said it and why it matters at the bottom.
1 big thing: How GameStop exposed the market
Retail traders have found a cheat code for the stock market, and barring some major action from regulatory authorities or a massive turn in their favored companies they're going to keep using it to score "tendies" and turn Wall Street on its head.
What's happening: The share prices of companies like GameStop are rocketing higher, based largely on the social media organizing of a 3-million strong group of Redditors who are eagerly piling into companies that big hedge funds are short selling, or betting will fall in price.
The mass buying from Reddit retail traders pushes the price higher, forcing the short sellers to buy the stock to cover their positions along with the market makers who sell options and need to cover their potential losses.
Volume numbers suggest that institutional investors also are joining the fray and buying now.
One level deeper: Redditors are buying call options far out of the money, giving them the option to buy at prices well above the current value. The more the stock rises, the more market makers have to buy to keep their position neutral and insure against big losses.
By purchasing call options at what seem like impossibly high prices, the Redditors suck market makers and shorts into buying increasingly more stock as the price rises.
That feedback loop has pushed GameStop up 1,000% in just two weeks with no real end in sight.
Don't sleep: Despite looking like a run-of-the-mill short squeeze, what's happening in GameStop is anything but that, Ihor Dusaniwsky, managing director of predictive analytics at S3 Partners, tells Axios. Short sellers overall are not being squeezed out of the trade, despite having lost more than $6 billion since Jan. 1.
"I've talked to several brokers, they've got a line of guys looking to short the stock if there's any stock available to borrow," even though shorting GameStop now costs a fee of 150%.
"The value shorts are getting squeezed out and being replaced by momentum shorts looking to ride the stock price down the back end of the roller coaster."
The big picture: The current state of financial markets "is a feature, not a bug" of the environment created by low rates and extraordinary market intervention, says Vincent Reinhart, a 20-year staffer at the Fed who now serves as chief economist at Mellon.
The Fed "has created space and created a comfort level for market participants to be aggressive in their actions and they're being aggressive in their actions."
Between the lines: Wednesday was proof that even on a major down day for the overall market, the Reddit crowd can still drive its favored stocks to the moon.
While the S&P 500 sank 2.6%, GameStop rose 135%, AMC Entertainment jumped 301%, Blockbuster gained 120% and Express added 214%.
Bonus chart: Monitoring the situation
Leaders of the SEC, U.S. Treasury, Federal Reserve and other major financial organizations weighed in on the GameStop saga Wednesday, most simply to say that they were "monitoring" or "assessing the situation."
Sen. Elizabeth Warren took a notably harsher tone, without any real indication of what action she would like to see taken.
"With stocks soaring while millions are out of work and struggling to pay bills, it's not news that the stock market doesn't reflect our actual economy. For years, the same hedge funds, private equity firms, and wealthy investors dismayed by the GameStop trades have treated the stock market like their own personal casino while everyone else pays the price. It's long past time for the SEC and other financial regulators to wake up and do their jobs - and with a new administration and Democrats running Congress, I intend to make sure they do."
Bonus letter: Dear CNBC, ...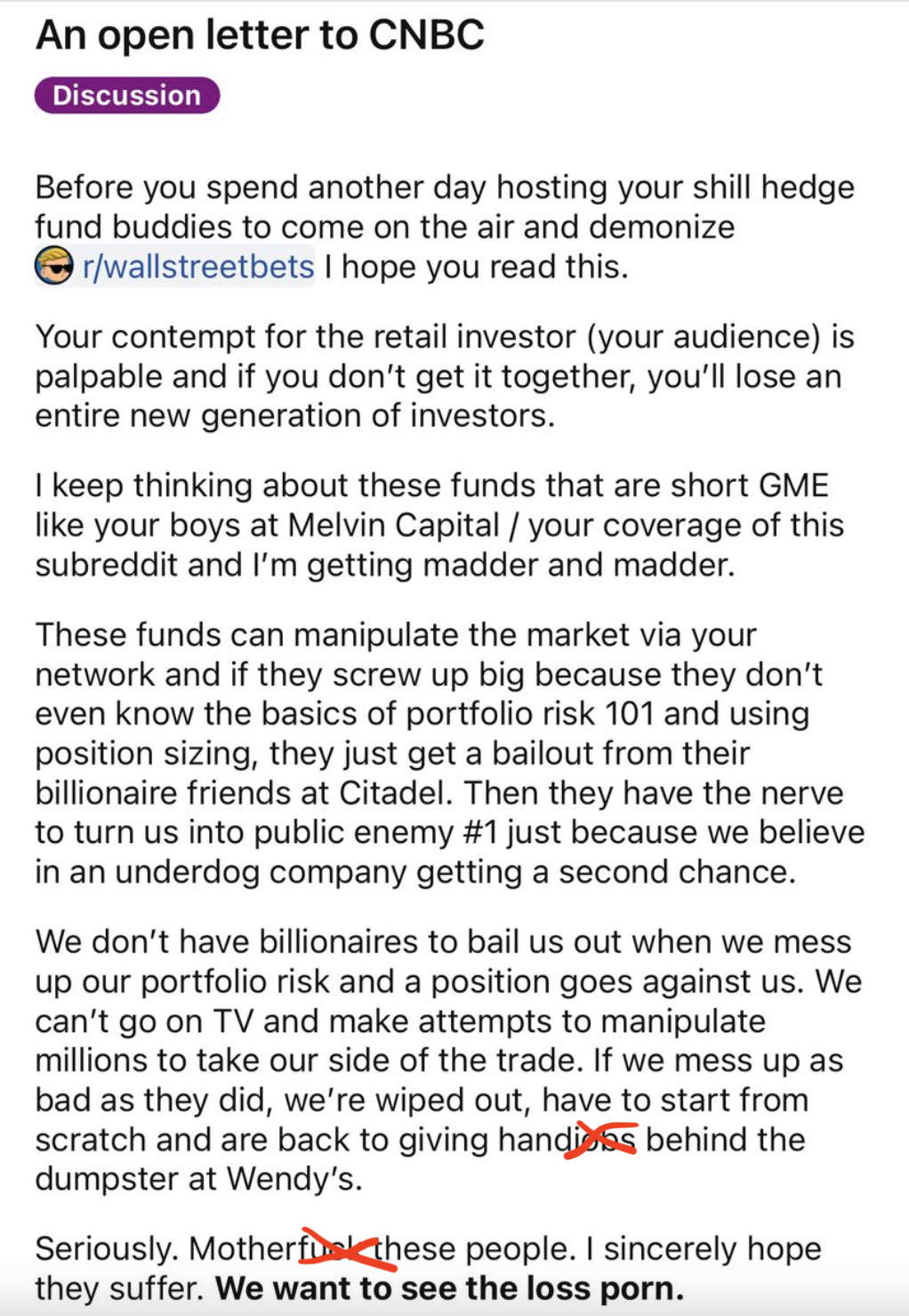 Another major aspect of the rise of stocks like GameStop is the use of leverage by hedge funds. The r/WallStreetBets crowd is using that leverage against them.
What it means: Because hedge funds are using borrowed money to place bigger bets, they have to exit positions at certain levels or risk losing potentially infinite sums of their clients' money and their own on short positions.
Conversely, call options, especially those that are far out of the money (above the stock's current price), are cheap. This gives the Reddit crowd an advantage.
Those leveraged positions also provide a tailwind because they help de-anchor a stock's price once a highly levered hedge fund has pulled out of its position.
Tell 'em why you mad: Melvin Capital, which had vociferously taken a short position in GameStop, closed out that position Tuesday after taking a huge loss and received a cash infusion of nearly $3 billion from Citadel and Point72 to shore up its finances.
2. Catch up quick
Prices for brand name drugs in the U.S. averaged 3.44 times higher than the prices in other nations in 2018 thanks in part to a 76% jump in drug spending by Americans between 2000 and 2017. (Axios)
Fed chair Jerome Powell pushed back on the idea that the Fed's ultralow interest rates and massive bond purchases have created asset bubbles at the Fed's latest policy meeting. (Reuters)
The White House is plotting a "full-court press" for its $1.9 trillion COVID-19 relief plan. (Axios)
An ETF tracking hedge funds' most popular stocks (GVIP), fell for its longest stretch since October, while a basket of hedge funds' most-hated stocks has gone on a 15% rally. (Bloomberg)
The U.S. has imposed a temporary freeze on its arms sales to Saudi Arabia and is scrutinizing purchases by the United Arab Emirates as it reviews approved transactions by former President Donald Trump. (WSJ)
3. Still nowhere to hide
Equity prices tumbled Wednesday, with U.S. indexes booking their worst day since October, but traditional hedging assets like Treasury bonds, the Japanese yen and gold saw minimal gains or losses, continuing a trend that has been in place for more than a year.
By the numbers: The S&P, Dow and Nasdaq all fell by more than 2%, but the benchmark 10-year U.S. Treasury yield declined by just 1 basis point from its closing level on Tuesday.
The dollar index edged higher but gained just 0.5% and the yen fell by 0.4%.
Gold declined by 0.5% and silver fell by 0.9%.
Even Bitcoin, which has been heralded as a potential new safe-haven asset to replace precious metals, declined by 1.5%, sinking back toward the $30,000 per coin level where it began the year.
Why it matters: The lack of safe-haven assets that rise when stock prices fall could prove damaging for investors if markets reverse their long-term bull run.
What's next: Wednesday's selling pressure looks to have been caused at least in part by hedge funds needing to sell some of their favored stocks to meet margin calls after big losses in their short positions. That means they're selling out of winners like Square and Peloton in order to have enough cash to stay afloat. That could continue.
4. Apple made $111 billion ... in a quarter
Big Tech had a strong start to earnings season, as the S&P 500's heavy hitters reported Wednesday after market close.
What happened: Spurred by strong sales of the latest iPhones, Apple had its strongest quarter ever, raking in $111.4 billion in revenue for the three months ended Dec. 31, far outpacing expectations.
Revenue rose 21% year over year, well above Wall Street expectations of around $103 billion, and earnings totaled $28.75 billion, or $1.68 per share, up 35% year over year, and well ahead of expectations of around $1.41.
Facebook also generated record revenue and profit during the quarter but saw its stock fall after the report as its forward guidance left something to be desired.
Tesla reported its first full-year profit, but its supply-chain costs held profit for the quarter short of analysts' expectations.
Thanks for reading!
Quote: "Vanity and pride are different things, though the words are often used synonymously. A person may be proud without being vain. Pride relates more to our opinion of ourselves, vanity to what we would have others think of us."
Why it matters: On Jan. 28, 1813, Jane Austen's "Pride and Prejudice" was published in the U.K.