Was this email forwarded to you? Sign up here.
Situational awareness:
Trump will deliver the delayed State of the Union address tonight. Here's what we at Axios will be watching. He's also expected to nominate David Malpass, one of the World Bank's sharpest critics within his administration, to be the bank's president.
1 big thing: America's diverging data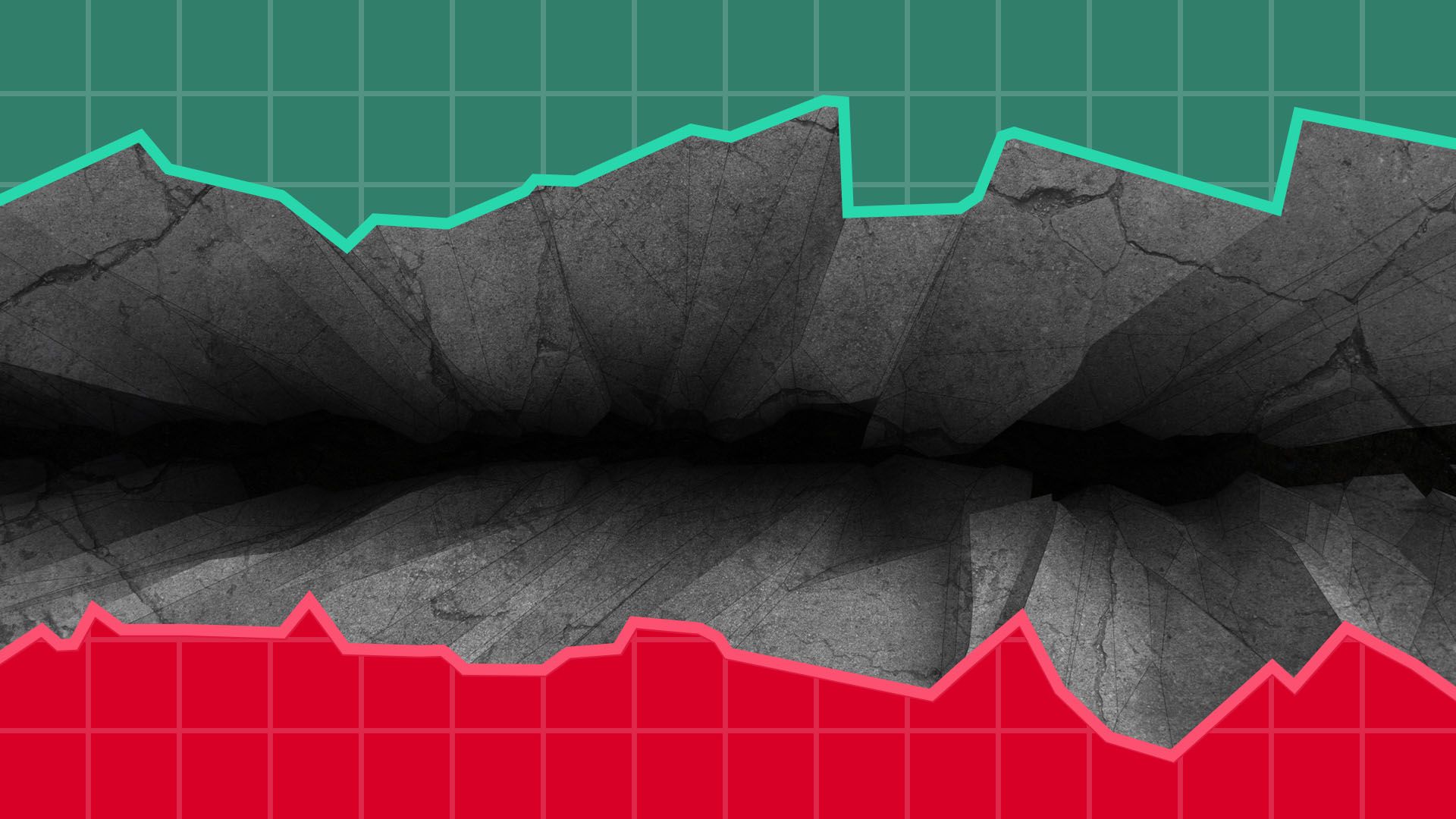 Measures of sentiment, like January's consumer confidence survey, continue to show negative expectations for the economy, even as actual economic trackers, like the monthly U.S. jobs report, keep coming in strong.
Economists say when that happens it usually signals a downturn is coming, Axios' Courtenay Brown writes.
Small business owners' confidence in the economy fell for the fourth straight month in December, while their outlook on business conditions sank to the lowest since late 2016, according to the latest release from the National Federation of Independent Business.
Consumers' future expectations for the economy posted the largest three-month decline since late 2011, according to the Conference Board Consumer Confidence Index.
The Fed's latest survey of senior loan officers found that banks expected tighter standards, weaker demand, and worse performance for business and household loans this year.
Why it matters: "People are getting cautious and that can be a self-fulfilling prophecy at times," Charles Schwab's chief fixed income strategist Kathy Jones tells Axios.
Still, those worries have not yet shown up on key readings of the economy.
The government shutdown has delayed more recent readings of consumer spending, but economists don't expect downbeat sentiment to translate into tighter pocketbooks just yet.
"The consumer is showing no signs of pulling back on activity and is continuing to spend on discretionary items," Michelle Meyer, senior U.S. economist at Bank of America Merrill Lynch, wrote in a note to clients.
The bottom line: Most reports are backward looking, so the effects of a downbeat consumer could still be coming.
There isn't a fixed amount of lag time between pessimism in sentiment and softening economic data, but Schwab's Jones estimates it's likely a matter of "three to six months."
Conversely, there could be a rebound in sentiment, given the Fed's softening of its interest rate hike path and a positive developments in trade negotiations between the U.S. and China.
Be smart: We saw this kind of data divergence in 2016. There was not a recession, but economic growth did slow.
2. Ignoring the experts has paid off for Turkey
The two major market horror stories in 2018 were Turkey and Argentina, with both economies sputtering towards recession and on the verge of currency crises.
The two countries' policies to address the crises have played out like a strip from Goofus and Gallant, except that Goofus has emphatically triumphed.
Background: Investors have long urged countries to fight economic instability and currency falls by increasing interest rates, assuring central bank independence and relying on the IMF and international organizations for goodwill loans.
On one side: On Aug. 29, Argentina as Gallant asked the IMF to speed up payments of the $50 billion bailout package it had agreed to with the country. On the same day its central bank, led by technocrat Nicolas Dujovne, raised benchmark interest rates to a stupefying 60%. (Interest rates had been as low as 22.75% just 4 months earlier.)
The Argentine peso fell that day to nearly 40 pesos per dollar, its lowest level on record and has not bounced back.
On the other side: Turkey as Goofus has defied economic experts and raised its interest rates only once since the lira fell to the weakest level in its history. The country hiked rates 6.25% to bring its policy rate to 24%.
The results: The lira has strengthened more than 20% from its Aug. 28 level. Argentina's peso has fallen more than 15%.
Turkey's annual inflation rate also has fallen, topping out in October at 25%, while Argentina's climbed to 47% in December.
"I'm puzzled because I don't think anything has really changed in Turkey," Win Thin, head of global currency strategy at Brown Brothers Harriman, tells Axios. "Part of it I think is just that quest for yield, though I'm not sure why people would pick Turkey over Argentina. It's frustrating if you're following fundamentals."
3. Easy money around the world
Two weeks ago, we wrote about the end of quantitative tightening, highlighting the European Central Bank and Bank of Japan's reversal of expectations to end their stimulus programs and begin reintroducing above-zero interest rates to their respective economies.
The market also is expecting U.S. monetary policy to ease, with Eurodollars futures pricing an interest rate cut from the Fed as more likely than a hike this year as early as December.
On the fiscal side: The U.S. is coming off of close to $2 trillion in government stimulus; Japan recently signed its largest budget ever; and in Europe Italy and Spain are ramping up public spending, France has pledged to cut taxes and increase wages, and Germany is considering tax cuts.
What they're saying: "Global stocks kicked off 2019 with a bang ... A key impetus: a big shift in policy expectations across the globe," BlackRock's Global Chief Investment Strategist Richard Turnill wrote in a note to clients.
What's next? The easing of financial conditions globally are likely to stabilize growth in the second half of 2019, Turnhill says.
Yes, but: "We caution against chasing the rally in risk assets, particularly in areas vulnerable to growth downgrades, geopolitical risks or sudden shifts in supply/demand dynamics."
4. Wall Street scales earnings expectation way back
After months of downward revisions, analysts now expect the S&P 500 to post a year-over-year earnings decline in the first quarter, according to FactSet. As recently as Sept. 30, analysts predicted the earnings growth rate for the current quarter would hit 6.7%, Courtenay reports.
If their estimates prove to be true, it would be the first year-over-year contraction of S&P earnings since the second quarter of 2016.
Yes, but: Companies are up against a high bar, thanks to a boost from corporate tax cuts last year.
Still, CEO warnings about a global economic slowdown, the trade war and margin pressures has led analysts to curb expectations.
Earnings growth in the fourth quarter is on track to hit 12%, with about 46% of S&P 500 companies having released quarterly results so far.
The bad news: As more companies release soft guidance, expectations for first quarter earnings — and the rest of the year — may only get bleaker.
"We wouldn't be surprised if every quarter this year ends up in negative territory," analysts at Morgan Stanley wrote in a recent note.
5. A birthday dinner with the president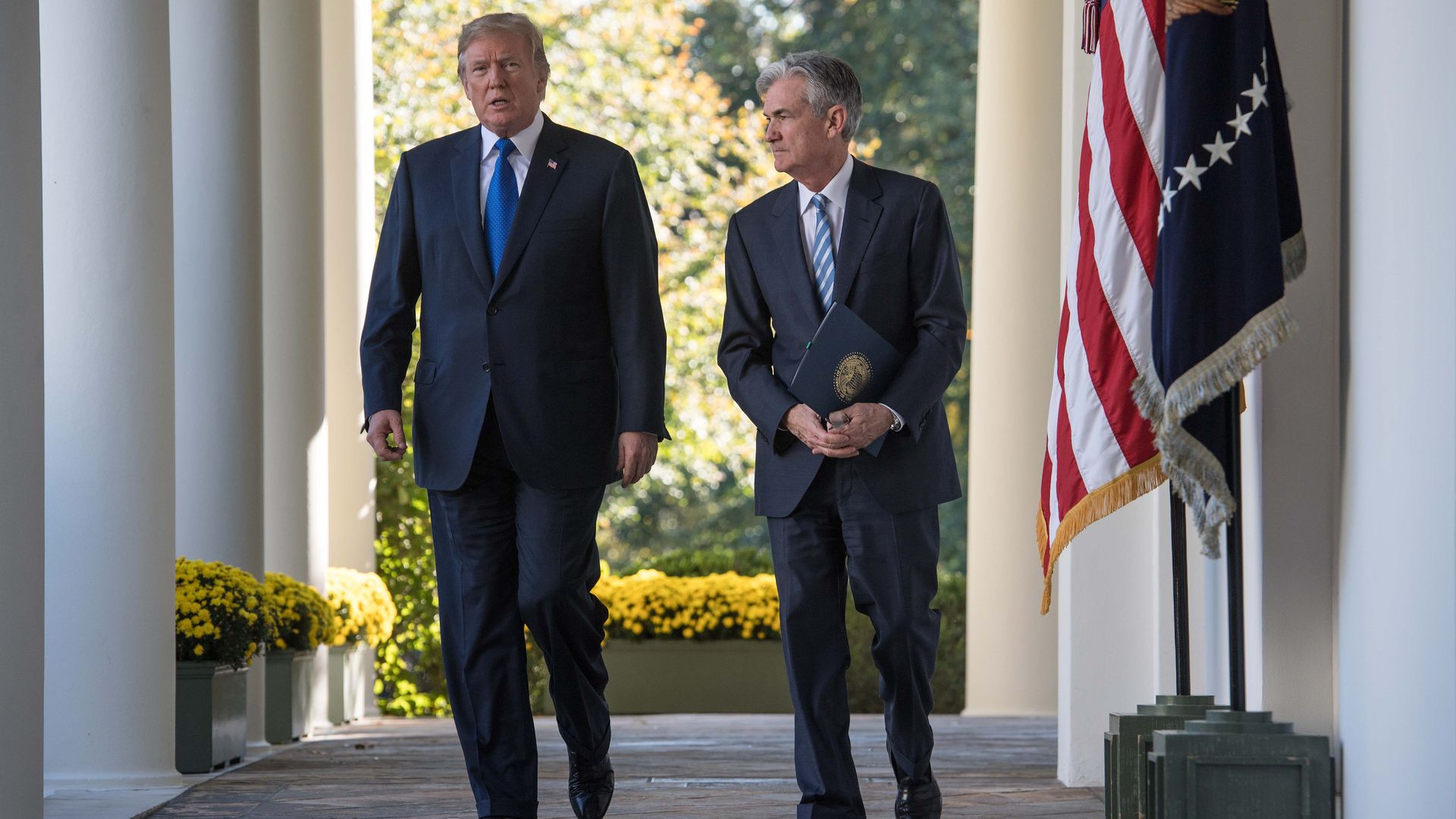 Jay Powell celebrated his 66th birthday Monday night at an "informal dinner" with President Trump, Treasury Secretary Steven Mnuchin and Fed Vice Chair Richard Clarida.
The group discussed "recent economic developments and the outlook for growth, employment and inflation," according to a statement released by the Fed.
Why it matters: Meetings between Fed chairs and presidents are not unheard of, but Powell has faced unprecedented criticism from Trump about the Fed's interest rate hikes.
The Fed dialed back expectations for future rate hikes at last week's policy meeting, signaling it would be patient, a policy Trump began calling for with increasingly strong language last year.
Trump has accused Powell and the Fed of taking away America's "competitive edge," called its decision to raise rates "foolish," said the central bank had "gone crazy," and was "a bigger problem than China."
In December directed his central bank appointee to "feel the market."
The details: Politico reports that Monday was the first time the two have spoken since Powell was sworn in as the central bank's chair last February, and that the meeting, which was scheduled on Friday, lasted an hour and a half.
According to the Fed's statement, Powell did not talk about future monetary policy plans at the dinner, "except to stress that the path of policy will depend entirely on incoming economic information and what that means for the outlook."
History: Virginia Hamilton was the author of 41 books, including "M. C. Higgins, the Great," for which she won the U.S. National Book Award and the Newbery Medal in 1975. Hamilton received the Laura Ingalls Wilder Award for her contributions to American children's literature in 1995.
She was awarded the international Hans Christian Andersen Award, the highest international recognition bestowed on an author or illustrator of children's literature, in 1992.
Hamilton published her first book in 1967, and it was named an American Library Association Notable Book and won the Nancy Bloch Award. She also won the Newbery Honor Book and the Lewis Carroll Shelf Award in 1971.
Hamilton's other awards include the Boston Globe–Horn Book Award and The New York Times Outstanding Children's Book of the Year.