April 02, 2021
Happy Good Friday! Was this email forwarded to you? Sign up here. (Today's Smart Brevity count: 1,092 words, 4 minutes.)
🎙 "The years of imprisonment hardened me ... I no longer have the emotion of fear ... There is no longer anything I can fear. There is nothing the government has not done to me. There isn't any pain I haven't known." - See who said it and why it matters at the bottom.
1 big thing: Investors are betting 4,000 is just the beginning
The S&P 500 closed over 4,000 on Thursday for the first time, having nearly doubled its coronavirus pandemic low of 2,192 in just over a year.
Why it matters: "Round numbers can be big psychological barriers for markets, so breaking 4,000 could provide a confidence boost to stocks in the short term," Lule Demmissie, president of Ally Invest, says in a note.
"And we think the market has room to run longer-term, too. We're seeing signs of confidence in the options market as the S&P 500 approaches new highs," she adds.
"It's an exciting milestone for U.S. stocks, which are back at record highs thanks to a third round of fiscal stimulus, COVID vaccinations, and Federal Reserve support."
Between the lines: The Cboe's volatility index (VIX) has declined significantly, "dancing below 20" and even hitting a 52-week low below 18 — a level it hasn't consistently closed below since the March downturn, Demmissie notes.
Where it stands: The S&P hit 3,000 for the first time in July 2019. It has taken less than seven years to double after reaching the 2,000 mark in August 2014, as Axios' Ivana Saric notes.
It took the index over 16 years to double from the 1,000 point mark, which it first hit in February 1998.
Watch this space: Tech stocks continued to mount a comeback after struggling in the first quarter. The Nasdaq jumped thanks to a big run-up in chip stocks, with the PHLX Semiconductor Index rising 3.7%.
The big picture: Asset managers and economists continue to be bullish on the stock market and the economy, as money further piles into equities.
Data from the Investment Company Institute show equity funds have seen net inflows for the past four weeks in a row and in six of the past seven weeks, including the two highest weeks of inflows to stock funds on record.
2. Catch up quick
March's ISM manufacturing PMI rose to 64.7, the highest since December 1983, as manufacturing sentiment indexes continue to soar. The prices paid index held near the highest its been since July 2008. (ISM)
Initial jobless claims rose to 719,000 up 61,000 from last week when claims dropped to 684,000, the lowest since the coronavirus pandemic began in the U.S. (Department of Labor)
OPEC+ agreed to gradually boost oil output from May to July and will add more than 1 million barrels per day over the coming months, including a 350,000 bpd increase from Saudi Arabia and Russia in May. (WSJ)
The first IPOs of the second quarter ran into a spate of issues, including poor trading, postponements and reduced deal sizes. (Bloomberg)
Turkish assets saw the biggest outflows in 15 years after Turkey's president fired and replaced the hawkish head of its central bank. (Bloomberg)
3. Antitrust scrutiny is a worry for China's Big Tech
Axios' Hope King writes: Big Tech players in China like Alibaba, Tencent and Baidu are facing challenges all-too-familiar to Amazon, Facebook and Google. 
Why it matters: Antitrust has become a big theme for Beijing and this could hamper growth of China's tech sector should authorities decide to regulate with a heavy hand.
What's happening: Alibaba, which operates some of the world's largest e-commerce platforms, has been under investigation for stifling competition and could be facing a fine of $1 billion or more and forced divestitures as an antitrust probe into the company continues, according to the Wall Street Journal.
Tencent, maker of the massive social and messaging app WeChat, recently paid a fine to antitrust regulators in China for failing to ask for approval on past acquisitions, and is still "actively cooperating with regulatory authorities."
Baidu, the largest search engine in China, paid the same, relatively benign fine as Tencent for the same issue (not getting approval for a takeover).
Didi, China's Uber, and TikTok owner Bytedance paid fines for not receiving approval to set up joint ventures, according to Bloomberg.
The big picture: China's ruling party does not want any one person (ahem, Jack Ma) or entity to stand above it, but it's being careful in how it sends that signal.
The fines meted out so far have been slaps on the wrist, and aren't existential threats.
But if the Politburo continues to increase fines, or decides to block future M&A deals or massive IPOs like Alibaba's planned debut for its financial arm, Ant Group, these tech companies could lose out on opportunities to grow, which would weigh heavily on their stock outlooks.
4. Car prices rise as chip shortage hits dealer showrooms
Axios' Joann Muller writes: Carmakers saw gangbuster sales in March, boosted by consumers' $1,400 stimulus checks, but analysts warned of volatility ahead as production troubles mount.
Why it matters: Car prices are rising because of inventory shortages, and as the spring selling season begins and consumer sentiment improves, it could be harder for shoppers to find the vehicle they want at an affordable price.
What's happening: After two months of factory shutdowns early in the pandemic, the industry is now getting hit with shortages of key components, notably computer chips that power vehicle electronics.
The chip shortage has snowballed into a bigger crisis, with multiple factories temporarily closed, said Jessica Caldwell, Edmunds' executive director of insights.
"We're seeing the industry being hit hard on both sides: Retail customers are being offered fewer choices and paying higher prices, while fleet customers are likely seeing their orders delayed."
By the numbers: New vehicle inventory on sale at dealerships is down by 36% in March 2021 compared with a year ago, according to Edmunds.
The average transaction price for new vehicles in March was estimated to be $40,563, versus $38,601 a year ago.
Used vehicles sold for an estimated $22,663, on average, up from $20,273 last year.
The bottom line: It's a basic issue of supply and demand.
5. Fed's Mary Daly on Silicon Valley "exodus"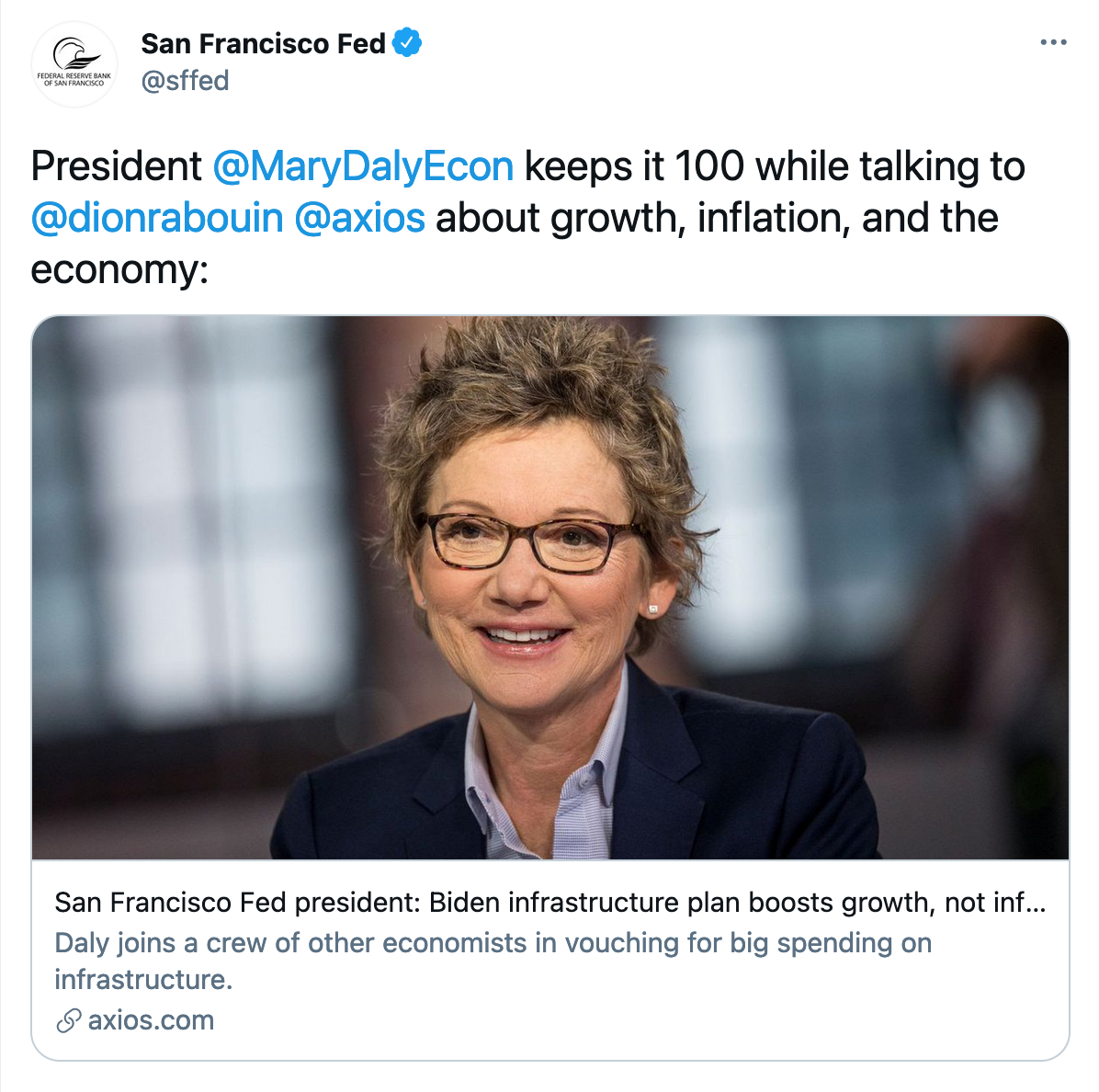 First of all, shout out to whoever wrote the above tweet.
Second, during our interview, Daly addressed Silicon Valley heavyweights like Elon Musk and others who have bemoaned California's COVID-19 restrictions and taxes and have said they're taking their ball and moving to places like Miami or Brownsville, Texas, or the 140-square-foot Hawaiian island they own.
"I've been working at the Federal Reserve Bank of San Francisco since 1996 and when I arrived in 1996 there was a series of books written that said Silicon Valley was dead, it was over. People were going to move to Austin, Texas, and Portland, Oregon, and Boston and that was going to be the end of Silicon Valley. It had reached its peak and it was on the demise."
"Of course, it didn't happen. What happens is that absolutely tech firms move to other parts of the country, they relocate, and some of it is the business climate that they cite, some of it is that it's easier to get a workforce if you spread it around the United States than if you're all in one area. That concentration does raise housing values, and housing prices because people want to live here."
"All of these things are true and yet year after year, decade after decade, you see Silicon Valley robustly continuing to grow and continuing to thrive."
—
San Francisco Fed president Mary Daly
Thanks for reading!
Quote: "The years of imprisonment hardened me ... I no longer have the emotion of fear... There is no longer anything I can fear. There is nothing the government has not done to me. There isn't any pain I haven't known."
Why it matters: On April 2, 2018, South African civil rights luminary Winnie Madikizela-Mandela died.
An anti-apartheid activist and politician, and the second wife of South Africa's first freely elected president, Nelson Mandela, she served as a Member of Parliament from 1994 to 2003, and from 2009 until her death.
This newsletter is written in Smart Brevity®. Learn how your team can communicate in the same smart, clear style with Axios HQ.