Was this email forwarded to you? Sign up here. (Today's Smart Brevity count: 1,285 words, ~ 5 minutes.)
Situational awareness:
The House passed a bill Tuesday requiring shell companies to disclose their true owners. (WSJ)
Facebook CEO Mark Zuckerberg will testify before Congress today about the proposed Libra currency. The company's stock fell the most in two months Tuesday after 45 states announced an antitrust investigation. (Bloomberg)
The Chinese government plans to replace Hong Kong leader Carrie Lam with an "interim" chief executive after ongoing violent protests in the territory. (FT)
1 big thing: Warren says big banks are crying wolf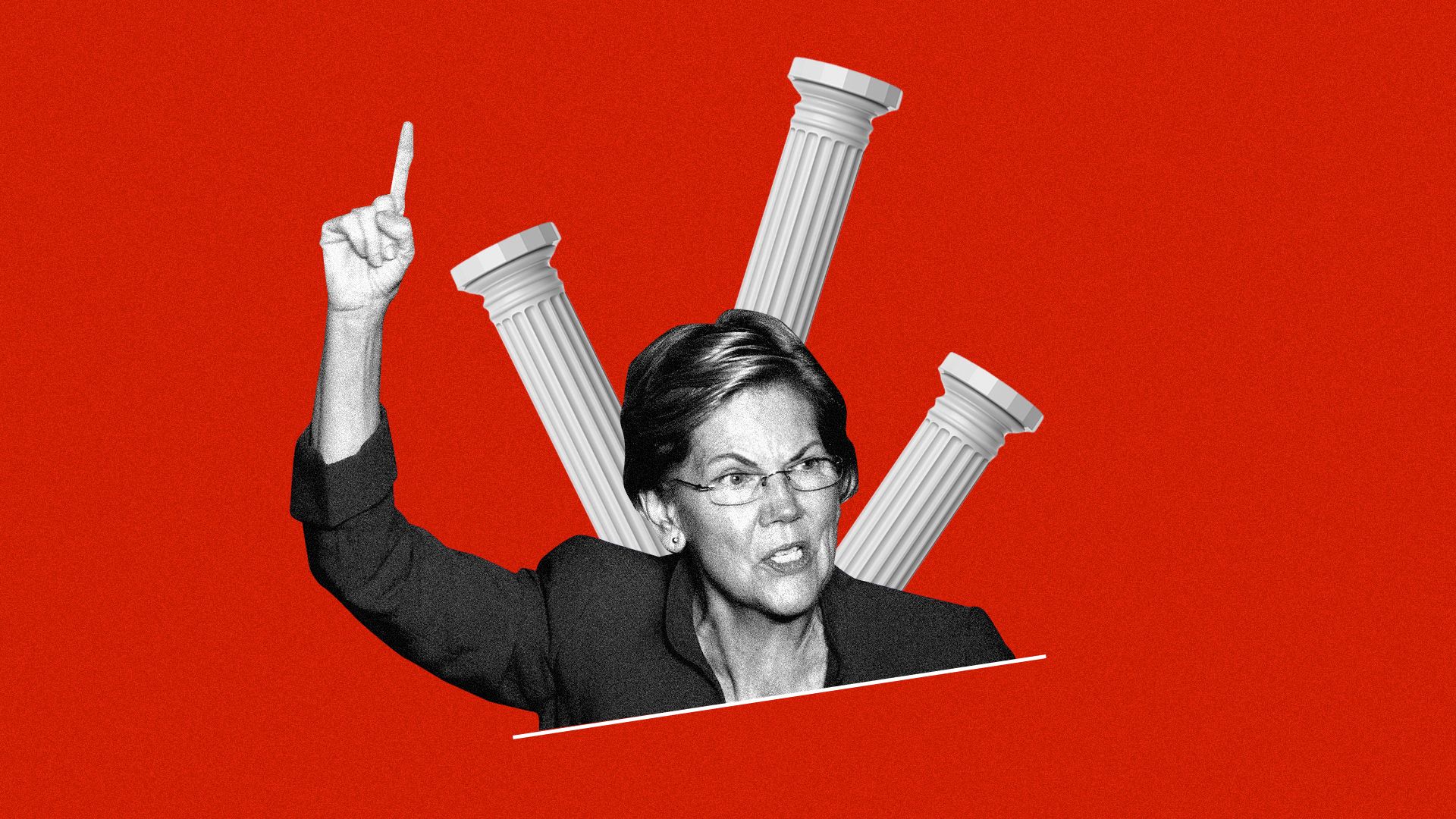 The banking industry has argued in recent weeks that the problems in the systemically important repo market are the result of excessive regulations and could result in larger and more damaging liquidity events in the future.
Sen. Elizabeth Warren wrote to Treasury Secretary Steven Mnuchin on Tuesday to call foul and request an explanation of what's really going on in the market.
Background: Rates in the repo market that banks use to access quick cash spiked last month, reaching five times their normal level.
This prompted the Fed to step in with emergency funding, and now daily cash injections and a standing $60 billion a month facility.
Bankers, research analysts and fund managers have worried that the turmoil portends larger problems in the equity and bond markets and could lead to a wide-ranging liquidity crisis.
What's happening: Bank lobbying groups and a handful of CEOs have said the problem stems from too much regulation of the financial sector.
"Recent repo market volatility highlights ... how policies intended to promote financial stability can sometimes frustrate it," Bank Policy Institute chief economist Bill Nelson told Axios.
JPMorgan CEO Jamie Dimon said last week that his bank had the capital but was unable to step in to calm the spiking repo market because of liquidity requirements.
State Street CEO Ron O'Hanley said Saturday that regulations will lead to more liquidity issues.
Between the lines: In her letter to Mnuchin, Warren said she's not buying the argument and the Treasury Department and Financial Stability Oversight Council, which Mnuchin chairs, should not buy it either.
"Banks are reporting profits at record levels, and it would be painfully ironic if unexplained chaos in a small corner of the banking market became an excuse to further loosen rules that protect the economy from these types of risks."
Just last week, the Fed and four other regulatory agencies approved the rollback of some restrictions on banks' adherence to the Volcker rule.
Warren isn't the only one who's dubious of the banks' cries for reduced regulation. Minneapolis Fed President Neel Kashkari told Axios that his patience is "basically gone" for bank complaints about reduced liquidity.
Kashkari points to the Fed already providing a discount window where banks can access cheap emergency funding to deal with exactly the sort of liquidity squeeze that hit the repo market.
"The banks are using this as a manufactured crisis," Americans for Financial Responsibility policy director Marcus Stanley told Axios. "They do that all the time and they're doing it here. ... We've seen the damage that deregulated finance can do and it's very extreme and long-term damage."
2. Existing home sales remain mediocre
U.S. existing home sales fell 2.2% in September as the housing market continues to tread water with a dearth of properties for sale, especially cheaper homes, and a lack of interested buyers despite historically low mortgage rates.
Why it matters: It's the latest example of the U.S. real estate market's continued struggles.
The National Association of Realtors said existing home sales fell to an annual rate of 5.38 million units last month, reversing two straight months of gains and holding in a range well below its highs from the mid-2000s.
3. Neumann gets rich as WeWork drama continues
WeWork has accepted a multibillion-dollar rescue package from SoftBank that gives the Japanese firm an 80% stake in the company.
However, SoftBank said in a statement that despite taking the lion's share of ownership rights it will not command a majority of voting rights, and WeWork will be an "associate" of the bank rather than a "subsidiary."
Why it matters: Per Axios' Dan Primack who first reported that the deal was about to happen, it's a dramatic development in a "saga that has seen the embattled company plunge from a $47 billion valuation to below $8 billion."
What's happening: WeWork said SoftBank had committed to provide significant funding, including $5 billion in new financing "and the launching of a tender offer by SoftBank of up to $3 billion for existing shareholders."
"Additionally, SoftBank will be accelerating an existing commitment to fund $1.5 billion," WeWork said.
WeWork founder and non-executive chairman Adam Neumann will become a "board observer." The size of the board will be expanded and it will receive voting control over Neumann's shares.
Neumann also will walk away with a $185 million "consulting fee," $970 million for his stock and $500 million to pay off a loan from JPMorgan.
What's next: WeWork said its board would appoint SoftBank Group COO Marcelo Claure to be executive chairman of the WeWork board of directors, "effective upon closing of the accelerated $1.5 billion payment commitment."
4. Nike and Under Armour CEOs deliver very different stock returns
Under Armour CEO Kevin Plank and Nike CEO Mark Parker are both stepping down from their roles, the two companies announced in separate statements Tuesday.
The big picture: Plank and Parker have been on the job for a similar period of time, but have delivered radically divergent returns to shareholders during their time overseeing the two companies.
Plank, a former University of Maryland football player, founded Under Armour in his grandmother's basement in 1996, selling sweat-wicking compression apparel that grew into a global brand with about $5 billion in annual sales.
Since going public in 2005, its stock rose to more than $50 a share in late 2015, but it has struggled in recent years with falling sales.
On the other side: Parker's tenure as Nike's CEO has been marred by major scandals in the past two years, but the stock has managed to perform well.
In 2018, multiple lawsuits over alleged gender discrimination and a "boys' club" culture at Nike led to the ouster of top executives.
More recently, Nike shut down its running club, Nike Oregon Project, after longtime coach Alberto Salazar was banned from coaching for four years in light of anti-doping violations.
What's next: Under Armour COO Patrik Frisk will take over the top post, and John Donahoe, a current Nike board member and CEO of cloud computing company ServiceNow, will take the reins at Nike.
5. Exclusive: Cities see signs of recession on the horizon
Axios' Kim Hart writes: Almost two in three finance officers in large cities are predicting a recession as soon as 2020, according to a new report from the National League of Cities, as weakening major economic indicators and shrinking revenue sources put pressure on municipal budgets.
Why it matters: One of the first signs of changing economic conditions can be seen in city revenue collections. For the first time in seven years — generally seen as the recovery phase since the Great Recession — cities expect revenues to decline as they close the books on the 2019 fiscal year.
Threat level: The impact of changing economic conditions tends to be felt by cities sooner than at the national level.
Since fiscal reporting happens on a yearly basis, there's often a lag of about 18–24 months for economic changes (particularly property taxes) to show up on city ledgers.
That means that the downward trends cities are now seeing likely reflect a broader economic slowdown that's already started.
What's happening: The annual City Fiscal Conditions report, which will be released Monday, analyzed the responses from financial officers in 554 cities of varying sizes, but all with populations greater than 10,000. (Note: The chart above reflects data from 451 cities, since not all cities collect property, sales and income tax.)
Cities' revenue growth stalled in the 2018 fiscal year, but this year's continued drop indicates mounting pressures on city budgets.
At the same time, expenditures grew by 1.8% in 2018. City officials predict they'll grow again to 2.3% in 2019, thanks to climbing costs associated with infrastructure, public safety spending, and pension costs.
The other side: Across the South, West and Northeast, municipalities of all sizes showed some growth in general fund revenues, albeit slower growth than previous years.
The bottom line: Peaks and valleys in property, sales and income tax collections tend to balance each other out over time. The fact that all three revenue sources are trending downward simultaneously — combined with the growing gap between city revenues and expenditures — suggests an economic downturn may be on the horizon.
Editor's note: The chart in story no. 4 was corrected.