At 828 words, today's newsletter will take you 3 minutes to read...
Situational awareness:
New York's Attorney General is reportedly investigating WeWork and whether or not ex-CEO Adam Neumann "indulged in self-dealing to enrich himself." (Reuters)
TA Associates is exploring the sale of asset manager Russell Investments amid increasing consolidation in asset management. (FT)
Alibaba will stop taking orders for its Hong Kong stock sale earlier than planned as it sees strong investor demand for its shares. (CNN)
1 big thing: A Teflon earnings season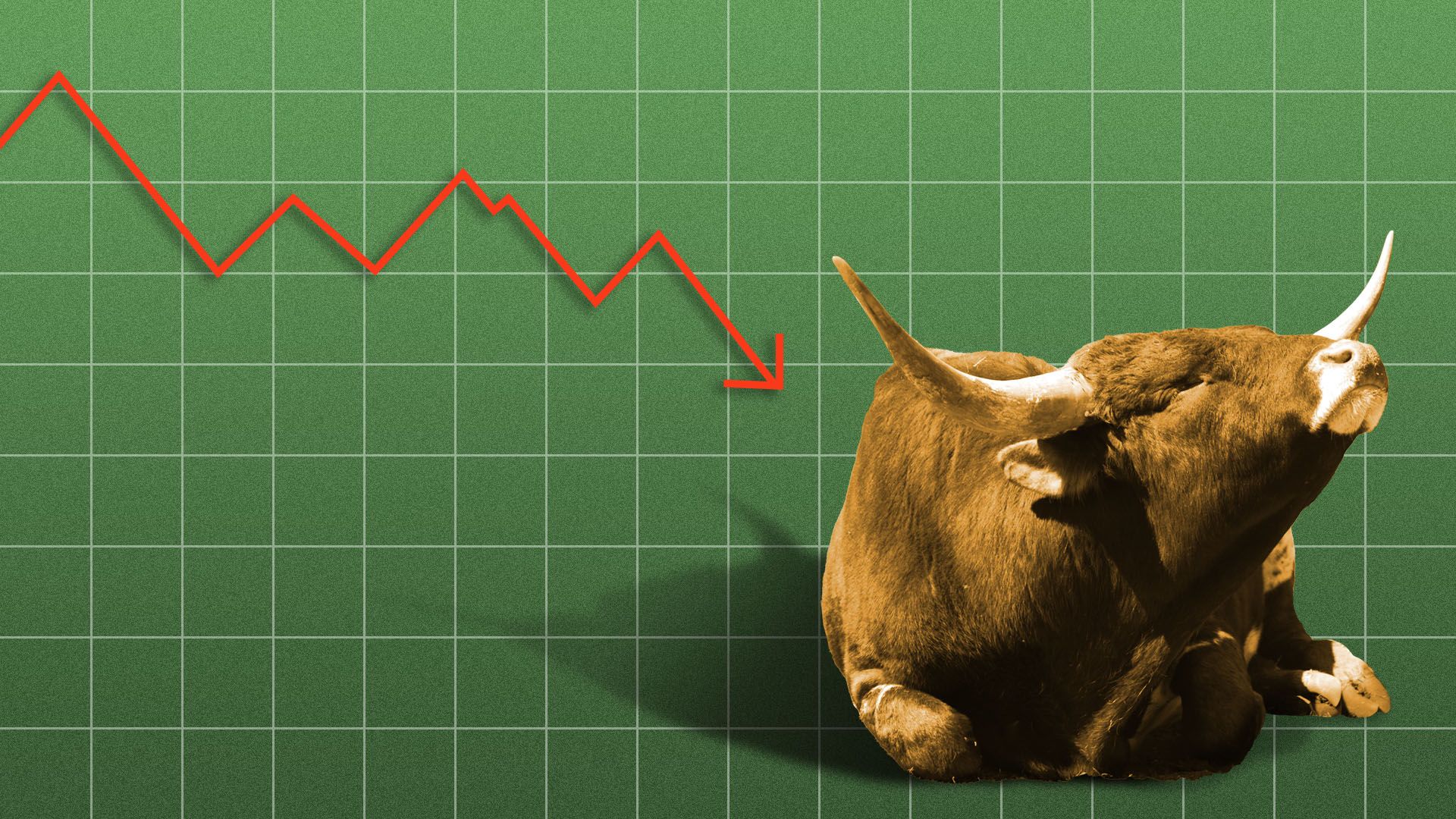 With Q3 earnings season nearly over, investors are cheering corporate earnings: even applauding companies that fall short of expectations or signal next quarter won't be as rosy as previously thought.
Why it matters: Investors' renewed optimism that's pushed stock prices to all-time highs is giving businesses more leeway than in the past.
Profits on a per-share basis are still on track to drop 1.2% year-over-year — though, as more reports come in, that figure has improved from initial estimates that had forecast as much as a 3% fall in earnings.
"Expectations were low for some of the sectors exposed to the overall economy and trade. Some of those fears have really subsided, creating a good quarter," James Ragan, an analyst at firm DA Davidson, told the WSJ.
By the numbers: S&P 500 companies reporting fatter profits than what analysts expected have seen average share prices pop 2.3% days before and after their report — above the five-year average of 1%, according to FactSet.
As for corporations that unexpectedly disappoint, those share prices have fallen an average of 1.5%, less than the 2.6% that stock prices have dropped on average in the past five years when companies missed estimates.
The bottom line: Investors' glee for just-OK earnings is a shift from the year-ago period. On-edge investors then weren't rewarding the slew of companies that exceeded analysts' profit expectations.
Those stocks saw no price change on average, while companies reporting worse news than expected saw an average price decrease of just 3.2% — way above the five-year average price decrease.
Bonus: Companies' low bar to clear
S&P 500 profit estimates have dropped heading into next year. The downgrades, per UBS, are no worse than normal.
What's going on: Analysts scaled back future earnings estimates for 288 of the 461 S&P 500 companies that have reported Q3 results so far.
What they're saying: "The companies report and they lower their guidance. And then the analysts take their estimates a little bit lower from there," Nick Raich, CEO of earnings research firm The Earnings Scout, tells Axios.
"So when the companies are set to report, it's a low bar to clear. It's all part of the earnings game."
2. Trump's pressure on the Fed isn't letting up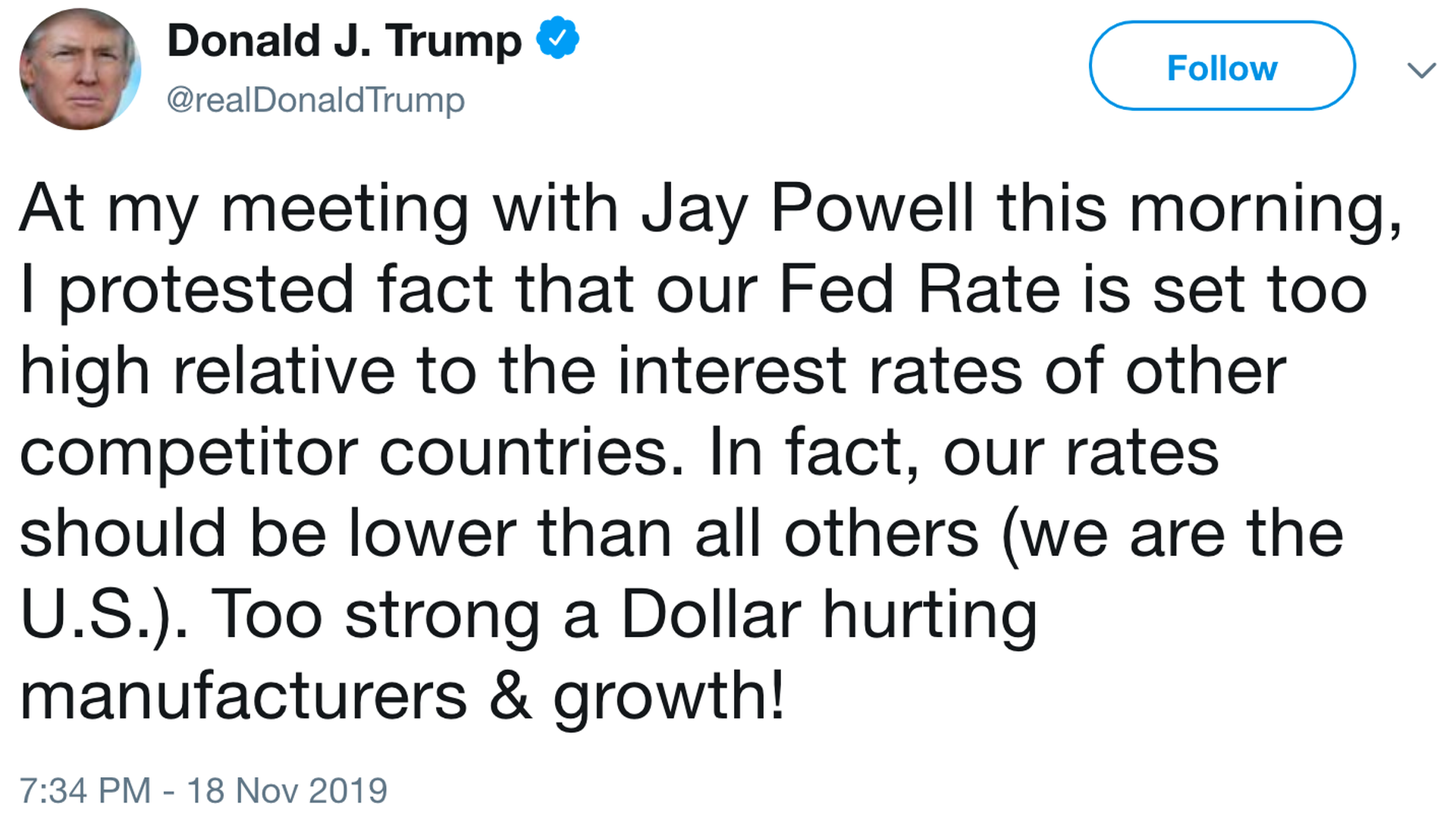 In a tweet last night, President Trump offered more pointed details about his meeting with Fed chair Jerome Powell and Treasury Secretary Steven Mnuchin on Monday at the White House.
Why it matters: Trump says the two men — who met for just the second time since Powell took the helm of the Fed — talked about a range of topics, including interest rates and monetary easing.
Contrast that to the Fed's statement, which noted Powell "did not discuss his expectations for monetary policy, except to stress that the path of policy will depend entirely on incoming information that bears on the outlook for the economy."
Powell, who's defended the Fed's political independence, told Trump that the FOMC sets monetary policy "based solely on careful, objective and non-political analysis," per the statement.
The bottom line: The economy was growing at a healthy clip when Trump initiated his attacks on the Fed. So while recession fears have retreated (for now) and the stock market has bounced back, it shouldn't be expected that Trump's public pressure on Powell will let up.
3. AmEx pays up to catch up
American Express is doling out as much as $450,000 to businesses in an effort to lure them to begin taking its cards, the Wall Street Journal reports.
Between the lines: "AmEx has long lagged behind Visa and Mastercard in the race for American businesses," as it opted for well-heeled customers rather than mass-market appeal, the story notes.
That strategy is changing as AmEx looks to make good on a promise to investors to catch up to its competitors — which have pulled in big spenders with generous rewards cards — by the end of this year.
As of 2018, "Visa and Mastercard were accepted in some 1.3 million more U.S. locations than AmEx, which had 10.3 million locations," according to the research from the Nilson Report cited by WSJ.
4. Private equity on defense in Washington
What's believed to be the first congressional hearing in recent years squarely focused on the practices of private equity firms is happening later this morning.
Why it matters: Private equity is facing "the most serious political challenge it has seen in years," per the WSJ.
What they're saying: Drew Maloney, the head of the American Investment Council, private equity's largest lobbying group, will tell members of the House Financial Committee the industry "creates jobs, powers the economy and strengthens the retirements of millions of Americans."
Former Toys "R" Us employee Giovanna de La Rosa will also testify about KKR and Bain Capital — the PE firms that owned the store prior to its bankruptcy.
5. Catch up quick
Bankrupt utility PG&E is reportedly near a $1.7 billion settlement with California regulators for its responsibility in sparking wildfires in 2017. (Bloomberg)
President Trump missed the deadline to put national security tariffs on cars and auto parts imported from the EU, Japan or South Korea. (Reuters)
California is suing Juul Labs for marketing vape products to teens and failing to warn consumers about the potential health risks associated with using its products. (Axios)
See you back here tomorrow.