Axios Markets
September 01, 2022
😢 Morning, Marketeers. Matt here. If I seem a bit verklempt, it's because my daughter is heading into her first day of kindergarten today. Send good vibes!
Here's the newsletter!
It's 1,161 words and 4.5 minutes, edited by Kate Marino.
1 big thing: "Groundbreaking" labor bill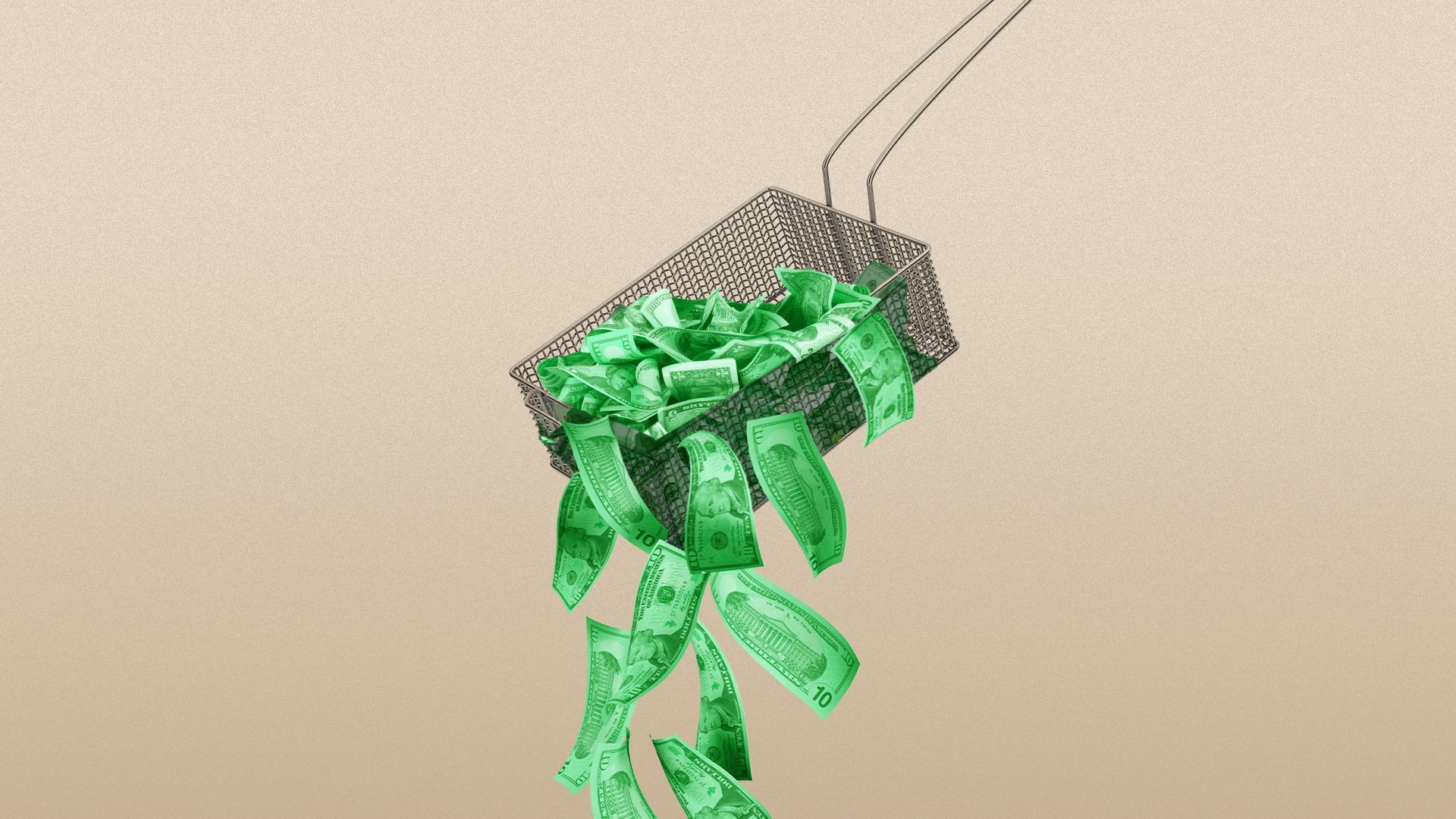 The California Senate this week passed a bill that could raise wages for fast-food workers as high as $22 per hour — and has the potential to revitalize the U.S. labor movement. Business groups are mounting fierce opposition, Emily writes.
Why it matters: The Fast Food Accountability and Standards Recovery Act signals a re-emergence of "sectoral bargaining," a once-popular and powerful union tactic in which workers from different companies in the same industry negotiate for pay together.
The strategy, still used in a few corners in the U.S., like for TV writers, is re-emerging in Europe, Australia and New Zealand.
The key difference in the new bill is that government also gets a seat at the negotiating table — labor advocates are calling it "groundbreaking."
State of play: If signed by Democratic governor Gavin Newsom — and industry is pushing him hard not to — the legislation could become a model for other states; already activists are looking to replicate it in New York and Illinois, the WSJ reports.
The bill would create a 10-person council to establish an industry-wide minimum wage, as well as health and safety standards.
Zoom out: The council established by the bill is different from a worker union — it would bring together four representatives from the ranks of workers and four from business (plus two from government). Any decisions will require at least six votes.
"In theory, it will be equally representative of both sides," says Matt Haller, president of trade group International Franchise Association (IFA).
Advocates have tried to organize fast food workers for years — mostly unsuccessfully in an industry with high turnover and workers spread out at individual stores.
So, the government's role here is pivotal, says David Madland, a senior fellow at the Center for American Progress. "The workers could never force the employers to the table without the government bringing them there."
But, but, but: Singling out the fast food sector is "totally arbitrary," the IFA's Haller tells Axios.
IFA argues that the bill could have devastating consequences for individual franchise owners — effectively small business owners — and set a dangerous precedent for other states.
The industry was able to get some provisions removed ahead of passage — including those that would have let the council establish sick leave standards or hold big brands accountable for health and safety in their franchises (a long simmering point of contention).
Labor advocates cheered the legislation: "Workers have won a seat at the table," said Mary Kay Henry, the president of the Service Employees International Union, which pushed for the legislation.
2. Catch up quick
3. A tale of two employment datasets
Maybe the 2020 recession wasn't as bad as we thought. That's the message being sent by the keenly awaited new ADP National Employment Report, Axios' Felix Salmon writes.
Why it matters: The monthly employment report from the Bureau of Labor Statistics is the gold standard measure used to understand the job market — alone in hitting the sweet spot between timeliness and accuracy. Now, payrolls services provider ADP hopes its new monthly report will rival the BLS release on both fronts.
The new data underscores economists' previous warnings that official BLS data at the height of the pandemic was less than reliable. But there's no way of telling whether ADP's numbers are any better than the ones coming from the U.S. government.
How it works: Instead of using survey data to measure employment — as the BLS does — ADP uses actual corporate payroll data that is less susceptible to the kind of survey errors that grew enormously during the pandemic.
The big picture: The BLS showed a massive drop in employment in early 2020, and then an ultra-fast recovery. ADP shows a much smaller fall — and then no real recovery until well into 2021.
The most recent datapoint for the ADP series, at 121 million private-sector workers, is almost exactly where the series stood at the end of February 2020, before the broad pandemic-related layoffs. That's in line with what we're seeing from the BLS report.
The bottom line: The new report will be of particular interest to corporate economists and regional Federal Reserve banks, because of the way it breaks its data down by region and industry.
It will be of much less interest to economists at banks and investment firms, however, who historically have been mostly interested in how useful the ADP report is in guiding expectations for the BLS report that comes out two days later. In that respect, ADP is being unhelpful by design.
Go deeper on the new ADP report: Payrolls slowdown may have arrived
4. The European gas market just got weirder
In the latest example of the seemingly absurd state of Europe's energy markets, natural gas prices plunged 30% this week — just as Russia officially cut off supplies, Matt writes.
Why it matters: The juxtaposition of cratering prices, just as Europe's biggest supplier of gas turns off the taps, underscores how Europe's market-based energy system has been fundamentally broken amid the fallout from Russia's invasion of Ukraine.
State of play: Last week prices rose an astonishing 40%. As of now, they're still more than 10 times higher than they were at the start of 2021.
Russia says the latest supply cut-off is for maintenance purposes. Few believe it. The pipeline has been running at just 20% capacity of late.
What's next: European regulators say they're going step in and take action, likely imposing some sort of price controls.
"The skyrocketing electricity prices are now exposing, for different reasons, the limitations of our current electricity market design. It was developed under completely different circumstances and for completely different purposes. It is no longer fit for purpose," European Commission President Ursula von der Leyen said in a speech this week.
She said the Commission is "now working on an emergency intervention and a structural reform of the electricity market."
5. ✈️ BZFD to LGA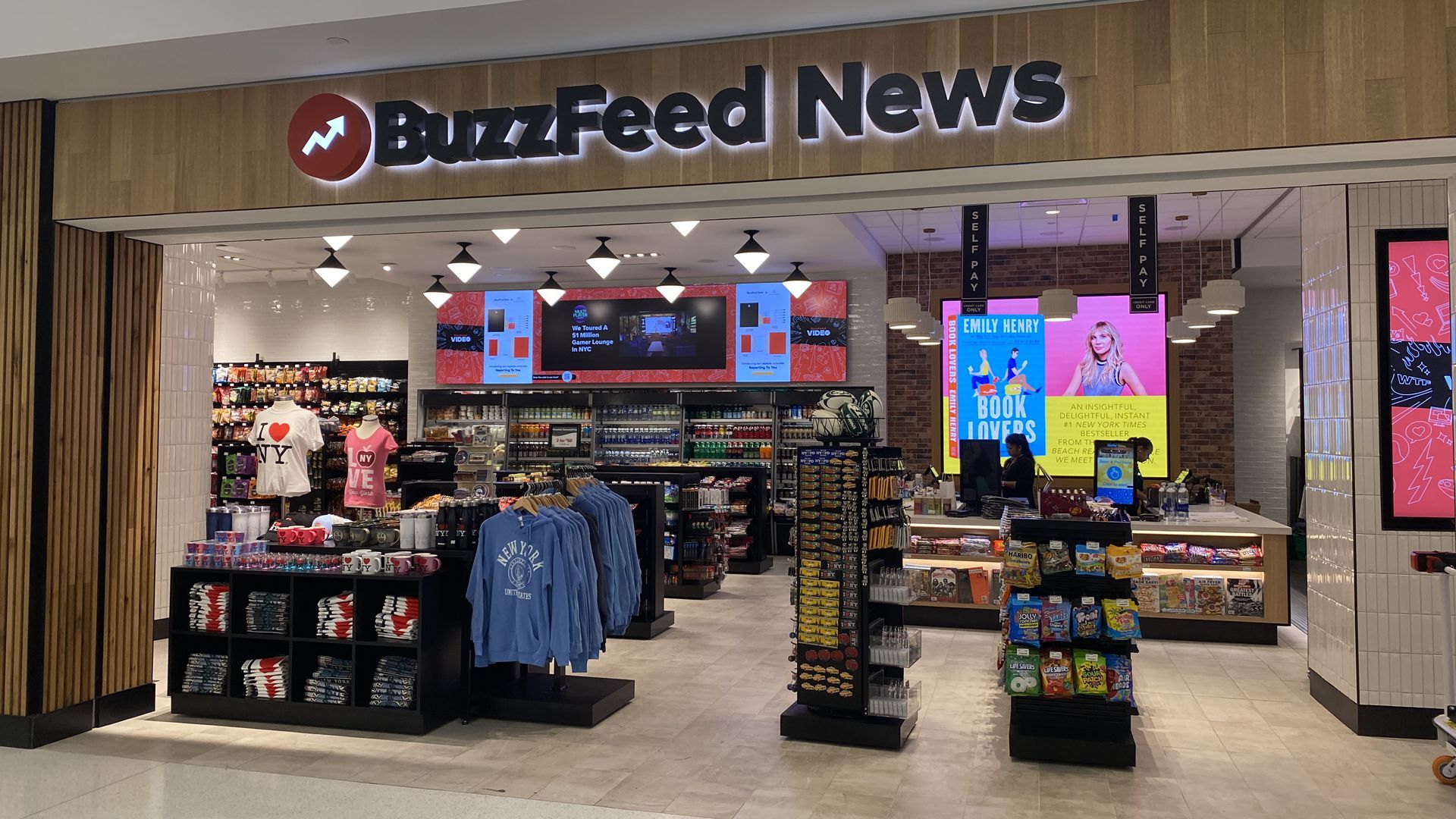 BuzzFeed's stock has been struggling since its disastrous public debut in December made it a poster child for the collapsing SPAC market, Axios Pro Media author Kerry Flynn writes.
The digital media company is now under pressure to boost revenue. One solution: retail!
Driving the news: At LaGuardia's new Terminal C last weekend, Kerry saw two airport stores labeled BuzzFeed News.
As it turns out, many of the items in these stores are curated by BuzzFeed, SVP of consumer products Melanie Summers tells Axios.
"We're going to be influencing this on a regular basis, [based] on what is trending," Summer says.
The stores also have QR codes that lead to Tasty recipes, BuzzFeed quizzes and other content.
The bottom line: Travelers can now be entertained by BuzzFeed not only on their phones — but also IRL. That may or may not help its stock price, which has languished at less than $2 since June.
1 thing Emily loves: Your emails. Many of you wrote in to affirm my love of the 1978 classic "Grease," and share some childhood faves of your own: "'Major League' and 'Home Alone' were LOL funny," writes Glenn Warshaw of Norman, OK, who was in single digits when those came out. "Parent Trap," was Shallott Guerin's favorite.
At least one vote came in for the sequel: " 'Grease 2'! " Jennifer in Rochester, N.Y., writes. "I remember trying to climb the side of the couch a la Michelle Pfeiffer singing 'Cool Rider' Oh and how I wanted one of those reversible pink/black jackets."
I might still want one, too.