Axios Markets
February 18, 2022
💃🕺 "It's Friday, it's Friday, tomorrow we party!" Emily here. They sing those delightful words in my daughter's elementary school and we're feeling it at Markets, too.
Programming note: We're off on Monday for Presidents Day.
Today's newsletter is 1,007 words, 4 minutes. Let's go.
1 big thing: Investors hog the American dream
Investors are draining an increasingly large share of American homes from the market, leaving traditional homebuyers with fewer options, at higher prices, Matt writes.
Why it matters: Homeownership is the single most important way Americans build wealth. Families are now increasingly facing off with cash-rich institutional investors bidding for houses, as they try to climb onto the property ladder.
Driving the news: The share of American homes sold to investors hit a record high of 18.4% in the fourth quarter of 2021, according to a recent report from real estate firm Redfin.
These investors bought roughly 80,000 homes worth $50 billion during the last three months of the year.
Worth noting: Investors are an especially heavy presence in markets that have seen some of the highest price spikes in the country.
In Las Vegas and Phoenix, where prices are were up 28% and 25% last year, investors bought roughly 30% of the houses sold in the fourth quarter, Redfin found.
What they're saying: "Ordinary folks are feeling the pinch," says Redfin economist Sheharyar Bokhari, who decided to research the role of investors after hearing anecdotes about individual house hunters increasingly losing out to them.
Context: The highly symbolic — politically sensitive — American housing market has transformed in the years since the financial crisis of 2008.
Large institutional investors have been pumping cash into a market that used to be highly localized and dominated by owner-occupiers and small-time landlords.
At the same time, a decade's dearth of homebuilding in the aftermath of the housing bust has created a structural shortage of houses.
State of play: Over the last two years, the pandemic triggered a home-buying boom amid record-low mortgage rates and house-bound families' desires for home offices and more space. Affordability has fallen sharply, as prices have surged.
What we're watching: Homebuilding. While the surge of investors into the market is adding to the strains on housing affordability, the fundamental problem is a shortage of supply, especially in the denser markets where the best jobs are.
Yes, but: These markets — often in the affluent, liberal-leaning suburbs surrounding big cities — are also the toughest ones in which to build, amid restrictive zoning and endemic NIMBYism.
2. Catch up quick
3. Charted: Tim Cook's performance review
How much is too much when it comes to CEO compensation? Emily asks while staring at her bank statement.
Apple wants to award CEO Tim Cook a $99 million pay package — but shareholder advisory firm ISS this week recommended a "no" vote.
State of play: ISS says the package is too much — triple the peer median pay — and that it does little to help with retention as much of it is stock that'll be earned in retirement no matter what.
Another advisory firm, Glass Lewis, approved the comp package.
Reality check: Shareholders will likely ignore the recommendation, Daniel Ives, managing director at Wedbush Securities, tells Axios.
The big picture: Shareholders need Cook, says Ives. The last thing they want is to make him unhappy.
Without him, Apple's share price would sink. "Cook's worth $500-600 million in stock," he says, pointing to the company's meteoric share price.
"Compare what Cook's done to the disaster of Zuckerberg and to other CEOs of similar stature," Ives added, referencing Mark Zuckerberg of Meta, whose shares recently plummeted. "The success of Apple is unparalleled."
4. Stablecoin surge drives merger revision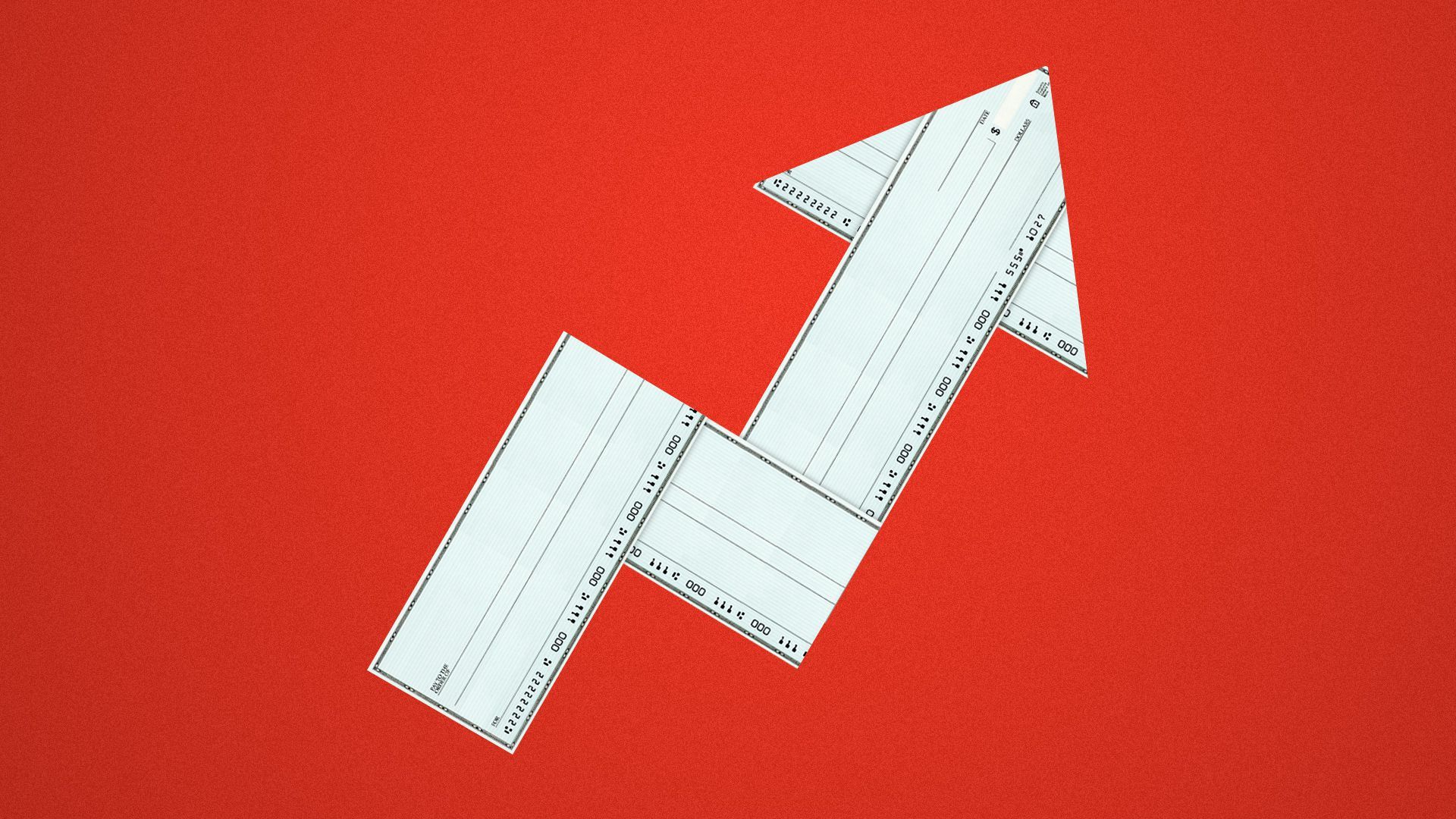 You don't see this every day: A SPAC buyer just revised a deal with its target company, doubling the latter's valuation, Matt writes.
Stablecoin issuer Circle inked a new merger agreement with Concord Acquisition Corp., the SPAC it agreed to combine with last July. The new deal values Circle at $9 billion — compared to $4.5 billion under the original terms.
Why it matters: The fact that Circle was able to get better terms reflects just how quickly the market for stablecoins has been growing.
Circle says the circulation of its main stablecoin, USDC, has grown to $52.5 billion — more than double what it was when the original deal was announced.
Of note: The deal termination date, April 3, was fast approaching and the merger wasn't on course to close by then, the company said. The new terms mean a fresh clock starts ticking.
What we're watching: The surging growth of stablecoins. The tokens are used as stores of value on crypto trading platforms and are supposed to be redeemable in dollars.
Go deeper on this story with Fintech Deals, one of our new Axios Pro newsletters. And start your 14-day free trial.
5. Pay so good, you can see through it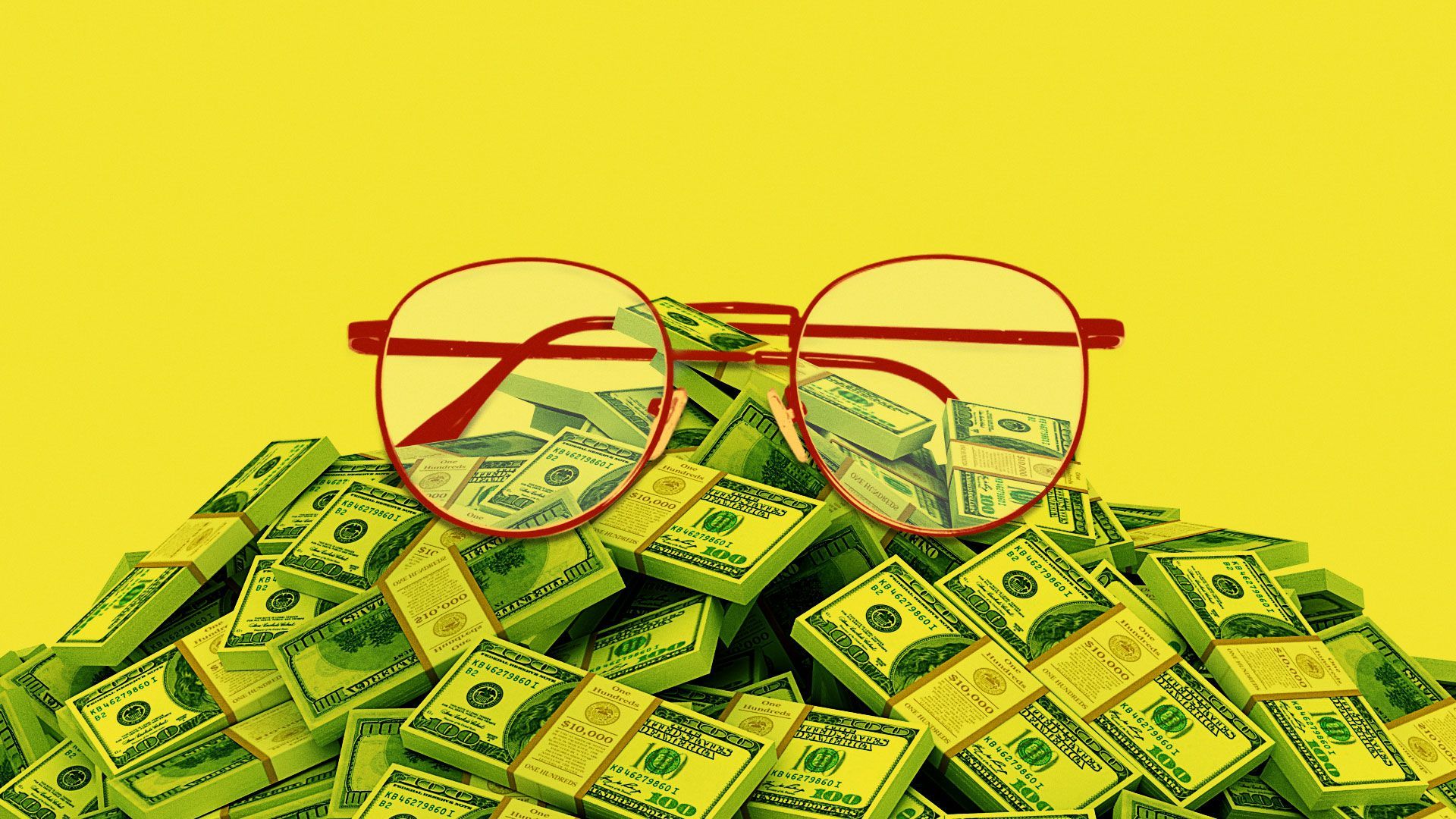 Good markets are transparent markets, right? Well, the job market has always been pretty opaque. Candidates often don't know how much a company can pay, putting them at a disadvantage in any salary negotiation, Emily writes.
That's changing. Transparency laws that require employers to post pay ranges for open positions are becoming more popular, seen by equal pay advocates as a key policy in closing racial and gender pay gaps.
Driving the news: A Democratic state senator in California introduced a bill yesterday that would require employers to disclose salary ranges for open positions, and publicly report employee and contractor pay data.
A similar law went into effect in Colorado last year and is about to take effect in New York City in May.
California already requires employers to disclose salary ranges, but only if asked by a prospective candidate.
Requiring companies to report how much they pay contractors, broken out by race and gender, could be a game-changer at Big Tech companies in the state. They employ a lot of contractors — typically they're lower-paid and nonwhite.
The bottom line: The rise of remote work means that local laws, particularly coming from places like NYC and California, can have national implications.