Axios Markets
January 11, 2023
Good morning and welcome. Today we're talking about inflation, credit cards, Treasury bills and more.
This is a rare piece of media content with no coverage of Prince Harry. Does the monarchy matter to markets? Reply to this email and tell us.
✈️ Situational awareness: FAA computer outage sparks flight delays across U.S. (Axios)
Today's newsletter is 1,117 words, 4.5 minutes.
1 big thing: The Fed's got company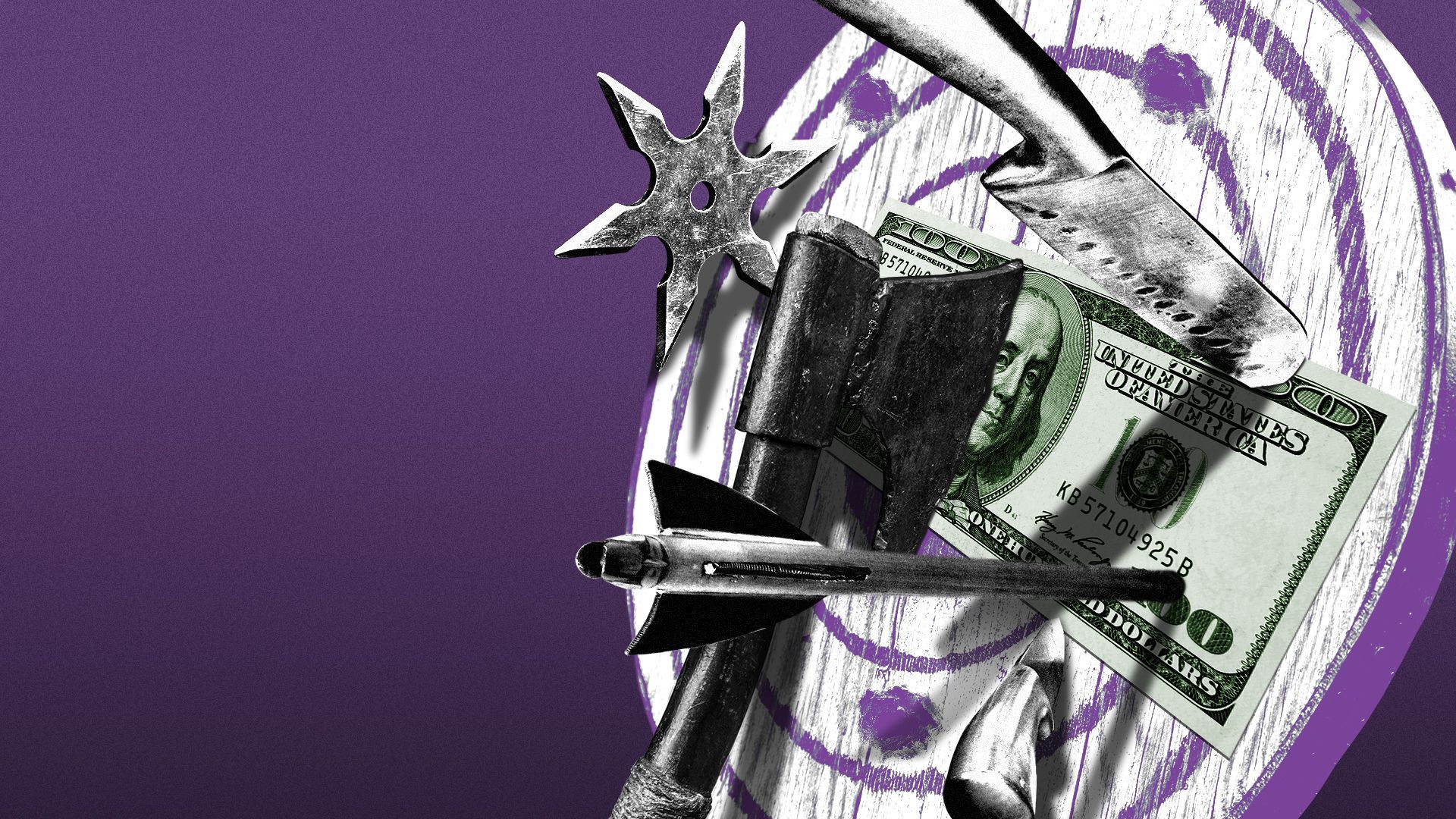 Policymakers and economists are finding that when it comes to fighting rising prices, it takes a village. The Federal Reserve's interest rate hikes aren't the only game in town, Emily writes.
Why it matters: The latest inflation numbers are due out tomorrow, and analysts believe they'll show that the rate of price growth slowed further in December — but the story of how the economy got to this point isn't just about Fed chair Jerome Powell. It's as complicated as inflation itself.
The big picture: The last time inflation ran hot in the U.S. decades ago, the Fed famously hiked rates hard, triggering double-digit unemployment.
The Fed is using that same strategy now — but it's not working alone. The Biden administration and some European governments also flipped key policy levers, particularly around energy — a major inflation driver.
Details: The White House helped push gas prices lower through its use of the Strategic Petroleum Reserve, as Axios' Matt Phillips has reported. The White House is also trying to spur more oil production in other ways.
Meanwhile, the German government late last year passed measures to cap energy prices in the country. Starting this month, every household and business gets a certain amount of gas and electricity — up to 80% of past usage — at a below-market price.
The idea is to help people pay their bills without increasing the demand for energy, which would push up prices.
What they're saying: "It's not enough to simply raise interest rates and push down the whole economy, you have to start thinking about measures that target the sectors that are important for inflation," says Isabella Weber, an economist at the University of Massachusetts, Amherst, who published a working paper on the topic and worked with the German government on its energy price policy.
Weber tells Axios that if governments can figure out ways to manage price shocks in these sectors, then they can avert, or get ahead of, future inflation — so the drastic measure of triggering a recession can be avoided.
Of note: Even the White House's handling of the potential rail strike last year was done with an eye toward managing inflation, says Claudia Sahm, a former Federal Reserve economist.
A strike's impact on trade and supply chains would have certainly been inflationary, she says. So the pro-labor White House walked "a tightrope," forcing workers to accept a deal that wasn't satisfactory to many workers and their advocates.
Plus: Fiscal spending in the form of big cash transfers to Americans, of the sort we saw in 2020 and 2021, isn't a thing anymore. Lawmakers on both sides are wary of contributing to inflation.
The bottom line: "We all want simple stories. We want something to just be the magic bullet and be done with those," says Sahm. "That's never true in life. And it's certainly not true in a $20 trillion economy."
2. Catch up quick
3. Credit card rate record
Costs for Americans to finance their purchases on credit cards touched the highest level on record, according to government data stretching back to the early 1970s, Matt writes.
Why it matters: With prices rising, Americans have been putting more on credit cards, and they're paying out the nose for the privilege.
Driving the news: The Federal Reserve's most recent report on costs of consumer credit showed average interest rates on bank-issued credit cards touching 19.1% in the fourth quarter.
That beats the previous record high — 18.9% — set in the first quarter of 1985.
The intrigue: While it might seem like an indicator that households are under serious financial stress, most other readings on the health of American households seem more or less fine.
Delinquencies on credit cards, while rising, are quite low.
Household debt as a share of gross domestic product is also pretty low.
Most importantly, unemployment is low, at 3.5% in December.
What we're watching: What banks have to say about the outlook for rising delinquencies and defaults among consumers this year when they start reporting quarterly earnings later this week.
4. Move aside, meme stocks
Treasury bill yields have risen so far, so fast, that they are now far above the yields that most Americans are getting on their savings or money market accounts. Public, an online brokerage, has decided to take advantage of that fact by offering a new account just for T-bills, Axios' Felix Salmon writes.
Why it matters: The new account is being marketed as a higher-yielding alternative to interest-bearing bank accounts. So long as the Fed keeps interest rates relatively high, parking your money in T-bills looks very attractive, as Matt wrote about last year.
Background: While it's easy to use investing apps to buy stocks, it's often hard or impossible to use them to buy and sell bonds. Bond ETFs exist, but they charge fees and sometimes have suboptimal tax treatment for investors who hold while others are selling. Selling bonds bought on the U.S. government's own website is clunky.
Public is changing that by partnering with the Bank of New York Mellon to offer six-month T-bills directly to investors, with no fee. When they mature, they're automatically reinvested at the next Treasury auction, giving depositors the best possible price.
Public users can also sell T-bills at any time.
Between the lines: At launch, Public is only offering six-month T-bills, which just happen to be the highest-yielding Treasury securities that exist. The eye-grabbing headline 4.8% interest rate acts as a great marketing device.
"We're aiming at the same flexibility as a high-yield savings account, but with even higher yield," Public CEO Jannick Malling tells Axios.
The catch: This isn't a bank account. If you want to pay someone, you still need to sell the securities in the account and transfer the money to your bank before being able to do so.
The bottom line: We've come a long way from the meme-stock frenzy of early 2021. T-bills won't get you rich quick, but they might get you a bit richer while being totally risk-free.
5. Student loan revamp, revamp
"Today, we're making a new promise to today's borrowers and for generations to come: Your student loan payments will be affordable,"
— Miguel Cardona, secretary of Education, in a call with reporters Tuesday.
What's happening: A new student loan payment proposal unveiled by the Department of Education yesterday would lower or completely pause monthly payments for some Americans, based on their incomes, Axios' Jacob Knutson writes.
The proposal drops as the administration's separate loan forgiveness plan is on hold, awaiting legal review.
Go deeper: Biden administration proposes revamped student loan repayment plan.
Was this email forwarded to you? Sign up here to get Axios Markets in your inbox.
Today's newsletter was edited by Kate Marino and copy edited by Mickey Meece.