Good morning. Was this email forwarded to you? Sign up here. (Today's Smart Brevity count: 1,160 words, < 5 minutes.)
"In wine there is wisdom, in beer there is freedom, and in water there is bacteria." - See who said it and why it matters at the bottom.
1 big thing: The end of Trump's manufacturing renaissance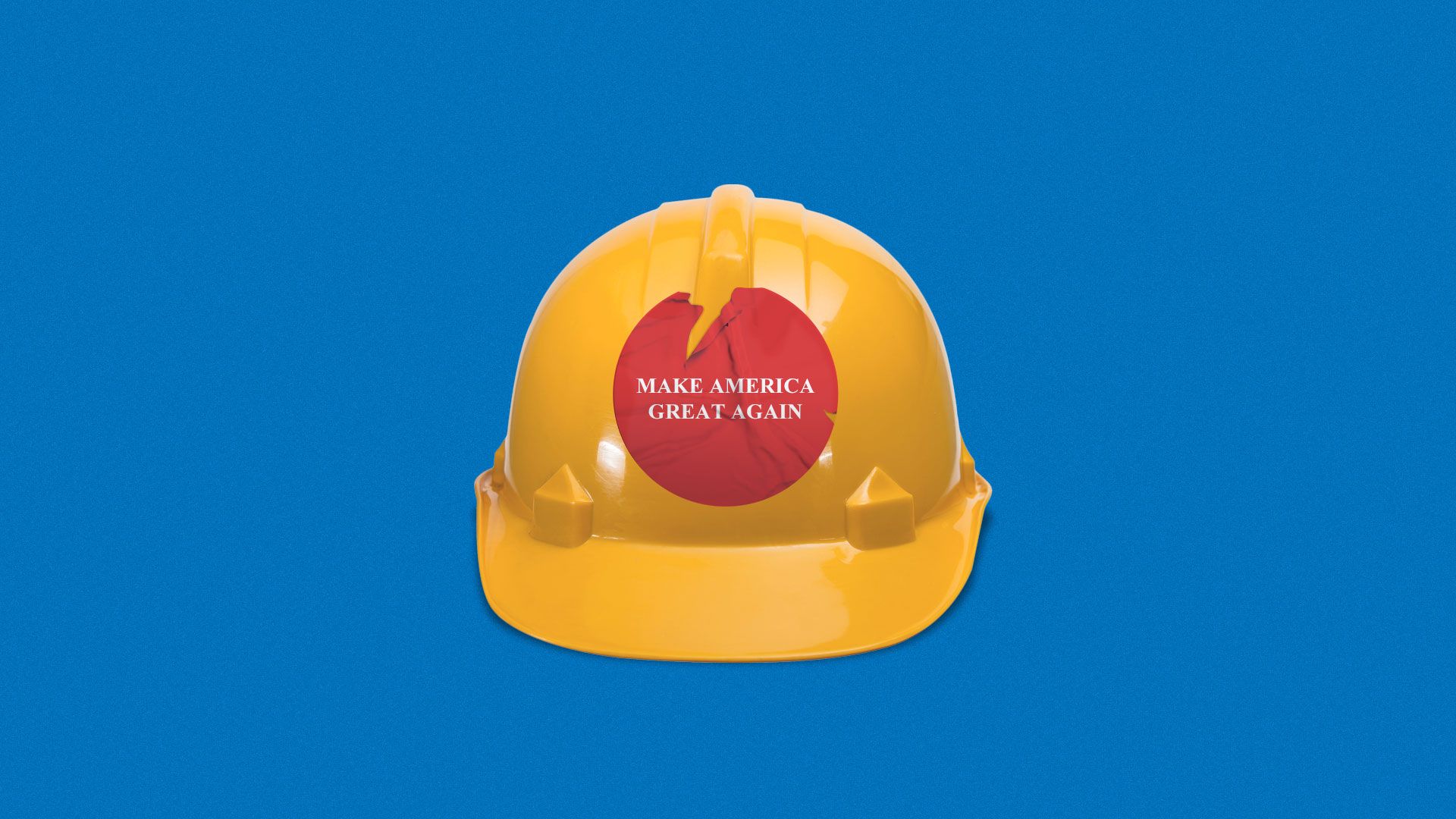 The manufacturing industry got a huge boost from President Trump's election, seeing a groundswell of job gains during his first year in office. But the trade war with China has undone that progress: Jobs in the sector have stalled out and turned negative in 2019.
Why it matters: Reviving American manufacturing was a central tenet of Trump's 2016 campaign, and the industry's retrenchment shows how another Trump constituency is now being punished as a result of his trade war. (The nation's farmers are also struggling mightily.)
By the numbers: In Trump's first 30 months as president, manufacturers added 499,000 jobs, some 314,000 more than were added in President Obama's last 30 months on the job — a 170% increase.
That seemed to put Trump in position to fulfill a central campaign promise to "bring back" manufacturing jobs in the U.S. — jobs that Obama said would never return.
Yes, but: That progress has evaporated this year. Manufacturing employment has slowed, and in October employers cut jobs in the sector by the highest number in a decade.
October's purge was blamed largely on striking auto workers, but it followed a clear trend in the industry.
Over the last six months, manufacturing has lost a net 23,000 jobs and average hours worked has fallen to its lowest level in eight years, according to BLS data.
The number of people employed in the sector also remains well below where it was in 2008.
What's happening: "Our plan is to try to hold on until the end of the year without raising prices," says Gary Yacoubian, CEO of speaker company SVS Sound, based in Youngstown, Ohio.
"If the tariffs remain, I'm going to have to start making moves," Yacoubian tells Axios.
"Meaning: The consumer will pay, and I'll pay, and then employees will pay, if we don't grow according to plan."
What's next: Things will likely get worse before they get better, Joe Brusuelas, chief economist at tax and consulting firm RSM, tells Axios.
More companies are starting to face higher costs from tariffs, and those that have already been affected are starting to cut back hours and lay off workers to compensate for their losses.
"In order to bolster the economy [the administration] will need to roll back those tariffs," Brusuelas says. "And that's a difficult pill to swallow for Mr. Trump and his followers."
Bonus: Losing hours
While sentiment indicators have been split, the jobs data and reports from businesses are painting a clear picture of the U.S. manufacturing industry's stress.
What they're saying: Timothy Fiore, chairman of the ISM survey committee, which tracks the sector through its purchasing managers index, said his report may be underestimating the damage. (His company's latest report showed manufacturing contracting for the fourth straight month.)
"I think a lot the [layoffs] are flying under the radar — no one wants to impact consumer sentiment, no one wants to announce cuts around Christmas," Fiore told Barron's last month.
"People are dropping shifts, canceling overtime, sending temporary workers home."
Double bonus: Losing jobs
The Federal Reserve's latest Beige Book, which tracks businesses around the country, has a recurring theme.
"Several retailers reported that tariffs were raising costs and hurting profit margins," the Fed's Richmond office reported.
"Uncertainty generally remained elevated, driven by trade tensions, the political climate, and weaker global growth," the Dallas Fed noted.
"Business contacts in retail and manufacturing reported facing increased price pressures due to tariffs," the St. Louis Fed found.
2. Catch up quick
House Speaker Nancy Pelosi is pushing to remove a so-called liability shield for online content in the revised trade agreement between the U.S., Mexico and Canada, potentially holding up the deal. (WSJ)
Private-sector employers added 67,000 new jobs in November, the slowest pace of jobs growth since May and about 90,000 less than expected. (ADP)
Chinese telecom giant Huawei is suing the FCC for cutting off its sales in the U.S., saying the commission has no evidence it is a security threat. (N.Y. Times)
"Given the high valuations I see, plus these divergences between many different indices, I am aware that many bull markets have ended with a rally similar to what we have seen since August," says Ned Davis, founder of Ned Davis Research. (CNBC)
3. The U.S. services sector is holding on
Manufacturing has been in a tailspin for much of the year, but it represents a scant fraction of American jobs. What economists and fund managers are really concerned about is the services sector, which makes up around 70% of U.S. employment.
Driving the news: ISM's non-manufacturing PMI report released Wednesday showed a weaker-than-expected reading that was 5.4 points below October, but continued to expand with a reading above 50. It was the 124th consecutive month the index has shown growth.
Why it matters: Unlike the manufacturing sector, services data has disappointed but has yet to fall into contraction in the U.S. and much of the rest of the industrialized world.
4. There may soon be only huge hedge funds left
Bad news has continued for the hedge fund industry this year. Overall hedge fund returns have continued to trail both the S&P 500 and a mix of 50% global stocks and 50% global bonds by a wide margin.
What's happening: There are too many hedge funds, and too many of them are using simple hedging and shorting strategies that don't work, Dev Kantesaria, founder and portfolio manager of Valley Forge Capital Management, argues. And that may be changing soon.
What we're hearing: "Hedge funds have a troubled future," Kantesaria tells Axios in an email. "The idea of controlling risk through financial engineering such as hedging and shorting is a broken model."
That was especially clear during the fourth quarter of 2018 when hedge funds broadly failed to deliver outperformance during the stock market's downturn, he says.
What's next: Kantesaria isn't calling for a full-on wipe out of the industry, but does expect new managers will increasingly be crowded out as dollars flow only to the largest hedge funds, or "those with $1 billion or more in assets, despite mediocre performance over the last decade," he says.
"There is a natural tendency for allocators to invest with the larger, well-known names even though they may represent less compelling stories than their smaller peers."
"Emerging managers are struggling to capture allocators' attention in the crowded marketplace. Starting a hedge fund today as an unknown investor is a very difficult proposition."
5. Competition is getting fierce in food delivery
Food delivery apps look to have found a sweet spot as data shows more than a quarter (27%) of Americans spend up to $50 each month on delivery.
The big picture: Competition among delivery companies is getting serious as more sign exclusive agreements with restaurants, closing the door on competition.
What's happening: The number of Americans considering DoorDash has doubled since the beginning of the year, according to data from YouGov provided first to Axios. Americans' awareness of DoorDash also has shot up dramatically this year from 35% in January to 63% in December.
That's been largely due to a $400 million investment from venture capital investors and the purchase of rival Caviar, which has allowed DoorDash to spend aggressively on ad campaigns and pursue exclusive delivery rights with The Cheesecake Factory, Chili's, Wendy's and Chipotle, among others.
Still, Uber Eats remains the dominant player when looking at which services Americans say they'd consider, while Grubhub still has the highest BrandIndex Awareness score, YouGov finds.
On the other side: Only around 2% of survey respondents said they would consider using Delivery.com, and just 5% said they would try Postmates.
Founding Father Benjamin Franklin said the wise words at the top of the newsletter. For a time, American leaders forgot his wisdom and banned the sale of alcohol with the 18th Amendment to the Constitution.
But on Dec. 5, 1933, the 21st Amendment was ratified, allowing alcohol once again to flow freely through the United States.