Axios Markets
March 24, 2021
Happy hump day! Was this email forwarded to you? Sign up here. (Today's Smart Brevity count: 1,059 words, 4 minutes.)
Situational awareness: A giant container ship has gotten stuck in the Suez canal, completely blocking off one of the world's busiest maritime trade routes. Eight ships are now trying to free it. (Reuters)
🎙 "I see that it is by no means useless to travel, if a man wants to see something new." - See who said it and why it matters at the bottom.
1 big thing: A majority of investors now say the market is "rigged"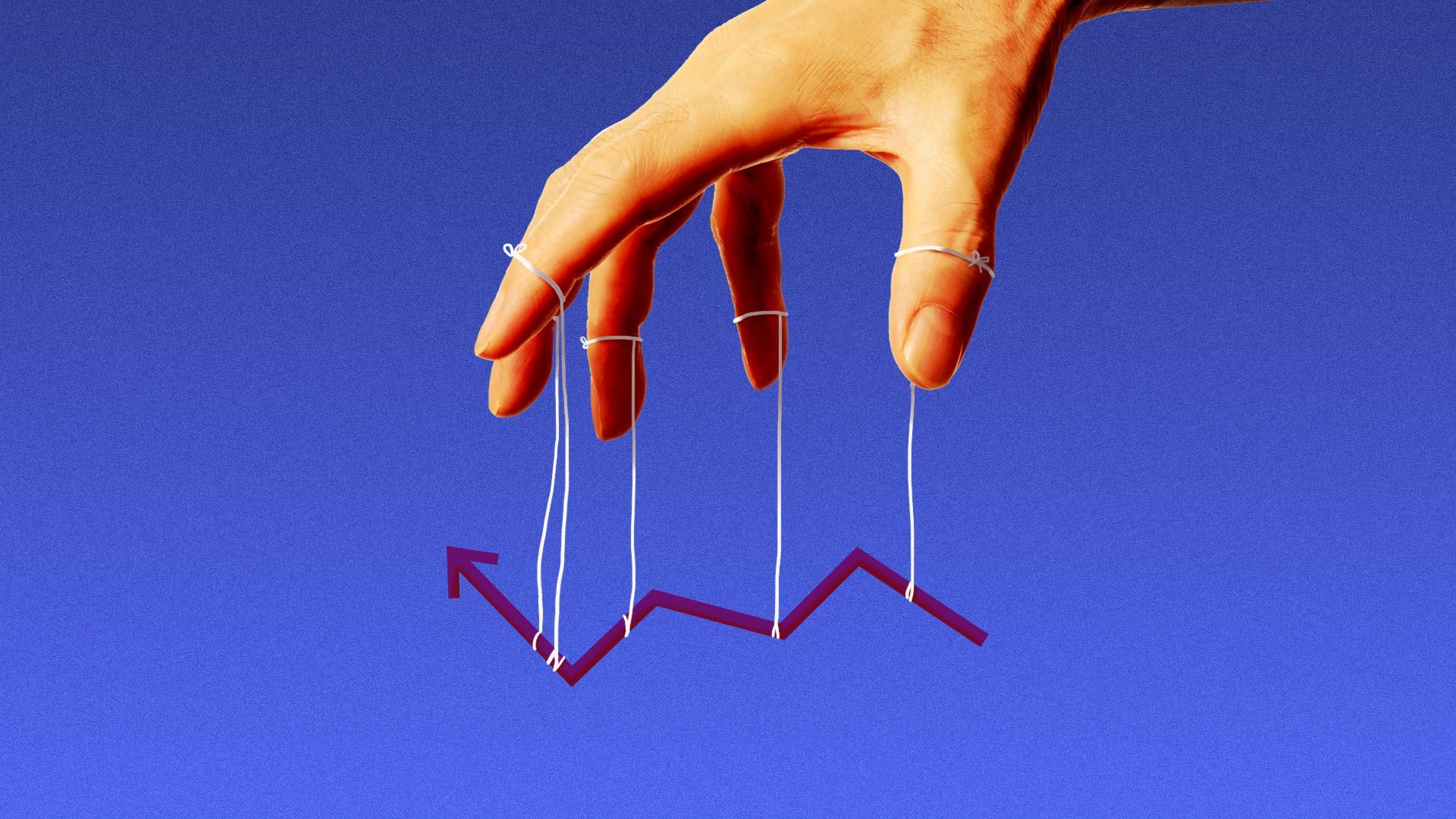 Nearly 50% of Americans now say the stock market is "rigged against individual investors," a new survey from Bankrate.com and YouGov shows, and surprisingly a solid majority of those investing in the stock market (56%) believe the market is rigged as well.
Why it matters: Underlying the results is "widening wealth inequality where young people in particular just may not have a sense of hope or fairness in the markets," Greg McBride, Bankrate.com's chief financial analyst, tells Axios.
"This recession, even more so than most recessions, has widened the gap between the haves and the have-nots, and the recovery that we're seeing is very much a K-shaped recovery; the fortunes of some are worse than ever, the fortunes of others are better than ever."
In addition to the growing wealth inequality seen since last March, people are also talking much more about the subject, says former Federal Reserve economist Vincent Reinhart.
"If we're talking more about wealth inequality it wouldn't be surprising that that conversation included, 'What is it about the system that prevents a more equal distribution of wealth?'" Reinhart, now chief economist at Mellon, a subsidiary of $2 trillion asset manager BNY Mellon, tells Axios.
"One part of it is if you start with a pool of wealth you have something to accumulate wealth upon. If you start without one [then] you don't."
Details: Just 13% of those surveyed (more than 2,500 U.S. adults, weighted by quotas to provide a nationally representative sample) disagreed with the idea that the stock market is rigged against individual investors, and just 5% strongly disagreed.
Between the lines: Those with higher levels of education were most likely to agree that the stock market was rigged, with 58% of those with a college degree or more saying the fix was in against mom and pop investors.
Americans with higher incomes also were more likely to agree — 53% of those from households with income of $50,000 or more annually said the market was rigged.
Of note: The survey's respondents are largely individual investors, not institutional or professional asset managers.
Watch this space: "One negative consequence is that … you see a lot of risk-taking behavior," McBride says.
"Certainly the GameStop frenzy over the last couple months, particularly in late January, the notion of squeezing the hedge funds or other institutional investors."
"That idea of individual investors banding together to go up against whoever they perceive as the villain, I think that could likely be a consequence of that sentiment."
Bonus chart: GameStop earnings
GameStop shares responded to big misses on both the top and bottom lines in its latest earnings report just as one should expect — jumping 8.4% following the report's release after market close and then cratering by 21.8%.
By the numbers: The company reported revenue of $2.12 billion for the fourth quarter versus $2.21 billion expected, and adjusted earnings of $1.34 per share versus estimates of $1.43.
Global e-commerce sales increased 175% to represent 34% of net sales, up from 12% in the fiscal fourth quarter of 2019.
Of note: GameStop is still suspending guidance.
State of play: In a separate announcement the company said former Amazon director and general manager Jenna Owens will be its next chief operating officer.
GameStop also said chief customer officer Frank Hamlin will be stepping down, another major C-suite departure since Chewy co-founder Ryan Cohen joined the board of directors in January.
No cap: The Bankrate survey found that those who identified as Reddit users were more than twice as likely to be investing more compared to before the coronavirus pandemic than investing less (23% vs. 10%, respectively).
2. Catch up quick
Eurozone manufacturing and services PMIs jumped this month, according to IHS Markit, rising for the first time in six months. (Bloomberg)
House Speaker Nancy Pelosi said Democrats are considering adding a provision to upcoming infrastructure legislation that would allow the government to negotiate drug prices. (The Hill)
Robinhood said it filed confidentially for an IPO with the SEC. (Bloomberg)
China's foreign ministry spokesperson condemned sanctions imposed by the U.S., Canada, Britain and the EU over human rights violations in Xinjiang, warning "they will have to pay a price for their ignorance and arrogance." (Xinhua)
3. Almost half of small businesses fear closing before end of Q2
Half of all women-owned businesses and nearly 6 in 10 small businesses owned by people of color (59%) are "highly concerned" about keeping their firms solvent through the end of the second quarter, a new survey from Alignable shows.
The big picture: Almost half of all businesses (45%) said they were "highly concerned" about their ability to keep the lights on, including close to two-thirds of all beauty salons (63%) and caterers (63%).
An additional 30% of all small business owners in the survey said they were "somewhat concerned," meaning 75% of the 5,306 small business owners who took Alignable's poll are concerned.
Details: 41% of all small business owners say they only have one month or less of cash reserves (up from 32% in February).
49% were not able to pay March rent (up from 38% last month).
74% report significant problems receiving their PPP funds, while only 26% say the PPP provided their loans quickly and easily.
4. New home sales hit 9-month low
New home sales fell 18.2% in February to the lowest in nine months, but prices streaked to their highest level ever. The average new American home now costs $349,400, as the median new home prices rose 5.3% from a year ago.
Why it matters: It's the latest piece of data showing the housing market continues to struggle in 2021, slowing its torrid pace from 2020.
Yes, but: Economists cite unseasonably cold weather in February as an explanation for the weak data and they have a point.
The average contiguous U.S. temperature during February was 30.6 degrees, 3.2 degrees below the 20th-century average. This ranked as the 19th coldest February in the 127-year period of record, according to the National Centers for Environmental Information.
February 2021 was the coldest February in the U.S. in more than 30 years, according to a National Oceanic and Atmospheric Administration report.
What's happening: "Rising mortgage rates will likely soften homebuyer demand modestly, while homebuilder constraints, including the ongoing high prices of lumber and other materials, will likely dampen the supply of new homes," Doug Duncan, chief economist at Fannie Mae, told Reuters.
"However, underlying demand remains strong. The extremely tight supply of existing homes for sale may encourage more homebuyers to turn to new home purchases."
5. Trump more than doubled U.S. current account deficit
The U.S. current account deficit, the difference between what goods, services and investments Americans are buying from other countries versus what they are selling, jumped to $188.5 billion in the fourth quarter.
That was the largest shortfall since 2007.
Keeping score: Former President Trump cited the large U.S. current account deficit as a primary justification for the trade war with China.
The deficit more than doubled from $83.9 billion when Trump took office in the first quarter of 2017.
Even prior to the pandemic, the current account deficit had risen notably, touching $114.6 billion in the first quarter of 2020.
Thanks for reading!
Quote: "I see that it is by no means useless to travel, if a man wants to see something new."
Why it matters: On March 24, 1905, French novelist Jules Verne, author of "Around the World in 80 Days," died.