April 10, 2019
Was this email forwarded to you? Sign up here.
Situational awareness:
Uber is looking to sell about $10 billion of stock in its IPO, with the offering expected to be the largest U.S. debut this year and among the 10 biggest tech IPOs of all time. (Reuters)
A new lawsuit accuses Boeing of defrauding shareholders by concealing safety flaws in its 737 MAX jets before 2 fatal crashes led to their grounding at airports around the world. (Reuters)
Mobile phone shipments to China dropped 6% last month, pointing to "continued pressure on the likes of Apple" as China's economy slows. (Reuters)
1 big thing: The global economy's "delicate moment"
The IMF lowered its growth forecast yesterday for the third time in 6 months to its lowest projection since the financial crisis.
Why it matters: It's a stark reversal from the "synchronized global growth" theme the IMF had jubilantly welcomed just 2 years ago and even a departure from last year's wistful optimism.
"A year ago, economic activity was accelerating in almost all regions of the world. One year later, much has changed," Gita Gopinath, IMF's economic counselor and director of research, said at a press conference on Tuesday. "This is a delicate moment for the global economy."
The big picture: IMF officials had been sounding the alarm ahead of the group's annual meetings in Washington this week.
"Only 2 years ago, 75% of the global economy experienced an upswing. For this year, we expect 70% of the global economy to experience a slowdown in growth," IMF managing director Christine Lagarde said last week in a speech to the U.S. Chamber of Commerce (emphasis hers).
"A year ago, I said, 'the sun is shining — fix the roof.' Six months ago, I pointed to clouds of risk on the horizon. Today, the weather is increasingly 'unsettled.'"
Yes, but: Lagarde and Gopinath have made a point to say that they don't see a recession in the near term, and they expect growth to pick up in late 2019 and in 2020.
Yes, but, but: The IMF's rosy future economic projections rely on politicians avoiding "costly policy mistakes" and working cooperatively. Globally, politicians have been doing just the opposite.
Further, as Gopinath noted, much of the stability in global economies from East Asia to North America has been the result of "significant monetary policy accommodation" by central banks — stimulating the economy artificially with cheap money.
Watch this space: Asked by Axios during Tuesday's press conference how the IMF factors growing political dysfunction and the fact that central banks this year have had to add more stimulus rather than begin normalizing interest rate policy, Gopinath dodged.
"It is indeed the case that we have to look forward and see how this plays out," she said.
Bonus: Ugly optimism
The IMF's prediction of 3.3% global growth in 2019 still relies on a lot of optimistic assumptions.
"If the downside risks do not materialize and the policy support put in place is effective, global growth should rebound," said IMF's Gita Gopinath.
"If, however, any of the major risks materialize, then the expected recoveries in stressed economies, export-dependent economies, and highly-indebted economies may be derailed. In that case, policymakers will need to adjust."
The 3.3% estimate is down from estimates of 3.5% in January and 3.7% in October. All of the world's developed economies, including the U.S., and most major emerging-market economies saw a write-down in their outlook.
"It is important to keep in mind that we still live in an environment with high levels of public and private sector debt, so there are financial vulnerabilities that are still there and still building up," Gopinath added.
2. Why Sony may sell to Daniel Loeb this time ... or not
Sony shares jumped 8% after Reuters' Svea Herbst-Bayliss and Liana Baker reported that activist investor Daniel Loeb's hedge fund Third Point was building a stake in the company to push for changes that include shedding some businesses.
It's the second time in 6 years Third Point has targeted the Japanese electronics maker, Reuters notes, buying as much as 7% of Sony in 2013, after a weak couple of years for the stock. It then pushed it to spin off its entertainment business but was rejected. (Third Point sold its shares at a 20% profit.)
Why it may be different this time: Sony is now under new management and its stock has been 10% lower over the last 12 months. Third Point is raising a dedicated investment vehicle to target between $500 million and $1 billion to buy more Sony shares, per the report.
Thought bubble from Axios' Sara Fischer: Analysts don't expect Sony to bow to Third Point's pressure to sell Sony Pictures this time around, especially given that the firm will have even less leverage now than it did when it first pushed the Japanese giant to sell Sony Pictures in 2014.
And despite the fact that Sony Pictures has had a rocky few years, Sony's leadership has made it clear that it thinks its long-term growth potential lies within its intellectual property units, like music and movies.
The bottom line: The market for studio-quality content has skyrocketed as a result of a digital TV and movie streaming boom, which has Third Point convicted that Sony Pictures is a hot asset to sell, and Sony convinced that it's a hot asset to keep.
3. Companies are finding lots of oil again
Crude oil prices look to be decoupling from oil and gas supply again in 2019. Brent, the global benchmark, is trading above $70 a barrel on international markets.
Supply cuts from OPEC and major producers like Russia have driven a 30% rally in Brent crude prices this year, despite fears of an economic slowdown and a strong dollar, which typically weighs on the value of oil.
The big picture: The run-up in prices so far comes despite global discoveries of oil and gas reaching 3.2 billion barrels of oil equivalent in the first quarter. Most of the gains were recorded in February, when 2.2 billion barrels were discovered — the highest since August 2015, Rystad Energy said in short note.
Quick take: The big finds are another sign that fears of a crude supply crunch opening up by the early 2020s likely won't come to pass, Axios' Ben Geman writes.
Some analysts feared a precarious situation emerging because spending on finding and developing new supplies cratered around 2014.
But 2019 is set to be third straight year of upstream investment increases, per the International Energy Agency.
Bigger-than-expected U.S. shale growth has also eased concerns.
What's next: "[T]he push for substantial new discoveries shows no signs of slowing down, with another 35 high impact exploration wells expected to be drilled this year, both onshore and offshore," Rystad said.
But, but, but: "Forecasts of a supply gap persist, but they're being pushed further out into the future," Bloomberg reported in late January, and the IEA has warned against complacency.
4. First look: Nasdaq proposes regulatory reforms to the SEC
The Nasdaq is recommending regulatory reforms to the SEC, including a change to rules that could impact smaller public companies, investors' access to market data and the cost of trading — all of which, the exchange says, could spur more innovation, Axios' Courtenay Brown reports.
Why it matters: It's the latest attempt by a stock exchange to shift current rules in a way that it says will benefit investors.
Background: SEC chairman Jay Clayton, a 2017 Trump appointee, has taken a harder line on stock exchange practices in the "interests of America's retail investors" — most recently by trying to implement a controversial pricing program that's since been halted while a judge decides whether to take up a lawsuit by NYSE, Nasdaq and Cboe Global Markets to block the initiative.
Among the proposals:
Change how investors are charged for market data by how often they use it, instead of pricing it by what they do. Currently, brokers and other professionals are charged differently than retail investors, regardless of how often they trade.
Allow smaller companies the choice to centralize trading on 1 exchange, instead of being spread across other markets and venues.
But, but, but: Don't expect immediate action (if any) by the SEC, which tends to move slowly.
Example: The Nasdaq unveiled a slate of reform proposals in 2017. The SEC has held hearings on some of the issues, including on the hotly debated market data pricing, but made no final changes to current rules.
Go deeper: 3 stock exchanges take on the SEC
5. U.S. money velocity is starting to pick up
The velocity of money in the U.S. has been consistently falling for nearly a decade but is now starting to see a sustained pickup. It could be the first real sign of inflation in the U.S. after years of stagnation.
What it means: The velocity of money is a measure of how quickly money is spent in a given time period. It's a metric used to determine whether people in a country are spending and saving and at what rate.
Having a higher velocity of money usually means a country is further along in the business cycle and should have a higher rate of inflation. "If the velocity of money is increasing, then more transactions are occurring between individuals in an economy," notes the St. Louis Federal Reserve.
The big picture: As the Fed has sought to stimulate growth in the U.S. economy through bond buying and low interest rates, the amount of money stock has risen to record highs while the velocity of money has fallen to record lows.
"[N]ear zero interest rate policy experienced over the last 10 years encouraged consumers to save more and shore up their personal balance sheets," says Nancy Tengler, chief investment strategist at Tengler Wealth Management, in a note to clients.
"We would expect to see velocity increase. As U.S. economic expansion continues this will boost economic growth further. At what rate remains to be seen."
6. "Please cancel your meeting and respect our time"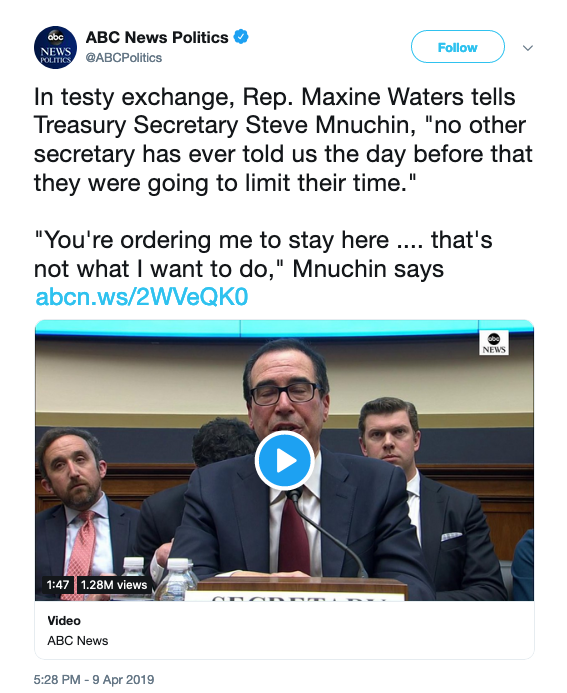 There was a bit of a misunderstanding between Treasury Secretary Steve Mnuchin and Rep. Maxine Waters, the chairwoman of the House Financial Services Committee, yesterday.
A brief snippet of the conversation:
Waters: "As I have said, if you wish to leave, you may."
Mnuchin: "If you'd wish to keep me here so that I don't have my important meeting and continue to grill me then we can do that. I can cancel my meeting and I will not be back here. I will be very clear. If that's the way you would like to have this relationship."
Waters: "Thank you! The gentleman, the secretary, has agreed to stay to hear all the rest of the members. Please cancel your meeting and respect our time."
It went on like that, and it ended spectacularly.