Axios Markets
November 04, 2022
It's been a week! And today is Jobs Day. Buckle up.
Today's newsletter is 1,198 words, 5 minutes.
1 big thing: Latin America's single-currency dreams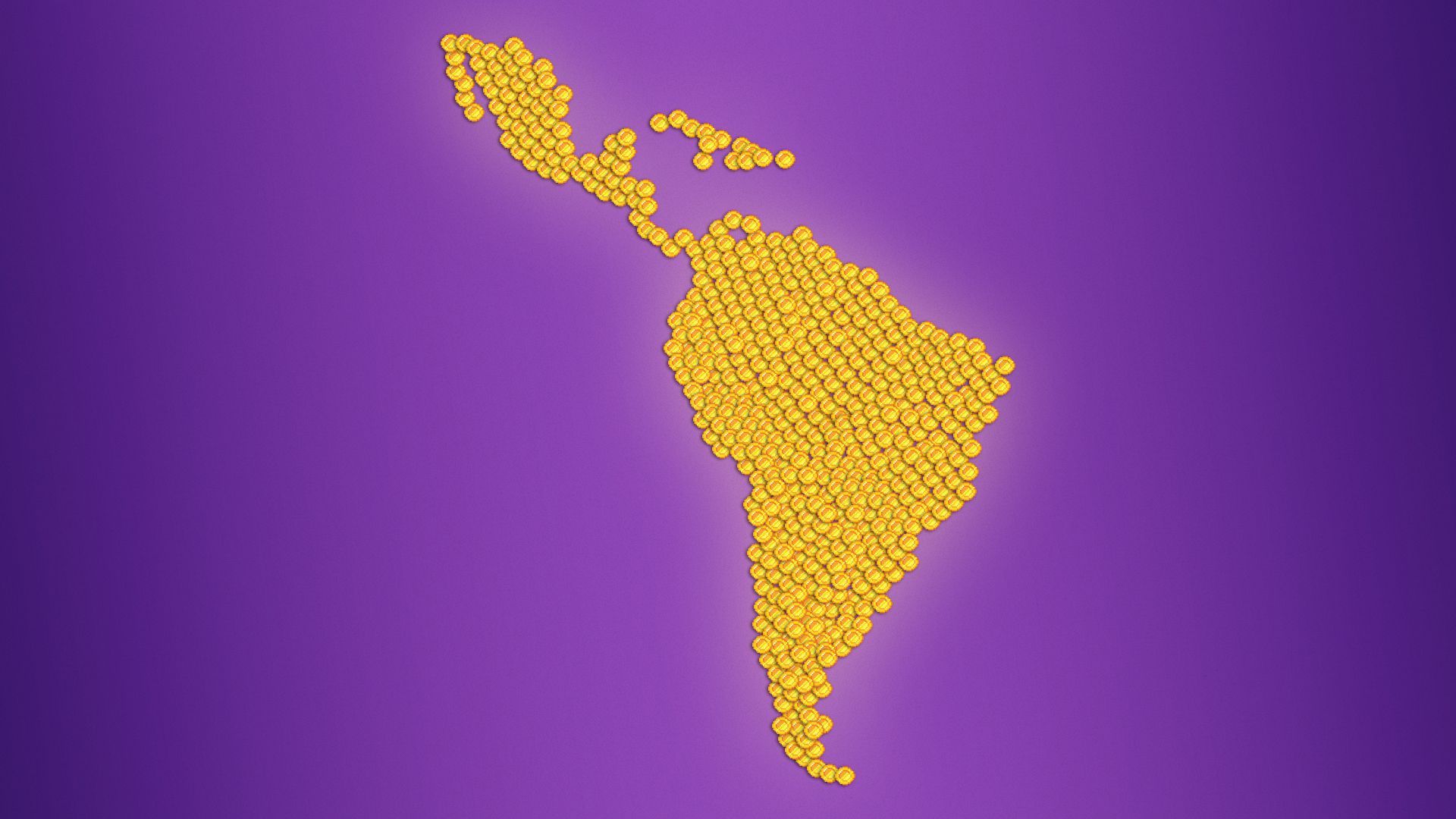 With more leftists coming to power across Latin America, the idea of a single shared currency is a hot topic again, Axios Latino's Marina Elisa Franco reports.
Why it matters: It's a signal that these leaders share the goals of greater economic cooperation and reduced dependency on the U.S. dollar.
And even if an actual shared currency is a nonstarter in practice — which is likely the case — other areas of regional cooperation on critical economic, migration and environmental issues may soon be a reality.
The big picture: When Brazilian President-elect Luiz Inácio Lula da Silva takes power on Jan. 1, Latin America's five biggest economies — Argentina, Brazil, Chile, Colombia and Mexico — will have left-leaning governments.
State of play: Lula wants to create the "sur," a regional version of the euro, he said while campaigning.
It's an appealing idea for some politicians as the dollar exchange rate is battering nations such as Argentina.
Lawmakers representing Bolivia, Colombia, Argentina, Venezuela, Peru and Ecuador signed a declaration last week calling for a new Latin American parliament and single currency.
Mexican President Andrés Manuel López Obrador has twice pitched forming a European Union-like coalition in Latin America and the Caribbean.
Yes, but: A common currency is likely a "nonstarter," given how past attempts at other types of regional integration have crashed and burned over disagreements, Shannon K. O'Neil, Latin America analyst at the Council on Foreign Relations, tells Axios.
And the disparity in financial conditions between the countries is a major obstacle (it's a problem that's nearly toppled the eurozone before).
Yes, but, but: The growing interest in cooperation could lead to things like deals to build supply chains and economies of scale, which would collectively attract manufacturers to the region.
They could also invest in digital and electronic systems to jointly regulate migration.
Cecilia Tornaghi, senior director for policy at the Americas Society/Council of the Americas, said most of the leaders' emphasis on environmental conservation could spawn regional initiatives ripe for U.S. cooperation.
Between the lines: Rising inflation and ongoing pandemic-related economic troubles could get in the way of regional integration.
"But, at the same time, having regional success and integration could offer the (leaders) an accomplishment they can champion as contrast to domestic crises," Tornaghi says.
O'Neil says "the political alignment makes this more of a possibility than before."
What to watch: The leaders of Mexico, Chile, Colombia, Peru and Ecuador are set to meet on Nov. 24 for the Pacific Alliance summit. And although they are not part of the alliance, both Argentina's Alberto Fernández and Lula, Brazil's president-elect, have been invited.
They're expected to discuss new trade agreements and adding Costa Rica to the group.
2. Catch up quick
🐦 Elon Musk begins mass layoffs at Twitter, which faces a lawsuit over their timing. (Washington Post) (Bloomberg)
📈 Chinese markets soar, notching a $1 trillion gain in a week. (Reuters)
🛢 U.S. and allies set price cap parameters on Russian oil. (WSJ)
3. Too many office buildings, not enough housing
Conversions of office buildings into apartment units are picking up — they hit a high last year and are poised to grow even more, according to a new report from RentCafe, Axios' Kate Marino writes.
Why it matters: America had a housing shortage even before the pandemic drove demand for larger living spaces. Conversions are one way to attack the problem, especially if office building occupancy remains depressed.
By the numbers: Overall apartment conversions — including those of warehouses, hotels and health care buildings — jumped 25% during 2020-2021, to about 28,000 units, compared to the prior two-year period before the pandemic, per RentCafe.
It analyzed data from the commercial real estate intelligence service Yardi Matrix.
Conversions of office buildings jumped the most — by 43%, to 11,090 units. They make up the largest share of conversions.
Look ahead: 77,000 apartment conversions are now in the works, setting the stage for a boom in the next few years, RentCafe says.
Be smart: The potential conversion wave caused by the pandemic — and the empty office buildings it led to — is probably barely even reflected in the 2021 data.
It'll take decades for long-term office lease cancellations to work their way through the system.
Plus, conversions are expensive — sometimes costing more than new buildings — and often run into regulatory and zoning red tape.
What we're watching: Cities like New York, Los Angeles and Chicago are now actively proposing plans to relax building rules and create tax breaks to incentivize property owners to take on conversions.
Officials hope that'll create much-needed housing while transforming half-vacant downtown business districts into more bustling live-and-work neighborhoods.
The bottom line: Those incentives — if they come to pass — could push these conversion numbers up higher.
4. Too big to fail
Fresh earnings from German energy giant Uniper showed why the company — once the nation's largest importer of Russian gas — will soon be fully nationalized, Matt writes.
State of play: Soaring wholesale gas prices, and restrictions on how much of that surge Uniper could pass along to consumers, generated big losses.
By the numbers: The company lost an astounding €28 billion (~$27 billion) during the three months that ended in September. That compares to a loss of €4.8 billion during the third quarter of 2021.
For the year through the end of September, Uniper lost roughly €40 billion.
The bottom line: The nationalization of Uniper, which is due to be completed soon, is just another indication of how Russia's war on Ukraine is fundamentally blurring the line between private enterprise and national security worldwide.
5. 💬 Quoted: Two consequential mistakes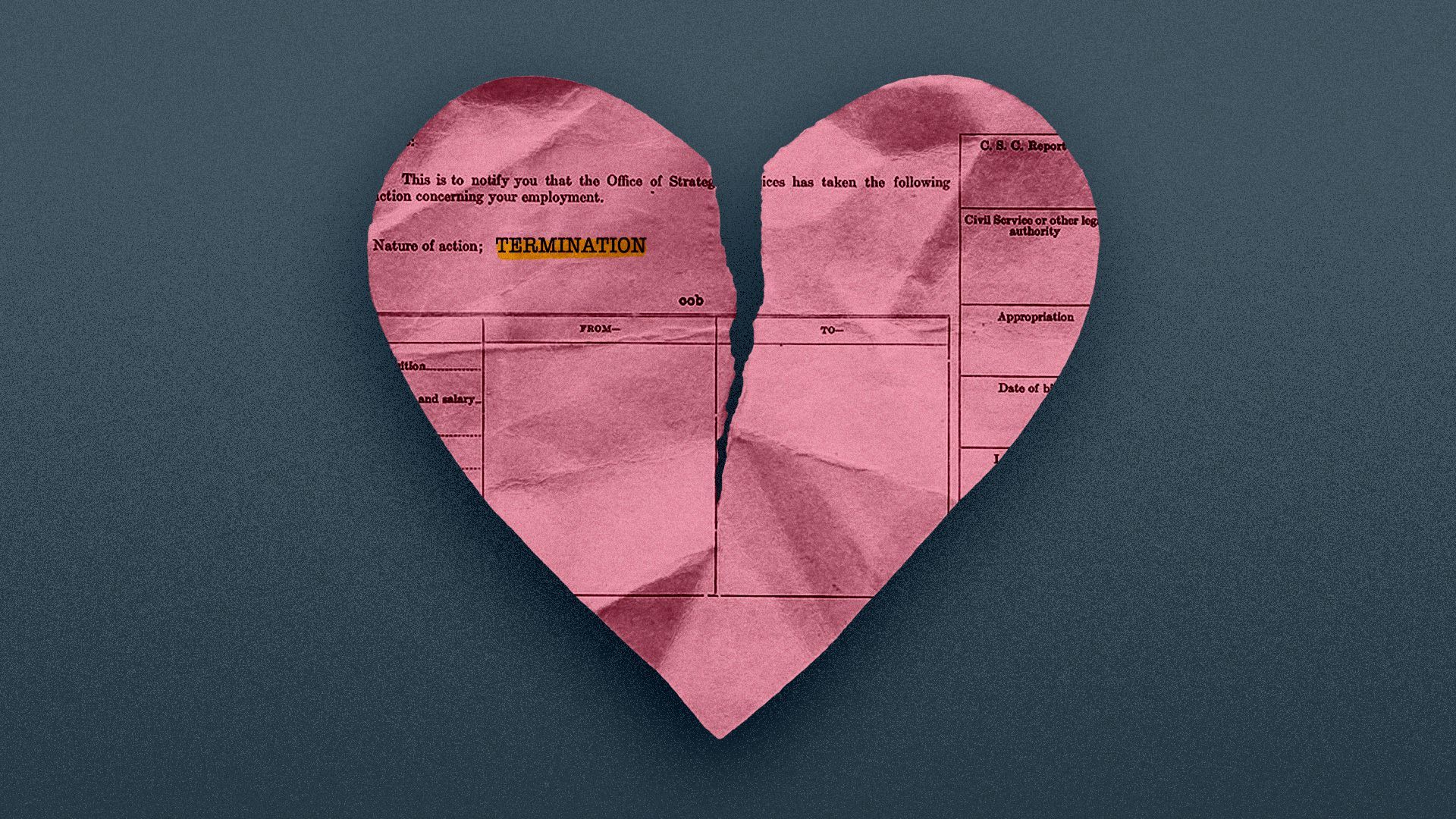 "In making these changes, you might reasonably wonder whether Stripe's leadership made some errors of judgment. We'd go further than that. In our view, we made two very consequential mistakes..."
— Stripe CEO Patrick Collison, in an email to employees
It's not every day a chief executive admits to making a mistake — much less, two mistakes, as Stripe CEO Patrick Collison did in a note yesterday to employees announcing layoffs.
Why it matters: Collison's email is a rare example of a sensitively handled layoff announcement.
Meanwhile, Elon Musk appears to be going with a less-sensitive strategy over at Twitter.
Zoom out: When CEOs announce layoffs, they often mess it up. The Zoom era has only exacerbated the horrors of mass firings.
The bottom line: Layoffs are picking up now in the tech world, and companies might want to brush up on how to do it right.
The consequences can lead to declines in productivity and morale for those left behind, and a diminished brand reputation.
🎧 1 Thing Matt is listening to: Yale History professor Timothy Snyder's lecture series, "The Making of Modern Ukraine," on YouTube. Each 45-minute lesson is a chapter of a remarkable historical, linguistic and political saga many Americans — even those, like me, who have ancestors from Ukraine — know almost nothing about.
Was this email forwarded to you? Sign up for your daily dose of Axios Markets here!
Today's newsletter was edited by Kate Marino and copy edited by Mickey Meece.