Was this email forwarded to you? Sign up here. (Smart Brevity count: 1,246/<5 min. read)
Situational awareness:
1 big thing: Companies are battling with Mother Nature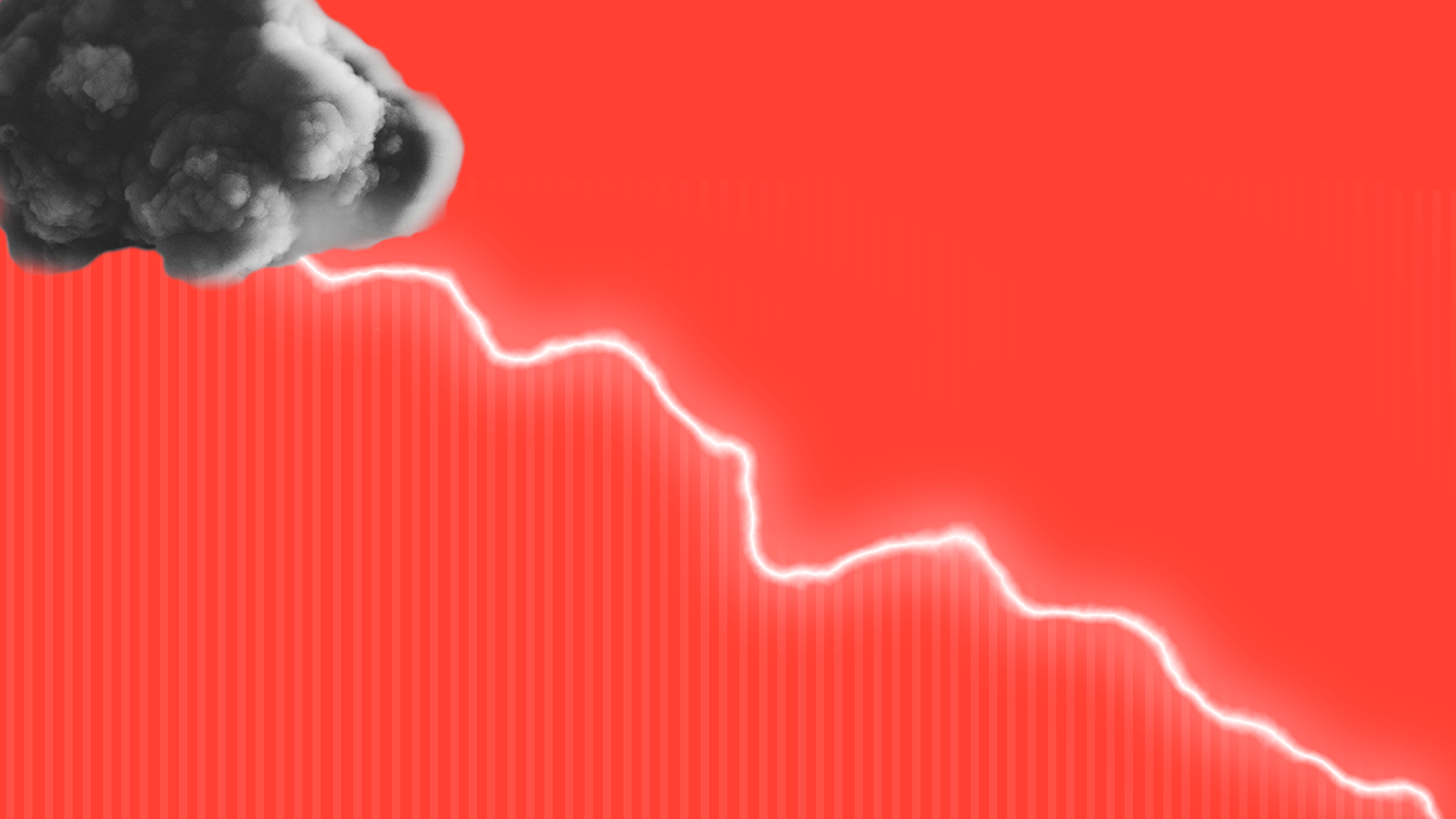 Already facing the uncertainty and increased costs of the trade war and a looming end of the business cycle, American companies are finding they now have a new foe to fight: prolonged, and in some cases unanticipated, extreme weather conditions.
What's happening: Across the Midwest and Central U.S., this spring has brought one atmospheric onslaught after another, from late season snowstorms to severe thunderstorms that have left rivers overflowing, exceeding historic flood benchmarks.
Why it matters: The conditions have been awful for farmers, and the agriculture and commodities markets, and now companies ranging from retail to industrials are highlighting weather-related struggles weighing on sales and revenue.
What they're saying:
"Weather was challenging during the quarter resulting in suppressed demand for our spring seasonal goods, which were down high single-digits," said Kohl's CFO Bruce Besanko, after the retailer's 3.4% same-store sales decline in the first quarter.
"The weather in February impacted our business. 17 of 19 regions were negative," said Home Depot CFO Carol Tomé after posting a 2.5% increase in same-store sales versus the 4.2% analysts expected.
"I don't think we could have envisioned ... what is now approaching record rainfall in Southern California or in California," said Bernard Acoca, president and CEO of El Pollo Loco, after the restaurant reduced guidance for the rest of fiscal 2019.
DowDuPont and UPS also cited the impacts of flooding and weather-related disruptions.
Between the lines: "Normally, we'd be highly skeptical of retailers blaming the weather for disappointing sales," Ed Yardeni, president and chief investment strategist at Yardeni Research, wrote in a note to clients.
"But this time, Mother Nature may indeed be at fault."
Meteorologists agree: "These events have likely affected businesses in varying ways: from either a delivery standpoint or the inclement weather making it difficult for consumers to actually get to the stores," Steve Bowen, director and meteorologist for Aon Benfield's Impact Forecasting division, tells Axios in an email.
Our thought bubble, from Axios Science editor Andrew Freedman: "The extreme weather we've been seeing is consistent with a warming climate in which the atmosphere is able to hold more moisture.
"Studies have shown an increase in heavy precipitation events during the past few decades in the Midwest and Central states, and other research shows a greater tendency for certain weather patterns to form that can lead to amplified extremes."
2. Markets decide it's time to panic
Having largely held up as traders bought the trade war dips, stocks tumbled on Thursday along with just about every other risk asset.
What happened: A spate of weak manufacturing reports from around the globe and more trash talk from the U.S. and China may have finally broken the camel's back.
Stocks:
The S&P 500 closed more than 1% lower.
Asian stocks fell to a 4-month low.
Germany's DAX dropped 1.8% and Italian stocks were off more than 2%.
MSCI's gauge of stocks across the globe fell 1.3%.
"Now that it's become clear that the risks are out there, the (equity) market has to price them in," Michael O'Rourke, chief market strategist at JonesTrading, told Reuters' Herb Lash. "There should be more downside."
Currencies: The dollar strengthened to its highest since May 2017, but reversed course late in the day. The safe-haven Japanese yen rose 0.75%.
Commodities: The S&P GSCI Total Return, a popular commodity index, fell 3%, and oil had the worst day in 6 months, sinking more than 5%.
Bonds: Benchmark 10-year Treasury yields fell to their lowest since October 2017, 30-year yields hit their lowest in nearly a year and a half, and 2-year yields touched their weakest level since February 2018.
What to watch: The yield on 3-month bills rose above the 10-year note, again signaling an inversion the Fed calls the most accurate predictor of a recession.
Treasury yields from 2 years to 10 years are currently trading below the Federal Funds Rate.
3. There's "reason to worry" about global manufacturing
Manufacturing data released Thursday was weak all over the globe, signaling slowing international commerce.
Why it matters: "After global GDP was stronger than expected in Q1, the continued weakness in the latest business surveys among advanced economies suggests that the world economy will lose steam in the second quarter," economists at Capital Economics wrote in a note to clients.
Brett Ryan, senior U.S. economist at Deutsche Bank, warns, "Any potential negative fallout from the latest escalation of trade tensions is likely to first show up in the PMIs, which have traditionally been leading indicators of capital spending."
What's happening: The preliminary U.S. manufacturing purchasing managers' index (PMI) fell to 50.6, the lowest reading since 2009. An early reading on Japanese manufacturing PMI fell into contraction as export orders fell at the fastest pace in 4 months.
But perhaps the worst news came from the eurozone where readings on manufacturing have been in contraction since February and have missed economists' expectations in every month except March.
Eurozone manufacturing PMI fell again this month, and Ifo Institute for Economic Research President Clemens Fuest now says, "there is reason to worry."
4. Big changes are likely coming for retirement plans
The House of Representatives on Thursday overwhelmingly passed (417-3) the Secure Act, a bill that aims to scrap a number of restrictions of Americans' retirement accounts.
The Secure Act would...
Make it easier for small businesses to join together to offer employees 401(k) plans.
Require businesses to allow some part-time workers to be eligible for retirement benefits.
Repeal the maximum age for making contributions to traditional individual retirement accounts.
Raise the age when required minimum distributions from certain retirement accounts must start to 72, instead of 70.5.
Allow new parents withdraw $5,000 from retirement accounts penalty-free to cover child-related expenses.
Most controversially, the bill allows more annuities to be offered in 401(k) plans and reduces restrictions. Financial advisers and market analysts have regularly said annuities are overly costly and tend to reduce overall retirement income.
What's next? The bill now heads to the Senate, where Sen. Chuck Grassley, who chairs the all-important finance committee, is a sponsor.
5. Americans' finances are better, but still not great
When asked about their overall economic well-being, 75% of American adults said they were "doing okay" or "living comfortably" — an increase of 12 percentage points from 2013, according to a new report from the Fed.
However, those numbers vary significantly along racial, educational, geographic and economic lines.
On the other hand: Nearly 40% of adults said they would not be able to pay for an unexpected expense of $400 with either cash, savings or a credit card paid off at the next statement.
However, that's down from around 50% in 2013.
The Fed also highlighted challenges to financial security, with changes in month-to-month income being a "financial strain" for some.
About 30% of adults said their income varied from month to month.
About 10% struggled to pay their bills at some point during the year because of monthly income changes.
Bonus stat: The Fed found that 13% of those with a bank account had at least 1 problem accessing funds in their account in the prior year. It was a new topic in this year's report.
6. Savers are leaving a lot of money on the table
A recent survey from Bankrate pulled data from 60 online savings and money market accounts at 57 different financial institutions and found that 87% of them pay at least 2% APY. However, less than 1 in 5 Americans say they're earning that much interest on their savings account.
I'll be celebrating Memorial Day from the great state of Colorado. Enjoy your long weekend. Markets will be back in your inbox on Tuesday!