Was this email forwarded to you? Sign up here.
📷 Season 2 of "AXIOS" on HBO premieres at 6pm ET/PT on Sunday, June 2 on HBO platforms. 
Check out the Season 2 trailer here. 
Situational awareness:
1 big thing: Why rare earth minerals matter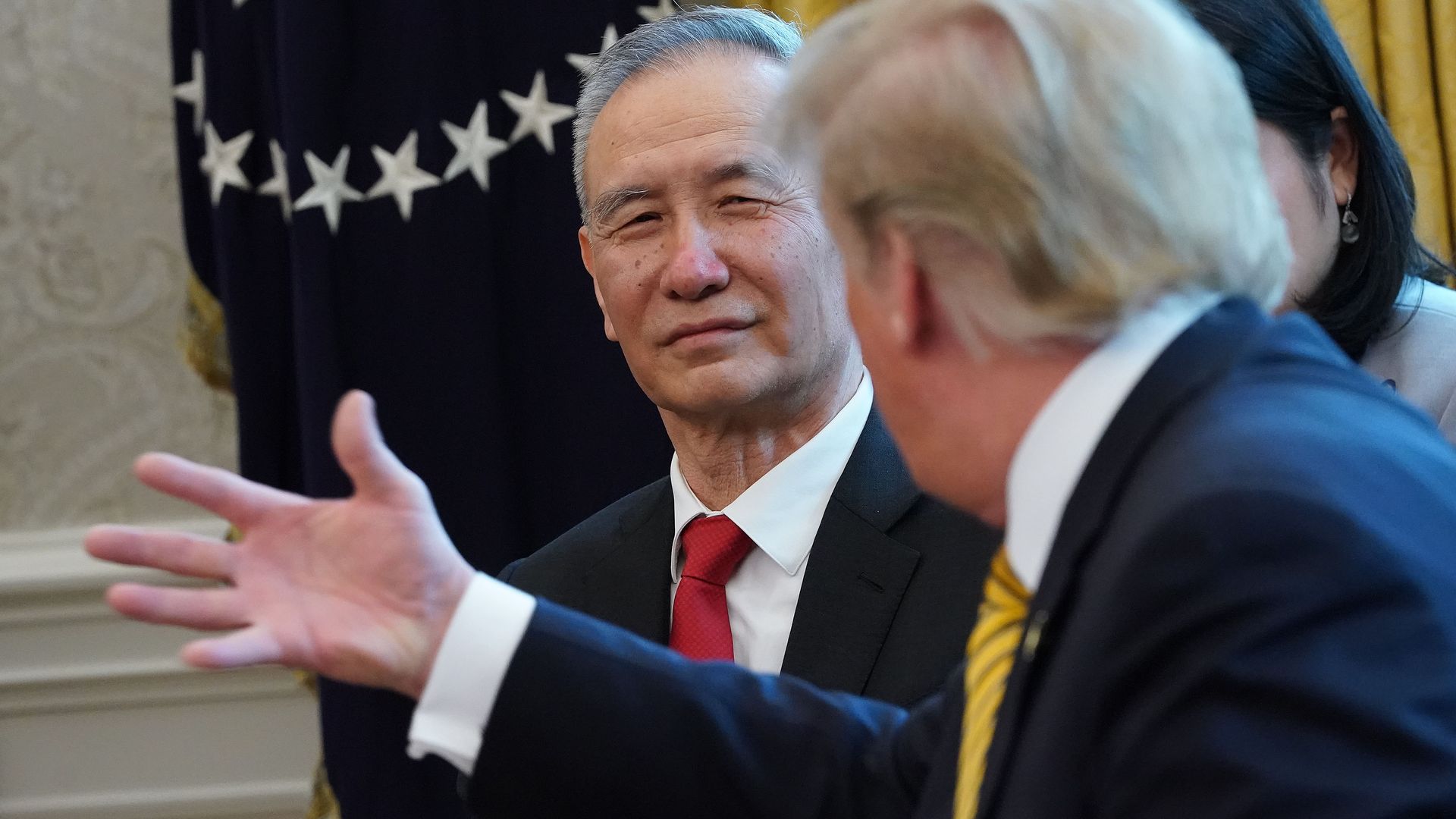 Rare earth minerals and elements are necessary components of tech and defense tools, including smartphones, LED lights, wind turbines and nuclear rods. And their critical role in modern manufacturing has turned them into the latest lightning rod in the trade war between China and the U.S.
Driving the news: After President Trump blacklisted Chinese tech company Huawei and threatened to target other Chinese tech firms by disallowing American companies to do business with them, China signaled it could target rare earth minerals.
Chinese President Xi Jinping recently visited a key rare earth minerals area of China, analysts say as a symbolic show of force of what the U.S. has to lose if Trump pushes forward with blacklisting.
Though the U.S. does have rare earth minerals, the process of mining and refining them is difficult and environmentally dangerous (sometimes releasing radioactivity), so very few domestic facilities exist.
Why it matters: Pushing beyond tariffs and into outright restrictions on trade and international cooperation would take the trade war to a new and more damaging level for individual companies and the stock market.
The big picture: Critics have argued the trade war has been a blessing for China because it has re-focused its business and political leaders on parts of the economy where it is reliant on the U.S. A roadblock on rare earths could prove a similar jolt for American businesses that have long depended on China for essential materials to make their products.
This month, a bill was proposed in the Senate that could help spur mining of U.S. rare earth elements and other similar minerals.
Enter Blue Line and Lynas Corp, 2 companies hoping to make rare earth mining in America great again by building a plant in Hondo, Texas.
Yes, but: While Trump has been looking to bolster U.S. economic independence, moving away from China will not be easy. As with many industries, China has built an intricate supply chain and has a number of competitive advantages in rare earth mining and export.
One big reason Lynas is likely looking to move to the U.S. is its fight with the Malaysian government over environmental conditions and an attempt to force the company to pay for clean-up of a radioactive substance produced in the rare earth mining process.
Trump's latest $16 billion farm aid package to farmers show he is willing to spend government money to compensate for trade war casualties, but his ability to further crimp American environmental protection standards may be limited.
2. Acreage, Canopy launch charm offensive on $3.4 billion merger
The companies behind the $3.4 billion as-soon-as-marijuana-is-legal merger, Acreage Holdings and Canopy Growth, have launched a charm offensive intended to get disgruntled shareholders to approve the deal.
What's happening: Since being announced in April, the deal has been touted as a coup for Canopy and a cop-out for Acreage by unhappy investors.
Activist hedge fund Marcato Capital Management said in a public letter on May 6 it would vote its nearly 3% of Acreage stock against the "value destructive" deal, and urged other shareholders to do the same, Barron's reported.
The market is clearly worried about the possibility that the merger falls apart — Acreage shares have fallen by more than 15% since the deal was announced, while Canopy's stock, which rose 15% in the days following news of the deal, has fallen below its share price before the deal's announcement.
On the other hand: Canopy agreed to pay $2.55 in cash and 0.5818 of Canopy shares for each Acreage share. The growing divide between the 2 companies' share prices is making that deal look sweeter.
Acreage CEO Kevin Murphy has downplayed the discontent, saying in an interview Friday that he feels "very, very good about where we are and where we're going," and expects 100% approval. The deal requires 66% of shareholders approve to be finalized.
3. The bottom 50% of Americans now have 1% of America's wealth
The distribution of household wealth has become more uneven in recent years, notes Deutsche Bank Securities chief economist Torsten Slok. The wealthiest 10% of households now hold 70% of all American wealth. They held 60% as recently as 2000.
In recent years, the gains of the top 1% have been outsized and come largely at the expense of those in the middle. The lowest 50% of earners have recouped at least a piece of the wealth pie.
The bottom half of U.S. households now control 1.3% of the country's wealth. From 2010–2012 their net ownership was 0.0% and only rose above 1% in 2018, according to Federal Reserve data.
4. MTN Nigeria finally falls
Shares of African wireless provider MTN fell along with the broader Nigerian stock market after the company's Lagos office was raided and reports surfaced that Nigeria's Economic and Financial Crimes Commission is seeking information connected to its May 16 debut on the exchange, Bloomberg reports.
The intrigue: MTN stock rose 41% in just over a week since its listing, carrying the entire Nigerian Stock Exchange to its most impressive rally of the year. The NSE had suffered 8 straight days of losses before MTN's listing.
Friday was the first time the stock's price has fallen since it went public. Since the listing, MTN's valuations has risen from around $5 billion to $7.8 billion, making it the second largest public company in Nigeria.
5. Argentine markets OK with Cristina Kirchner as VP ... so far
Investors have been flummoxed by the latest development out of Argentina, that former President Cristina Fernandez de Kirchner will run for vice president rather than president, as most had expected.
What's happening: While investors worried aloud that a Kirchner presidential victory in October's election would cause the country's bonds to default, torpedo its stock market and further sink its depreciating currency (already worth about one-third of what it was just a few years ago), the curve ball of a Kirchner vice presidency has so far gotten market approval.
The country's sovereign bonds edged higher for much of the week, its Merval stock index rose 5% and its currency gained against the dollar.
What's next? The market's comfort with a return of Kirchnerismo will be tested again on Monday. A new poll from Argentina's Pagina 12 newspaper shows Kirchner and her running mate, Peronist Alberto Fernandez, are close to clinching victory in a first round vote.
The poll shows Kirchner and Fernandez leading current President Mauricio Macri, who has become very unpopular as a result of Argentina's economic "Macrisis," by close to 10 percentage points.
To avoid a second round, a candidate must receive at least 45% of the first round vote or 40% and win by a margin of at least 10 percentage points.
Editor's note: This post has been corrected to show that the wealthiest 10% of households now hold 70% of all American wealth, and held 60% as recently as 2000.