Axios Markets
October 20, 2021
💰 Good morning, Markets readers! We're almost halfway through the week. 😎
📺 Stat of the day: Netflix engagement surged 14% during Facebook's Oct. 4 outage, the streamer's executive said Tuesday. Catch up on Netflix's Q3 earnings.
⏱ Today's Smart Brevity count: 1,095 words, 4.5 minutes.
1 big thing: Strikers have a new bargaining chip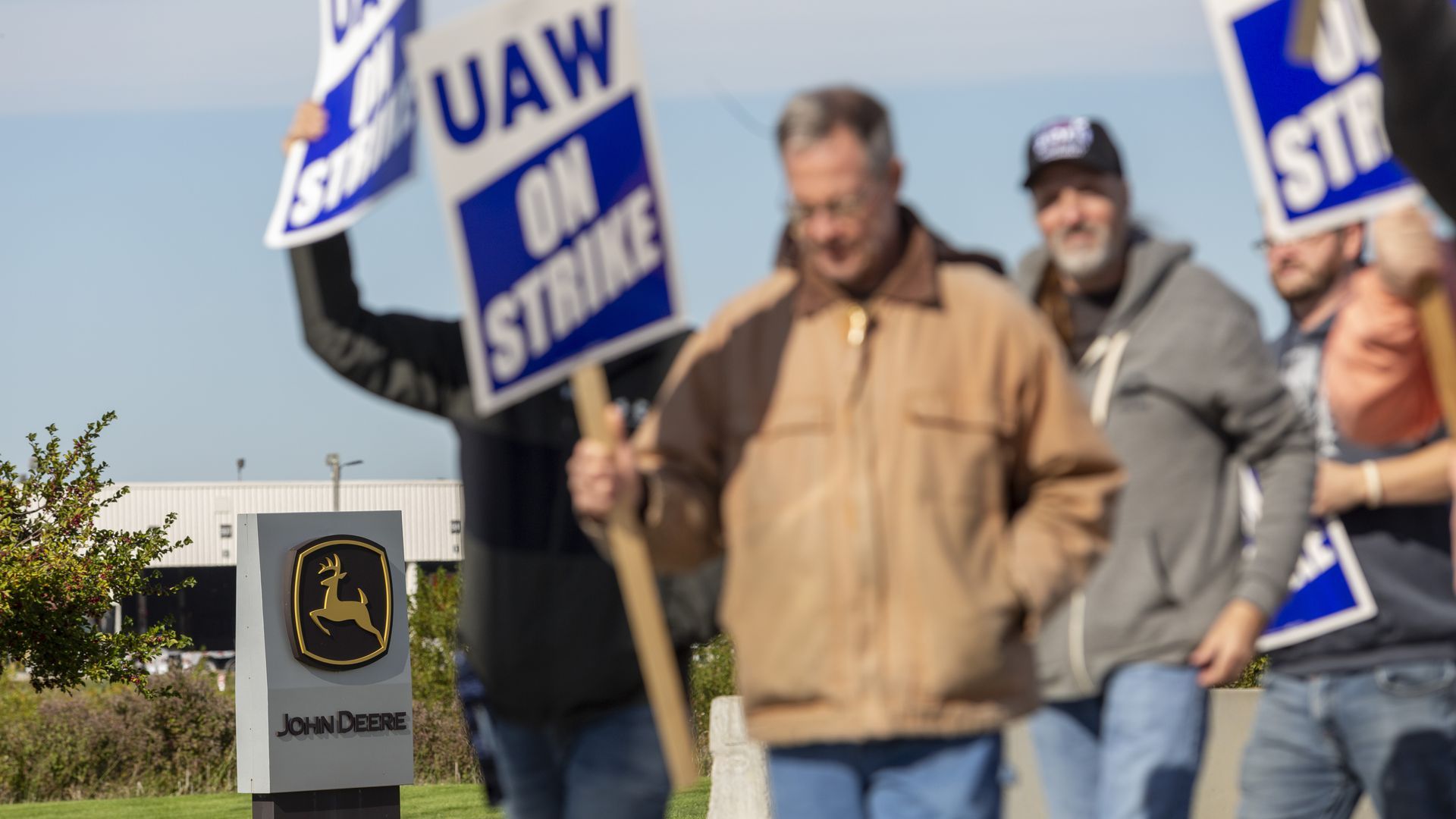 The strike at John Deere is the biggest of the pandemic era, with 10,000 workers on the picket line calling for better pay and benefits, Axios' Courtenay Brown writes.
Why it matters: The walkout could deal a blow to an economy rattled by a supply chain crisis that executives don't want to see get worse — one of the economic tailwinds behind the strikers.
What they're saying: "There is pressure for John Deere to move closer to where the workers are," in terms of contract negotiations, says David Swenson, an economics professor at Iowa State University.
It's critical harvest time, with farmers who were already dealing with a short supply of farm equipment and parts before the strike.
"Ensuring that farmers are able to harvest their crops, that's paramount to our food and energy security, as well as those farmers' livelihood," says Kristen Owen, an analyst who covers Deere & Co. at Oppenheimer.
The backdrop has also shifted in workers' favor. It isn't 1986, the last time John Deere workers walked off the job.
Then: A farm economy in turmoil trickled down to the farm equipment maker. Its inventory was bloated and demand was so lackluster that a single plant was enough to supply the whole industry, says William Blair industrials analyst Larry De Maria, who looked back at news coverage at the time.
The strike lasted six months. "When workers finally got a contract, it was weak," says Swenson.
Now: The agricultural sector is thriving. Farmers are more willing to shell out money for new equipment than they have been in years, so demand is robust.
All of it helps deliver the record profits John Deere executives told Wall Street to expect this year. Workers want a piece of that.
The big picture: Finding workers to backfill the 10,000 strikers is a herculean effort, a dynamic helping empower union members around the country.
The bottom line: The strike is "part of a broader trend for labor to reclaim some of its lost bargaining power over the past 30 years," says De Maria, who adds it will help set the tone for unions with contracts up in the near term.
John Deere executives and union leaders are back at the negotiating table as of yesterday, a UAW spokesperson said in an email.
2. Catch up quick
China's home prices fell for the first time since 2015, in a sign of a deepening slump in the property market that could have a knock-on effect on the broader economy. (Bloomberg)
Flood of fraudulent unemployment claims roils California's partnership with Bank of America, which distributes the state's jobless benefits. (WSJ)
Senate Democrats have scaled back a proposal that would require banks to provide the IRS with information about customer accounts. The plan, part of a crackdown on tax cheating, faced pushback from the banking industry and Republicans. (NYT)
3. Credit Suisse pays up over Mozambique scandal
It was easy — far too easy — for Andrew Pearse, a Credit Suisse banker, to negotiate $45 million of kickbacks for himself as part of a deeply corrupt series of loan and bond issues in Mozambique, Axios' Felix Salmon writes.
That's the verdict of a major international fraud investigation that culminated Tuesday in the Swiss bank paying some $475 million in fines.
Why it matters: Up until now, Credit Suisse has claimed it was a victim of rogue employees. But the fines, and the associated findings, make it clear that deep internal weaknesses allowed the crimes to proceed.
The big picture: The biggest victims in the scheme have been the citizens of Mozambique, a desperately poor country with massive debt-servicing costs whose first-ever international bond issue, co-run by Credit Suisse, was an integral part of the scandal.
Credit Suisse has forgiven $200 million it's owed by Mozambique as part of this week's announcements. The bank retains the right, however, to try to claw back some of that money from other guilty participants.
Driving the news: Credit Suisse is paying $175 million to the Department of Justice, $100 million to the SEC, and $200 million to the U.K. Financial Conduct Authority. That's over and above any losses it takes on forgiving the Mozambican debt.
Flashback: The so-called tuna bonds were ostensibly issued to pay for Mozambique to build out a tuna fishing fleet. In fact, nearly all of the money ended up being stolen.
When it became clear that the debtors would never repay the money, the Mozambique government allowed creditors to swap their paper for (arguably odious) sovereign Mozambique bonds.
The bottom line: Pearse and his co-conspirators have pleaded guilty but have not yet been sentenced; Mozambique is seeking their extradition. Expect many further shoes to drop in this case, which is likely to drag on for years.
4. Homebuilding slows
Housing starts and building permits both ticked down in September, with shortages of labor and building materials keeping a lid on activity.
Why it matters: Home prices have risen rapidly over the last year, as the pandemic reshuffled where we live and work — leading many Americans to relocate.
The supply of existing homes on the market is constrained, so more new homes are needed to meet the demand.
By the numbers: Housing starts in September fell by 1.6% from August. Consensus expectations were for a 0.45% gain.
Building permits, an indicator for future housing starts, fell 7.7%, compared to expectations for a 1.2% decline.
The number of homes authorized, but not yet started, moved down slightly, but remains near the record high reached in June.
What we're watching: Existing home sales data is out Thursday, which will provide an update on inventories and price movement. In August, supply went down and prices ebbed.
5. Retail's holiday jitters
Retail execs are prepping for supply problems this holiday season. About 43% expect their ordered holiday inventory to be delayed — and 64% are concerned about receiving it in time for the holidays, according to a new Deloitte survey out this morning.
43% of retailers placed their holiday orders earlier than they did last year — some as early as March.
Why it matters: Planning ahead may ease some of the supply chain pain for both shoppers and businesses. Companies have ordered early, and used alternate transportation options like air freight, as Axios' Hope King reported.
Meanwhile, on the consumer side, 39% of those surveyed plan to start shopping earlier this year.
68% of shoppers say they'll start before Thanksgiving (compared to 61% who said so last year).
43% will start before the end of October (38% last year).
📫 Thanks for starting your day with Axios Markets. A reminder that your family, friends and colleagues can subscribe to Markets or any of Axios' other free newsletters through this link.