Axios Markets
May 27, 2020
Good morning! Was this email forwarded to you? Sign up here. (Today's Smart Brevity count: 1,271 words, 5 minutes.)
🚨 Situational awareness: ECB president Christine Lagarde says she expects the euro-area economic output to contract 8% to 12% this year and that predictions for a fast recovery are "out of date." (Bloomberg)
🎙"Destiny may ride with us today, but there is no reason for it to interfere with lunch." - See who said it and why it matters at the bottom.
1 big thing: Home sales show Americans keep looking past coronavirus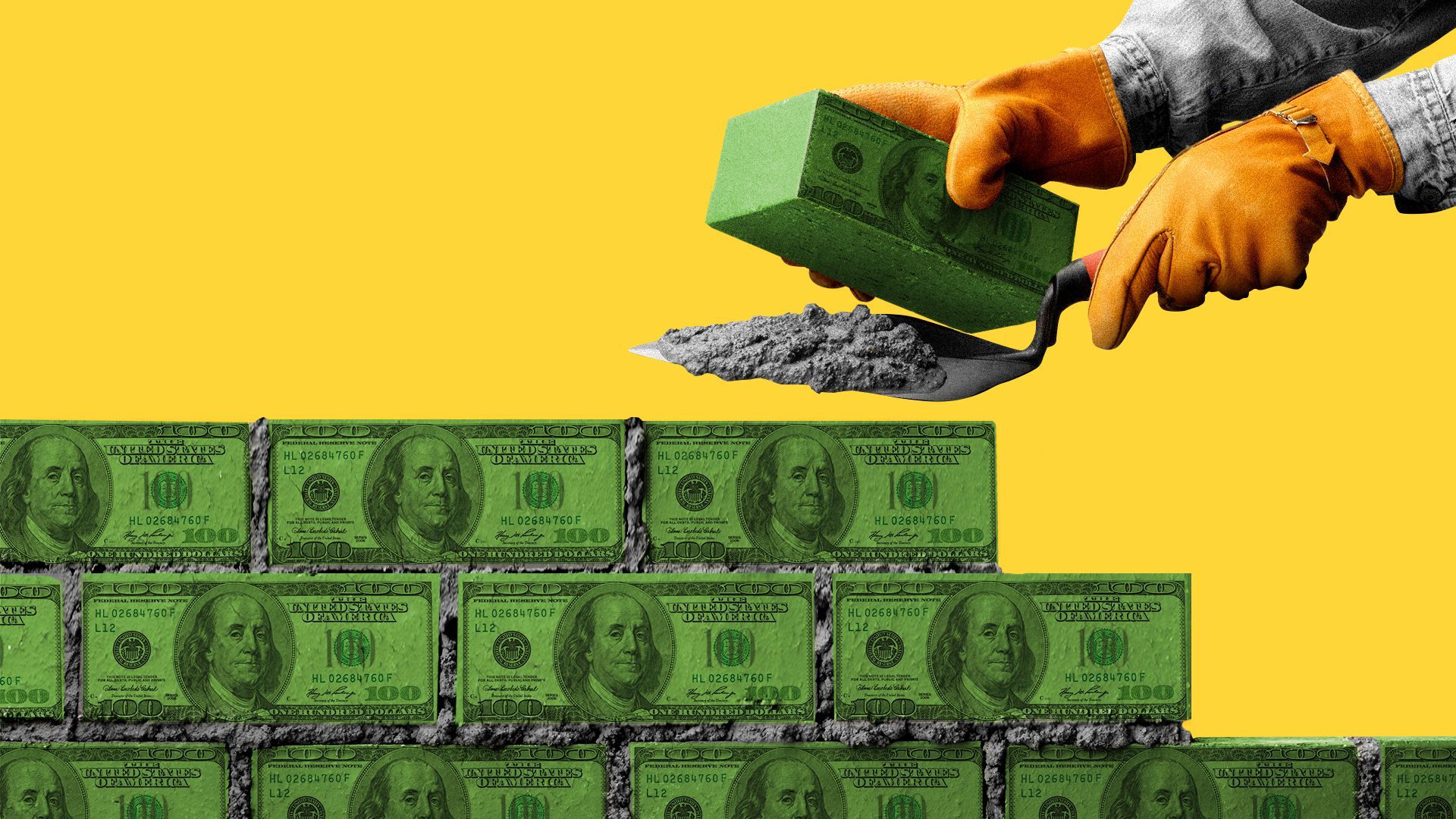 Americans are behaving very differently than they have in previous recessions — convinced that the coronavirus pandemic will soon pass, many continue to spend money as if nothing has changed.
Driving the news: The latest example of this trend is the Commerce Department's new home sales report, which showed home sales increased in April despite nationwide lockdowns that banned real estate agents in some states from even showing listed houses.
Sales of newly built homes rose by 1% in April compared with March, dramatically outpacing economists' expectations for a 22% decline.
What we're hearing: "I am quite surprised about the resiliency of the housing market," Lawrence Yun, chief economist at the National Association of Realtors, tells Axios.
"My reading is that both buyers and sellers believe there will be no price reductions," he adds. "Sellers are listing their homes as if there is no pandemic."
What's happening: Yun says there are four main factors driving the market's strength.
Dwindling supply as a result of fewer homes being built in recent years and older people not moving.
Historically low mortgage rates.
The CARES Act moratorium on residential foreclosures for borrowers with federally backed mortgage loans.
Consumers who were locked out of the market in 2019 and are confident prices will continue to rise even in the face of the recession.
The intrigue: Much of the purchasing over the last few months has been done by home buyers rather than investors, NAR's data shows, and the most sought-after properties are lower- and mid-priced houses. Higher-priced properties are seeing limited demand and a glut of supply.
Between the lines: While the prices of new homes declined slightly in April, those for existing homes rose to the highest level on record and Yun expects to see them increase by 5% by the end of the year, touching new record highs.
Yes, but: The pandemic looks to be accelerating an "unhealthy development" in the U.S. housing market — the lack of affordable housing for young adults and middle-class Americans.
"Prices have risen consistently above people's income growth," Yun says. "It has been happening for six or seven straight years."
Watch this space: The bullish sentiment may not last forever, Yun warns, but he sees no signs that it will fade any time soon.
"There are unknowns out there, but so far the housing market is surprising on the upside in terms of buyers chasing few supplies and bidding up the price."
Bonus chart: Expectations are well above prior recessions
Confidence in the housing market also is evident in expectations about the future held by consumers.
While the Conference Board's consumer confidence index has fallen by 30 points from its March level, expectations about the next six months in the May survey were 10 points higher than in March.
In fact, the expectations index rose to its highest level since September.
Why it matters: Consumer confidence is likely helping drive asset prices higher, including the stock market, as hopes are rising for a quick economic rebound despite warnings from economists of long-lasting damage.
What happened: The Dow jumped 530 points to close at 24,995 while the broader S&P 500 rose 1.2% on Tuesday, led by airline stocks, which made up one-third of the 15 biggest gainers on the S&P.
Royal Caribbean and Norwegian Cruise each rose 15% and Carnival jumped 13%.
2. Catch up quick
The Trump administration is considering a range of sanctions against China over Beijing's effort to crack down on Hong Kong. (Bloomberg)
There will "likely" be a fifth coronavirus relief bill "in the next month or so," Senate Majority Leader Mitch McConnell said Tuesday. (The Hill)
The European Commission will unveil its recovery plan today with a mix of grants, loans and guarantees exceeding 1 trillion euros. (Reuters)
Moderna's top executives sold $29 million in stock after its early vaccine announcement. (LA Times)
German ECB executive board member Isabel Schnabel said the central bank is likely to expand its pandemic emergency purchase program and continue quantitative easing despite a German court ruling against its legality. (FT)
3. PPP failed to get money to needed areas
The Paycheck Protection Program (PPP) "appears to have missed the mark," S&P Global chief economist Beth Ann Bovino writes in a research report to be released today.
What it means: The PPP's first round largely skipped over states and industries that were the most in need, while the second round still has 39% of allocated cash remaining, even as many businesses are at risk of permanent closure.
And data show that only about one in three small businesses reported applying for PPP funds and less than one-third of those received the loans.
Why it matters: Even as governors allow businesses to reopen, skittish customers and social distancing requirements mean many will be dealing with reduced demand for some time and few have the resources to do so on their own.
A recent working paper from the National Bureau of Economic Research (NBER) finds that many small businesses are "financially fragile" and have only enough cash on hand to last for two weeks.
By the numbers: Bovino's analysis of the SBA's data finds the "bulk of the program seems to be benefiting states with fewer jobless claims."
Eight of the 10 states that received the smallest loan amounts had the highest unemployment rates.
Seven of 10 states that received the largest loan amounts had the lowest unemployment rates.
A similar theme is present in terms of industries — those hit hardest by the pandemic, in terms of job losses, received the least funding from the first program's total approved loans.
Service industries, which accounted for an unprecedented 12.9 million jobs lost in April (62.9% of the 20.5 million), received just 36% of loans.
Leisure and hospitality and retail lost 9.8 million jobs, or 48% of the total lost in April, but received only 19%.
In contrast, goods-producing industries lost 2.3 million jobs (11% of the April total) but got 27%.
Information services and financial industries lost 27% of jobs but got 36%.
Of note: These have somewhat improved in PPP's second round but remain tilted toward states and industries less affected by the pandemic.

4. As most commodity prices suffer, OJ soars
Orange juice prices have surged by more than 30% so far this year making it the world's top performing commodity.
Demand for the beverage continues to rise and supply has faced constraints, in part because of the exponential increase of COVID-19 cases in Brazil, a top global center of OJ production.
On one side: U.S. retail sales of orange juice rose 46% from a year earlier in the four-week period ending April 11, the most since January 2015, according to Bloomberg, citing the Florida Department of Citrus and data from Nielsen.
After two decades of declining sales when Americans moved away from juice and opted for lower sugar beverages, orange juice consumption is reversing the trend as part of the quarantine diet.
It also has been sought because it is rich in vitamin C, which bolsters immune systems, in the face of the pandemic.
"The taboos of the past two decades are now erased, and with people trying to shop less frequently, drinking OJ can replace fresh fruit," Judy Ganes, the president of J. Ganes Consulting, told Bloomberg.
"This was the long-awaited break the industry needed to shake off prior negative posturing and give OJ a fresh start."
On the other side: Production had been expected to decline for the 2020–2021 orange crop and the latest estimate from Brazil's Fundecitrus showed it would be 25.6% smaller than the previous crop and 12.5% below the average crop size for the last 10 years.
That was largely because of poor weather conditions, and the coronavirus pandemic will likely further dent production as pickers get sick or are unable to work because of the virus.
Brazil now has the world's second highest number of cases, with nearly 365,000 confirmed.
But, but, but: As I wrote in March, orange juice prices are much higher than they have been in the past couple years but remain well below 2017 and 2018 highs.
Thanks for reading!
Quote: "Destiny may ride with us today, but there is no reason for it to interfere with lunch."
Why it matters: Russian Tsar Pyotr Alexeyevich, also known as Peter the Great, founded the city of Saint Petersburg, or Leningrad, on May 27, 1703.