1 media thing: I'll be talking markets and places on "Marketplace" this afternoon with my uncle Kai Ryssdal. Check your local listings. Or listen to the podcast after it airs.
Was this email forwarded to you? Sign up here.
Situational awareness:
1 big thing: Who's afraid of a direct listing?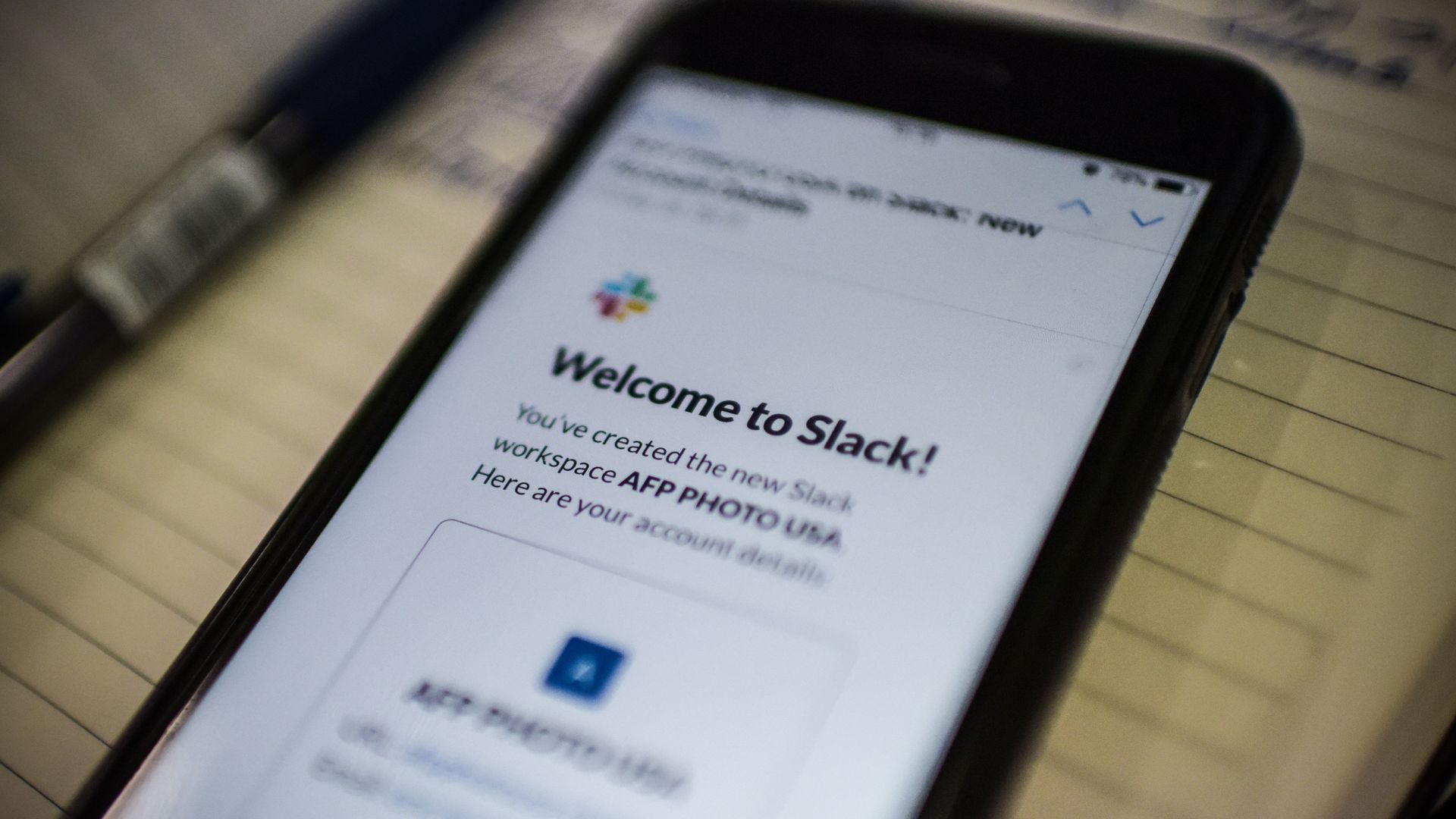 This year's rush of unicorns to the public market is challenging many long-held notions about the stock market, perhaps most notably the idea that companies need pricey investment bankers and other well-paid middlemen to go public.
Slack held its "investor day" earlier this week ahead of a direct public listing expected in early June instead of a traditional IPO, and all eyes are on how it performs.
Why it matters: With a historically low number of companies going public in recent years, investment banks are relying on big deals from billion-dollar companies like Uber, Zoom and Lyft to make their money.
If future unicorns and minotaurs like Juul, Stripe or Airbnb choose direct listings over IPOs the well could start to run dry.
How it works: In a traditional IPO, one or more investment banks serve as underwriters — financial experts who manage many aspects of the offering.
They set up roadshows to court potential buyers and raise capital.
File paperwork with the SEC.
Set the IPO price and buy shares from the company then sell them to various investors through their distribution networks.
Provide a safeguard if demand is weaker than expected.
Be smart: Underwriters have typically charged fees of "4-7% of gross proceeds, plus an additional $4.2 million of offering costs directly attributable to the IPO," according to PwC, no matter how the IPO goes. (Larger companies typically get to pay much lower IPO fees, e.g., Uber's underwriters walked away with a paltry $100 million.) That's a hefty price to pay, but until recently was simply the cost of doing business.
The big picture: Bankers have warned that direct listings are risky, but the unimpressive IPOs of Lyft and Uber are challenging the notion that companies benefit by going the traditional route.
Despite having the cream of the crop in the likes of Morgan Stanley, Goldman Sachs, JPMorgan and Credit Suisse, among many others on their underwriting teams, both companies' stocks have flamed out and late-stage investors are now underwater.
The bottom line: Slack is the first headline company to pursue a direct listing since Spotify successfully went public last year. Axios' Dan Primack tells me more companies are talking to Spotify about direct listings and considering following its blueprint.
Bonus: A double-edged sword
Companies are staying private longer as they consistently are able to raise larger amounts of capital through private funding. It's a new market reality that means less companies for investors to choose from and higher multiples for the stock market overall.
SEC Chair Jay Clayton recently bemoaned the new environment as leaving much of America without the opportunity to benefit from what's becoming an increasingly important share of the U.S. economy.
"We have to do something about that," Clayton said earlier this month at the Investment Company Institute's annual gathering.
What's next? For investment banks, it's a double-edged sword: Fewer companies go public, and some that do are big enough and will hold sufficient brand recognition to skirt an IPO and go straight to the public.
Yes, but: Even in direct listings, companies are still consulting with bankers, who will likely never be completely left out in the cold.
2. Quora is somehow worth $2 billion
Quora, the website where random people answer questions posed by other random people, has been valued at $2 billion — 100 times its revenue in 2018, according to Recode.
Why it matters: "It's a financing round that, in the eyes of some Silicon Valley investors, speaks to the high valuation for virtually everything these days in the tech sector," Recode reports.
3. Navient gets ratio'd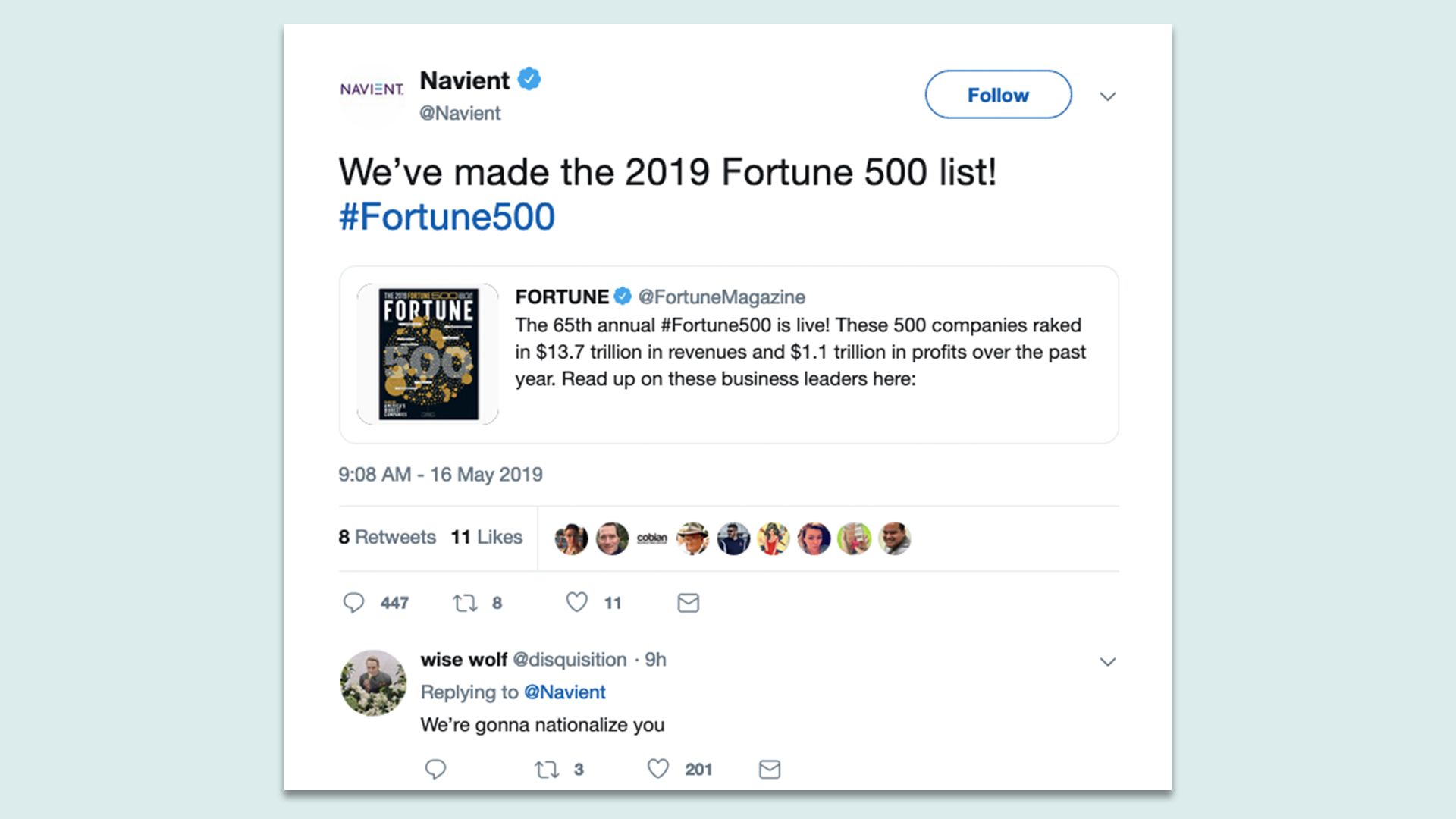 Screenshot of Navient's Twitter feed.
Student loan servicing company Navient was the latest company to feel Twitter's wrath on Thursday after tweeting about its inclusion in the annual Fortune 500 list of most valuable companies.
Why? Navient is facing multiple lawsuits that allege it engaged in deceptive practices to squeeze more money from borrowers by pushing them into more costly repayment plans.
Pennsylvania Attorney General Josh Shapiro, who is currently suing the company for the deceptive tactics, tweeted back, saying Navient made "$4 billion on the backs of students and their families through [its] predatory student loan practices."
Go deeper: The Twitter thread is amazing.
4. OPEC's tough balancing act
OPEC is lowering its production to levels not seen in years to balance a global oil market rocked by geopolitics from all sides, writes Axios' Amy Harder.
Driving the news: The above chart, from an International Energy Agency report released this week (and h/t to Bloomberg's Javier Blas for highlighting it), shows how this year is an outlier compared to previous years when it comes to oil production from the Organization of Petroleum Exporting Countries.
The big picture: America is now the world's largest oil producer in the world, and that's making it harder for OPEC to balance the market, according to Bob McNally, president of consultancy Rapidan Energy Group. Still, he said, the chart should be read not as OPEC getting pushed out by American oil, but instead the sheer volatility in the market.
"The oil market has rarely seen so much two way risk. China, trade and macroeconomic weakness could send crude prices at least $15 lower and intensifying geopolitical disruption risks in the Middle East and Venezuela could propel them higher by a similar amount."
— Bob McNally, president, Rapidan Energy Group
Where things stand:
Oil prices have been relatively stable so far this year, in the $60-$70 range per barrel, for both Brent in Europe and WTI in the U.S.
OPEC's share of global oil production has generally hovered between 36% — where it is today — and 41%, which is where it was in 2008, according to IEA data.
What's next: OPEC and Russian officials are meeting Sunday in Saudi Arabia to discuss geopolitical risks — including the attacks this week on Saudi oil infrastructure — and the oil market ahead of a meeting in late June when production quotas expire, per S&P Global Platts.
5. 1 fun thing: Corporate America's "Game of Thrones" price tag
It's not March Madness, but the upcoming finale of "Game of Thrones" is going to cost employers billions in lost productivity writes Axios' brand new business managing editor Jennifer Kingson. (Welcome her to the team: [email protected])
An estimated 10.7 million Americans will skip work the morning after the finale airs on Sunday night, according to The Workforce Institute at Kronos.
Yes, some employees may not show up and water-cooler discussions of "Game of Thrones" may be long and intense as the HBO series nears its conclusion, but there are far costlier workplace diversions, according to a calculation by the outplacement firm Challenger, Gray & Christmas.
Editor's note: The chart in the fourth story was corrected to show the measurements are in million barrels/day (not thousand).