Axios Markets
July 20, 2021
Today's newsletter is 1,273 words, 5 minutes.
💬 of the day: "Our experts believe, and the data shows, that most of the price increases we've seen were expected and expected to be temporary." - President Biden on inflation
1 big thing: Getting to S&P 5,000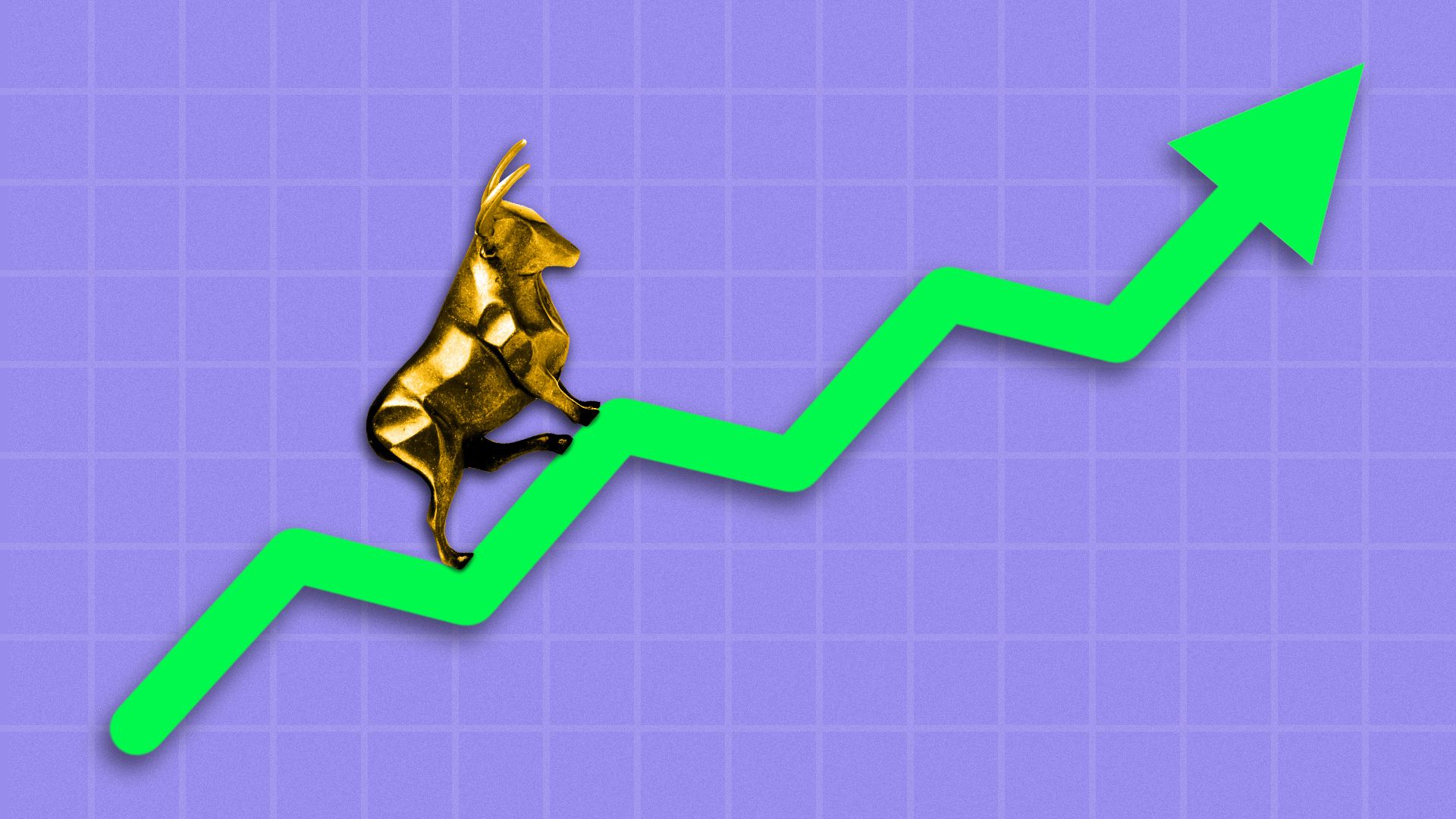 Even with Monday's stock market swoon, the S&P 500 could still rally to 5,000 within the next two years.
Why it matters: A big round number like 5,000 may seem like a stretch. But it's really not if you consider the historical precedents and the fundamentals, which support the case for reaching that milestone from its 4,258 close on Monday.
What they're saying: "If the economy continues to expand post-COVID, and companies continue to prosper in this new world, S&P 5,000 over the next two years seems very doable," Baird market strategist Michael Antonelli tells Axios.
By the numbers: To get to 5,000, the S&P 500 would have to gain a little over 8% per year for two years. This compares to a longer-term average return of about 10%.
"We are currently in year two of the bull market," LPL Financial's Ryan Detrick tells Axios. "So the key is this is actually still a young bull and higher than average returns are possible."
He notes that the S&P produced gains in each of the last five full months, a pattern which on average is followed by another 13% gain in the next 12 months. This gets you most of the way to 5,000.
Threat level: The Federal Reserve is expected to hike interest rates within the next two years, which could cool valuations, says DataTrek Research co-founder Nicholas Colas.
Strong earnings growth could fuel a broad rally that gets the S&P to 5,000 in two years, but it "feels like a stretch," he says.
The intrigue: Instead, Colas argues it's more probable that milestone will be achieved thanks to a handful of massive, high-growth tech names: Alphabet, Amazon, Apple, Facebook and Microsoft.
"If those 5 stocks each gain 30% over the next 2 years, that would be worth 6.6 percentage points of overall S&P gains," he wrote last week.
This path would require the other 495 stocks in the S&P to generate mid-single-digit gains per year for the index to get to 5,000 in two years, Colas says.
The bottom line: Forecasts for further stock market gains would be much more doubtful if they weren't backed by fundamentals. But the underlying economy continues to be one that's got a lot of pent-up demand coming from consumers with a lot of spending capacity.
2. Catch up quick
IBM reported sales of $18.7 billion in Q2, beating expectations thanks to a 13% increase in cloud business revenue. (Bloomberg)
Billionaire Jeff Bezos and three other passengers are set to fly to space aboard Blue Origin's New Shepard at around 9am ET. (Axios)
The Dow lost 726 points or 2.1% on Monday in its worst one-day decline since October. (Reuters)
Four big drug companies are near a $26 billion deal to settle claims that they helped fuel the opioid epidemic. (WSJ)
3. Birkenstock and Crocs mania is here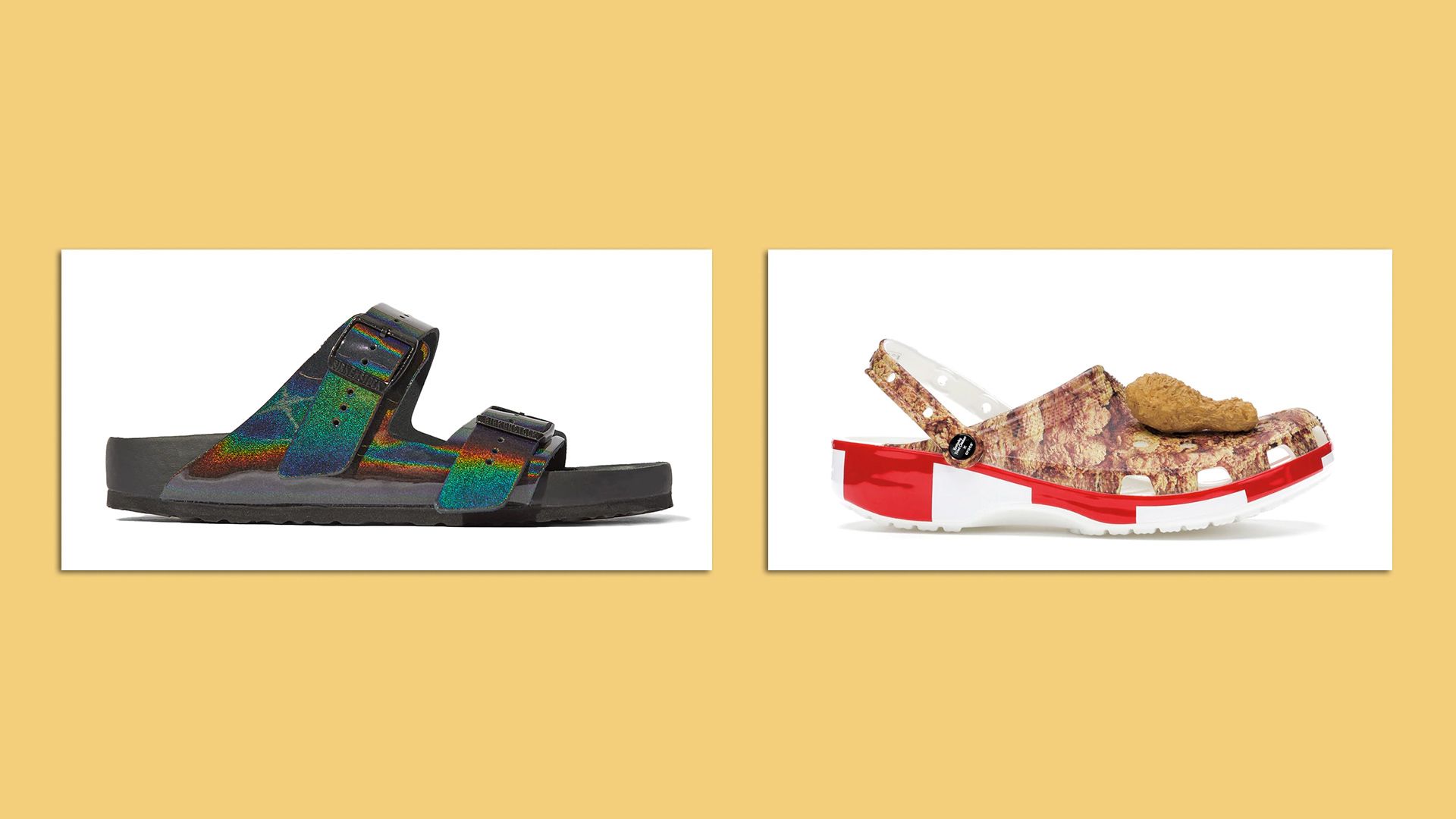 Shoe brands like Crocs and Birkenstock have taken a page from the trendy sneaker playbook — and it's paying off in the form of viral popularity, Axios' Hope King writes.
Driving the news: New data released today by StockX shows the two brands were among the resale platform's fastest-growing footwear brands over the last year based on total trades, Axios is first to report.
StockX is a secondary marketplace best known for sales of limited edition sneakers at double or triple the retail value.
Why it matters: The rise of limited edition Crocs and Birkenstocks sits squarely at the intersection of two pandemic trends: comfy shoes and the growing side-hustle economy.
Fueled in part by celebrity collaborations, certain models of both shoe brands are being sold for multiple times their retail price.
Case in point: The Crocs Classic Clog Bad Bunny, released in partnership with Puerto Rican singer Bad Bunny, have a retail value of $60 — and are selling for $280 on StockX.
The backstory: Pandemic lockdowns forced people to find new ways to occupy their time or to generate income, leading some to become professional resellers — or to at least try to flip a few items.
What they're saying: "Crocs were not on our radar even two years ago … and now it's one of the top 10 [footwear] brands on our marketplace," Jesse Einhorn, StockX senior economist, tells Axios.
Part of Crocs' success has to do with its "aggressive collaboration" strategy with celebrities like Post Malone and Justin Bieber, and limited edition styles, Einhorn says.
By the numbers: Sales of Birkenstocks and Crocs on the StockX platform grew 610%, and 430%, respectively, during the first half of 2021 compared to the first half of 2020.
For context, sales of sneakers from Louis Vuitton, Alexander McQueen and Reebok grew 440%, 370% and 210%, respectively.
New female users also helped the platform surpass 1 million sellers over StockX's lifetime. Compared to existing sellers, new sellers are nearly twice as likely to be women.
What to watch: Whether these brands can hold on to their hype as the economy reopens.
So far, Crocs shareholders are probably pleased: The stock has more than tripled over the last year.
4. When the recession officially ended
The U.S. economic recession triggered by the COVID-19 pandemic officially ended in April 2020, the National Bureau of Economic Research said Monday.
Why it matters: That may seem an odd proclamation, since the economy still has a long way to go and unemployment is elevated well above pre-pandemic levels.
However, trends continue to improve, and we can now date the favorable turning point.
The big picture: The NBER said the recession brought on by the COVID-19 pandemic began in February 2020, making this the shortest recession on record.
Flashback: After the U.S. government in March 2020 issued safety guidelines that began the shut down of much of the economy, April brought the largest one-month employment decline in history.
The bottom line: Knowing when the recession ended doesn't change anything. However, it does help us to better understand how the economy works as we study it in hindsight.
5. Used car supply is improving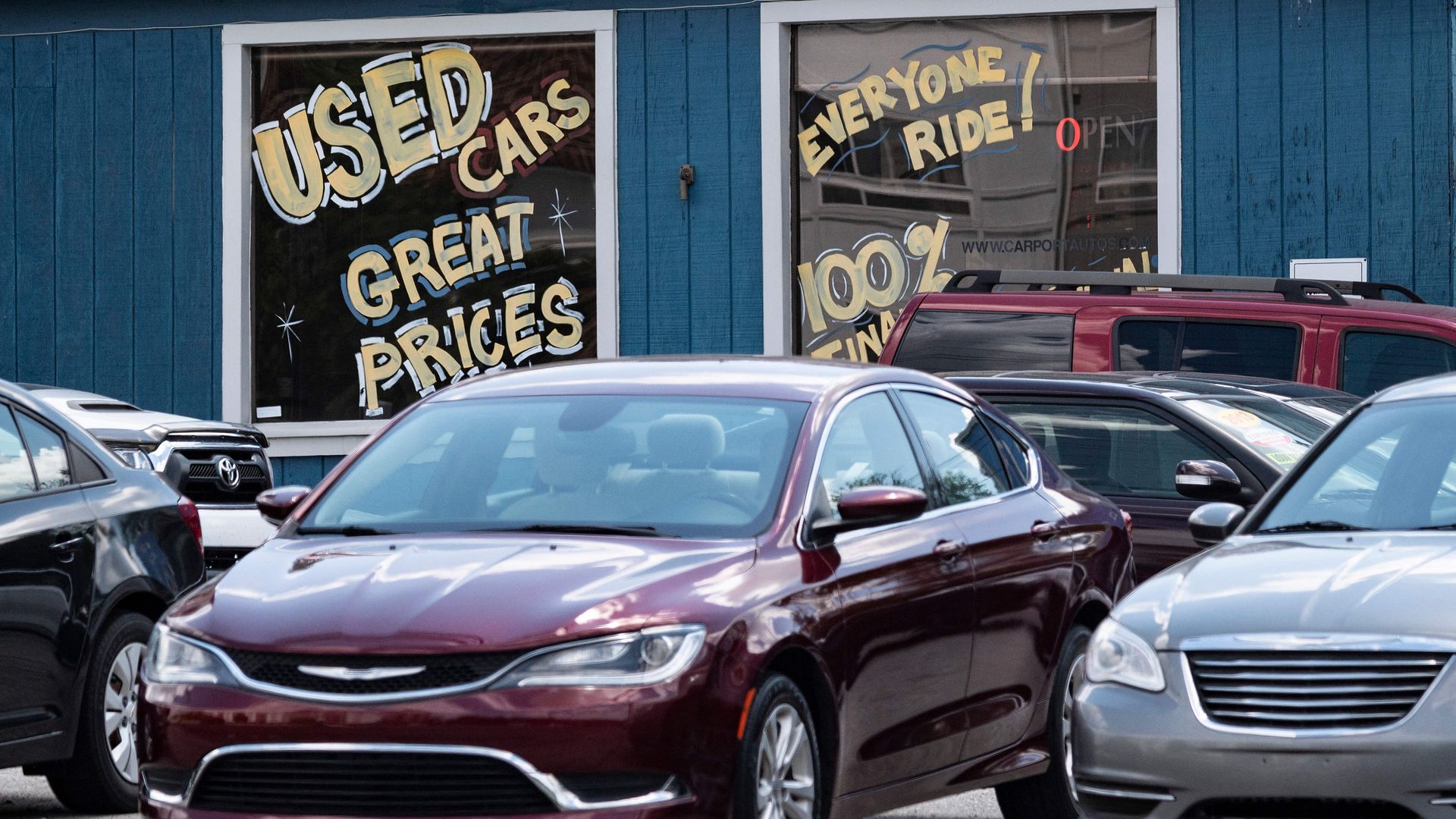 The used car supply shortage is loosening up.
Why it matters: Used car prices exploded in the past year, boosting inflation substantially, as disruptions in the production of new cars held back the supply of preowned cars.
By the numbers: As of mid-July, there were 44 days of supply in the used car market, according to Manheim. This means that at the current rate of used car sales, it would take 44 days to clear the inventory.
This is up from 36 days a month ago and a low of 30 days in mid-April.
"44 days' supply is the normal pre-pandemic used-vehicle inventory level," Cox Automotive chief economist Jonathan Smoke tells Axios.
What they're saying: "Simultaneously, the used market is approaching an equilibrium shift in demand and supply," Smoke says.
Manheim tells Axios that this shift is being driven by both a modest decline in used car sales volume and an improvement in used car supply.
Even though new car sales cooled off last month, they're still strong. And buyers continue to take advantage of trade-in offers, which have brought many more used cars to market.
"At the same time, automakers are requiring lessees to turn in their leases after pandemic-related delays, which also increases the number of used vehicles in the market," Smoke says.
Indeed, Manheim also reported that wholesale used vehicle prices declined 1.7% during the first half of July from June.
What to watch: Despite the favorable trends in supply and the very recent decline in wholesale prices, retail prices are still high.
But as my colleague Felix Salmon recently reported, retail used car prices lag wholesale prices by about a month.