Big news: Axios and HBO have inked a deal for a second season. Go deeper.
Situational awareness:
Indian jets fighter jets conducted an air strike on Pakistan, in what is the worst escalation between the nuclear-armed rivals since 2001. Pakistani officials described it as a "grave aggression." (Bloomberg)
Walmart is facing several complaints from the Equal Employment Opportunity Commission, as well as a lawsuit from greeters with disabilities who previously lost their jobs. (NPR)
1 big thing: In 2019's M&A market, less is more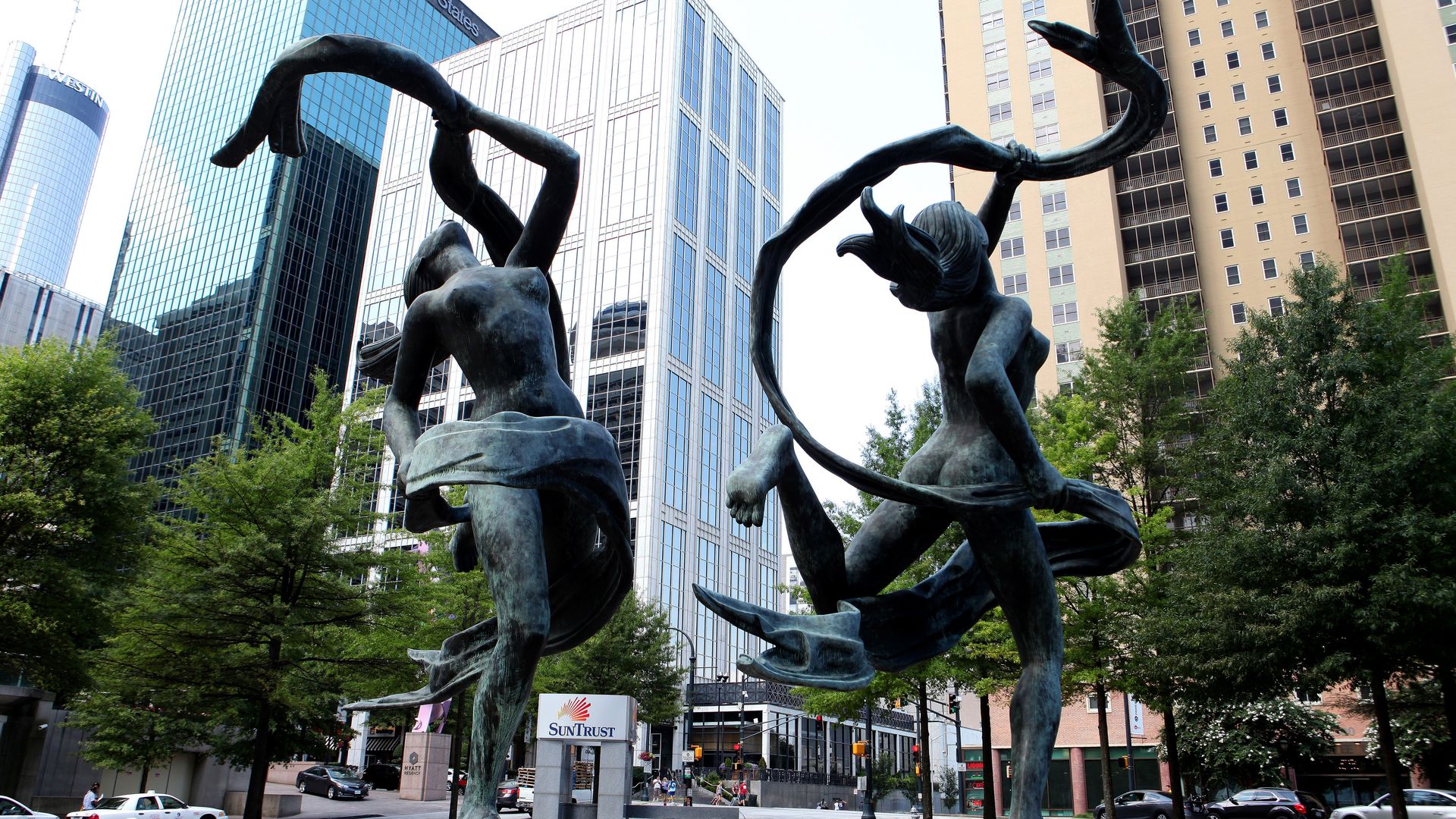 In terms of the number of deals, mergers and acquisitions activity is off to the slowest start since 2015. But the deals that have been made this year are much bigger than before, Axios' Courtenay Brown reports.
By the numbers: According to data prepared for Axios by Dealogic, public North American companies have announced 53 deals so far this year — fewer than the 81 in the same period last year.
But the deals are valued collectively at $279 billion, outpacing the valuation of deals announced within the same timeframe in the past 5 years.
Top executives only expect the numbers to grow: 76% of M&A executives at U.S.-headquartered corporations and 87% of M&A leaders at domestic private equity firms project the number of deals their organizations close over the next year will increase, according to a recent survey by Deloitte.
7 in 10 respondents say they expect the size of those transactions will be larger than the ones brokered in 2018.
Between the lines: The deals so far this year are beating records within their industries.
Newmont Mining's $10 billion all-stock takeover of Goldcorp is the biggest deal in the gold sector ever, per Reuters, and would create the world's biggest gold miner.
The BB&T-SunTrust tie-up, valued at $66 billion, is the biggest bank deal since the financial crisis.
Bristol-Myers Squibb said it would buy Celgene in a cash-and-stock deal worth $74 billion — one of the largest healthcare takeovers of all time.
Bottom line: "Choppy financial markets, trade tensions and fears of an economic slowdown hampered deal makers" a bit in 2018, the Wall Street Journal notes. Those same risks could still dampen the deal activity we've seen so far in 2019.
Bonus: Corporate takeovers may just be getting started
With nearly $280 billion in deals so far, this year is on pace to pass 2018's blowout numbers and one of the biggest tie-ups so far could get even bigger. Maybe.
Newmont agreed to an all-stock deal valued at $10 billion to buy Goldcorp in January. But Barrick just announced an unsolicited bid for Newmont.
If the company is successful, Newmont's Goldcorp deal would have to be terminated, as Axios' Dan Primack reported. That's a very big if, given Newmont's CEO Gary Goldberg called the bid "a desperate and bizarre attempt to muddle up our deal."
A Barrick-Newmont merger would make Barrick again the largest gold miner, producing an estimated 10 million ounces a year.
That tie-up is estimated to be worth $42 billion.
2. Venezuela and the oil market
The U.S. sanctions have crippled Venezuela's oil industry so fully that the country has half a billion dollars worth of oil sitting in ships off its coast, Bloomberg's Lucia Kassai and Fabiola Zerpa report.
What's happening: An armada of 16 ships, holding 8.36 million barrels of Venezuelan crude, are floating off the country's coast. The cargoes belong to PDVSA, Chevron, Valero and Russia's Rosneft oil company.
The sanctions have further cut off what was an already ailing oil sector for Venezuela — the country's only real export. The nation with the world's largest proven oil reserves had been pumping oil at a 70-year low even before the latest sanctions on the oil sector went into place.
Driving the news: Oil prices edged up on Monday, a dead cat bounce from the selloff that followed President Trump's calls in a tweet for OPEC to "relax and take it easy" with its planned output cuts. Crude had previously reached a 3-month high in anticipation of the cuts from OPEC and Russia.
Saudi Arabia is planning to pump 500,000 less barrels per day in March, and Russia has signaled it will further reduce production over the next 2 months. The cuts are expected to last through June.
Yes, but: Goldman Sachs' energy analysts expect prices to rise as high as $75 a barrel, they said in a note to clients on Monday, but reverse course as the return of the "New Oil Order" returns, with U.S. producers pumping up production and the expiration of OPEC+ cuts.
3. "Anyone that touches the petroleum industry is affected"
The continually escalating U.S. sanctions on Venezuela have created problems for more than just the country's president and his inner circle. They are creating "new compliance risks for U.S. and international financial institutions," the Wall Street Journal's Mengqi Sun writes.
Banks are responsible for vetting their customers to ensure they don't have relationships with people or companies on the sanctions list and to flag and block questionable transactions.
Why it matters: Venezuela's state oil company, PDVSA, which has been the target of some sanctions, has many subsidiaries and outsources much of its business to third-party vendors. That means banks are picking over transactions and potential customers with a fine-tooth comb, said Daniel Gutierrez, who chairs the anti-money-laundering compliance committee at the Florida International Bankers Association.
"The question the industry has is how far down that outsourcing chain do I have to go to determine if I have a sanction on Venezuela or not," Gutierrez said.
The deep connections between the U.S. and Venezuela in the oil industry goes much deeper than simply paying for gas. The sanctions can affect automobile and heavy machinery manufacturing, as well as elements of insurance and finance, said Cari Stinebower, a sanctions lawyer at Crowell & Moring LLP, tells WSJ.
"Anyone that touches the petroleum industry is affected by the sanctions, " Stinebower said.
4. Support for skill development
In a recent paper on how to protect workers from automation, Brookings Institute's Robert Maxim and Mark Muro write that while just 25% of the U.S. workforce are facing "high" exposure to job loss from automation in the coming decades, that still represents 36 million Americans.
"To adapt to coming changes, workers will need more support for skill development," Maxim and Muro write. "Unfortunately, employer-supported training, one of the main forms of skill development for incumbent workers, has been declining over time."
Between the lines: Data shows that as a portion of our economy, the U.S. spends less than every other industrialized country except Mexico on training workers, so-called active labor market policies that provide workers with skills and match them to jobs.
Furthermore, the U.S. invests less than it used to in these policies — as a percentage of GDP, we spend less than half of what we did in 1985.
5. Nine questions for Jerome Powell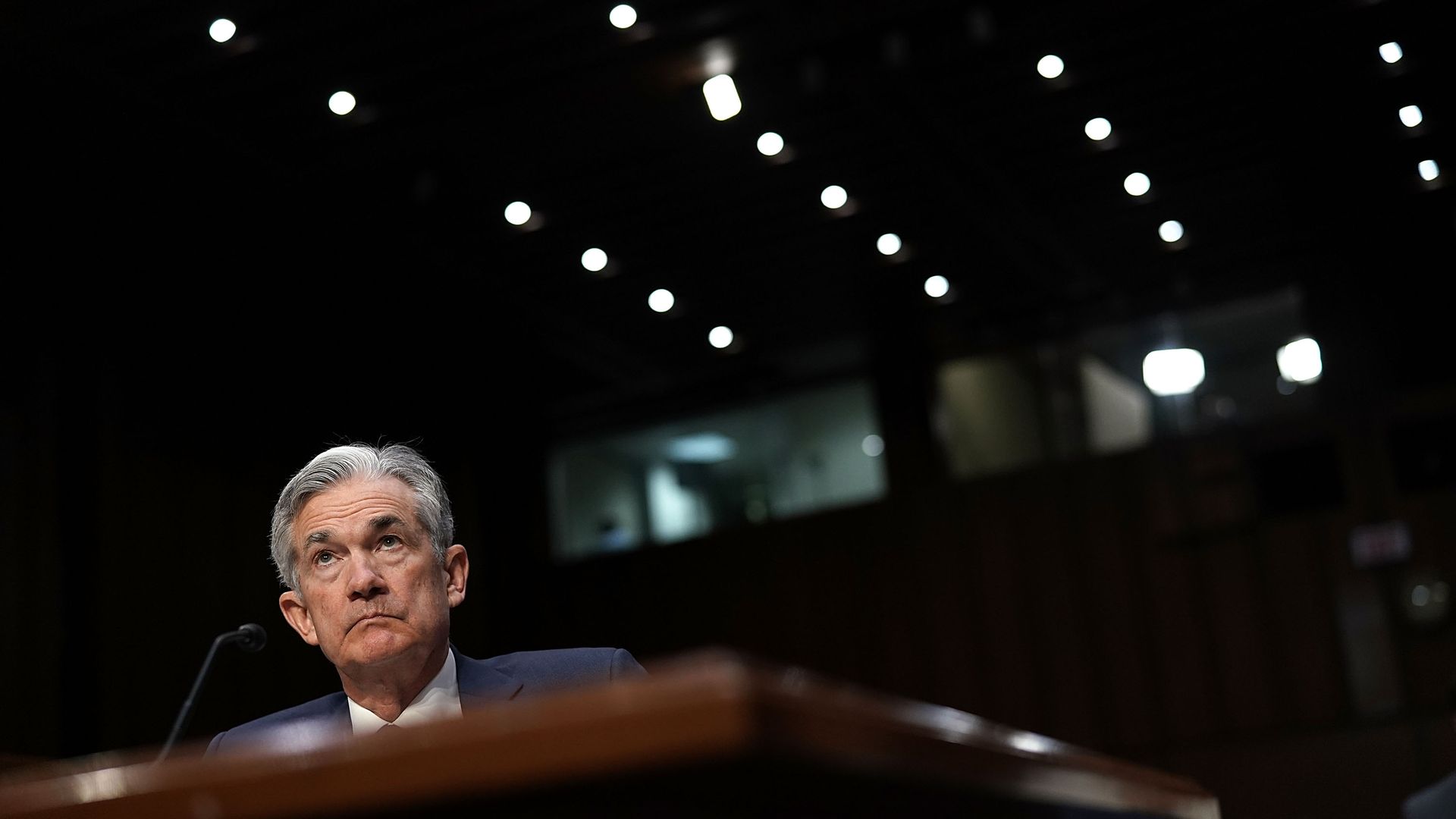 Fed Chair Jerome Powell will testify before the Senate Banking Committee today and the House Financial Services Committee tomorrow. Two members of the Banking Committee and at least 1 member of the Financial Services Committee are likely to run for president in 2020, so expectations are low for substance.
But on the off-chance there's some staffer out there who reads Axios Markets and wants to help his/her boss out, here are a few questions.
What happened between November and January that took the Fed from moving forward with 3 more rate hikes and the balance sheet runoff on automatic pilot to no more expected hikes in 2019 and ending the balance sheet runoff?
No, seriously, please answer the question: What happened between November and January that changed your expected path of policy normalization?
If the Fed is data dependent, as you and a number of Fed officials assert, can you please cite the U.S. data that worsened between November and January that led to lowering your expected rate hikes for 2019?
What role did the U.S. stock market play in this decision?
Can you please explain how higher interest rates help reduce asset bubbles and how this can be good for the economy?
Can you explain what role, if any, the Fed keeping interest rates too low for too long played in the Great Financial Crisis?
A number of economists and politicians have recently begun to embrace Modern Monetary Theory, which argues Congress rather than the Fed should control monetary policy. Why do you think the Federal Reserve is better able to administer monetary policy than Congress?
Your recently released calendars show you had 98 personal phone calls and meetings with Congress members last year — nearly four times as many as former Fed Chair Janet Yellen, over the same period during her first year. Why are you spending so much time talking to us?
Your predecessor, Dr. Yellen, said recently that she does not believe President Trump understands economic policy or what the Fed does. Do you agree?
History: Hatshepsut was one of the most prolific rulers and builders in world history. She commissioned hundreds of construction projects throughout both Upper Egypt and Lower Egypt, many of which still stand.
One of Egypt's first female pharaohs, she re-established the trade networks that had been disrupted during a previous occupation, and helped build the wealth of the 18th Dynasty.
While she was successful in warfare, increasing the size of the Egyptian empire early in her reign, she is generally considered to have ruled over a long era of peace and rekindled international trading relationships. That wealth enabled Hatshepsut to initiate building projects that raised the caliber of Egyptian architecture to a standard that would not be rivaled by any other culture for 1,000 years.
Later pharaohs even attempted to claim some of her projects as theirs.
During her reign, she built so much and created such impressive works that almost every major museum with ancient Egyptian artifacts in the world has Hatshepsut's work in their collections. Her tomb is also one of the most visited buildings in the world.