Axios Markets
June 07, 2023
🔮 Hi! Look, we don't claim to be in the prediction business here, but yesterday we wrote that the SEC might go after Coinbase next, and less than an hour or so later, the agency filed suit against the crypto exchange.
If someone forwarded this email to your inbox, you can subscribe here. We see it in your future.
Today's newsletter is 1,133 words, 4.5 minutes.
1 big thing: CEOs are buying into the soft landing
The breakneck pace of corporate hiring may slow in the coming months — but the overall economy remains solid. That's the takeaway from a new survey of America's leading chief executives shared first with Axios.
Why it matters: The view from the corporate suite — revealed in the Business Roundtable's quarterly CEO economic outlook survey — is of an economy that can come off its inflationary hot boil without the plunging sales and mass layoffs seen in recessions, Axios' Neil Irwin writes.
State of play: The overall index of CEO expectations edged down to 76, comfortably above 50 (the line between expansion and contraction), but below its long-term average of 84.
It's the underlying details that are more interesting:
The executives' expectations for sales were unchanged from Q1, and their capital spending plans actually ticked up. That's not what you expect to see in a recession.
Moreover, softer hiring plans weren't driven by rising enthusiasm for layoffs. The share of CEOs who expect their U.S. employment to decrease in the next six months was unchanged from Q1, at 27%.
Rather, fewer of the CEOs envision increasing their headcount — 33% now compared to 41% last quarter.
Between the lines: The era of businesses hiring every warm body they can find looks to be coming to an end. But top executives envision a period of muddling along with slow growth, rather than outright contraction.
They expect 1.5% GDP growth this year, a tick up from their expectation three months ago.
What they're saying: With a potential debt limit crisis averted in a manner unlikely to cause significant economic damage — just what business leaders wanted — they are turning their policy attention to things like negotiations over permitting reform to speed infrastructure and energy projections.
"Action by Congress and the Administration to raise the debt ceiling was a welcome signal from Washington that bipartisan agreement at a consequential moment is achievable," says General Motors CEO and Business Roundtable chair Mary Barra.
"Business leaders stand ready to work with lawmakers to advance policies that strengthen the economy and American competitiveness."
The bottom line: After 18 months of nonstop recession chatter, a soft landing just may be in sight.
2. Catch up quick
3. Crypto's no-good, very bad week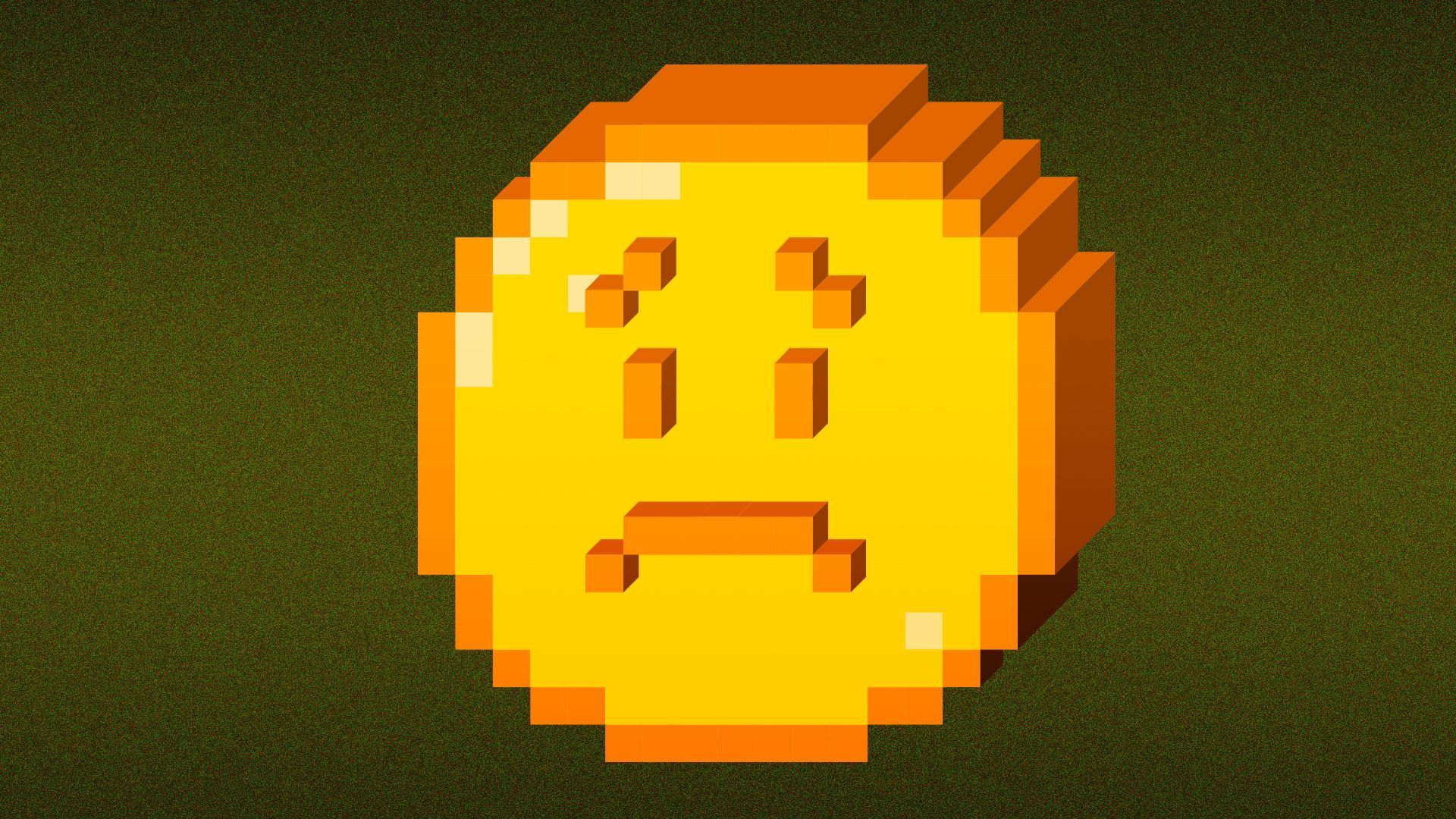 It's been a week to test the faith of crypto true believers — and it's only Wednesday, Matt writes.
The big picture: Some of the highest profile crypto companies still standing have been pummeled by a flurry of federal charges, raising fresh questions about whether the crypto ecosystem can survive in its current configuration, or at all.
A quick rundown:
On Tuesday, the S.E.C. brought civil charges against Coinbase — the largest crypto exchange in the U.S. — alleging that the company is operating as an unregistered securities brokerage in violation of federal law.
Shortly after, several states announced that they had started legal proceedings that could effectively shut down Coinbase's trading operations within their jurisdictions.
On Monday, the S.E.C. levied some similar charges against Binance — the world's largest crypto exchange. It also charged Binance founder and controlling shareholder, and general crypto bigshot, Changpeng Zhao, with violating securities laws.
Context: These actions are shaking some of the biggest remaining cornerstones of the crypto world, following the high-profile collapse of crypto exchange FTX last year.
That, of course, resulted in a range of criminal charges being brought against one-time crypto golden boy Sam Bankman-Fried.
Oh, and the Justice Department also charged Do Kwon, the creator of the TerraUSD — a supposed "stablecoin" that collapsed in 2022, with fraud earlier this year. He was arrested in Montenegro on charges of using a false passport; both U.S. and South Korean authorities are seeking his extradition.
💭 Our thought bubble: This isn't the first time crypto backers have run afoul of legal authorities. But there's something about this current flurry that starts to feel like we're approaching the crypto end-times — or at least the end of one crypto era.
And that vibe shift has just as much to do with the emergence of a new technology craze du jour for investors to obsess over — in the form of generative AI — as it does with the legal pressure that crypto entities like Binance and Coinbase are facing.
4. Bankruptcy pileup
Corporate bankruptcies so far this year are at levels last seen back in 2010 when the economy was tentatively recovering from a catastrophic recession, per a new report from S&P Global Market Intelligence, Emily writes.
Why it matters: Now, we're not in a recession or even close to one — instead, the bankruptcies are a result of the rapid interest rate hikes by the Federal Reserve.
Zoom out: For companies that weren't doing so hot before the rate hikes, the end of cheap money sealed their fate.
When ultra-easy access to funding dries up, the spigot shuts off for companies that probably shouldn't be borrowing more anyway, as we've written.
There was a flurry of bankruptcy filings early in the month — with seven large Chapter 11s in a two-day span.
The pace slowed after that — there were 54 bankruptcies filed in all of May, a slight tick up from the prior month — and lower than in March when 70 companies filed, per S&P's report.
Well-known brands that succumbed to Chapter 11 this year include Bed Bath & Beyond, Party City, and mattress maker Serta Simmons.
5. Media's summer of strikes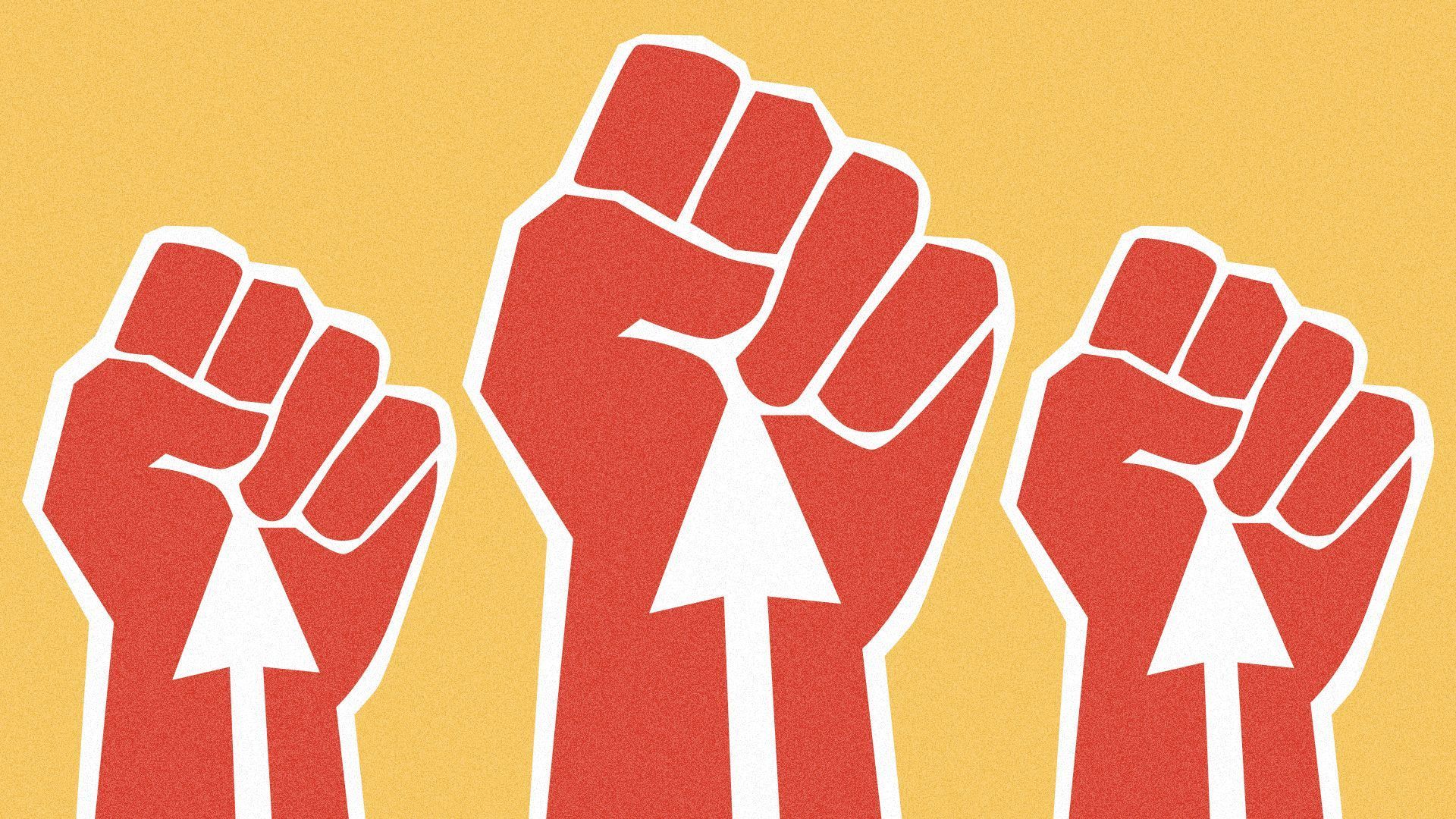 Members of the union representing Hollywood actors voted overwhelmingly this week to authorize a strike against the country's biggest TV and film studios, should the two groups fail to reach a new contract deal by the end of the month, Axios' Sara Fischer and Tim Baysinger report.
The big picture: The media industry is facing an unprecedented number of strikes and union battles as big companies wrestle with slowing profits and fears about artificial intelligence.
If the actors union, SAG-AFTRA, doesn't come to an agreement, Hollywood would likely face a two-pronged labor battle — since the union representing Hollywood writers began striking last month for the first time in 15 years, sending Hollywood's fall TV schedule into a tailspin.
Hundreds of Gannett staffers walked off the job on Monday, a protest that coincided with the company's annual meeting of shareholders. Union members had been demanding better working conditions and had unsuccessfully pushed shareholders to vote to oust CEO Mike Reed.
More than 250 members of Insider's newsroom also went on strike Friday amid failed talks with management over a number of contract provisions, including health benefits.
The bottom line: Strikes have become a bigger part of union negotiation tactics in recent years, causing production delays and editorial disruptions.
Thanks for reading! Was this email forwarded to you? Subscribe here.
Axios Markets is edited by Kate Marino and copy edited by Mickey Meece.