Axios Markets
January 04, 2023
A new year! The tabula is virtually rasa. So, what should we write about? Email us: [email protected].
Today's newsletter is 807 words, 3 minutes.
1 big thing: Natural gas hits pre-war price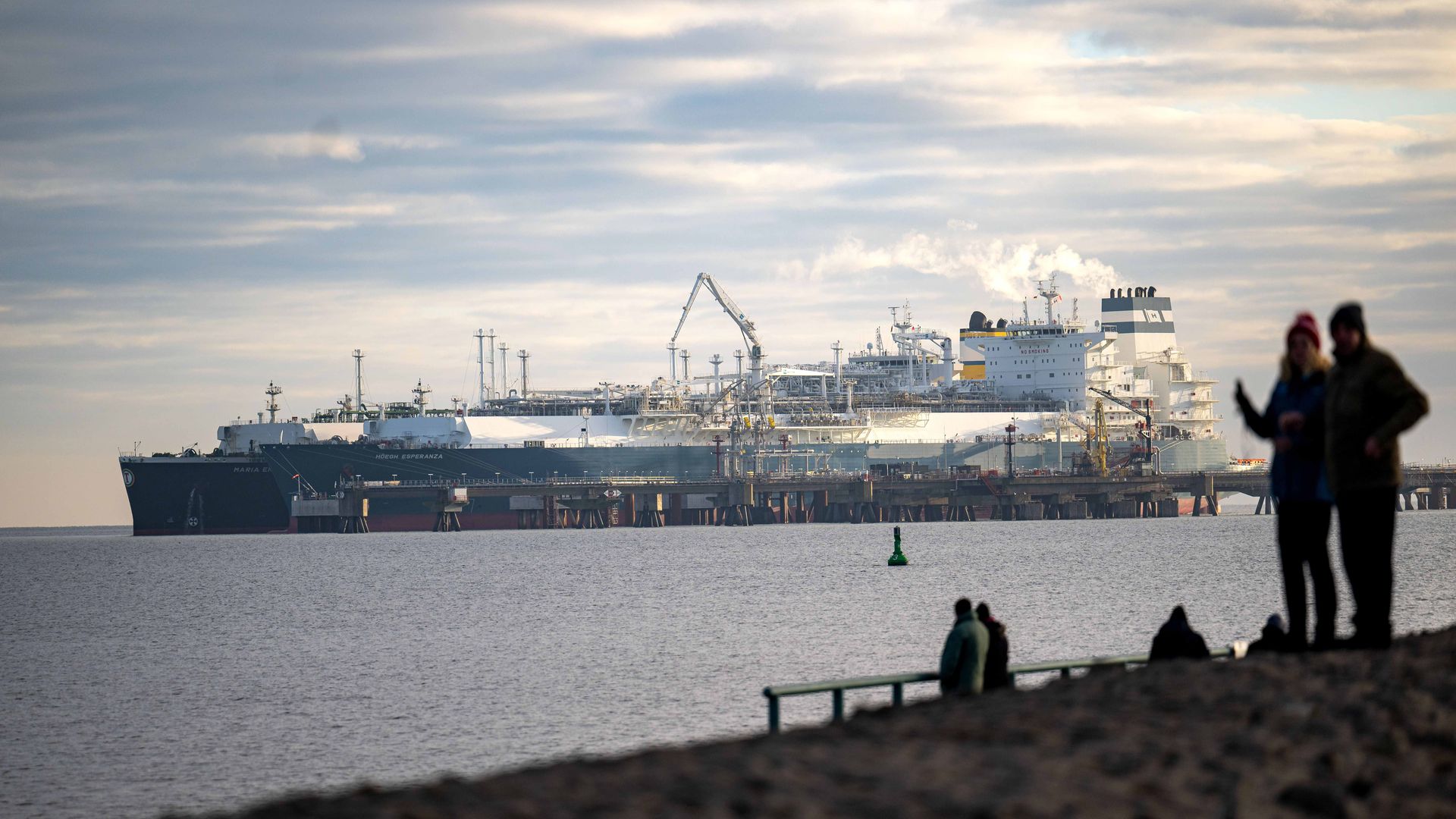 European natural gas prices — which soared after Russia's invasion of Ukraine — have tumbled back to pre-war levels, Matt writes.
Why it matters: If sustained, declining gas prices could ease a series of inflation, cost of living, and economic crises across Europe — and help preserve public support for the sanctions against Russia.
Europe's economic health, or lack thereof, also has consequences for one of its biggest trading partners — the U.S.
By the numbers: Benchmark prices for natural gas — using a Dutch gas trading exchange known as the Title Transfer Facility (TTF) — fell below €75 per megawatt hour yesterday.
They're down about 80% from their August peak of nearly €350.
Driving the news: The price drop is part policy, part good luck.
The big picture: Russia's brutal invasion of its neighbor was a major shock to the European economy, which relied heavily on steady, affordable supplies of Russian natural gas to heat homes, illuminate cities and power factories.
The war forced shutdowns among energy-intensive European industries, such as chemical and metal production.
Countries nationalized utilities and spent billions to subsidize energy prices for households.
Even so, prices have still surged for consumers, driving inflation sharply higher across the continent.
The latest: Fresh data out yesterday showed German consumers, for example, paid 24% more for energy in 2022 than they did the previous year.
Yes, but: While Germany's inflation numbers were the largest year-on-year increase since the country reunited in the early 1990s, there was a glimmer of hope.
Over a shorter timeline, price increases seem to be slowing fast — from over 10% in October and November, to 8.6% in December — largely due to the impact of falling energy prices.
That was partly because of a one-time payment of consumer utility bills in December, the government statistical agency said, but gas futures prices were also down roughly 50% over that period.
The bottom line: The interaction of energy prices and inflation will continue to be a — or perhaps the — major economic issue to watch in 2023.
2. Charted: Russia, Ukraine and the gas market
3. Catch up quick
🇨🇳 China is pausing its investments in building a chip industry that competes with the U.S. (Bloomberg)
🔍 Microsoft is working to incorporate OpenAI's ChatGPT technology into its Bing search engine. (Axios)
🛑 Crypto firm Wyre said to shut down. (Axios)
🚗 U.S. auto sales in 2022 are expected to show a decline. (WSJ)
4. New year, more money
Millions of Americans got a raise this week, as minimum wage increases in 23 states and Washington, D.C. went into effect, Emily writes.
Why it matters: The biggest factor driving the increases was inflation — 13 states tie their minimum wage rate to the Consumer Price Index, as Wolters Kluwer notes in a new analysis. Other states had increases set by legislation or ballot initiatives.
While the federal wage floor remains stuck at $7.25, a growing number of states now have minimum wages of at least $15 an hour, including Washington ($15.74), California ($15.50) and Massachusetts ($15).
In the coming years, more states will reach $15 an hour — once a long-shot goal of activists — including Connecticut (June 2023), New Jersey (2024) and Illinois (2025).
Zoom out: These wage increases are part of a bigger trend in the workforce, where lower-income, lower-skilled workers are grabbing bigger wage increases than higher earners (in terms of percentage).
Wages for the lowest-skilled workers have risen more than for high-skill workers over the last 12 months, per the Atlanta Fed's wage tracker.
5. And we're off! And down!
Stocks stumbled in the first session of 2023, Matt writes.
Driving the news: The S&P 500 ended the day down 0.4%.
It was an inauspicious start for the index following the 19.4% drop it suffered in 2022, its worst year since 2008.
Details: The worst S&P performer was Elon Musk's Tesla, which plunged 12.2% on the day after reporting disappointing fourth-quarter production and delivery numbers.
A year ago — Jan. 3, 2022 — Tesla's share price hit an all-time high, giving it a market value of more than $1.2 trillion.
The bottom line: Tesla's shares have collapsed by roughly 73% over the last year, destroying almost $900 billion of shareholder wealth during that period.
If things keep going like this, it won't be long till Musk will have overseen $1 trillion worth of value destruction.
To be fair, Apple shed roughly $1 trillion in value over the same period — though its percentage decline from about $3 trillion to about $2 trillion was smaller.
🎧 1 thing Matt loves: A good listen. So I was thrilled to see an interview with James Macdonald, an ex-banker and financial historian, on an episode of the Anglocentric finance podcast "A Long Time in Finance."
He talked about the interlinked history of government debt markets, warfare and democracy, ground he ably covered in his excellent 2006 tome "A Free Nation Deep in Debt." If you're a bond market geek you need to read that book.
Was this email forwarded to you? Sign up here to get Axios Markets in your inbox.
Today's newsletter was edited by Kate Marino and copy edited by Mickey Meece.