Axios Markets
May 19, 2021
Good morning! Was this email forwarded to you? Sign up here. (Today's Smart Brevity count: 1,323 words, 5 minutes.)
🚨 Heads up! I'm off the next two days, so Aja Whitaker-Moore will be in your inbox. I'll be back on Monday.
🎙 "The only reason Roush and Ford wanted me was because there wasn't anyone faster." - See who said it and why it matters at the bottom.
1 big thing: The great dollar selloff has resumed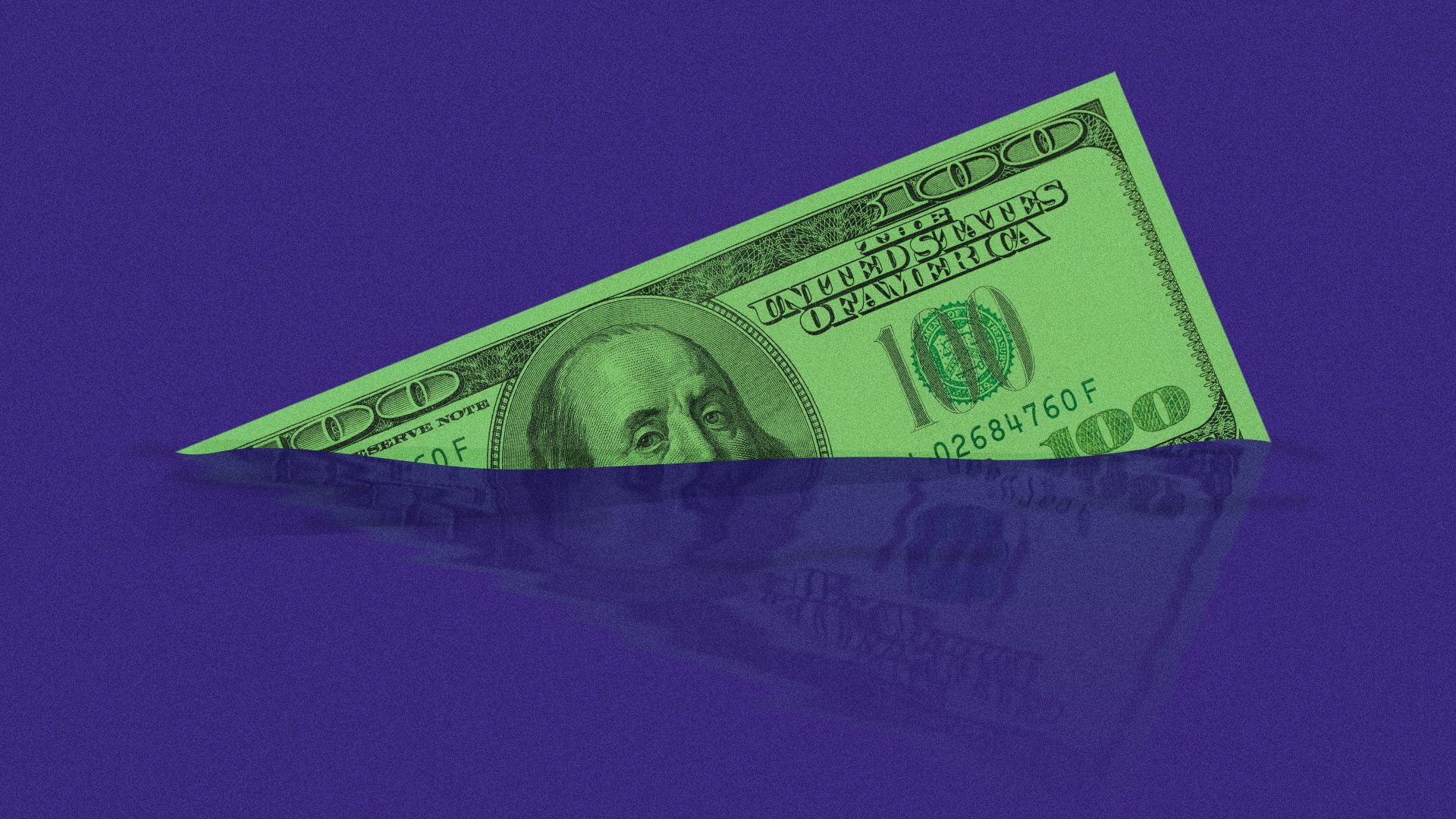 The value of the dollar is hanging near its lowest level of the year and could be headed toward its lowest point since the current strong-dollar cycle began in 2014.
Why it matters: After reversing 2020's decline to start the year, the dollar is again signaling that regime change could be afoot and that could mean a meaningfully lower value for the greenback.
Driving the news: The dollar turned lower against most major currencies after another weak report on U.S. housing.
U.S. housing starts fell 9.5% in April, far worse than the 1.4% decline economists were expecting, and building permits grew 0.3% in April, also missing expectations and down from 1.7% in March.
Housing purchases have slowed materially in 2021 but prices have continued their meteoric rise thanks to supercharged commodity prices and demand from wealthy Americans with limited investment options delivering positive returns.
What's happening: The dollar fell on Tuesday, its third straight session in the red, and has been edging lower for much of the month.
The dollar index, which tracks the dollar against six major global currencies, fell to 89.66 on Tuesday, holding just above 89.44, its low on the year and about 1.1% above its cycle low of 88.59, touched in February 2018.
What we're hearing: "Weaker U.S. data is finally catching up to the dollar," Kathy Lien, managing director of FX Strategy for BK Asset Management, says in a note to clients.
"Between weak job growth, the decline in spending, slowdown in manufacturing activity in the NY region and now housing, it was only a matter of time before the dollar sold off across the board as these reports reinforce the Federal Reserve's reluctance to respond to rising price pressures."
Watch this space: The dollar has fallen to a near six-year low against the Canadian dollar, thanks in large part to policy divergence between the Federal Reserve and the Bank of Canada.
The Fed looks to have cemented market expectations that it will keep interest rates near 0 and continue its $120 billion a month bond-buying program for the foreseeable future, while the Bank of Canada announced it would begin to reduce its asset purchase program at its last meeting.
Don't sleep: Investors had been betting surging inflation readings would force the Fed's hand but influential Fed officials including vice chair Richard Clarida and possible chair-in-waiting Raphael Bostic both strongly reinforced their commitment to continuing the Fed's current ultraloose policy after April's massive overshoot on CPI.
The euro also has risen to its highest in close to three months against the dollar even as policymakers at the European Central Bank announced they would speed up government bond purchases earlier this year.
Of note: Lower interest rates typically make currencies less attractive to investors.
Bonus chart: A changing environment
The dollar's weakness had been correlated to rising global stock prices last year, but so far this year the slide has been more beneficial to commodities, like oil, gold and agriculture.
After falling to its lowest in nearly a year in March, gold prices have jumped and reached a three-month high on Tuesday,
Cryptocurrencies have fallen with the dollar since mid-April, reversing 2020's trend (and early 2021's) that saw bitcoin's price rise to highs nearly 10 times what it had been as recently as December 2019.
The dollar index has fallen by 2.1% since April 15 and the S&P 500 has been flat, gaining 0.1%.
2. Catch up quick
3. JPMorgan makes CEO front-runners co-heads of consumer bank
Axios' Oriana Gonzalez writes: JPMorgan Chase announced on Tuesday that it has named Consumer Lending CEO Marianne Lake and CFO Jennifer Piepszak as co-heads of the bank's consumer unit.
Why it matters: The women had been named by the bank as front-runners to succeed JPMorgan CEO Jamie Dimon, who is now 65 years old, and placing them as finance chiefs cements their status as the most likely candidates to get the role.
"Among the six biggest U.S. banks, only Citigroup Inc. has ever named a woman CEO," Bloomberg writes.
They will report to Gordon Smith, co-president and COO, until he retires at the end of the year.
The big picture: Dimon has for years avoided answering the question of when he will retire, per CNBC. But his retirement has now become an important subject for the bank's board, particularly after Dimon last year had to recover from an emergency heart surgery that led to Smith and co-president Daniel Pinto briefly running the bank, the Wall Street Journal reports.
Smith, who is 62, was considered too old to become Dimon's successor.
What they're saying: "We are fortunate to have two such superb executives in Marianne and Jenn — they both are examples of our extremely talented and deep management bench," Dimon said in a statement.
"Both have proven track records of working successfully across the firm and both are well known and respected within the financial industry for their exceptional character and capabilities," he added.
4. Conservative group targets Biden IRS plan
Axios' Hans Nichols writes: A conservative anti-tax group views President Biden's proposal to increase funding for the Internal Revenue Service as a means to sink his tax-and-spend infrastructure package.
Why it matters: By launching a six-figure cable and local TV buy for an ad against first-year Reps. Carolyn Bourdeaux (D-Ga.) and Conor Lamb (D-Pa.), the group is testing a broader potential line of attack against the $2.3 trillion package.
"If Joe Biden gets his way, they are coming: IRS agents," warns the ad's narrator. "Biden's massive tax increase plan includes a staggering $80 billion to help recruit an army of IRS agents."
The ad is being run by the Coalition to Protect American Workers, a group with ambitions of raising up to $25 million to prevent the plan from passing Congress.
The big picture: Paying for Biden's infrastructure proposal is emerging as one of the key stumbling blocks to a potential bipartisan deal.
Republicans are expected this week to offer their second counterproposal, which could climb as high as $800 billion for hard infrastructure projects like roads, bridges and waterways.
While some Democrats, including Sen. Mark Warner of Virginia, have suggested user fees to help fund the spending, the White House has rejected them.
It argues they would "violate" Biden's promise not to raise taxes on Americans making less than $400,000 annually.
Go deeper: Biden plans to raise $700 billion by investing another $80 billion into tax enforcement at the IRS, to focus on Americans making more than $400,000.
The ad conflates Biden's stated positions — such as increasing funding for the IRS — with accusations "congressional Democrats want to defund the police."
That leaves the false impression Democrats want to take money away from police departments so they can shift it to IRS enforcement.
What they're saying: "A massive, bipartisan majority of the American people support making the richest Americans and biggest corporations pay the taxes they owe — without increasing the rate of audits on any people or small-business owners earning less than $400,000 a year — so can we use that money to invest in the middle class," said Michael Gwin, director of White House Rapid Response.
"A few special interest-funded ads won't change that fact or a single mind."
5. Bank of America to raise minimum wage to $25 by 2025
Axios' Jacob Knutson writes: Bank of America announced in a statement Tuesday it will raise its U.S. minimum hourly wage to $25 by 2025.
Why it matters: The bank says its base hourly pay will have increased by more than 121% since 2010, which is a bump of nearly $14 per hour.
Context: Bank of America raised its minimum hourly wage to $20 last year and to $17 in 2019.
What they're saying: "A core tenet of responsible growth is our commitment to being a great place to work which means investing in the people who serve our clients," said Sheri Bronstein, chief human resources officer at Bank of America.
"That includes providing strong pay and competitive benefits to help them and their families, so that we continue to attract and retain the best talent."
The big picture: The bank also said all its U.S. vendors are now required to pay their employees at or above $15 per hour.
Over 99% of the company's U.S. vendor firms and vendor employees make the $15-per-hour rate or above.
Thanks for reading!
Quote: "The only reason Roush and Ford wanted me was because there wasn't anyone faster."
Why it matters: On May 19, 1991, Willy T. Ribbs became the first Black driver to qualify for and compete in the Indianapolis 500.
**************
This newsletter is written in Smart Brevity®. Learn how your team can communicate in the same smart, clear style with Axios HQ.