Axios Markets
February 24, 2022
🚨 Situational awareness: Russia launched a broad attack on Ukraine, upending world energy markets and sending crude oil prices above $100 a barrel. Follow Axios' live updates.
The attack comes on the heels of an ugly day for the markets yesterday, as investors continued to worry about all manner of things inflationary and Ukrainian. And futures are down. It'll be a bumpy ride, today, too.
Today's Smart Brevity: 1,070 words, 4 minutes.
1 big thing: Inflation scapegoat wanted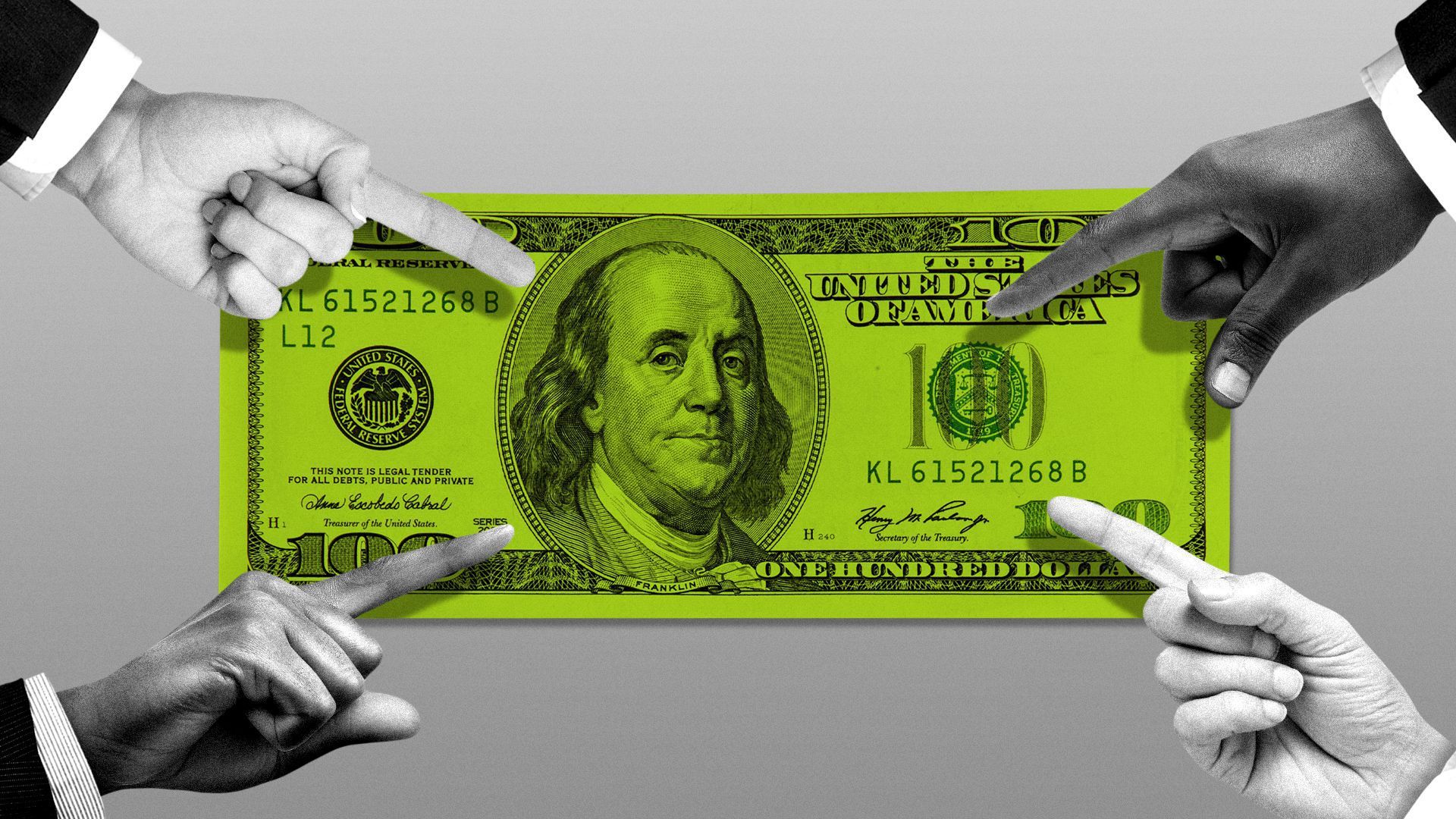 Prices are going up and everyone wants someone to blame. For conservatives and Republicans that's easy: They can blame the president and his stimulus spending, Emily writes.
On the other side, some progressive groups and Democratic lawmakers are arguing that corporate greed is making inflation worse — and are pushing the White House to talk about this more.
Why it matters: It's natural to want a clear story to tell about inflation, with an obvious villain. But prices are rising for all kinds of reasons — yes, fiscal stimulus but also busted supply chains, increased demand, and changing consumer preferences. It's not a simple story.
What they're saying: "President Biden has been dealt a tough hand on inflation but going after corporate profiteering is a strong card to play," says Dan Crawford, press secretary at The Hub Project, one of the progressive groups urging the administration to message this harder.
He points to partisan polling that suggests Americans do blame big companies for higher prices.
Yes, but: The White House has talked up this issue, mostly in very specific instances — like meat processing — and got pushback from other left-leaning types. The narrative is "nonsense," writes Washington Post columnist Catherine Rampell.
State of play: Progressive groups aren't saying companies shouldn't raise prices to keep up with inflation. The argument is that companies are using inflation as an excuse to jack up their profit margins — passing on the rising cost of doing business and then some.
Progressives, lawmakers and the White House point to decades of corporate consolidation as a longstanding driver of inflation — some industries are dominated by just a few players.
Details: Earlier this month, meat packer Tyson Foods announced its profit margins on beef at 19.1% were up six points from the previous year, and overall profit margins widened to 11.1% from 9.5%. Tyson is one of four meat processors that dominate that market.
Amazon announced a 17% increase in the price of its annual Prime subscription service.
On earnings calls and in interviews, chief executives talk about passing on costs to consumers who have so far proved willing to pay.
"We're pretty fortunate with the pricing power that we have ... we know if we need to take more pricing, we have room to do it. To date, we have seen no resistance from our customers," Chipotle CEO Brian Niccol said on CNBC earlier this month.
What to watch: How Biden frames inflation in his State of the Union speech next week. And, how the crisis in Ukraine changes the messaging on rising prices in the energy sector.
2. Catch up quick
3. Ruble weakens
Russia's invasion of Ukraine and the corresponding sanctions have triggered a sell-off in the ruble, Matt writes.
Driving the news: The currency has dropped to a record low against the dollar, falling roughly 6% over the last two days.
The ruble is down about 19% against the dollar since last October.
How it works: The ruble/dollar exchange rate is conventionally expressed as the number of rubles that you can purchase with a single dollar — so a higher number means a weaker ruble.
Why it matters: The sell-off means investors think ...
Sanctions announced Tuesday by the U.S. and its allies will bite the Russian economy. Or...
Heavier sanctions are coming, after Russia advances its invasion into Ukraine. Or...
Both of the above.
Details: A weaker currency effectively raises inflation — because imports get more expensive — and will likely hurt Russian consumer confidence.
Yes, but: Don't expect a bit of inflation to dissuade Putin from his military objectives.
Russia isn't a democracy. He doesn't have to worry about a sour mood among the voters unless things get so bad that people take to the streets.
The bottom line: Sanctions are going to hurt the Russian economy. But don't bet on them influencing the man in charge.
4. Unretirements are picking up!
"Unretirements" are coming back: The share of retirees returning to work is approaching levels not seen since before the pandemic, Emily writes.
Why it matters: The pandemic drove millions of Americans into early retirement. Getting some of those folks back to work should increase the labor supply at a time when companies are still struggling to hire.
"Continued strong demand for workers, and vaccinations, are allowing folks to step back into the workplace," Nick Bunker, economic research director at jobs site Indeed, tells Axios.
By the numbers: 2.8% of the workers who said they were retired in January 2021 went back into the labor force in January 2022, according to data Bunker pulled from the Census Bureau's Current Population Survey.
These numbers started picking up in the second half of 2021, and continued their climb even through Omicron.
What's next: Bunker says he'll look to see what types of industries and jobs unretirees are gravitating toward. Stay tuned!
5. Getting to the bottom of the pajama debate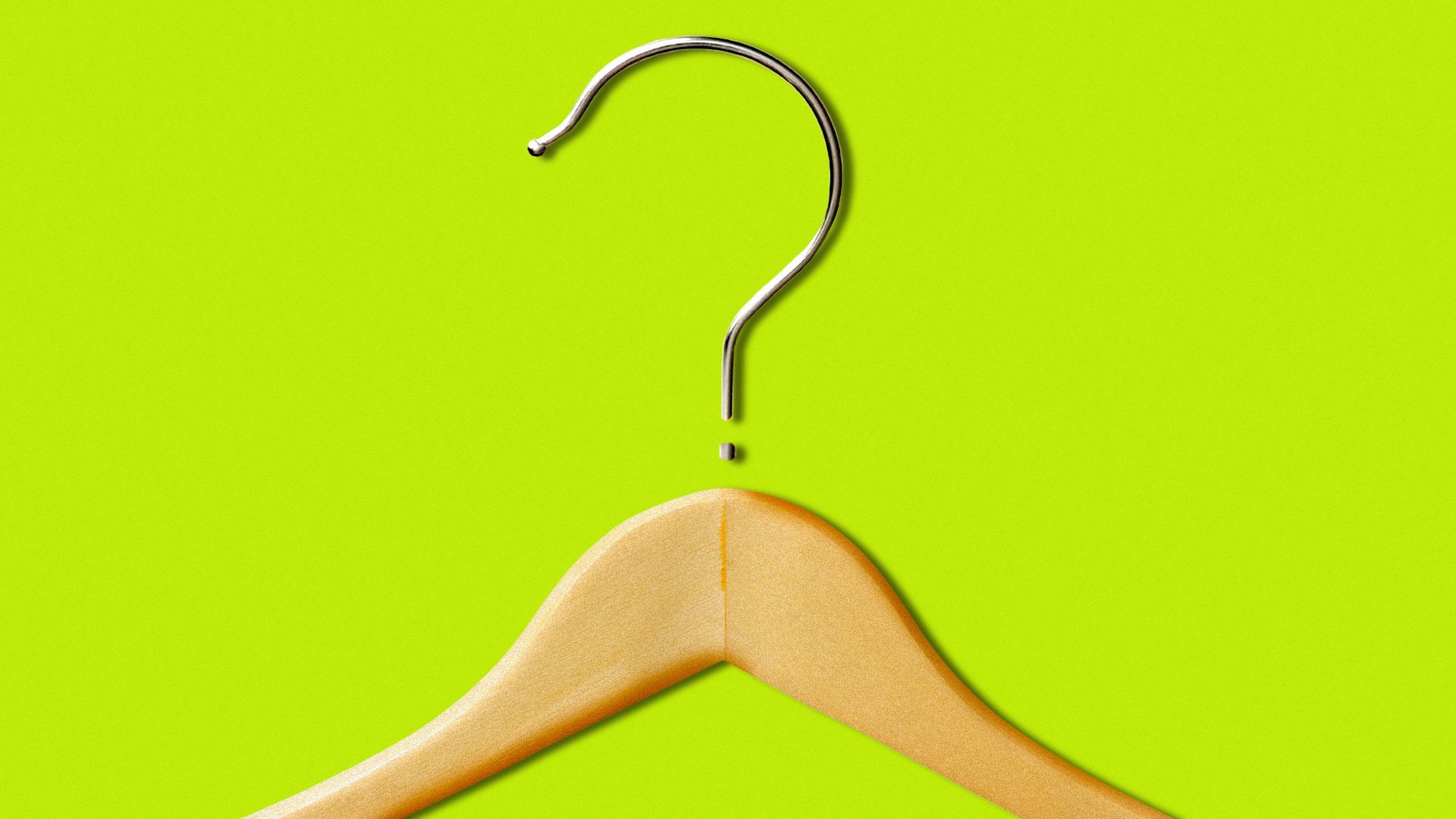 Remote work means never having to wear hard pants, but does it also mean you show up to the home office every day wearing...pajamas?
Driving the news: New York City Mayor Eric Adams is urging folks back to the office to help the city's economy. "You can't stay at home in your pajamas all day," he said on Wednesday, Emily writes.
What they're saying: Remote workers say they don't technically wear PJs all day, but a more nuanced wardrobe comprised of comfortable athleisure is common.
Close to 72% of respondents to my very unscientific Twitter poll said they never or sometimes wear PJs at work. And 26% said they always wear them. (Really?)
"We all know there's daytime athleisure and then actual pajamas," replied Rachel Lobdell, the editorial director at Fortune magazine.
"Are they pajamas if they're all my clothes now?" another respondent asked.
"Enclothed harmony," is a term used by Columbia Business School professor Adam Galinsky to describe how people feel better when wearing clothes that match their environment, he told Marketplace last year.
In other words, it's weird to wear a suit when you're sitting in your bedroom on Zoom.
The bottoms* line: Remote and hybrid work are here to stay, and so, to0, is a more casual dress code. It's not all that different from how office wear turned more casual back in the early 2000s with the dotcom boom.
*that's a pants joke, folks.