Axios Markets
September 28, 2023
🌅 Morning folks, happy Thursday.
Today's newsletter is 1,072 words, 4 minutes.
1 big thing: Landmark cannabis banking bill scores a win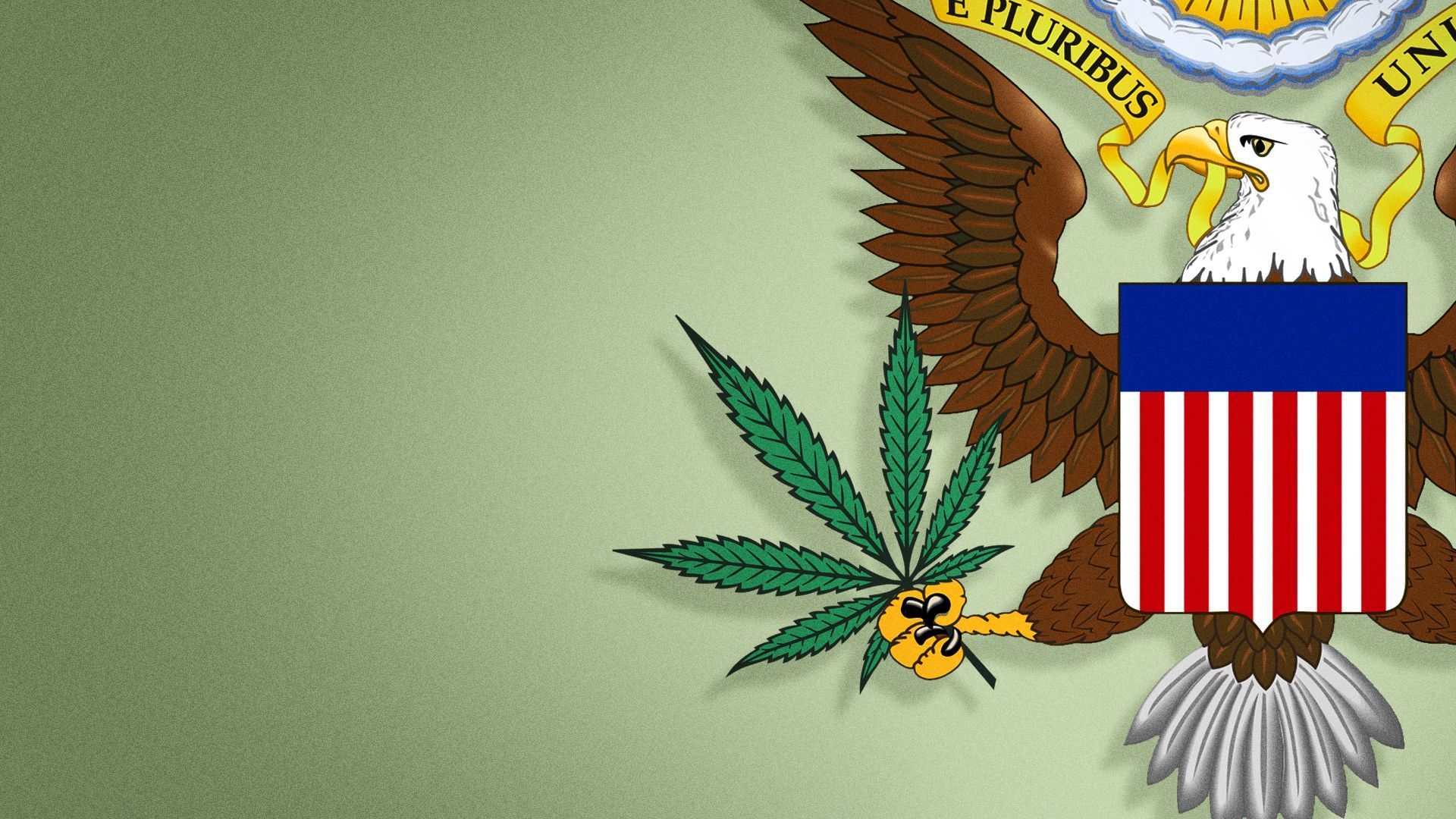 A landmark federal bill that would protect banks that work with cannabis companies appears headed to the Senate floor after passing out of committee yesterday, Emily writes.
Why it matters: Since marijuana is legal in some states, but illegal at the federal level, the industry has long struggled to gain access to financial services — instead many business owners are forced to deal with the inconveniences and dangers of transacting in all-cash.
Though its path to passage is anything but assured, the bill's advancement is an incremental win for the cannabis industry and the banks that'd like to handle all the green (sorry) it generates.
State of play: There's fairly broad bipartisan agreement that state-sanctioned cannabis companies should have access to the banking system.
"The current all-cash model of legal cannabis businesses makes them targets for theft, tax evasion, and for organized crime," said Sen. Steve Daines (R-Mont.), one of the bill's sponsors, at a banking committee hearing yesterday.
Senate Banking chair Sherrod Brown (D-Ohio) emphasized the bill would help the industry's workers, who "face challenges proving their income when trying to rent a home or apply for a mortgage."
The intrigue: The issues complicating the bill's passage are a bit outside its narrow scope.
On the right: Conservatives want to ensure that banks can't turn away other industries that might be deemed controversial — particularly gun companies and energy companies.
On the left: There's concern the bill could reinforce racial and class inequities. That's because the legal cannabis business, which the bill helps, is majority-white owned. But many people of color are still arrested for marijuana possession — or have criminal records for past cannabis offenses.
What they're saying: These conflicting views are going to make it tough to pass the bill in the Senate, said Cowen analyst Jaret Seiberg in a note.
Still "this is a tremendous symbolic win for the cannabis sector."
The American Bankers Association issued a statement supporting the legislation.
Details: The Secure and Fair Enforcement Regulation Banking Act, or SAFER, passed out of committee by a 14-9 vote — with three Republicans in support.
Under the bill, banks can't be penalized for providing services to state-sanctioned marijuana businesses.
Similar legislation has passed the House seven times before — but never made it out of a Senate committee, notes Banking Dive.
2. Catch up quick
3. Oil's biggest daily jump since May
U.S. crude oil yesterday posted its biggest daily jump since May, climbing to its highest level so far this year, Matt writes.
Why it matters: The rise in oil prices, along with a recent upswing in housing prices, adds to the recent run of numbers that suggests a resurgence in inflation pressures.
Driving the news: Fresh data showed lower-than-expected crude oil stockpiles, especially at the key storage hub in Cushing, Okla., where deliveries for U.S. futures contracts occur.
Benchmark U.S. West Texas Intermediate crude oil futures rose 3.6% to $93.68 a barrel yesterday.
In early trading today, oil briefly touched $95.
Prices are up more than 10% this month.
Context: One reason prices are up is that the U.S. economy has been stronger than expected over the last year, consuming more oil than forecast.
Also, global supplies are tight, as major producers Saudi Arabia and Russia have struck deals to reduce their production and prop prices up.
And U.S. producers haven't unleashed a gusher of new production in response. Instead, they are increasing production in a slow and steady fashion that helps keep prices firm.
💭 Matt's thought bubble: The rise in oil prices — and by extension gasoline prices — along with the recent downturn in stock market performance is a perfect recipe for sour consumer sentiment and peril for incumbent politicians.
Bonus chart: Stockpile stress
Oil stockpiles at the closely watched Cushing, Okla., terminal fell to the lowest level since July 2022.
Why it matters: Cushing is the delivery point for U.S. West Texas Intermediate crude futures contracts.
4. FTC's Amazon case is no slam dunk

The Federal Trade Commission unleashed a long-awaited lawsuit against Amazon on Tuesday — and, like recent and historic antitrust litigation against other tech giants, it faces a tough uphill climb, Axios tech editor Scott Rosenberg writes.
Why it matters: Much of the public shares a visceral sense that tech giants like Amazon, Google, Apple, Facebook and Microsoft are way too powerful and ought to be knocked down a few pegs — but, for better or worse, you don't win an antitrust lawsuit based on gut feelings.
Driving the news: The FTC's Amazon suit lays out detailed charges that the company's practices have raised prices for consumers, blocked competitors and stifled innovation.
It will now be up to a federal judge in Washington state to decide whether the case and evidence are strong enough to rule that Amazon should be liable for damages or "structural remedies," like limits on its conduct or even some kind of break-up.
State of play: The FTC has to prove that Amazon has a monopoly in specific markets. The FTC's lawsuit defines two markets in which Amazon has a "durable monopoly:" the "online superstore market" and the "online marketplace services market."
Then it has to prove that Amazon used its monopoly powers to harm consumers and competitors. The FTC lays out detailed claims that, for instance, Amazon's "exclusionary anti-discounting conduct" artificially boosts prices and its rules for sellers to "coerce" them into using its fulfillment services.
The big picture: Antitrust law is specifically aimed at limiting monopoly power — and tech's current era of rule by a quintet of corporate giants means that there's still a ton of competition out there.
The bottom line: These companies all still fear each other far more than they fear the threat of antitrust litigation. That can look like arrogance — but it also looks like competition.
5. 💬 Quoted: "Beclowns"
"When the most powerful government in the world beclowns itself and demonstrates to the world that it's being run by kindergarteners, there's ... a huge effect in terms of risk perception and confidence and stability,"
— Rep. Jim Himes (D-Conn.), a member of the Financial Services Committee.
Why it matters: Lawmakers of both parties told Axios' Andrew Solender they're unnerved about the potential ramifications a government shutdown could have on the U.S. economy.
🎧 1 fun thing from Emily: Now that the writers' strike is done and the late-night shows are coming back, it means one of my new favorite things is winding down. That's "Strike Force Five," a podcast from all of the late-night hosts. They're not a terribly diverse crew — two Jimmys, plus Steve, Seth and John — but their unscripted, messy show is a hilarious and delicious listen.
Come for the great behind-the-scenes anecdotes — Robert DeNiro is apparently a less-than-ideal guest because he's not chatty. And stay for the way the hosts joyfully roast each other — all of them ripping apart Jimmy Fallon for writing really confusing questions in Episode 5 had me on the floor.
Was this email forwarded to you? Subscribe here.
Today's Axios Markets was edited by Kate Marino and copy edited by Mickey Meece.