Happy International Women's Day! #BalanceforBetter
Was this email forwarded to you? Sign up here.
Situational awareness:
1 big thing: The red-hot labor market's glaring flaw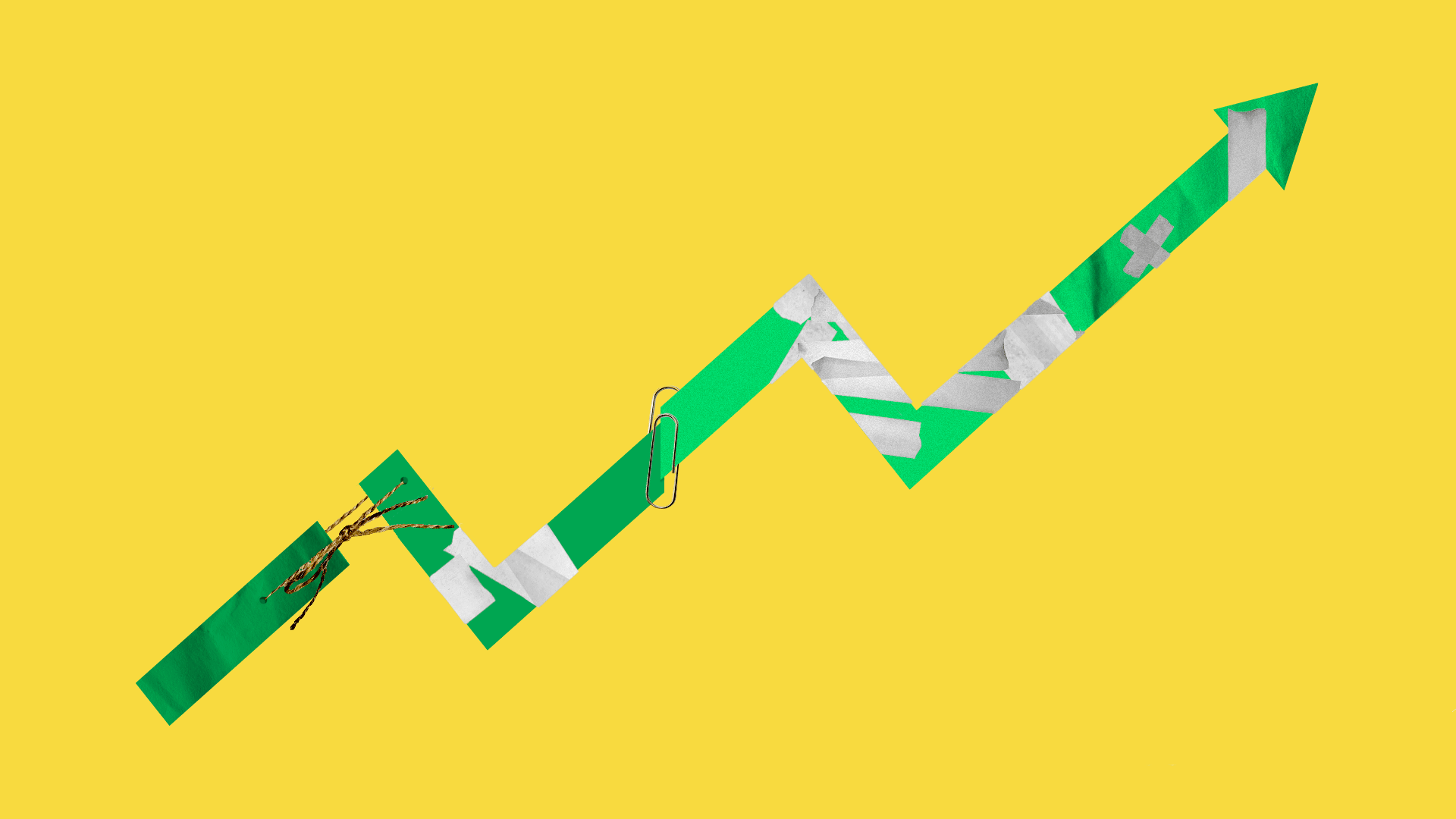 The job market is defying expectations, but there's a glaring flaw, Axios' Courtenay Brown writes.
Why it matters: With weak productivity and the fading tax cut stimulus, the labor market is the standout to keep the economic boom going. It's largely done the job so far — unemployment is near a half-century low and the economy has added 285,000 jobs on average over the last 5 months.
But wage growth throughout the second longest economic expansion isn't yet measuring up to what we've seen in the past.
The continuation of that theme could be a drag on growth because it would represent a missed opportunity to pull more people into the labor force, James Wilcox, an economics professor at U.C. Berkeley's Haas School of Business, tells Axios.
"People get encouraged to work more when you pay them more," he said.
Be smart: The tight labor market is starting to deliver fatter paychecks, but wage growth has pulled back from its acceleration late last year and remains below pre-crisis levels.
This is odd, considering the record number of job openings that clearly reflect demand and hunger for workers.
At the White House this week, CEOs of major companies including Apple and Home Depot said they were finding increasingly scarce applicants for open jobs.
What's happening: So-called prime-age workers are hopping back into the labor force at the highest rate since 2009 (as reported in Axios PM), but not as fast as they were in the late 1990s.
A pick-up in wages should bring more people into the workforce — which could sustain the stellar job gains — but current wage growth might not be strong enough to pull others off the sidelines.
"If we have absorbed the whole shadow labor force, then we'll start to see wages going up," CUNA Mutual Group's chief economist Steve Rick tells Axios.
The bottom line: A lot is hinging on significant gains in the participation rate.
More people entering the workforce "improves the supply potential [of the labor force], ...and it helps contain income inequality at a time when those on the lower echelons of the income distribution scale have already and persistently fallen well behind," Mohamed El-Erian, chief economic adviser at Allianz, wrote in a Bloomberg op-ed.
And there are questions about how many more would-be workers are out there. "It will tap out probably by this summer," CUNA Mutual Group's Rick said. "We will be reaching the limit of how many people are still on the sidelines waiting to jump in."
What's next: The February jobs report is out at 8:30am ET.
Bonus: The pick-up in average hourly earnings
Fed Chair Jerome Powell told Congress last week that the bit of wage growth we've seen so far wasn't "troubling from an inflation standpoint at this point," Courtenay notes.
New York Fed president John Williams said that a pickup in wages wouldn't be enough to change his outlook on inflationary risks — which are currently very muted.
"[Wage growth is] part of the mechanism by which inflation picks up but it's kind of an intermediate marker of where we are," Williams said at the New York Economic Club.
The bottom line: More wage growth ≠ the return of a hawkish Fed.
2. This is supposed to be good for equities
As expected, yesterday the ECB announced it was keeping its negative interest rates and beginning a third round of its Targeted Longer-Term Refinancing Operations program, which will offer cheap 2-year loans to eurozone banks, linked to lending to businesses and households.
What's happening: It's been clear since January that quantitative tightening is not happening this year, but the ECB is the first central bank in the developed world to actually go in reverse. Policymakers also slashed growth forecasts for the euro area from 1.7% to 1.1%, which was more aggressive than investors had anticipated.
On Wednesday the Bank of Canada left rates on hold and sent a warning that "the slowdown in the global economy has been more pronounced" and that its economy may be weaker than anyone realized.
"Although we figured the economy was in for a detour at the end of last year, that detour may wind up being longer than we had expected," Bank of Canada deputy governor Lynn Patterson said a day after the BOC policy meeting.
The intrigue: Both the Canadian dollar and the euro weakened against the U.S. dollar after the respective central bank meetings, but stocks got no juice.
Canada's benchmark S&P/TSX index edged 0.03% higher Wednesday, despite the market now pricing in greater odds of a BOC rate cut than a hike. The pan-European STOXX 600 index lost 0.55% Thursday and MSCI's gauge of stocks across the globe fell for a fourth straight day, its longest losing streak since December.
Central banks pulling off the breaks and pumping the accelerator is supposed to be good news for equities.
What they're saying: "The depth of cynicism regarding the risks to global growth was on clear display on Thursday, as a dovish ECB actually increasing accommodation — not just removing it slower — failed to spur the kind of repricing the Governing Council presumably had wanted," BMO Capital Markets analysts said in a note to clients.
"In some ways, this is consistent with the idea that the bar is set very high to avert a synchronized slowdown," the analysts said.
3. The road to Japanization
The market may be losing faith in central banks' ability to fire-up financial markets, as further stimulus measures are expected to have less of an impact on the real economy. U.S. stocks have had their best start to a year since 1991 on the back of the Fed's rate hike reversal, but have gone ice cold in March.
Why it matters: This is similar to what happened last year when stocks skied until September and then skidded downward as economic reports from Italy, Switzerland, Germany, Japan and China all started to spell bad news.
Details: Currently the U.S. is expecting less than 1% economic growth in the first quarter, money managers doubt the eurozone can even hit 1% growth for the year and Canada and Japan may be looking at recessions.
American companies could also be running out of will and ammunition for stock buybacks, which drive down PE ratios and inflate prices, as lawmakers look set to target the practice.
What they're saying: This is all setting the stage for the developed world to "be Japanized," Zhiwei Ren, managing director and portfolio manager at Penn Mutual, tells Axios.
Japan has been stimulating its economy with asset purchases, government spending and negative interest rates for years and still can't generate lasting inflation pressure.
"Europe and the U.S. are a few steps behind, but we're all moving that direction. If you look at the recovery, we're into it for 10 years and GDP is 3% and we're still not seeing inflation, which is a big issue because for an economy with a lot of debt you want some inflation every year.
"What the ECB has already done with quantitative easing and negative rates is all they could have done. The purpose of TLTROs is to push more credit into market. But the issue isn't on the supply side, it's a lack of demand.
"When GDP is growing below potential that means there's not enough demand. So, no matter how much credit you provide if nobody comes to borrow that's a liquidity trap. The ECB is in a liquidity trap. They can pump as much as they want but liquidity isn't flowing into the real economy."
4. The world's top stock holdings
Verizon and Comcast broke into the global list of 20 most widely held companies by institutional investors in the fourth quarter of 2018, according to a new report from research firm eVestment.
Tencent fell the most among the top 20, quarter over quarter among stocks held globally ranked in the latest report.
Why it matters: The quarterly report provides a look at global stock ownership trends as well as ownership of stocks from firms based in the U.S., U.K., Germany, Japan and emerging markets.
The most widely held U.S. company was Microsoft, U.K. company was Diageo, German company was SAP, Japanese company was Sony and in emerging markets was Taiwan Semiconductor.
Methodology: The report utilizes long-only active equity strategies' portfolio holdings data reported directly to eVestment by asset managers. The firm said 6,315 active equity strategies submitted Q4 2018 portfolio data as of the publication date.
5. "Negligence nor mismanagement nor woeful acts of God were not the reasons"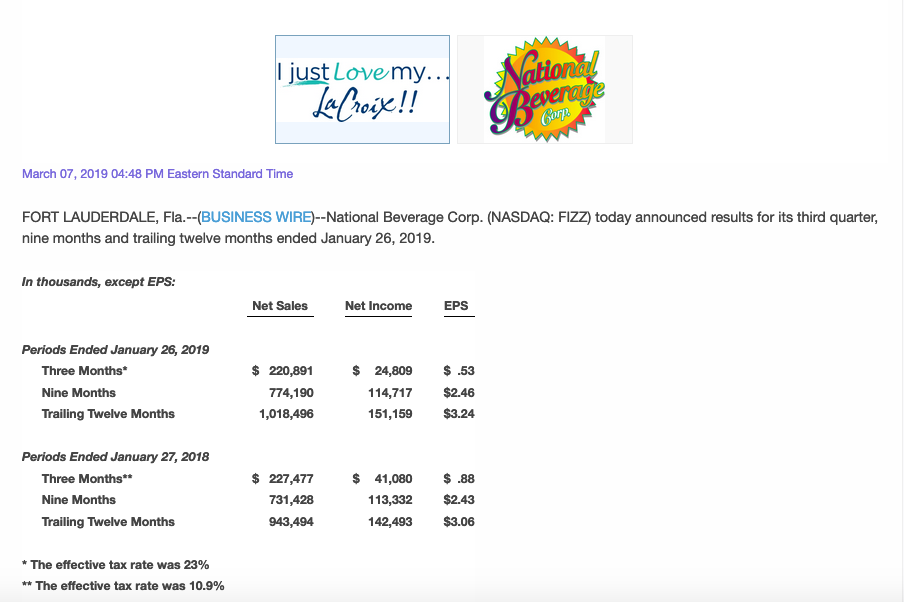 A screenshot of LaCroix's earnings report press release.
Shares of National Beverage Corp., the maker of popular seltzer water LaCroix, fell 16% after the company fell short of earnings expectations.
This was CEO Nick Caporella's explanation for what happened:
"We are truly sorry for these results stated above. Negligence nor mismanagement nor woeful acts of God were not the reasons — much of this was the result of injustice!
"Managing a brand is not so different from caring for someone who becomes handicapped. Brands do not see or hear, so they are at the mercy of their owners or care providers who must preserve the dignity and special character that the brand exemplifies. It is important that LaCroix's true character is not devalued intentionally — in any way."
A National Beverage spokesman later clarified that the "injustice" was a class-action lawsuit that accuses LaCroix of having chemicals also found in cockroach insecticide. And on the CEO's comparison of managing a brand to caring for a handicapped person, the spokesman said that Caporella meant that "it just requires a lot of tender, loving care."
Editor's note: The top story in Situational Awareness in Thursday's newsletter has been corrected to say the Financial Stability Oversight Council, led by Treasury Secretary Steven Mnuchin, will ease its regulatory oversight of financial institutions.
Also, the item "No covenant, no problem" has been changed to say that covenant-lite loans were not used between 2008-2011 in Europe.