Axios Markets
November 12, 2019
Was this email forwarded to you? Sign up here.
(Today's Smart Brevity count: 1,287 words, ~ 5 minutes.)
1 big thing: Global politics invade the C-suite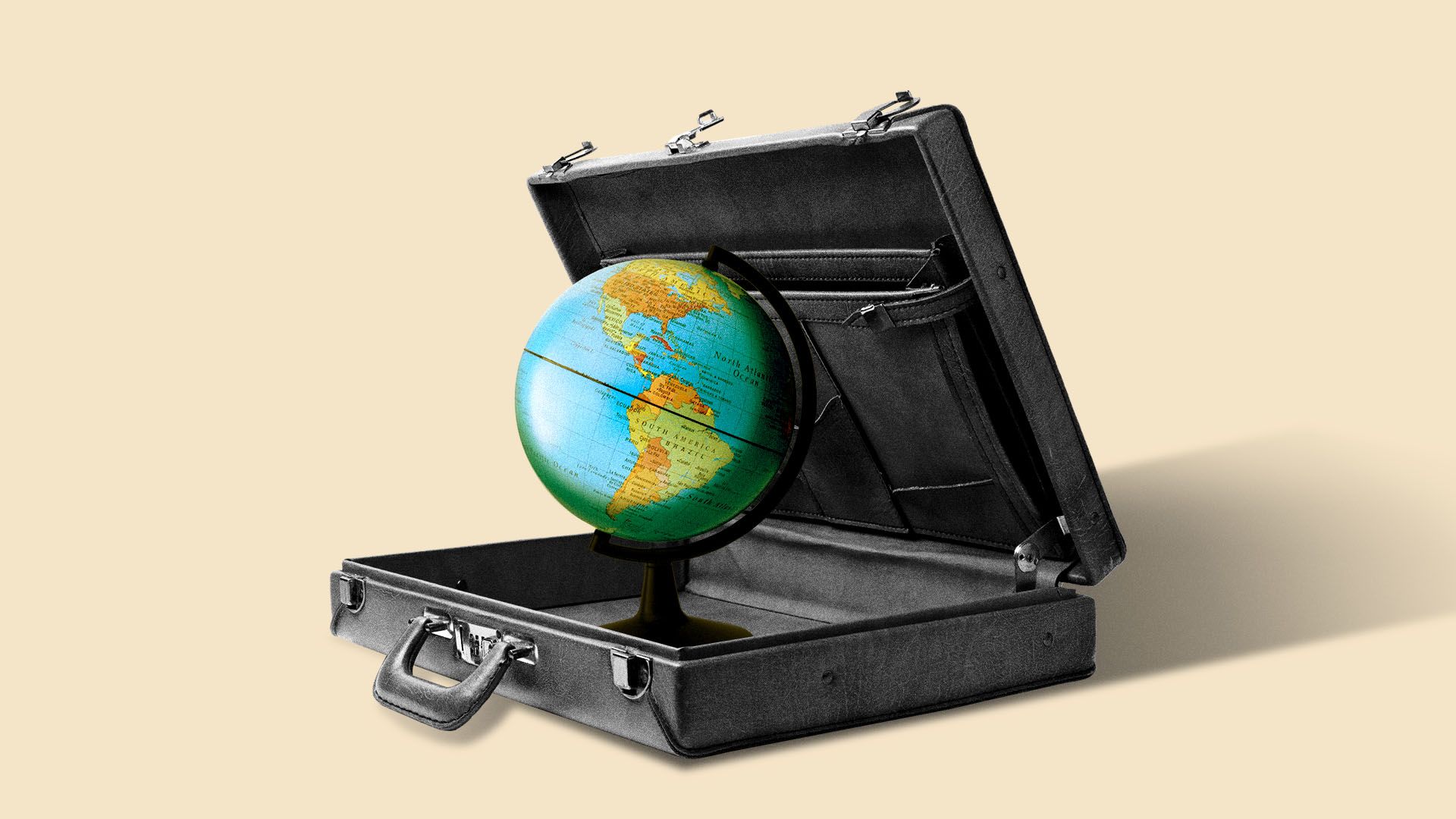 Axios' Dan Primack, Felix Salmon and Kia Kokalitcheva write: If CEOs are the new politicians, many of them don't seem to have thought carefully about foreign policy — particularly about working with autocratic regimes.
Why it matters: Corporate America continues to do business with Saudi Crown Prince Mohammad bin Salman, who allegedly oversaw the beheading of journalist Jamal Khashoggi, and to court business in places like China and Turkey.
American CEOs are increasingly stepping up to take positions on domestic issues like gun control, transgender rights and climate change. But when it comes to abuses that take place outside U.S. borders, they tend to fall silent — or say things they regret.
Driving the news: Uber CEO Dara Khosrowshahi took a social media beating yesterday, after telling "Axios on HBO" that the Khashoggi murder was "a mistake" and then compared it to Uber's self-driving accident in which a woman was killed. (He said after the interview that he regretted the comment.)
Khosrowshahi will talk more about his Saudi Arabia remarks to Axios at an all-hands meeting later this morning, according to a source familiar with the matter.
Uber is not alone in what looked like a soft shrug at the crime:
After boycotting the Saudi regime's "Davos in the Desert" investment conference in 2018 shortly after the murder, many high-profile companies and CEOs fell in line and attended the event this year.
While the Business Roundtable made a statement in August about the importance of social responsibility, its CEO members haven't tackled the knotty issue of profiting from business conducted in autocratic regimes.
Noteworthy example: BlackRock CEO Larry Fink — who has taken big public stands on gun control and corporate social responsibility — has continued to do business in Saudi Arabia since the Khashoggi murder, saying in 2018 that "everyone has their own theories" about the murder.
Be smart: U.S. companies are still wary of taking a stand on international issues.
The list of joint global coordinators for the upcoming trillion-dollar Saudi Aramco IPO includes all the big U.S. investment banks, among others.
The banks — Morgan Stanley, Goldman Sachs, Citigroup and HSBC (which all declined to comment to Axios on Monday), as well as Bank of America Merrill Lynch, JPMorgan and Credit Suisse (which didn't respond to a request for comment) — all stand to make millions of dollars in fees when the Saudi state oil company goes public.
The bottom line: There's a long tradition in America that "politics stops at the water's edge." Insofar as CEOs are the new politicians, they seem to have adopted the same principle.
2. Catch up quick
Clashes raged for more than 16 hours in Hong Kong, with police shooting a protestor at close range, a man lit on fire, and Beijing-backed leader Carrie Lam denouncing "enemies of the people." (Axios)
Boeing's stock rose by 4.5%, the most since June, after it provided more detail on how the 737 MAX will return to the skies but backed away from a timeline on full regulatory approval. (Bloomberg)
15 Asia Pacific countries aim to sign the world's largest trade deal next year. The Regional Comprehensive Economic Partnership will include China, Australia, Japan and South Korea. (CNBC)
PG&E will offer $13.5 billion in compensation to the victims of wildfires sparked by its power lines as part of a restructuring plan. (Bloomberg)
3. More Americans say they're feeling the cost of tariffs
The trade war is starting to hit home for more Americans, affecting their buying habits and expectations about the economy, new data from research firm CivicScience shows.
Why it matters: Tariffs imposed on Chinese goods have largely avoided items purchased directly by consumers so far, but as the trade war has dragged on, more firms are having to pass costs on to customers.
This could increase inflation or cause a pullback in consumer spending, which has been the driving force behind the U.S. economy's strength this year.
4. Treasury selloff is more about the Fed than the trade deal
The U.S. bond market was closed to commemorate Veterans Day, pausing a massive selloff in U.S. Treasuries that has taken yields on the benchmark 10-year Treasury note to their highest level since the start of August.
Why it matters: The Treasury market has provided a more accurate reflection of U.S. economic data so far this year, and rising yields show safe-haven bonds are losing their appeal.
The bond market's losses have come largely in concert with gains in U.S. and global equities, which have rallied since President Trump declared a "phase one" trade deal with China and the Fed announced its $60 billion per month bond-buying program in October.
Yes, but: Correlation is not causation, Lisa Shalett, CIO of Morgan Stanley Wealth Management, wrote in a Monday note to clients, arguing that yields are rising because of increased inflation expectations, not renewed growth.
It has been the Fed's decision to cut U.S. interest rates below the rate of average growth over the last decade and the monthly liquidity injections that are pushing rates higher, Shalett says.
"This is a market adjusting to ample liquidity, rising inflation expectations and the QE playbook. Liquidity is great if it makes its way to the real economy; but when it's a prop to asset prices, it's perilous."
Of note: The Treasury yield curve has meaningfully reversed its inversion in both the 3-month/10-year and 2-year/10-year curves.
The 10-year note yield was trading 36 basis points higher than the 3-month bill — the largest positive gap since January.
The difference between the 2-year and 10-year yield has risen to its highest since July.
Don't sleep: As I wrote on Oct. 31, the Fed's bond-buying program looks to have played a significant role in the yield curve rising out of inversion.
5. T-Mobile's Legere could take over WeWork
T-Mobile CEO John Legere is in talks to take over the top job at WeWork after the departure of co-founder Adam Neumann, the Wall Street Journal reported.
But, but, but: CNBC later reported that "a source close to SoftBank confirmed Legere is one of many candidates being considered for the role, but he's not the leading candidate."
Between the lines: "T-Mobile and WeWork have leadership in place that runs in similar circles," CNBC notes.
"SoftBank, which took control of WeWork last month, is a majority owner of Sprint and played a role in installing Sprint CEO Marcelo Claure. Claure, who was recently named WeWork's executive chairman, helped orchestrate the $26 billion merger with T-Mobile, which is widely expected to be approved."
"Legere is expected to step down as T-Mobile's CEO once the deal with Sprint is complete."
6. Chile's political instability is sinking Latin American assets
Chile's peso fell to its lowest value against the dollar on record and the country's stock market dropped to near its weakest since early 2017, as continued violence and protests have pressured the government to rewrite its constitution.
Why it matters: Chile has long been an oasis of stability in volatile Latin America and was consistently among the strongest and most market friendly democracies. But it's now mired in wide-ranging disruption and chaos and pulling down asset values in the rest of region.
Watch this space: "The fact that the slowdown in economic activity and the fall in inflation pressures occurred prior to the protests, only increased investors' concerns and exacerbated the peso's decline," Simon Harvey, FX analyst at Monex, told Reuters.
The big picture: Latin American currencies have collectively turned lower against the dollar as recent protests in Chile and Bolivia have followed unrest in Ecuador and a surprise election result in Argentina.
MSCI's index of Latin American stocks has fallen over the past week — with Chile and Argentina each sliding by more than 1% on Monday — even as equity prices around the globe have risen toward record highs.
7. Singles Day shows how Alibaba has grown
Alibaba's Singles Day delivered roughly $38.4 billion of sales Monday, 26% higher than the previous year's total.
The intrigue: The one-day Chinese festival, a corporate-created answer to Valentine's Day, recorded sales that were billions of dollars higher than the combined total expected from Thanksgiving, Black Friday and Cyber Monday shopping in the U.S., according to projections from Adobe Analytics.
Flashback: Alibaba has come a long way from its not-so-humble stock market debut, which remains the largest ever (but is poised to be heartily outdone if and when Saudi Aramco makes its IPO).
Alibaba has more than doubled its value since coming to market with a market cap of $231 billion in September 2014 to more than $486 billion today.