Axios Markets
February 10, 2023
🥳 Happy Friday. Hope you can afford to have some fun this Super Bowl weekend. Parents are facing soaring babysitting costs, Axios reports.
Today's newsletter is 1,168 words, 4.5 minutes.
1 big thing: Questioning the yield curve's predictive powers
Analysts and economists on Wall Street are starting to question the predictive power of the inverted yield curve, Matt writes.
Why it matters: It means they're rethinking assumptions that helped drive many to cut forecasts for U.S. economic growth, amplifying the wave of recession talk.
Driving the news: Economists from both Goldman Sachs and JPMorgan published research this week questioning whether the yield curve inversions that have persisted since the middle of last year are really forecasting a recession.
The backstory: An inverted yield curve means yields on long-term U.S. government bonds are below those on short-term bonds. This is abnormal.
Inverted yield curves are often interpreted to mean investors expect interest rate cuts — something that often happens during recessions.
What's more, inversions have a strong record of predicting recessions: Over the last 60-odd years, whenever the yield on 10-year Treasury notes fell below those of 3-month Treasury bills, a recession has followed within two years.
Yes, but: Market signals are always subject to interpretation. Long-term bond yields could be lower than short-term yields for a variety of reasons.
What they're saying: In a note published yesterday, JPMorgan analysts suggest that, rather than a recession, yields on longer-term bonds might instead be pricing in a sharp decline in inflation. That would mean the Fed could stop hiking (and maybe even start cutting) interest rates soon-ish.
"We are respectful that the Treasury yield curve has a successful history of forecasting recessions," they wrote. "So why do we think it is sending a different message this time?"
The answer: "Rarely (if ever) have markets expected this much disinflation," they went on.
This is a view that started gaining steam late last year (our colleague Felix Salmon wrote about it in November.)
Meanwhile, Goldman Sachs' take is a little different. The analysts argue that rather than a swift pullback in inflation, investors are pricing in a return to the secular stagnation of the pre-COVID economy.
Markets appear to be pricing in a scenario where the Fed cuts interest rates sharply, but over the long term — indicating a return to a low-growth and low-interest rate environment, per Goldman.
"A large part of the inversion seen in current US yield curves comes not from high recession odds or inflation normalization, but rather from low long run real rate levels," the analysts wrote in a note published Wednesday. "Investors appear to be wedded to the secular stagnation ... view of the world from the last cycle."
The bottom line: Whatever their rationale for the sudden surge of doubt about the yield curve's predictive power, Wall Street and investors are racing to rethink their previously dour forecasts for growth.
2. Catch up quick
3. Construction help wanted
The construction industry is still in hiring mode and likely will be for the next few years, according to an industry group's projection, Emily writes.
Why it matters: It's not supposed to be like this. Typically, when interest rates rise — or when the economy slows down — construction hiring contracts.
The industry is incredibly sensitive to the business cycle, as Axios' Courtenay Brown and Neil Irwin recently explained.
But in a tight labor market, things are ... different.
By the numbers: The construction industry needs to attract 546,000 new workers this year — on top of the normal pace of hiring — to meet its expected demand for labor, according to projections from the Associated Builders and Contractors out Thursday.
Even if the economy slows down in 2024, the industry will still need to hire 342,000 workers on top of normal hiring to meet demand.
For their estimates, ABC uses a model that looks at the relationship between construction spending growth and construction employment and considers inputs like worker demographics.
A few things are happening here: While single-family home construction is slowing, there are "a growing number of mega-projects," that need workers, ABC chief economist Anirban Basu says in a statement.
These include chip-making plants and clean energy facilities.
Crucially, nearly 1 in 4 construction workers are older than 55, Basu says, and not enough younger workers are coming into the industry to replace them.
4. Stores aren't dead
Physical store openings exceeded closings on an annual basis in 2022 for the first time since 2016, Coresight Research found.
And retailers are on pace to open even more stores this year than last, at a rate of 3-to-1, Marie Driscoll, a managing director at Coresight tells Axios' Richard Collings.
The big picture: Robust e-commerce platforms helped retailers manage the pandemic — but both retailers and consumers realized the limitations of doing business entirely online.
Once the height of the pandemic passed, shoppers returned to stores in hordes.
State of play: A big driver of store openings are shoppers seeking bargains, especially at dollar stores with a limited or non-existent presence online, Driscoll says.
The top six retailers opening stores in 2022 were dollar chains and discounters, including Dollar General, Family Dollar, Dollar Tree, Five Below, TJX Cos. and Aldi, in that order.
For more from Richard, subscribe to Axios Pro: Retail Deals.
5. Rail workers' saga continues quietly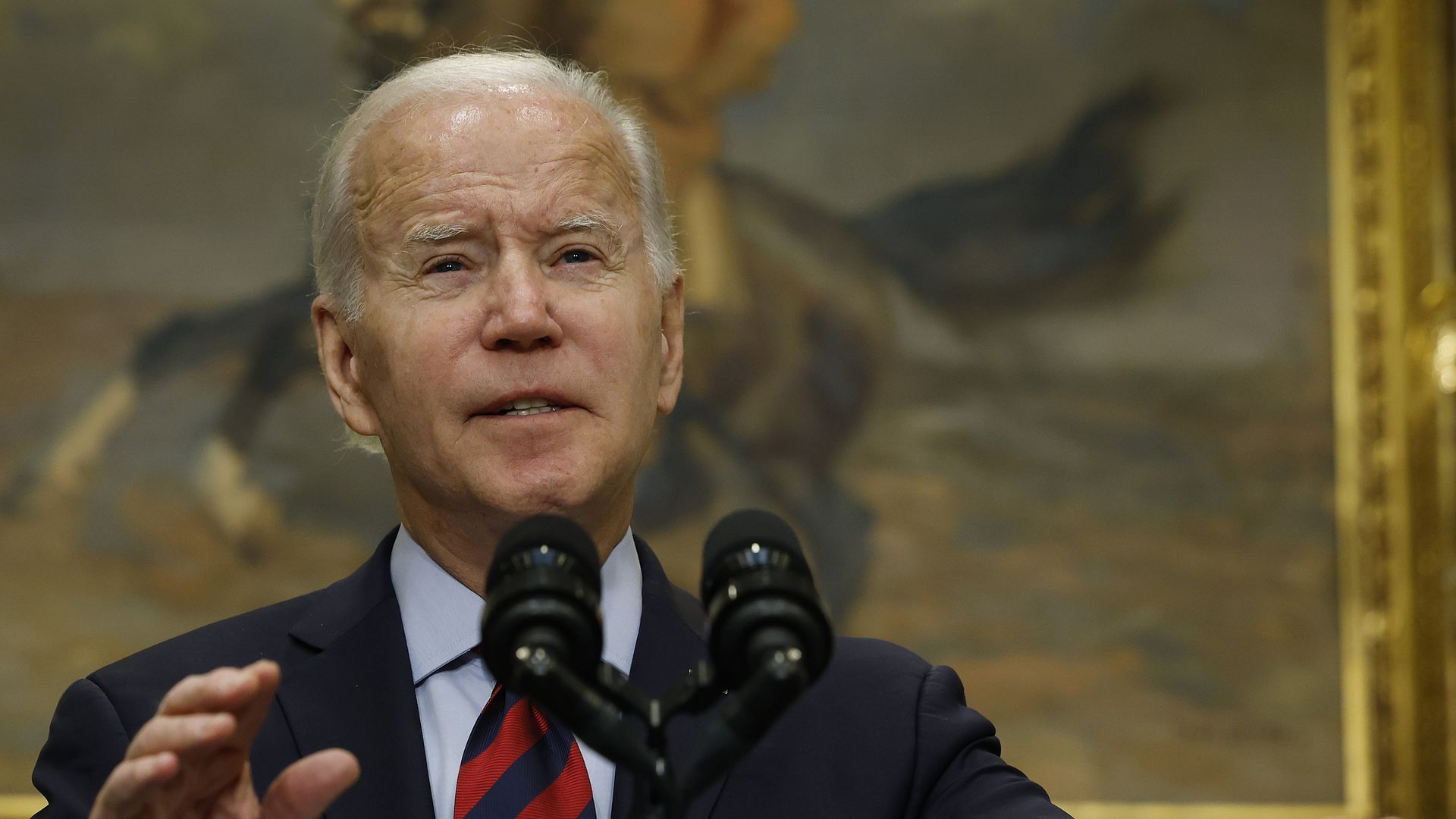 The White House is once again pushing the nation's largest railroads to provide paid sick leave to their more than 100,000 unionized workers, Emily writes.
The big picture: The administration faced criticism last year after President Biden signed legislation to avert a nationwide rail strike, forcing a labor contract that didn't include the benefit.
At the time, Biden said he'd continue to fight for paid sick leave — rail workers don't get any — but it wasn't clear what that meant.
Driving the news: Freight rail giant CSX reached a deal Tuesday with two unions on paid sick leave, providing 5,000 workers with four paid sick days a year as well as three personal days.
The White House was in touch with CSX before its sick leave announcement, an administration official tells Axios.
High-level officials — including National Economic Council director Brian Deese, Labor Secretary Marty Walsh and Transportation Secretary Pete Buttigieg — have all had calls with executives from CSX, Union Pacific, BNSF and Norfolk Southern recently, pressing them on the issue.
Meanwhile, Sen. Bernie Sanders (I-Vt.) and Sen. Mike Braun (R-Ind.) demanded the other railroads echo CSX's move at a press conference yesterday, saying they'd pursue legislation on the issue if necessary.
What they're saying: "In the year 2023, it is not acceptable to me and to the overwhelming majority of the American people, that workers who do dangerous, difficult and important work do not get one paid sick day a year," Sanders said.
Ian Jefferies, CEO of the American Association of Railroads, said that "railroads understand that more work remains regarding quality of life and scheduling predictability concerns by employees and have been in active discussions with their unions about how these matters are best addressed."
📖 1 last thing, from Matt: If you're interested in finance-adjacent fiction, I highly recommend "Trust" by Hernan Diaz. A mirrored box of a novel, it triangulates the trajectory of enigmatic New York financier Benjamin Rask and his distant but brilliant Knickerbocker-born wife, Helen Brevoort. It's beautiful but also manages to do a great job on financial history. I highly recommend it.
Was this email forwarded to you? Sign up here to get Axios Markets in your inbox.
Today's newsletter was edited by Kate Marino and copy edited by Mickey Meece.