Axios Markets
February 28, 2022
🙁 Wake up!
Investors are bracing for impact after a series of tough sanctions slammed Russia over the weekend. Things could get ugly.
Friend of the newsletter, Felix Salmon, takes a break from his book leave to offer his two cents on the so-called nuclear options.
And, as Black History Month comes to an end, we're spotlighting the saga of a Depression-era Black bank.
Today's newsletter is 1,364 words, 5 minutes.
1 big thing: Ruble collapses as new sanctions hit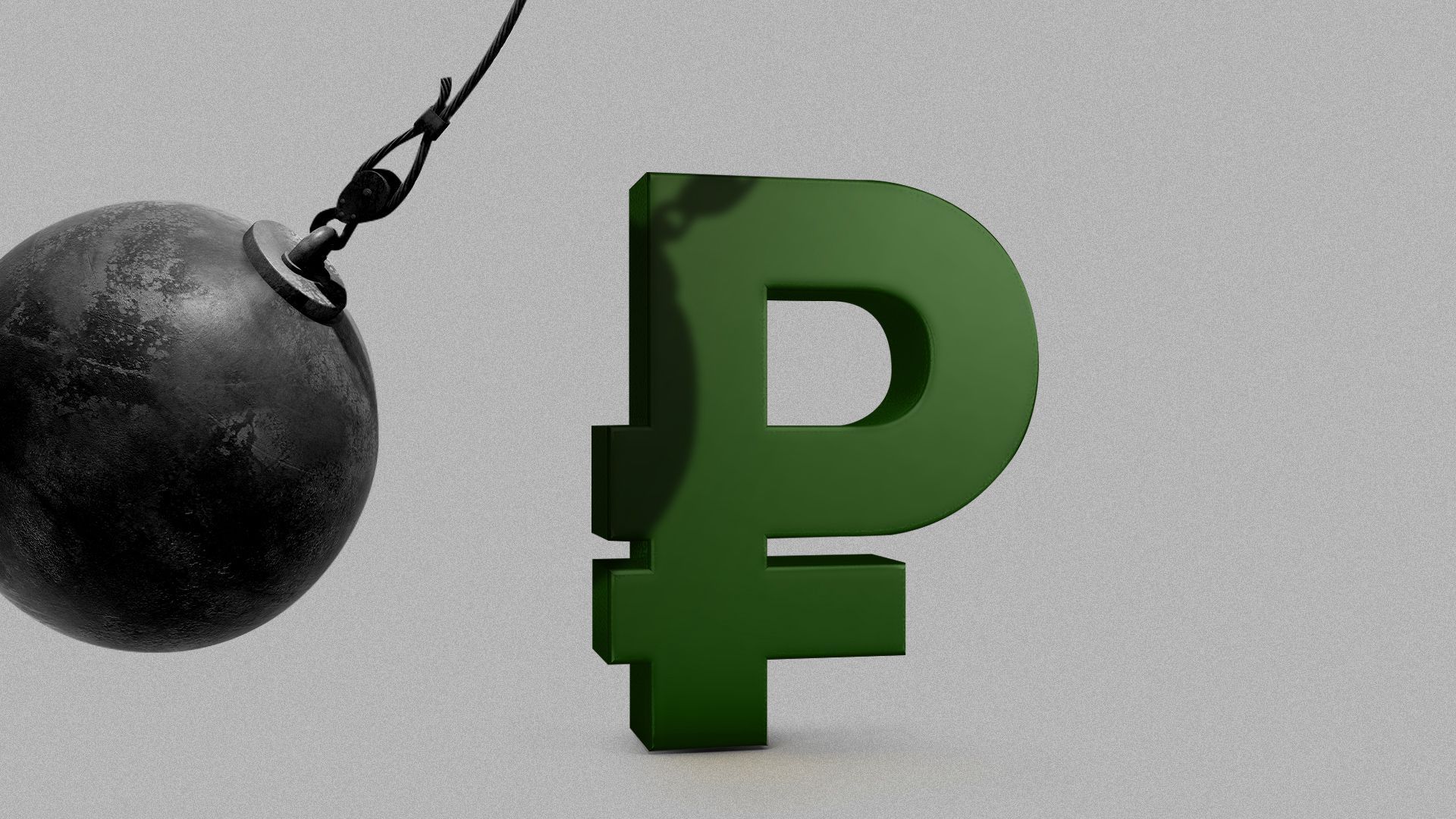 Russia's currency plunged in overnight trading, with the ruble dropping by much as 40% against the dollar, before Russian authorities launched a furious effort to defend the currency, cutting those losses, Matt writes.
Why it matters: The dive — the ruble is still down 15% as of 6am Eastern — shows that the steadily increasing sanctions from the U.S., the EU and the U.K. will inflict massive pain on Russia's economy — the 11th largest on earth — and its people, in a shock that could reverberate throughout the global financial system.
Details: Soon after the open of the overnight foreign exchange trading session the ruble was being quoted at between 115 and 119 per dollar. It closed Friday at roughly 83.
How it works: A blow like this to a country's currency sits somewhere on the line between economic and psychological warfare.
It threatens to vaporize much of the ruble-based savings sitting in Russia's banks.
It will send rates of inflation — already high in Russia — sharply higher.
It drives people to withdraw their cash en masse and quickly try to convert it to more stable currencies, such as the dollar, the euro, gold, or even cryptocurrencies. (Runs on ATMs were already starting to happen in Russia over the weekend.)
It sends interest rates skyward, as global investors pull back at the idea of lending to banks or countries that use a currency that could become worthless.
High-interest rates slam the brakes on the economy, throwing people out of work just as prices soar, a miserable combination of conditions known as stagflation.
What we're watching: An economic shock this large will shake the global markets, probably in unpredictable ways. Investors appear to be bracing by moving out of risky markets to the safety of U.S. government bonds.
Futures markets are pointing to a lower open in New York.
Prices for U.S. Treasury bonds are higher.
Flashback: It's not outside the realm of possibility that some major financial player — a hedge fund or a bank trading desk — will not be able to absorb a shock this large. Remember, it was the Russian government's default on its bonds in 1998 that killed hedge fund Long-Term Capital Management and nearly set off a financial crisis.
2. Catch up quick
3. Emerging nuclear threat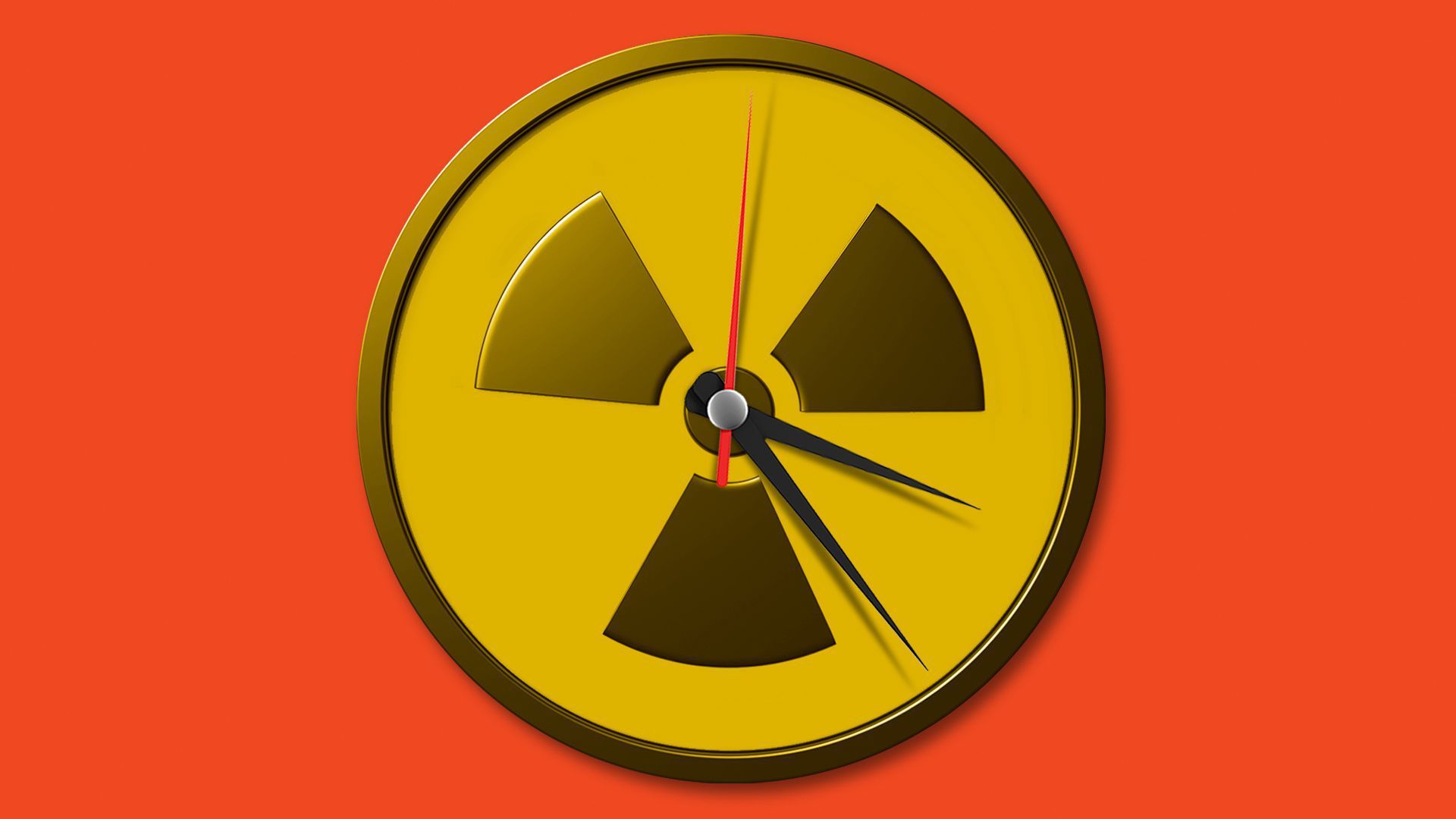 Up until this weekend, Russia's invasion of Ukraine looked very old-fashioned: Columns of tanks, prisoners of war, bombed buildings. Now, however, Russia and the West have both wheeled out their nuclear options — one literal, the other financial — although neither has actually been used, Axios' Felix Salmon writes.
Why it matters: The stakes could now hardly be higher. This isn't just about Ukraine anymore; it has turned into a full-blown confrontation between nuclear powers. If the conflict continues to escalate as quickly as it has in recent days, the unthinkable could become reality.
How it works: Cutting Russia off from the international financial system has been referred to in recent days as "the nuclear option." Some of that has already happened, and the West has committed to even more.
The West has promised to impose "the financial equivalent of a nuclear strike," says former George Bush speechwriter David Frum.
What we're not sanctioning: The West is still allowing Russian energy exports. "If Russia stops selling its oil and gas, that would be the end of Russia as we know it," says Edward Fishman, former Russia and Europe sanctions lead in the Obama administration's State Department.
The other side: Putin's response to the sanctions announcement — and to what he called "aggressive statements" from the West — was to put his nuclear forces into a "special regime of combat duty."
The clear message: He is threatening a nuclear strike of his own, without specifying when or where such a strike might take place.
The bottom line: The bear has been poked, and the stakes are now existentially high.
4. Ukraine's default risk
Ukraine's government bonds are trading like they're about to default, Axios' Kate Marino writes.
Why it matters: The distressed trading levels are a signal of the real risk of regime change. If Russian occupiers take over the government, the likelihood they'll make good on Ukraine's current financial obligations is … at best, unknown.
"The big question is, a week from now, who's going to be in charge? And what does 'in charge' mean?" Cathy Hepworth, head of emerging markets debt at PGIM Fixed Income, tells Axios. "We don't know, so it's almost impossible to figure out the ability and willingness" of the government to make payments, she says.
State of play: Many of Ukraine's bonds lost more than half their value on Thursday, falling to levels as low as the 30 cents on the dollar area — an exceptionally steep one-day drop rarely seen in the bond market. (As bond prices fall, yields go up.)
Where it stands: Absent regime change, Ukrainian President Volodymyr Zelensky's government still faces financial challenges — but two things had until last week enticed many international investors into funding it.
One is Ukraine's "adequate" foreign exchange reserves, and the other is the expectation for ongoing help from the IMF and other western countries (it's been getting help for years), Hepworth says.
All that potentially goes out the window in a regime change scenario.
The bottom line: Russia's military invasion has already caused physical destruction and human suffering in Ukraine. The economic fallout is only just starting to take shape.
5. The rise and fall of a Black banking icon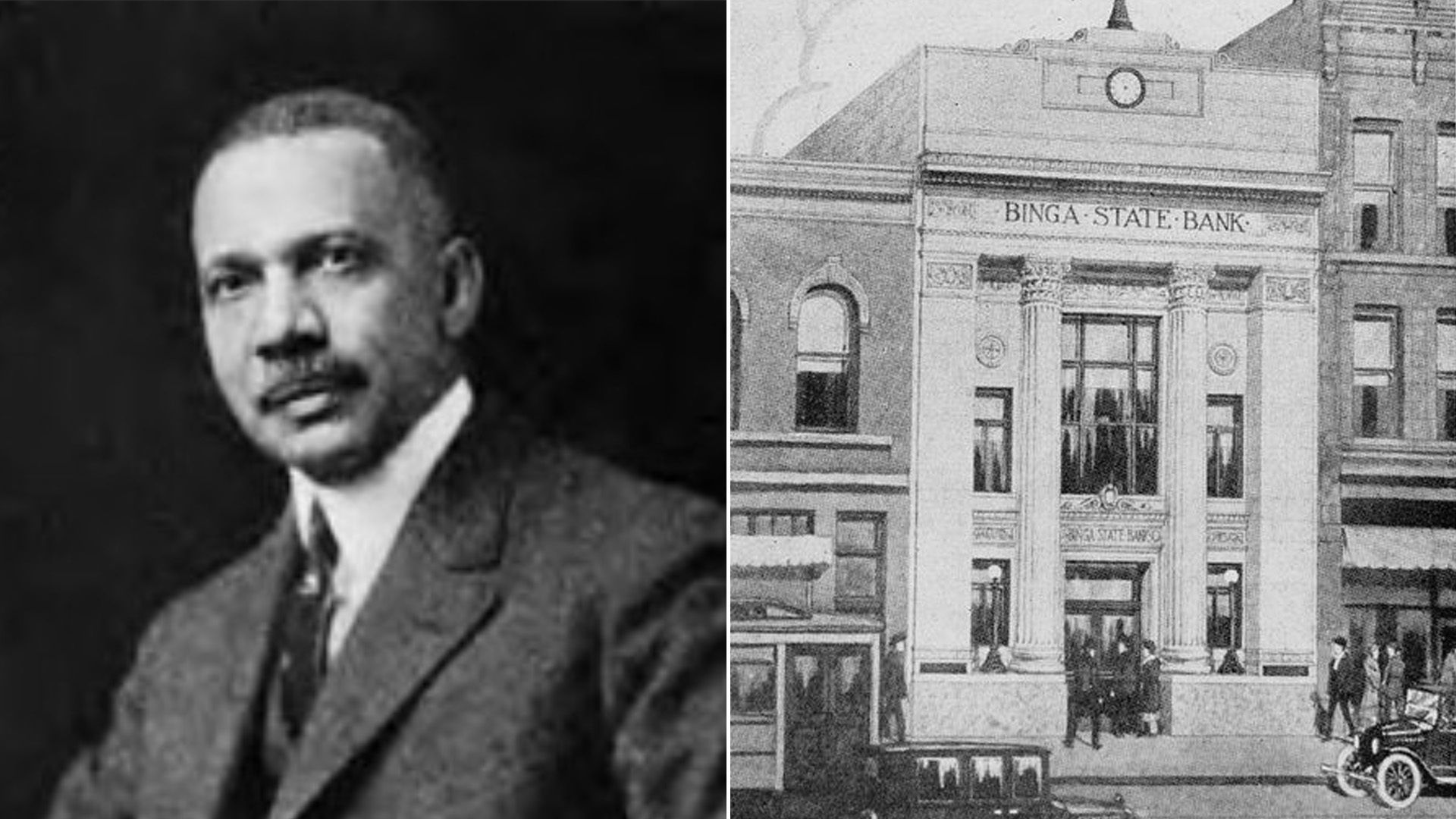 On this last day of Black History Month, we'd like to take a break from the news and tell you the story of Jesse Binga, a titan of banking in the early 20th century, Emily writes.
The Binga State Bank, which he founded in 1908 in Chicago, was one of two preeminent Black-owned financial institutions in the U.S. until its collapse during the Great Depression.
Why it matters: Binga's rise and fall — he died virtually penniless — shows how overt racism affects market values and businesses.
It's also an example of how more subtle kinds of discrimination, still at play today, hold Black entrepreneurs back, said Mehrsa Baradaran, who writes about Binga in her 2017 book "The Color of Money: Black Banks and the Racial Wealth Gap." (Read Axios' Kia Kokalitcheva for more on Black entrepreneurs.)
Details: Born in Detroit in 1865, Binga established himself in Chicago first as a real estate broker during the Great Migration.
His Black clients could not get loans from white banks, so Binga chartered a bank himself.
"Just as discrimination and white flight led to his real estate success, he turned the white banks' refusal to lend to his real estate clients into another source of profit," Baradaran writes.
At the height of its success, Binga's bank was "consistently more capitalized" than its white counterparts and seen as "a model of sound banking," she writes.
What happened: Back then, before the Federal Reserve or the FDIC, Binga and other Chicago bankers paid for memberships in the Chicago Clearinghouse, a cooperative of bankers who provided funds to ensure members had access to liquidity in a crisis.
That was Binga's downfall. When the Depression hit, he turned to the Clearinghouse — where he'd paid dues for more than a decade. They didn't even acknowledge he was a member, says Don Hayner, the author of "Binga: The Rise and Fall of Chicago's First Black Banker."
The bank closed in 1930 and Binga's customers, including many prominent Black Chicagoans, lost most of their money. All the other Clearinghouse members made it through the Depression, Baradaran notes.